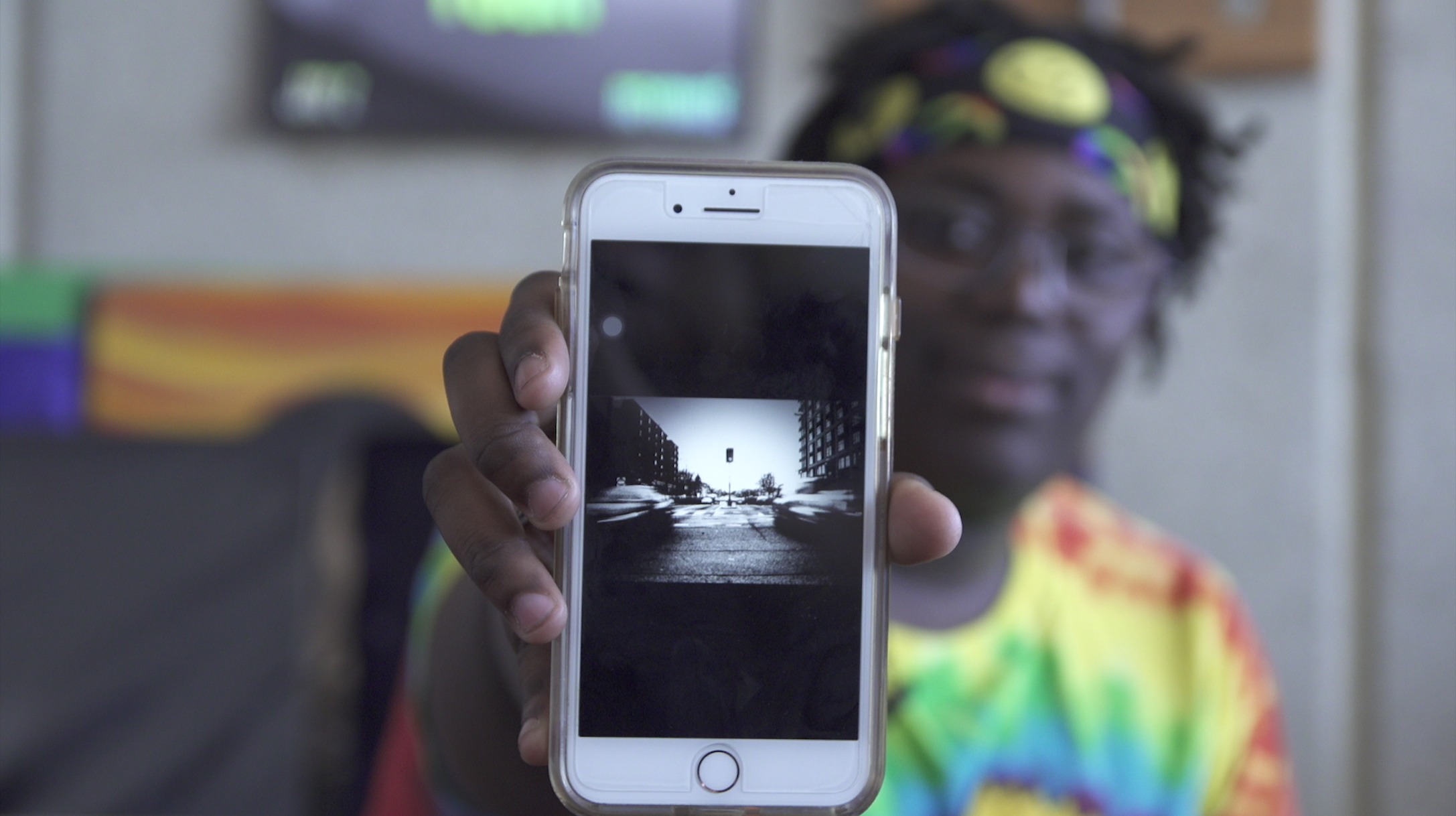 Art teacher Courtney Savoy shakes her head as she describes the stereotypes she hears about her students at Coolidge High School in Washington, D.C. "I hear that the kids are dangerous, not enough rigor, they don't have anything, they don't have any money." She says that she is frustrated that people would assume things about a place they've never been to or students they've never met. It is this frustration that led Savoy and her students to create "Everyday Coolidge."
The "Everyday Coolidge" Instragram feed launched in fall 2017 to challenge stereotypes of Coolidge through a stream professional-level photography capturing the everyday lives of students. The idea for the feed emerged after Savoy attended the professional development workshop "Building Visual Literacy in the Age of Selfies, " which was hosted by the Pulitzer Center on Crisis Reporting in September 2017. The workshop introduced educators to a curriculum written in partnership with DC Public Schools that teaches photojournalism skills through exploration of Everyday Africa, an instagram account focused on that aims to use images of everyday life to combat stereotypes about the continent. Everyday Africa was founded by grantees Peter DiCampo and Austin Merrill, who have also collaborated with Pulitzer Center on outreach and education resources connected to the project.
"We actually had the founders there and we got to meet them and interact with them," said Savoy. "Not only were we learning about how they suggest curriculum but they had us implement it. And it was good working with other schools. Once we did that, I was able to feel confident to bring it back to [Coolidge]."
Even at the workshop, Savoy's frustrations were reaffirmed when another school professional stated their surprise when finding out she worked at Coolidge.
"Right there in that meeting, someone said something about my school," said Savoy. "[They were] actually shocked that I worked at Coolidge, like almost a clutching of a pearl, 'why would you work there?' I chose this school and I love it and no one knows about it… it's really a best-kept secret. That's how I felt the immediate connection to Everyday Africa."
The next day, Savoy created the "Everyday Coolidge" feed on Instragram and started posting. The images quickly caught the attention of senior Ashanti Tazanu, who currently curates the Everyday Coolidge account. The idea of posting photos to combat Coolidge stereotypes became a personal mission for Tazanu.
"People have the stereotypes of Coolidge that they're students that don't do anything, they don't go anywhere, it's a drug infested school, students are constantly getting pregnant… there's not much here," said Tazanu. "But I have a lot of friends who are doing amazing things… One of my friends Alex is planning on going to an Ivy League school after he's done at Temple. My friend Andrew, who's an excellent artist, is teaching classes everyday and he's doing an amazing job at it."
Tazanu, also an active contributor Everyday Coolidge, said his love of photography started young and has only grown more and more.
"When I started wearing my locks the first time, my mom would twist my hair and I would always see something different in the gel cap," said Tazanu. "So one day I was looking at it, and at the time I had this small toy camera, and when she was twisting [my hair] I kept taking a picture of the gel cap. And she said, 'Why do you keep taking a picture of the cap,' and I said, 'there's a little man on the beach.' And one day she actually looked at the picture and she said, 'wow, it does look like a little man on the beach.'"
Now, Tazanu photographs everyhing from friends and school sports to family portraits and community events.
"Photography has just been a serious part of my life," said Tazanu. "I honestly thought, 'oh I'm gonna go to law school and be lawyer and read papers all day for nine to five…' no! I cannot do that. I love art... I don't know what I would do without art."
Tazanu said photography is his chance to tell a story, whether about breaking stereotypes about his school or documenting a moment for someone to cherish forever. His growing portfolio even got him noticed by the San Francisco Academy of the Arts, which he will attend this fall.
Using photography in her classroom and to promote change, Savoy said she's begun to see how the Instagram account is connecting students across the school and breaking down barriers between often-segregated programs like arts and athletics.
"We have different accounts here at Coolidge, even something called Coolidge Athletics," said Savoy. "They sometimes want Ashanti there to take pictures or use our pictures… It's a synergy happening and I think the spark was Everyday Coolidge… I always say photography is an excuse to get into action."
You can see all the photos Ashanti and other students have taken by following Everyday Coolidge → @everydaycoolidge
For more information on Pulitzer Center professional development workshops and photojournalism curriculum connected to Everyday Africa, email [email protected] to connect with our education team.
RELATED ISSUES