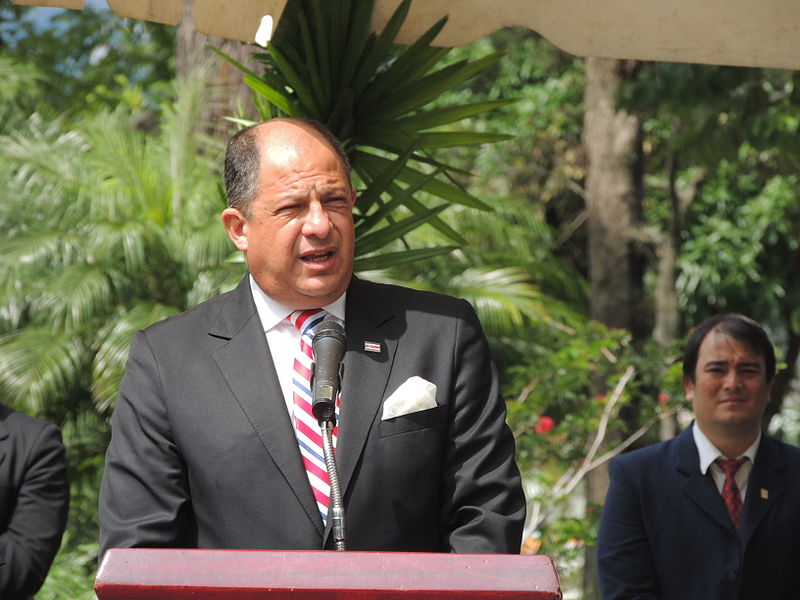 During his recent visit to Washington, DC, Costa Rican President Luis Guillermo Solis met with President Obama and Vice President Biden to discuss a wide range of topics from drug trafficking to clean energy to migration. Solis zeroed in on that latter issue when he traveled a little further down Pennsylvania Avenue where he spoke to journalists, policymakers and others who filled the Wilson Center's auditorium and an overflow room to hear his thoughts on migration.

Early in his talk titled "The Challenges of Addressing New Immigration Flows in Costa Rica," Solis estimated that about 150 migrants arrive in his country of only 4.8 million people every day. While many of them are only passing through Costa Rica on their way to the United States, Solis made clear that caring for these travellers is putting his country under strain.

"The health services we are providing [to migrants] in Costa Rica are the same services that everybody else receives...It's done on a humanitarian basis, but it has a cost." He fell short of putting a dollar value on the costs of caring for migrants, but made clear that these expenses were stretching the country's budget thin and complicating passage of a tax reform. Meanwhile, he told the Wilson Center audience on Monday, Aug. 22, that residents of the country's poor southern and coastal regions were questioning the government's expenditures on migrants.

Solis mentioned that one group in particular had swelled the ranks of incoming migrants and exacerbated his country's challenges: Cubans. In the village of La Cruz near the border with Nicaragua, he explained, Cubans now outnumbered Costa Ricans.

This village was hardly an outlier. According to figures cited by Pulitzer Center grantee Jason Motlagh in a July 2016 article for Outside magazine, about 20,300 flew to South America and began a long, arduous trek north to the US-Mexico border. That's over four-fifths of the total number of migrants that Motlagh says crossed from Colombia into Panama last year.

Costa Rica has little choice but to care for these new arrivals. Early in 2016, Solis recalled, Costa Rica's Constitutional Court had overturned deportation orders for a group of Cuban migrants, on the grounds that they would face persecution if they returned. In the Court's view, they met the UN's definition of a "refugee:" Someone who "has a well-founded fear of persecution for reasons of race, religion, nationality, political opinion or membership in a particular social group."

However, the same can also be said of many non-Cubans heading north through Central America. As one woman from Cameroon told Motlagh, who joined a group of migrants traveling from Colombia to Panama across the treacherous Darien Gap, "What can I do with a war going on in Cameroon and Boko Haram killing all of our brothers?" Or, in the words of a young Afghan, "Day by day it was getting worse, so I took this journey, If someone's life is in danger, they will do everything for themselves."

Refugees of all nationalities face similar dangers in the Central American jungle, and all have reasons to avoid returning home once they have left. But Cubans stand apart from Afghans, Nepalis, and other nationalities because of their preferred immigration status to the United States.

According to Motlagh, "Cubans, lured by the promise of political asylum upon hitting American soil, account for most of the migrant flow." He was referring to the Cuban Adjustment Act, which since 1966 has guaranteed asylum to most Cubans who reach U.S. territory.

Over 43,000 Cubans took advantage of this law in 2015, a massive increase from the 7,759 Cubans who left in 2011. Unlike with other groups, this surge did not stem from worsened conditions in the home country. Cuba's Human Development Index did decline slightly between 2011 and 2013, then ticked up again in 2014.

However, most analysts trace the beginning of the surge in Cuban migrants to the end of that year, when the normalization of ties between the two countries sparked fear that the Adjustment Act could be restricted or repealed. Today's Cuban migrants are trying to take advantage of an asylum offer that has always existed, before they lose it.

But by traveling north through Central America, Cubans are putting the region's governments under strain, and limiting their ability to care for other migrants that have come from much grimmer circumstances. Solis affirmed his country's concern for migrants' safety, but also emphasized that its generosity has limits. If the number of new arrivals increased from the current 150 per day to 500 per day, he predicted, the country's social services would be overwhelmed.

In effect, by making emigration through Central America attractive for one nationality, the Cuban Adjustment Act has exacerbated the suffering of other groups that have fled even more difficult circumstances. Not mincing words, Costa Rican Foreign Minister Manual González has called the Act a "perverse incentive" for migration.

Describing the willingness of migrants to face snakes and paramilitary groups in the Darien Gap, Motlagh described the route traversed as "the global migration story in extremis." Cubans' primary motive for setting off on this journey also exemplifies global migration, but for a different reason. It demonstrates how poor coordination of policies can aggravate the lot of migrants and excessively burden some countries, all while failing to address the factors that prompt migrants to leave in the first place.

Solis seemed painfully aware of this reality during his Wilson Center speech. At the White House earlier that day, he had discussed the possibility of changing the Cuban Adjustment Act with Biden. He told the guests he had "respectfully submitted to the government of the United States" a request to this end. But with Congressional action on the matter unlikely in an election year, he told the audience, "there's not much I can do."
RELATED ISSUES