Pulitzer Center Update June 20, 2016
Connecting to Pulitzer Center Journalists Over Skype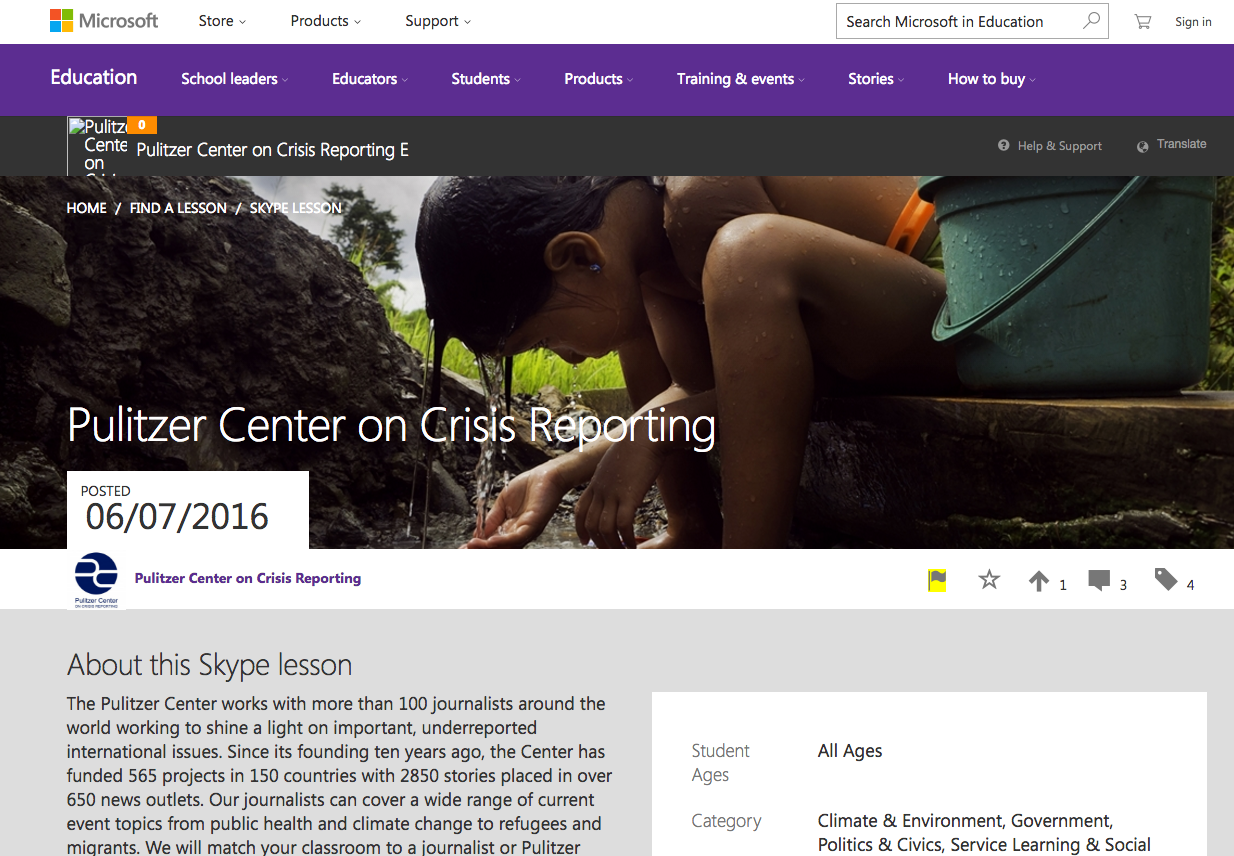 UPDATED: To request a virtual visit as of 2021 and beyond, please visit this page.
The Pulitzer Center has been using Skype for several years to connect classrooms with journalists all over the world through online video chats. Teachers simply reach out to the education department by emailing [email protected], outline the topic(s) or region(s) they are hoping to explore through a journalist visit and then collaborate with the education team to identify the right journalist for the class. As of this month, nearly a dozen classes have met with Pulitzer Center journalists over Skype in 2016 to discuss topics including shark hunting in Mexico, the experience of LGBTQ communities in Ukraine and the experience of reporting in Syria in the midst of growing conflict. Some teachers have begun including Skype sessions with Pulitzer Center journalists as a part of their curriculum and connect with several journalists throughout the year.
"The Pulitzer Center has added a great deal of interest and passion to my class this semester, and I'm very grateful!" wrote Sue Ikenberry, an AP Comparative Politics teacher at Georgetown Day School in Washington D.C.
This month, Pulitzer Center joined Microsoft's Skype in the Classroom platform to expand the network of teachers using Skype to connect to journalists. Established in 2011, Skype in the Classroom is now used by nearly 400,000 classrooms worldwide to connect classrooms with professionals in a variety of fields. Students use the platform to explore national parks, meet with professional authors and connect with schools in other countries. Teachers can also use Skype in the Classroom to find lesson plans, sign up for professional development workshops and explore resources to incorporate into their curriculums.
Teachers can still request Skype visits with Pulitzer Center journalists at any time by emailing the education department, but our Skype in the Classroom page will also be used to highlight featured projects and publicize pre-planned Skype visits throughout the year.
Regardless of whether teachers schedule a 30-45 minute visit with a journalist by emailing the education team or signing up with Skype in the Classroom, scheduling a Skype visit is free for teachers. The Pulitzer Center education team is also happy to support teachers with Lesson Builder resources that deepen student understanding of the journalist's reporting before and after Skype visits.