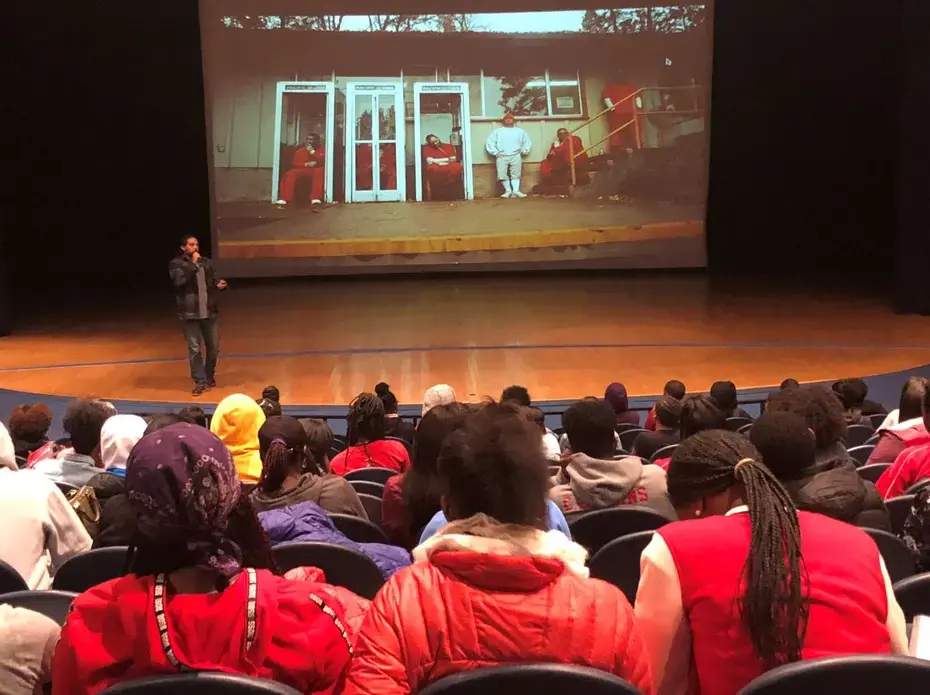 Photojournalist Brian Frank talks about mass incarceration's effects on minority communities at Kenwood Academy High School on Chicago's south side. Image by Hannah Berk. United States, 2018.
Brian Frank talks with a student after class at Orr Academy. Image by Keta Glenn. United States, 2018.



In fall 2018, California's raging forest fires seemed to flicker across every U.S. screen tuned into the news. When Brian Frank, fresh off a plane from San Francisco, asked Chicago public school students what images came to mind when they thought about the fires, most conjured up a firefighter clad in protective gear, blasting water at the blazes. But how much do we know about the people whose heroic image comes to mind?
Frank's recent photography documents the 40% of Californian firefighters who are currently incarcerated—working 24 hour shifts, paid about $2 a day, and unable to work in the field upon release due to their felony convictions. This, he told students, is an example of an under-reported story: those that aren't popping up in the headlines every day, and the ones journalists have a responsibility to uncover and uplift.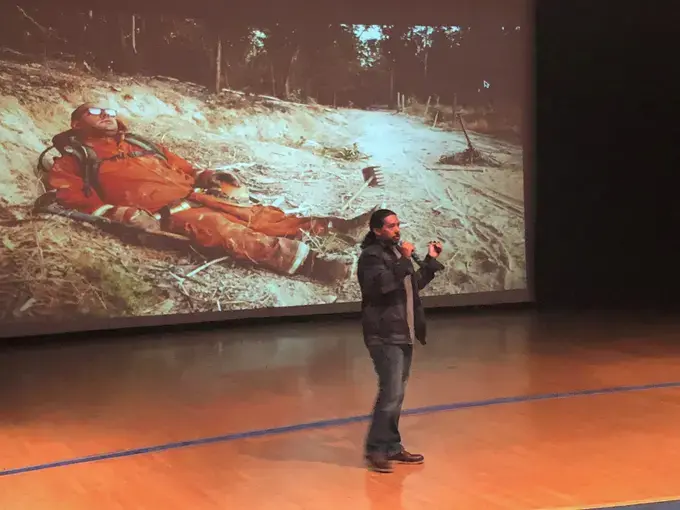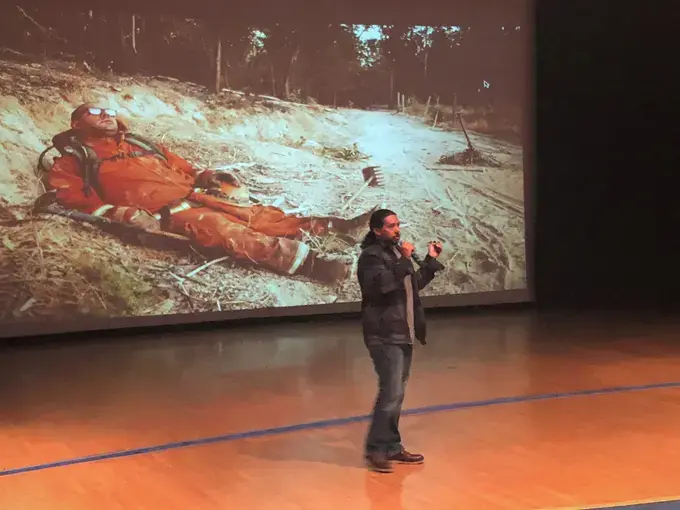 Frank visited Chicago in December to share his own reporting on mass incarceration's effects on minority communities as well as the work of students in his Pulitzer Center-supported "Visions of Justice" project, a photography workshop for court-involved youth in the Bay Area. Frank spent three days engaging elementary and high school students across the city in conversations about freedom and justice, how individuals and communities are criminalized, and the camera's power to humanize or dehumanize people depending on how it's used. Frank's work showed students people's lives inside an adult prison and a juvenile detention center, where they labor as firefighters and road workers. Taking a look deeper into the cycle of incarceration, he photographed the incarcerated men's communities, training his camera on police raids and the legacy of gun violence.
Telling a fuller story of incarceration requires putting cameras in the hands of people who have lived through it. Images by Frank's students Chris Shurn and Eugene Riley served to illustrate technical photography skills, the importance of forming an empathetic relationship with the subject, and the power of shaping one's own narrative. "The camera lets you look back," Frank explained, pausing on one of Shurn's photos of a police officer. "It allows you to look at the police instead of feeling surveilled yourself." At the end of some presentations, Frank and Pulitzer Center education staff led students in brainstorming what under-reported stories they would tell from their own communities, and thinking through how they could use the skills and resources at their disposal to get their message across. Students at Orr Academy and North Lawndale College Prep, where Free Spirit Media partners to teach documentary filmmaking skills, thought through how they might apply Frank's approach to their own projects.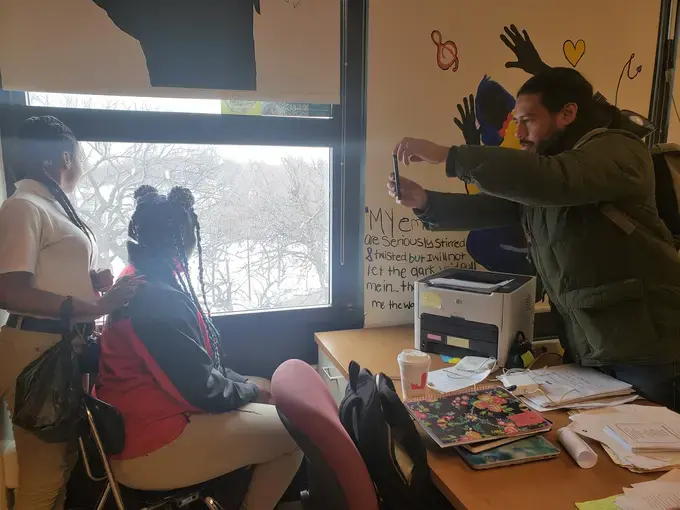 "The students are still discussing the [journalist's presentation] and how it inspired them to kick start a movement," wrote Kristin Flowers, Dean of Student Affairs at Kenwood Academy, after Frank's presentation to a high school assembly. "I believe the students receiving small doses of what social justice advocates are doing around the world will continue to encourage them to not only do more research but become active in their own community."
On his final evening in Chicago, Frank met with a gathering of teachers for a professional development workshop on mass incarceration in the media. Educators analyzed how differences in the lighting, angle, and other techniques he used shaped differing stories about the people he photographed. To think through how incarcerated people, their families, crime victims, members of the criminal justice system, and others are represented and granted or denied agency across media formats, educators explored diverse Pulitzer Center news stories on incarceration and criminalization in the U.S. and around the world.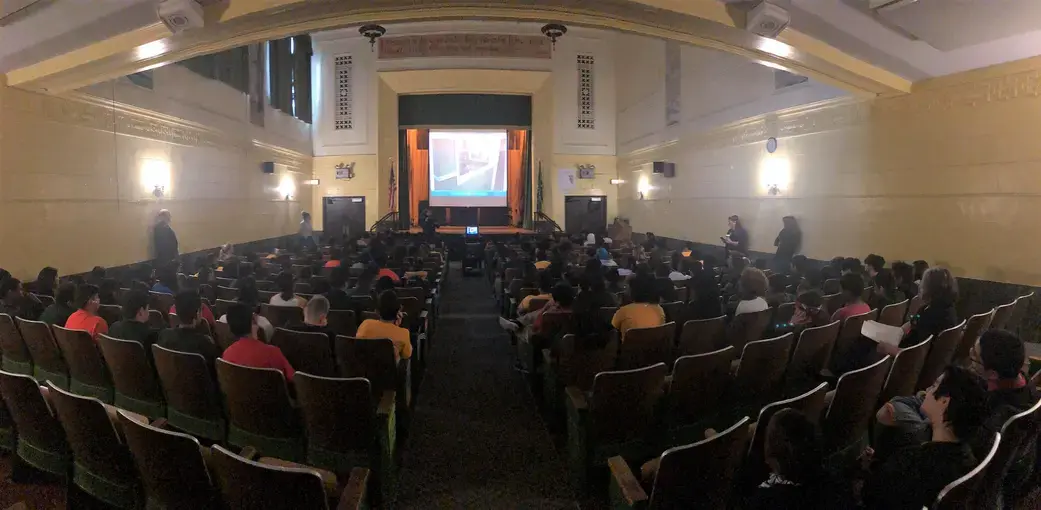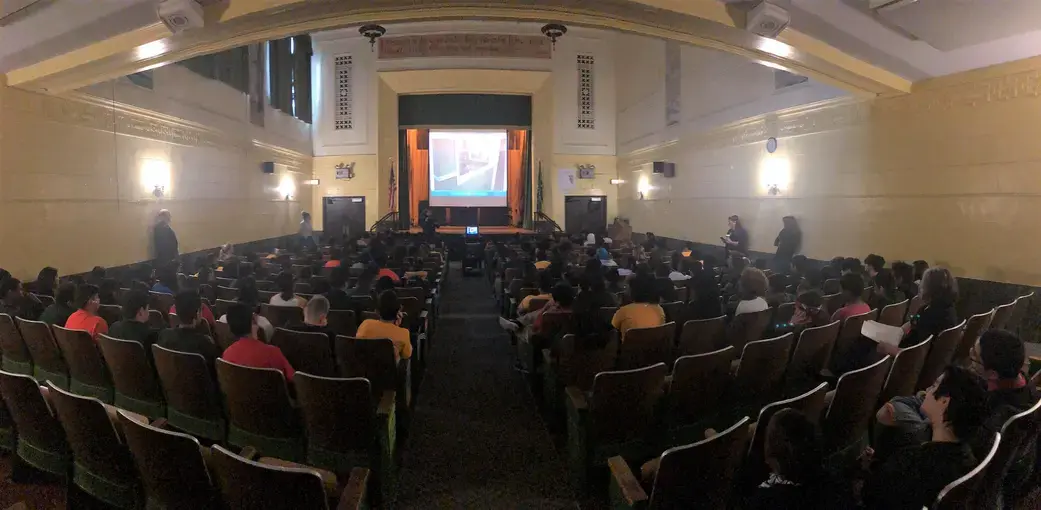 If you would like more information about how the Pulitzer Center education team can bring education programs and resources on mass incarceration into your classroom, including Skype conversations with Brian Frank and other journalists, please email [email protected]
RELATED ISSUES