Pulitzer Center Update October 30, 2017
Celebrating the 2017 Student Fellows at the National Press Club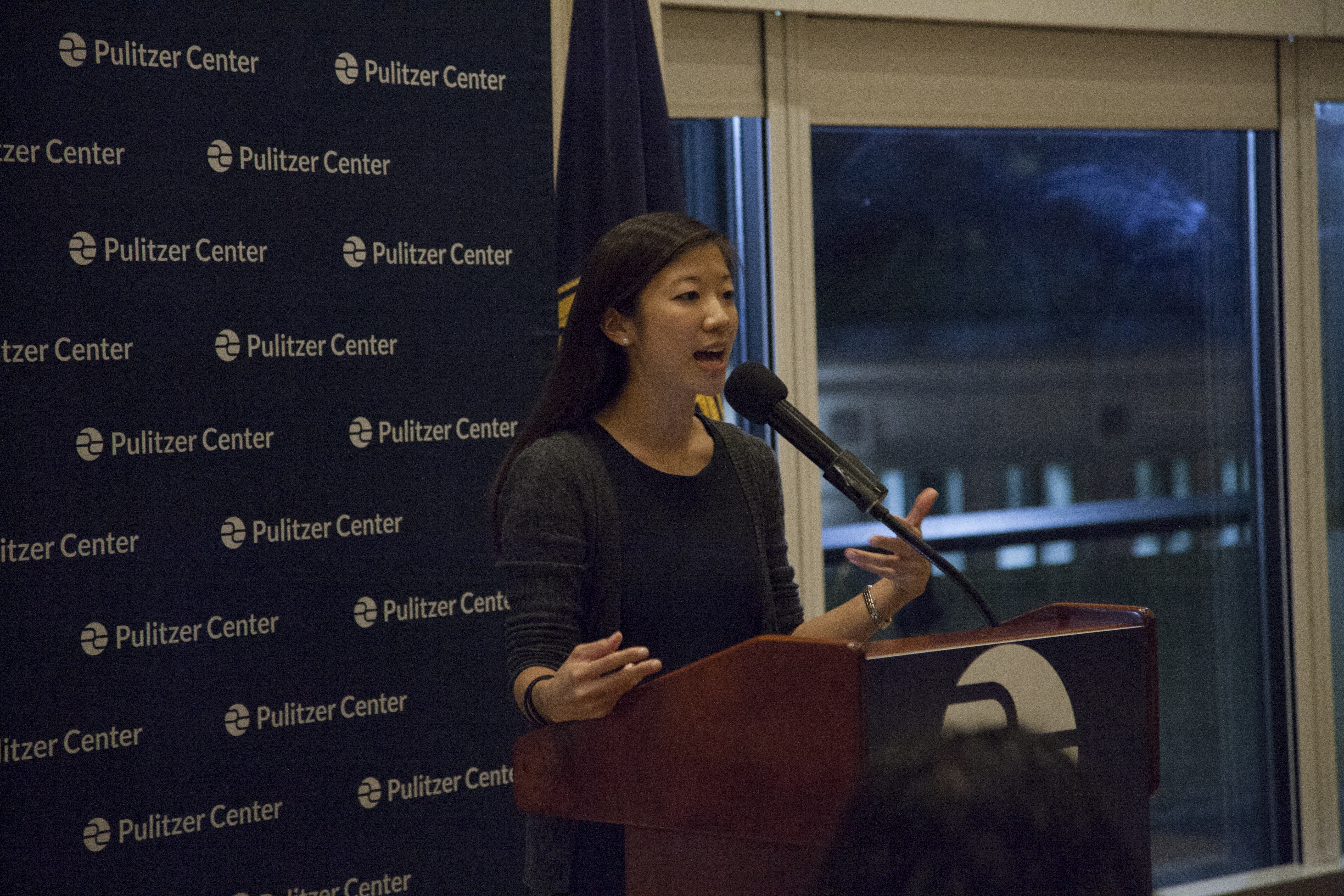 "I want to tell you about a mission I'm on," Bloomberg co-founder and former editor-in-chief Matt Winkler said as he kicked off remarks for the 2017 Pulitzer Center student fellows dinner at the National Press Club. "Thomas Jefferson did say there's no freedom without freedom of the press. . . However, I'm deeply unsettled, because most of the people doing the reporting look and sound like me." As such, his mission involves incorporating a greater diversity of voices into mainstream journalism, a task this class of young reporters stands eager to take on.














The fellows showcase enormous diversity in personal background, geographic focus, subject matter, and media. "Our 2017 fellows have reported in 27 countries across the globe—from Mexico to India, and from Iceland to South Africa," said Kem Sawyer, contributing editor at the Pulitzer Center, "You have looked for diverse voices to tell your stories—writing articles, creating photo essays, and producing video. All of this on issues that matter."
Student fellows chose to report on public health crises and mental health challenges, human and animal rights, the effects of climate change, and under-served and refugee children. Others zeroed in on how people around the world define their identity, from Syrians refugees rebuilding their lives in a new country to transgender communities in Pakistan and India. "This weekend was all about connection," LaGuardia Community College fellow Ambar Castillo reflected after the event. "Connection with each other, but also connection with these ideas."
In her remarks, Sawyer made clear why Pulitzer Center staff, grantees, board members, and friends had gathered to celebrate the 35 fellows: They are the future of journalism. "You give voice to the voiceless while speaking truth to power. Along the way, you are developing your own voice."
Fellows choosing to pursue careers in journalism took heart from Linda Qiu's address. Currently a fact-check reporter at the New York Times, Qiu has worked with outlets including Politico, National Geographic, and the Tampa Bay Times, but she credits the Pulitzer Center with launching her career. A former student fellow herself who reported on mineral wealth and groundwater depletion in Botswana, Qiu spoke about her daunting and indispensable work as a fact-checker in an age where the facts and those who uphold them sometimes find themselves under attack. "The future might look bleak," she acknowledged, "but there are opportunities, and the Pulitzer Center is the first step to all that."
Pulitzer Center grantee Alice Su reminded the fellows of why journalists persist in the work they do, and why the world needs them. "A lot of the time as a journalist, you don't feel like a hero," she said. "You feel helpless. . . But the core of journalism is presence. If the world is burning, you walk into the fire." An award-winning freelance reporter writing about identity and migration in the Middle East and China, Su has walked into that fire many times. Still, she wouldn't choose any other path. "Journalism is humbling," she said. "It brings us so close to the core of what it means to be human."
In closing, university and community outreach director Ann Peters thanked both the speakers and the Campus Consortium faculty—many of whom attended the dinner—for their support of the student fellow program.