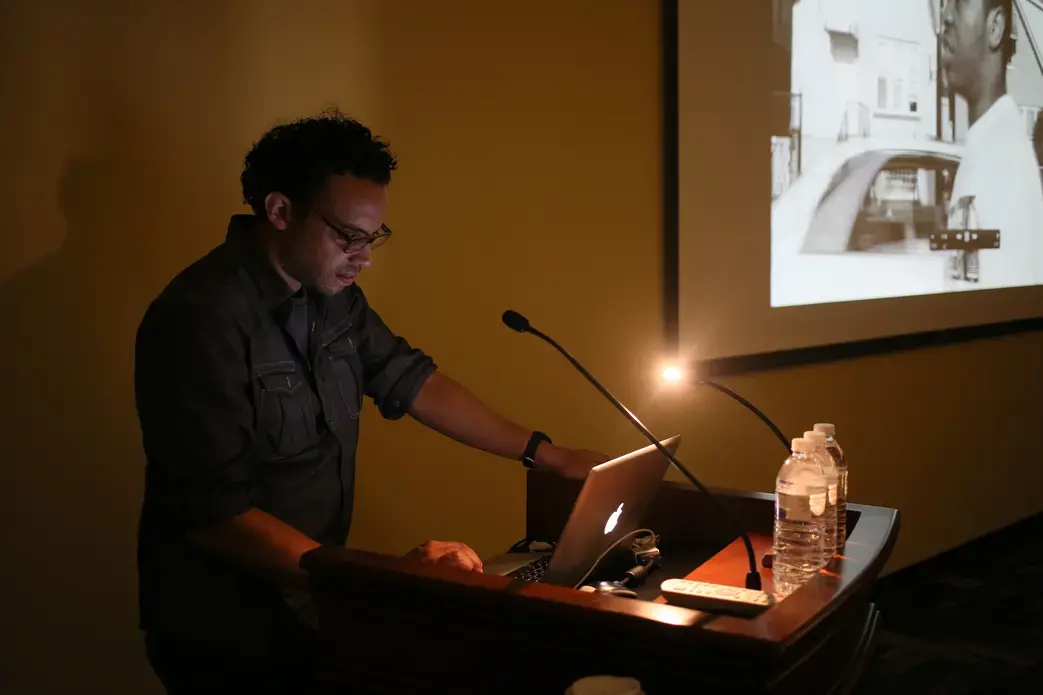 Carlos Javier Ortiz during his artist talk at the Worcester Art Museum. Image by Meghan Dhaliwal. Massachusetts, 2014.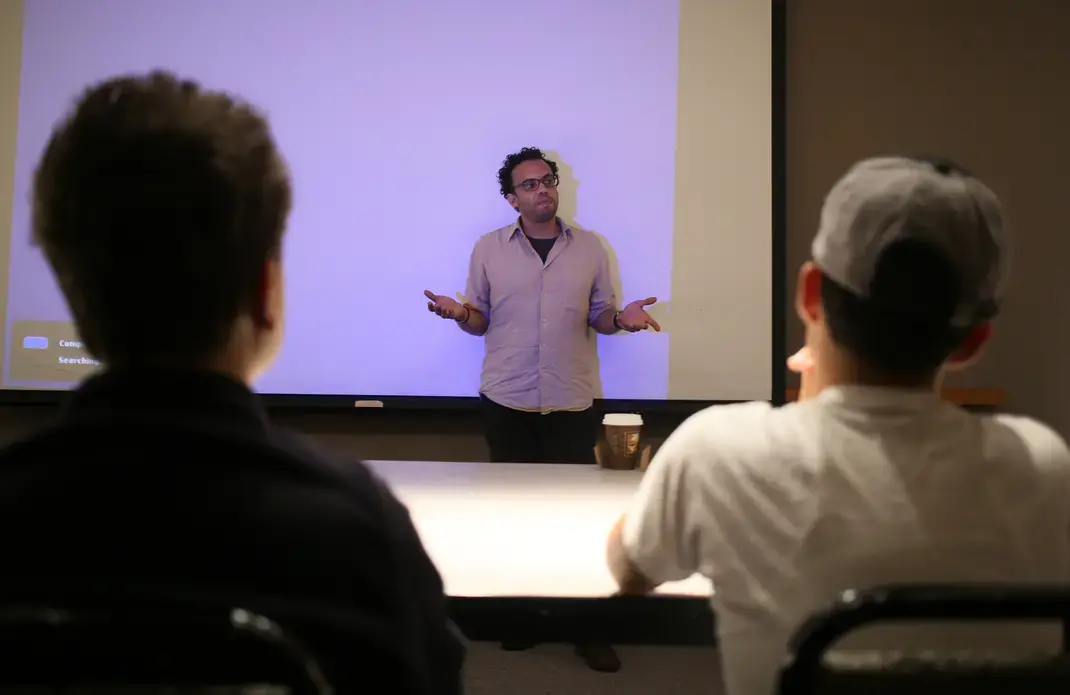 Carlos Javier Ortiz speaks to Worcester youths about his project 'Too Young to Die.' Image by Meghan Dhaliwal. Massachusetts, 2014.



Photographer Carlos Javier Ortiz spent the brisk autumn weekend of October 3-5 in Worcester, MA, discussing his work and its incorporation into the Pulitzer Center-Worcester Art Museum (WAM) collaborative exhibit Guns Without Borders. When the Pulitzer Center and WAM joined together last spring to combine WAM's Knights! exhibition with Pulitzer Center photography, the idea was to give audiences greater insight into the real-world ramifications of modern violence.

Guns Without Borders, showcasing work by Ortiz, Louie Palu and Dominic Bracco II, is the first in a series of Pulitzer Center photography exhibits that will be paired with WAM's Knights! exhibition. The next collaborative exhibit, "Africa's Children of Arms", opens November 19 with work by Marcus Bleasdale, Robin Hammond and Andre Lambertson.

On Saturday, October 4, Ortiz met with a group of Worcester youth and presented his work on gun violence in Guatemala and Chicago. The subject brought out a range of emotions for the high school students and their counselors.

When Ortiz showed the short documentary "We All We Got," sniffles could be heard throughout the dark room. After the presentation the students were asked how they felt.

The room filled with a solemn quiet until one young man shook his head, "It makes me mad. It makes me mad!" Ortiz asked why, and the student responded, "The government has billions of dollars and they won't even wash our blood off the sidewalks."

A lengthy conversation about Ferguson, MO., ensued, as well as talks about "The Case for Reparations," a piece photographed by Ortiz and published in The Atlantic. When the session was over, five students stayed behind and walked through the museum with Carlos. They did not want to see more images of children who had died—they gravitated to the modern art section of the museum.

On Sunday, October 5, Ortiz gave an Artist Talk about his Guatemala and Chicago work. The session drew museum goers, local teachers, advocates for undocumented youth, and museum staff.

Conversations ranged from whether the work, and specifically the Guns Without Borders exhibition, was appropriate for children, what teachers can do for students who face dire environments, and how Ortiz carries his experiences photographing this project with him. The audience engaged not only with Carlos but with each other, a phenomenon one museum staffer noted was a rare occurrence: "I love seeing work that makes people want to talk to each other."

The Guns Without Borders exhibit itself, nestled in a somewhat foreboding room (a warning about violent content greets you before entering), is a somber space compared to the rest of the Knights! exhibit. The medieval weaponry and armor that precedes the Guns Without Borders room is displayed in a grand way.

When looking at a glass case containing a medieval helmet, one person remarked to Ortiz, "Woah! Look at the hole in that helmet. That's so nuts." A blow had ruptured the helmet in battle, leaving a jagged crater in the head piece.

Nancy Burns, curator for Guns Without Borders, quickly remarked, "This is why our exhibit is so important. All of this stuff...you forget what it was once used for. There was a head under that helmet once, and that blow probably killed the person that wore it."

A small room just off of the Guns Without Borders exhibit contains an iPad where people can leave reactions. Some are angry at the museum, some are angry at the way of the world, some don't feel a museum is a place for images like the ones shot by Ortiz, Palu, and Bracco.

But many understand, as one comment revealed: "...The juxtaposition and reaction of visitors below [re other comments] is quite telling of how our society views such atrocities of the past as "beautiful" and worthy of the museum yet the modern versions are viewed as disturbing. The difference perhaps only in the passing of time - displaying these issues more realistically without the mawkish romance. This is well done on the museum's part because it causes the viewer to stop and rethink what it is that makes these artifacts of death and destruction so "wonderful" and "amazing" to look at. Perhaps in a few hundred years museums like this will have crowds lined up to view prison shanks and AK-47s."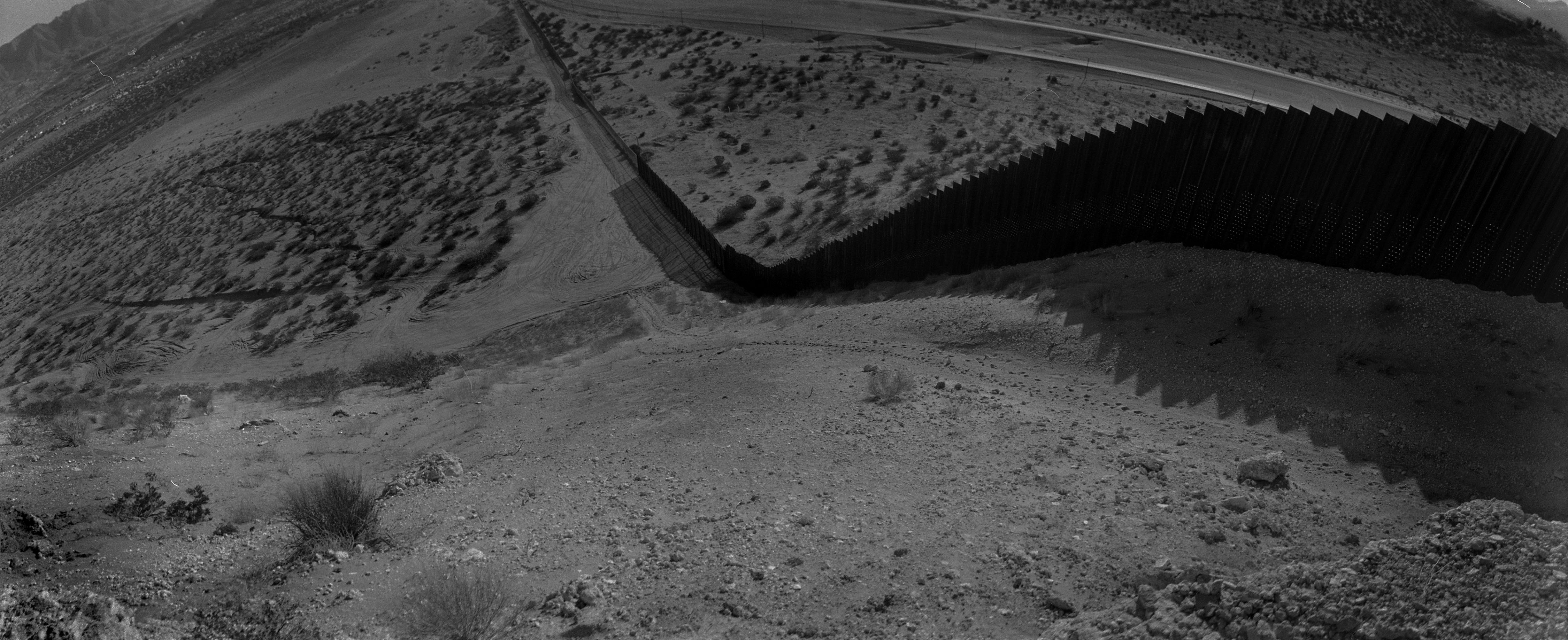 Louie Palu explores the U.S.-Mexico border where violence runs rampant: What does it look like? How...