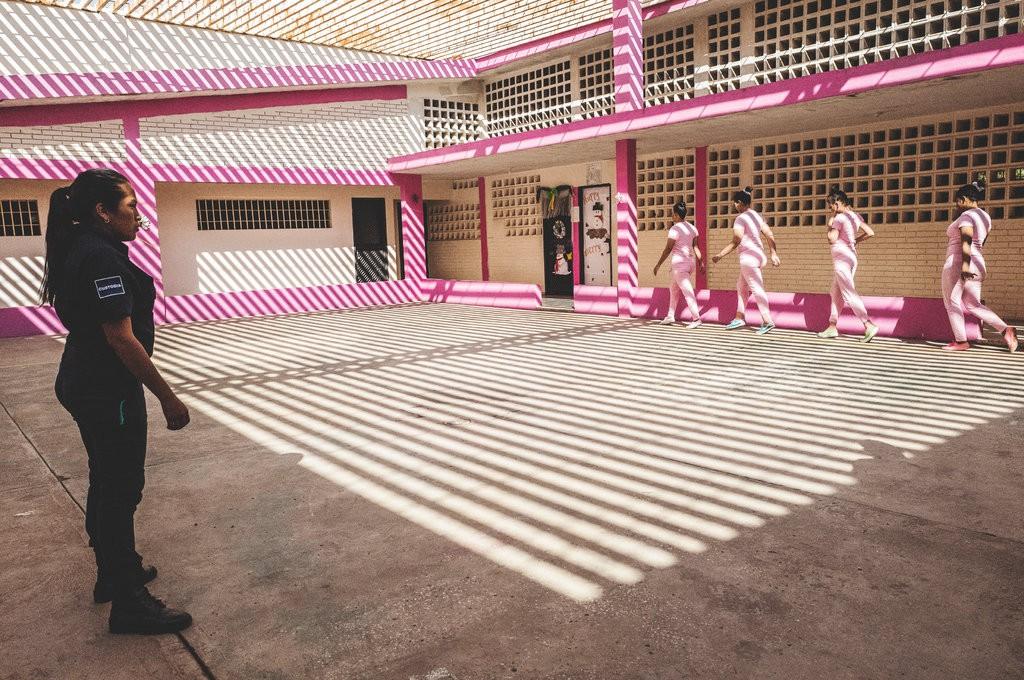 In dark, crowded, and claustrophobic cells lie the faces of mothers, daughters, and sisters of Latin America. 
Pulitzer Center grantee Ana Maria Arevalo Gosen calls herself a fighter for women's rights, and her "weapon of choice" is her camera. As a self-described "visual storyteller," Arevalo Gosen began her extensive reporting project in Venezuela capturing the stories of women in pre-trial detention centers. 
The Pulitzer Center-supported project Dias Eternos — Women's Time in Venezuelan Prisons documents the lives of women detained. Thousands of women in Venezuela are held in preventive detention centers, where they are waiting for trial and are separated from their families for extended periods of time. In 2020, Arévalo Gosen received the Lucas Dolega International Prize at Paris City Hall for Dias Eternos — Women's Time in Venezuelan Prisons. 
After much success, Arevalo Gosen continued her project in El Salvador. Dias Eternos intends to unravel the causes and consequences of female imprisonment in Latin American society. 
Pulitzer Center intern Alexis McCowan spoke with Arevalo Gosen to learn more about the penitentiary system, how it disproportionately affects women, and Arevalo Gosen's approach to reporting. The following Q&A has been edited for clarity and length.
Alexis McCowan: Tell me a little about yourself and your reporting project.
Ana Maria Arevalo Gosen: I am a visual storyteller. My area of focus is women's rights and environmental issues. I say that I am a fighter. A fighter for women's rights and my weapon of choice is my camera. I studied political science and photography until 2014. I worked for local magazines, and I started to try different things like doing portraits of people because once you leave photography school I had to improvise. I started to spend more time working in Venezuela, and in 2017 my husband got sick with testicular cancer and that was my most challenging work. I normally took out the camera to fight my fears and to preserve memories. This was a moment where I thought that my memories were not the happiest, but these may be the last memories of my husband. 
When I was in Venezuela, I visited around 14 detention centers and two precincts. My curiosity kept growing, and I wondered how women were affected regionally in Latin America inside the prisons. The conditions overall are terrible, but the reasons for the tension are horrible, too. 
In 2021, I went to El Salvador and discovered the abortion ban law and how it affects so many women, not only the ones that go to prison but women in society. Women are scared of getting an abortion even if the baby is in danger. They will go to prison if they get an abortion. I decided to report on that.
AM: What was your experience reporting in Venezuela and El Salvador? Were there any similarities/differences?
AG: In Venezuela, women that were not condemned guilty could not go to state prisons, which created a procedural delay. The effect was that detention centers were increasingly overcrowded. The prisoners were getting sick, they were striking more, and they were escaping. The police officers were suffering from the consequences and this relaxed the access for me. I started to report on the detention centers and then I went to state prisons just to see the contrast.  
In El Salvador I went outside the prison and I interviewed around 30 women who were in the reinsertion process. I interviewed women who were members of different gangs and women who were trying to find a job after being in prison because of the abortion ban law. The ones that were having a hard time being reinserted into society were gang members because this carries stigma. The bigger problem for them is the identity they define themselves with. When women are gang members, they believe that the gang is their family, refuge, and place of security. Once they are out of prison, they go straight to the gang and they commit crimes. That means they get arrested and they go to prison again. It's a never-ending cycle of this behavior. 
In Venezuela the crimes are more petty, like robbery and extortion. Of course you have homicide but it's more because they come from lower-income class and they don't have a lot of education. They don't have a lot of possibilities to work. So they commit crimes to feed their child because they are the only caretaker of the child.
The similarities I found were that the women always treated me with the highest respect. We always got along and I was never in danger. They are in bad conditions. They are waiting for their freedom in places where they do absolutely nothing. They don't have activities. They don't even have space to sleep sometimes or even medical attention. They don't have the right to see their lawyers. 
AM: Were the women that you photographed hesitant? How did you gain their trust? 
AG: Once I go into a cell, I never take my camera out in the first moment. I introduce myself and tell them what I am doing, my work, who I am, and where I live. Then I ask if they can give me an interview. I do this for a database and I allow them to talk to me a little bit. Once we are comfortable in the space I say, "Hey we are going to start taking pictures; if there is anyone that is uncomfortable and that doesn't want to be in the picture, please let me know." 
In El Salvador I had a big challenge with the gang members because they wanted to be photographed, but their identity couldn't be shown. To do some sort of collaboration I asked them what their favorite colors were so I could buy fabric to cover their faces. I asked what was their favorite flower so I could make portraits with the flowers. For me it was a huge challenge because I was working as a photojournalist and I had to do straight-forward reporting. For me this was super fun because I got to play with fabric, flowers, and create a different kind of portrait, and that is how I solved that issue. 
For me I don't insist much on gaining someone's permission. If they don't want to, I leave them be. They are already in a vulnerable situation and suffering so much. I'm not going to give them additional pressure for a picture. 
AM: How did you choose to report on this topic? 
AG: In 2017, I was talking to a former high school friend. I was talking about my career and that I was a photojournalist. Then she tells me you have to meet my cousin. She is a journalist. And she works defending women's rights and doing all the things that you are also doing, you should connect. She connected me to Angelica and she worked for this NGO that defended the rights of the people that were detained and taken to pretrial detention. She asked me if I wanted to come and I said yes. She told me you're going to see terrible conditions. Men and women are together. They are overcrowded. It was the worst and there were so many people. 
As a woman I felt more connected and that I could work in-depth, and people really understand the conditions of prison but also the characteristics of their lives before prison and after. This is not only the prison but this is affecting our society as a whole. How violence is fueled, families are destroyed, crimes are investigated, and these are only people that come from lower socio-economic strata. That is how I decided to do this topic. That is the day I realized that I want to fight this and change things, and I want people to know. 
AM: How did your reporting affect you mentally/emotionally? 
AG: You're absorbing and you're seeing so much suffering. It isn't something that you can easily change. These women are in deranged inactivity and it makes you desperate. In the beginning I was feeling very sad and enraged; I was really young and didn't know how to handle it. But now I go to therapy, I do training, yoga, volleyball, and music. I'm writing about these experiences and how I feel. I have the support of my friends, family, and husband. I do have photojournalist friends that I can talk to when I feel blue. Now I understand that this rage that I'm feeling is a beautiful rage. It's a rage that I need to wake up in the morning and keep on fighting. 
AM: The stories that you report on bring a sense of sadness and despair, but I was wondering, were there moments of joy and hope? 
AG: These women are here for months and even years, so it is not like they are always sad. The general spirit that lives inside the center is despair, sadness, and hopelessness. But of course there are moments where they are joyful and they are singing, and they celebrate birthdays. They form alliances and become friends. They learn about other people's lives and they talk. My work also shows that they are together as a group that becomes sisters. There are pictures where they are laughing, hugging, and praying with a lot of faith. There is a sense of community, which is amazing. Once you are in a detention center with women they are going to share with you. It is a body of art that shows hope and resilience. It shows how women can adapt to the most horrible situations and find a home there. There are some detention centers that are decorated; it's because they want the place to look like their home. 
AM: You completed reporting in Venezuela and El Salvador. What do you have planned next? 
AG: I'm looking forward to going to the next country and I am traveling in about three weeks to another country to continue this work. I can't tell you much because it's a secret. But I want to focus on another aspect of imprisonment in Latin America.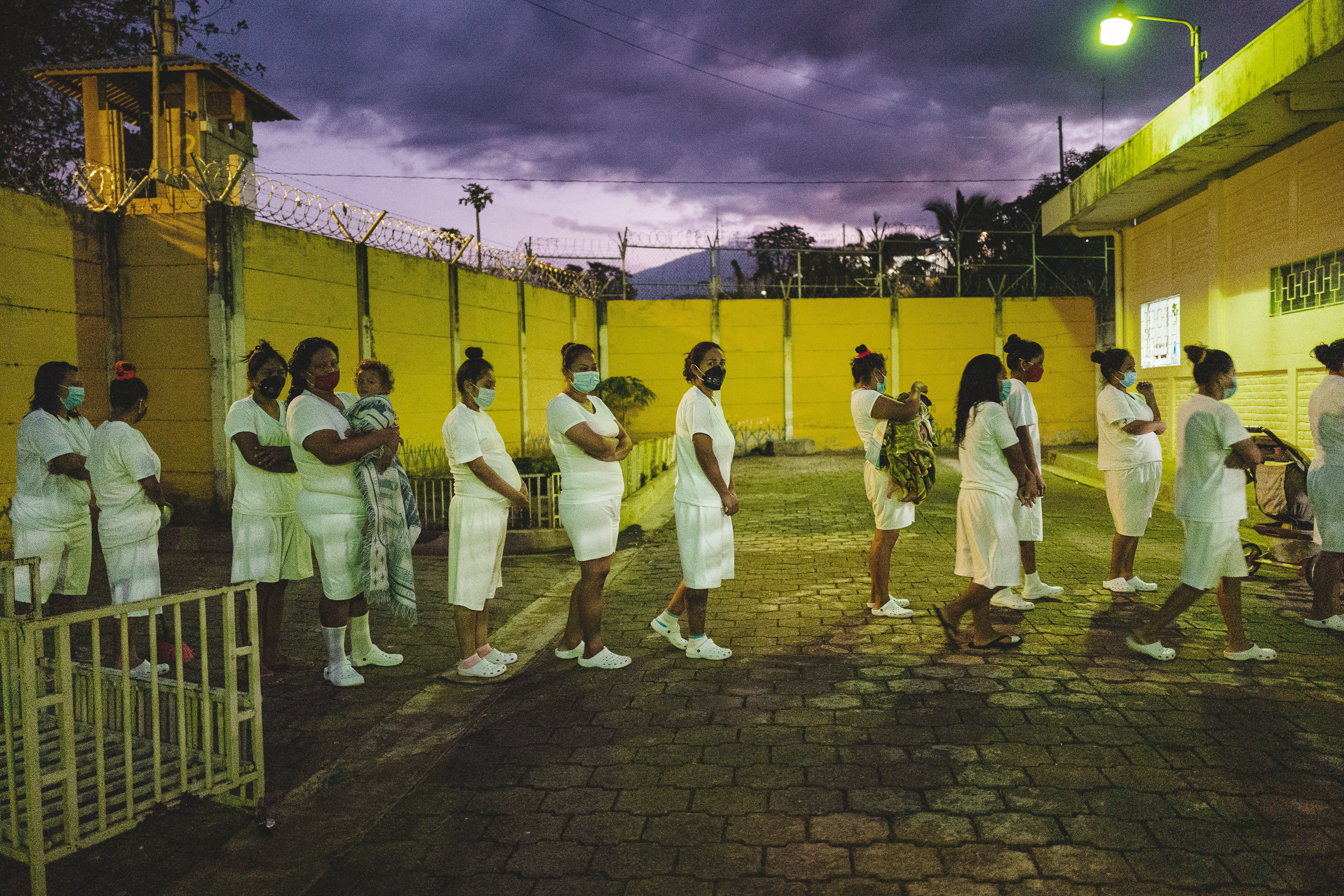 The deplorable conditions of imprisoned women in El Salvador has remained largely neglected...
RELATED ISSUES