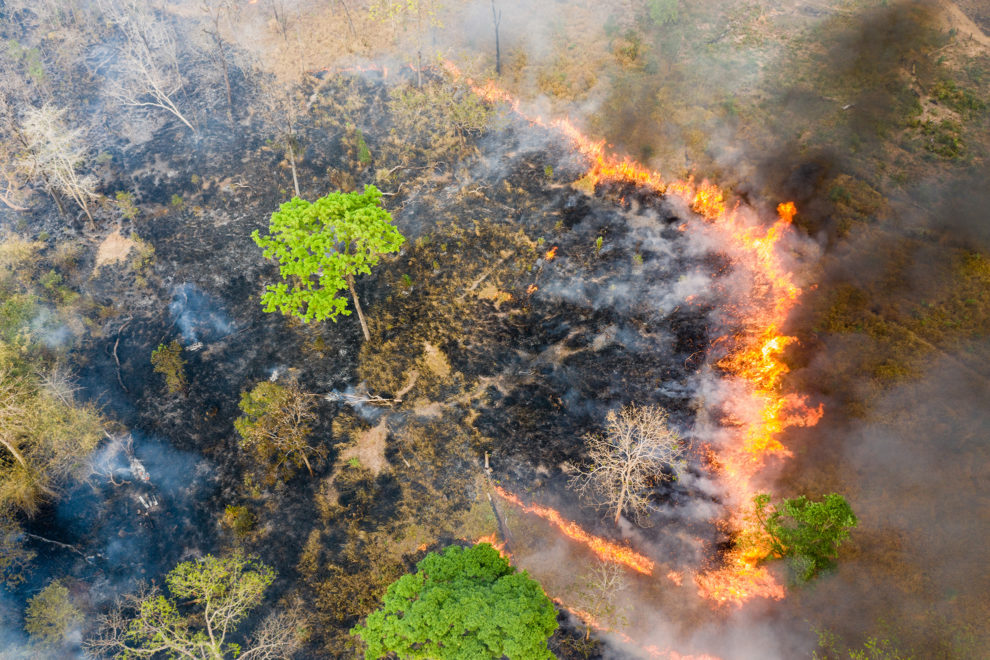 "I was really surprised at the level of the deforestation or how extensive the fires were in Cambodia," journalist and photographer Sean Gallagher said in a conversation organized by the Pulitzer Center on March 20. The Pulitzer Center's outreach coordinator, Holly Piepenburg, led the conversation as part of the 2021 virtual Environmental Film Festival in the Nation's Capital.
At the beginning of the conversation, Piepenburg played Gallagher's Pulitzer Center-supported, award-winning short film, Cambodia Burning. Using aerial cinematography and poetry, the film documents the devastation in Cambodia inflicted by deforestation and forest fires. It won several awards, including the Best Short Film award at Earth Photo Award 2020.
"I have been covering issues surrounding the climate crisis and the global environmental issues for about 15 years," Gallagher said. "This work from Cambodia is the latest chapter in that continued work. Throughout the three weeks, I embedded myself with some of the conservations, local activists and people who were really working on the front lines to try to protect the remaining forests in Cambodia."
While talking about the source of this idea of covering Cambodia's forest fires and illegal logging, Gallagher said he read an article on the Internet that said Cambodia's forest fires were visible from space.
"Cambodia has lost almost a quarter of its forests in the last 20 years," Gallagher said. "Other regions of the world were getting a lot more attention with regards to their forests … but Cambodia was a country that was getting very little attention."
He said that while working on the story, he took utmost care to maintain the safety of the people who worked with him.
"It is a very sensitive topic in Cambodia," he said. "And the people that I met and photographed are still in Cambodia. I'm not based in Cambodia, I just visited there for three weeks. So I have to be very aware that these people continue to live in Cambodia so I have to take every measure that I can to protect them and not use images of them if they don't want them to be used."
He also spoke about the reasons behind using poetry alongside the aerial shots for his film, and about the roles of people in Cambodia who collaborated with him in telling the story.
"If I presented a five-minute story of just visuals flying over the forest and the transformation, it doesn't have anywhere near the impact as it does with that poetry," he said. "I felt that as an outsider, I didn't think it was completely my place to try to tell the story of how this transformation in Cambodia is affecting Cambodian people ... Through a network of contacts I made in Cambodia I was able to find some Cambodian writers. They were crucial in providing that script and that story."
He said that while the work that he has done, including capturing drone footage of illegal logging, seems a bit risky, it is not comparable to what the conservationists in Cambodia and in other parts of the world continue to do.
"The people from the logging operations gave a chase, they followed us, but we managed to get away," he said. "So it was a little bit of a nervous situation for everybody because nobody wants to be in that situation … but I don't think it's anything really for me compared to what some of these people are doing every day, and they are doing it today, this week, this month. I just did it for a short amount of time what a lot of these people are doing every day."
The conversation is available to view for free through March 28 as part of the Environmental Film Festival platform.
Click here to watch Cambodia Burning.

RELATED ISSUES