Pulitzer Center Update June 15, 2012
A Call to Action for Child Survival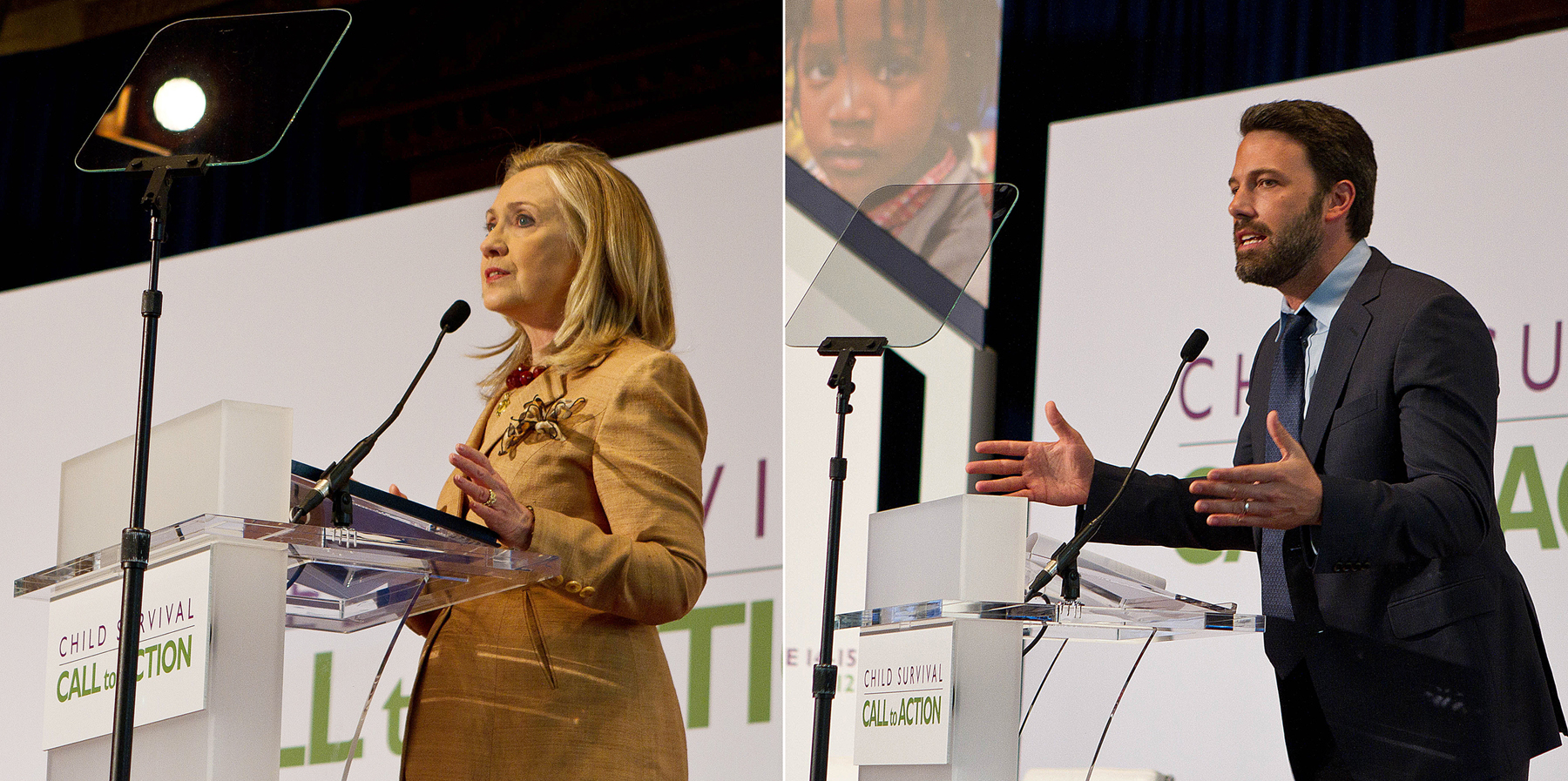 "This year, more than 7 million children will die from preventable causes before they reach their fifth birthday," said Secretary of State Hillary Clinton, speaking on June 14, 2012, at the UNICEF Call to Action Conference at Georgetown University. The goal of the conference was simply stated: end preventable childhood deaths within this generation. Deaths from diarrheal diseases, measles, and pneumonia constitute a large portion of what the forum considered "preventable deaths." Such conditions, which receive cost-effective and readily available treatments in the United States, are often closely tied to resource-poor populations.

Ministers of health from countries across the world as well as ambassadors, CEOs, one "Her Royal Highness" – Duchess Infanta Christina of Spain, and Ben Affleck joined Clinton at Call to Action. The leaders from diverse institutions rallied for two days, exploring ways to integrate initiatives and perform alchemy with health systems and interventions.

In 2008, UNICEF claimed that in the past fifty years child mortality (measured as the number of children under age five who die per 1,000 children under age five) fell by 50%. As the world approaches crunch time for the World Health Organization's Millennium Development Goal to lower the childhood mortality rate by two thirds between 1990 and 2015, it does not appear that many countries will make the cut. Clinton and her colleagues at the UNICEF Call to Action conference want to set a new goal. They believe every country can suffer less than 20 deaths per 1,000 children under age five by 2035.

"On the current trajectory (mortality rates) will be the same in rich and poor countries in a century. That's too long to wait," said Clinton. Indeed, the roadmap presented during the forum touts five strategies, the first of which is to focus on the most vulnerable countries. Of the 7 million children Clinton stated will die this year, half will come from only five countries: India, Pakistan, Nigeria, Ethiopia, and the Democratic Republic of the Congo (DRC). The Ministers of Health from four of the five countries with the lowest child mortality rates attended the conference and joined politicians and private sector CEOs in discussions about the best way to save more lives.

"We will share the many lessons that we have learned in the process and decide new ways in which we can move forward," said Ghulam Nabi Azad, the Minister of Health and Family Welfare, in India. Indeed, the Call to Action goal is no small feat for India, which boasts the world's largest annual birth cohort of 26 million babies and, according to the 2005 Demographic and Health Survey, a child mortality rate of 74.3 deaths per 1,000 children.

In a room with representatives from companies that produce life-saving technology, the organizations that distribute them, and the government officials who implement them and monitor their progress, it feels like everything is possible. For example, if you want to combat measles in Ethiopia, you can make tangible progress by bringing together the Senior Vice President of Merck Geralyn Ritter, Director General of the World Health Organization Margaret Chan, and the Minister of Health of Ethiopia Tedros Adhanom Ghebreyesus. Under a cathedral-like roof at Georgetown University you have the producer of a measles vaccine, the leader of the Measles & Rubella Initiative in Ethiopia, and the government official responsible for health in that country. It may seem as if worlds are merging to produce an answer to child mortality, but the single solution does not always translate to success. "Don't over-exaggerate" urged Professor Hans Rosling of the Karolinska Institute in Sweden. "A vertical, single intervention for this child mortality won't work," he said.

Rosling's realism illustrated the key point that saving the lives of children is about much more than just saving the child. Speakers throughout the day emphasized that to save a child, you need to save the mother, you need to educate the family, and you need to empower their country to provide the healthcare that children will need past age five. That is just the start. The key, as the Dean of Harvard University's School of Public Health Julio Frenk pointed out, is integration. Integration of public and private resources and, it would seem, a lot of tenacity. UNICEF's Call to Action celebrated progress (Merck announced a $200 million public-private partnership to combat maternal mortality in Uganda and Rwanda) and tempered expectations (Rosling flatly stated the DRC cannot meet the 20 by 2035 goal). "We can only meet our ambitious goal if we keep up our efforts day after day, and year after year, and if we are relentless about holding each other to the task" Clinton concluded.
RELATED ISSUES