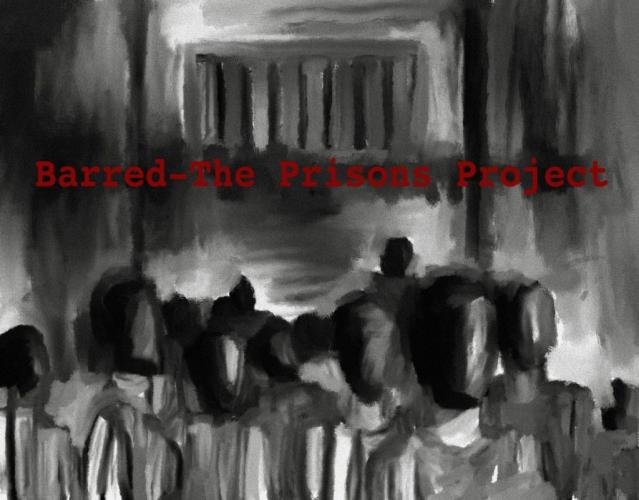 In India, media coverage has often paid disproportionate attention to "high profile" cases or those involving political prisoners. This coverage gap means the stories of "lower" castes, religious minorities, women, children, and transgender people in Indian prisons often go untold. Yet studies show many of these groups are overrepresented in today's prison populations.
Appearing in The Wire, a five-part Pulitzer Center-supported series by grantees Sukanya Shantha and Jahnavi Sen titled Barred – A Prisons Project sheds light on narratives and experiences of incarceration in India and has already generated remarkable impact. The project's first story by Sukanya prompted the Rajasthan high court to order the overhaul of the state prison manual. Less than two months after the article was published, the state government repealed all rules sanctioning caste-based labor assignments in prison.
"[The series'] aim to give voice to the voiceless stood out to us," Pulitzer Center Senior Editor Boyoung Lim commented. "The goal was to tell the stories of those who suffer from discrimination and dismal living conditions within the prison. Their voices have almost never been heard, and it is our mission to support such underreported stories. We are amazed at the impact this ongoing project has made so far."
Pulitzer Center Development and Impact Assistant Ethan Ehrenhaft spoke to Sukanya about her reporting to learn more about the project's origins and impact. The following Q&A has been edited for clarity and length.
Ethan Ehrenhaft: Could you talk about what made The Wire decide to launch this project and look into the Indian prison system?
Sukanya Shantha: Before approaching the Pulitzer Center for a grant, I was looking for ways to continue writing about prisons. At one point in time, I realized that as a reporter who's stationed in one city, it becomes difficult to actually cover India since it's vast and traveling across the country is difficult if you don't have the wherewithal and funds to do so.
We decided, "Okay, we should formally set up a system in the organization which will have a focus reporting on [prisons]. This was something that I, along with my co-grantee Jahnavi Sen and The Wire's founding editor Siddharth Varadarajan, brainstormed over. We realized this issue was something that needed an urgent, extreme focus, and so we decided to apply for Pulitzer. That's how the project came to be, but before the grant money, myself and other reporters in the organization were still reporting on [prison-related] issues.
EE: How does the Indian media typically cover prisons and the criminal justice system? What do those articles and related conversations typically look like?
SS: I'm actually trained in law and before joining The Wire and Amnesty International, I used to work with a national newspaper called The Indian Express for a period of about six years. During that time, I used to cover the lower judiciary and central investigating agencies, like the Central Bureau of Investigation and the National Investigation Agency, which look at very high-profile cases.
At the lower courts, I would often meet prisoners and their families who did not have the resources to get themselves out on bail or hire an adequately well-informed lawyer. And on the other hand, the high-profile accused persons had the best of the legal community representing them in court.
That was one part of what I observed, but when it came to reporting this, we would look at prisons as a space where people are sent, confined, and incarcerated because they are "deserving" of that treatment. Invariably, the approach towards looking at prisons was, "OK, there are a bunch of criminals who are actually kept inside to ensure that society feels safe." That's a narrative that we see across media outlets.
So even when you see a human rights violation [in prison], it is not looked at as a serious violation unless somebody is brutally killed. Unless something really graphic happens in the prison, we don't feel shaken up. If you don't have legal representation for years, that is not something that disturbs the media conscience in India. If somebody fell sick and eventually died in the prison, that doesn't make for a story. Unless somebody, say, dies by suicide or is killed inside by the prison officials, it doesn't make for a story. Everything else is looked at as something that the prisoner deserves. That has been the mainstream media's understanding for as long as I know.
The only space where the media, more particularly the liberal outlets, empathetically covers or understands rights have to be addressed is when the prisoner is a political prisoner. When reporting on political prisoners, the liberal media at least shows some empathy. But while doing this, the issues of over four and half lakh incarcerated persons take a back seat.
EE: When it came to the Barred project, how did you approach reporting on caste within prisons? What was access like?
SS: You cannot look at the Indian subcontinent without caste — it is a fulcrum around which everything revolves here. No individual in India, irrespective of which religion they belong to, can say they are untouched by caste. Be it Hindus, Muslims, or Christians, everybody's identity, their position in the social hierarchy, is decided by caste here. That's the reality and it is reflected in the prison system too.
I try to approach my writings from an anti-caste perspective and I have tried to imbibe, as much as I can, the teachings of Dr. B.R. Ambedkar and other anti-caste heroes like Jotiba Phule, Periyar E. V. Ramasamy, and Shahu Maharaj, in studying the Indian subcontinent.
The first story I had thought about was to look at how the caste system works inside prisons. From my engagement with the penal system in the past, I had an understanding that there is a certain kind of ill treatment that is meted out to people belonging to the "lower castes." While researching further, I began studying the prison manuals. In India, prisoners are considered to be a state subject, so every state is responsible for running their own prisons. Every state has its own specific prison manual.
While I was researching the manuals, I realized that at least 10 or 12 states actually had caste- based discrimination mentioned in the rule book. For example, in Rajasthan, the state where we have got some results, the prison manual clearly states who can cook. The Brahmin caste, which is supposed to be the priestly, highest caste, are the ones who can cook. At the same time, those who come from a "lowly caste" are supposed to do the job of cleaning sewers or other menial jobs inside jails.
I was stunned, because that was the first time I was reading something of that sort. I assumed that maybe I was somebody who was ignorant, who didn't really know of its existence. I started looking for literature about it. I looked around on different platforms and academic publications to see if I could find something about it and I just got nothing.
The next step was to go to different domestic and international NGOs. There are quite a few of them who have been working for a very long time with prisons. I started interacting with them and I realized they also were unaware of it. It appeared that most people I spoke to had seen caste [mentioned in prison manuals], but did not register that this was a problem. I knew this was something that needed some amount of deliberation and that someone had to problematize this whole idea of ignoring the presence of caste in prison rules.
EE: Your first report prompted the Rajasthan high court to order an overhaul of that state's prison manual. Can you talk a little about how that decision came about?
SS: The story begins with the case of a very young adult who was incarcerated for close to three months in a false case. He was charged with theft and then eventually came to be acquitted from the case. He was from a neighboring state called Bihar and was working in one of the districts of Rajasthan in an electrical workshop where he was accused of theft. When he went to the prison, he was asked about his caste identity and he said that he belonged to a certain caste which is classified as a Scheduled caste, also treated as a lower caste in that state. Automatically, he was given the work of cleaning a septic tank. That's the first shocking experience that he went through.
I believe the Jodhpur bench of the Rajasthan high court must have actually read the story and felt that, "OK, this is happening in Rajasthan and we should address it." Nobody petitioned the court, they decided to take it up themselves. They also immediately directed the state government to respond. The state government contacted me after that, saying, "Please tell us where caste is mentioned in the prison manual." They have been using this prison manual for 70 years but did not know where to look.
But I should give [credit] to them because it's really commendable that a state government decided to change the manual because nothing in India comes quickly, especially when it comes to discrimination and injustice. My story appeared on December 10 and on February 2, they'd already repealed the [caste-based prison rules]. In the government order they acknowledged that it happened because of The Wire's story. The high court also mentioned it.
While Rajasthan has gone about making this change, I am not very hopeful that it changes things on the ground. Because in the case of [states like] Maharashtra, you don't have caste mentioned in the prison manual, but casteism still prevails. What the Rajasthan government really needs to do, now that they have taken such a positive step ahead, is to ensure that the policy is also implemented on the ground. One needs to keep a very close eye on that.
EE: What, if anything, do you think it will take to bring about a change in states where caste isn't explicitly referenced in manuals?
SS: While one of the many states has actually gone about making this change, other states have not even acknowledged the story. I, along with a couple of my friends, decided that we will send petitions on our own to different high courts and ask them if they can look at it. We're not filing formal petitions, but rather sending an informal letter to the high court chief justice and saying that this is what is happening in your state.
While it is easier to identify problematic states when caste is mentioned in the prison manual, it is going to be a lot more difficult to go to states that don't have it mentioned in the manual, because there is nothing on the books that can be shown as problematic. So that is a tricky thing for us.
For those cases, I feel that the many organizations working in prisons should take it up. It is high time that all these organizations, which have great funding and great access inside the prisons, start addressing caste as an issue in the prisons and go with a perspective that people are going to be treated badly just by virtue of being born in a certain caste. That's the only other way [to bring about change], I suppose. Because once you start actually talking and deliberating about it, caste is no longer invisible inside prison and people will start addressing it and it will become a major human rights issue. The stakeholders have to rise up to the occasion.
RELATED ISSUES