Pulitzer Center Update July 10, 2023
Announcing the 2023 Pulitzer Center Post-Grad Reporting Fellows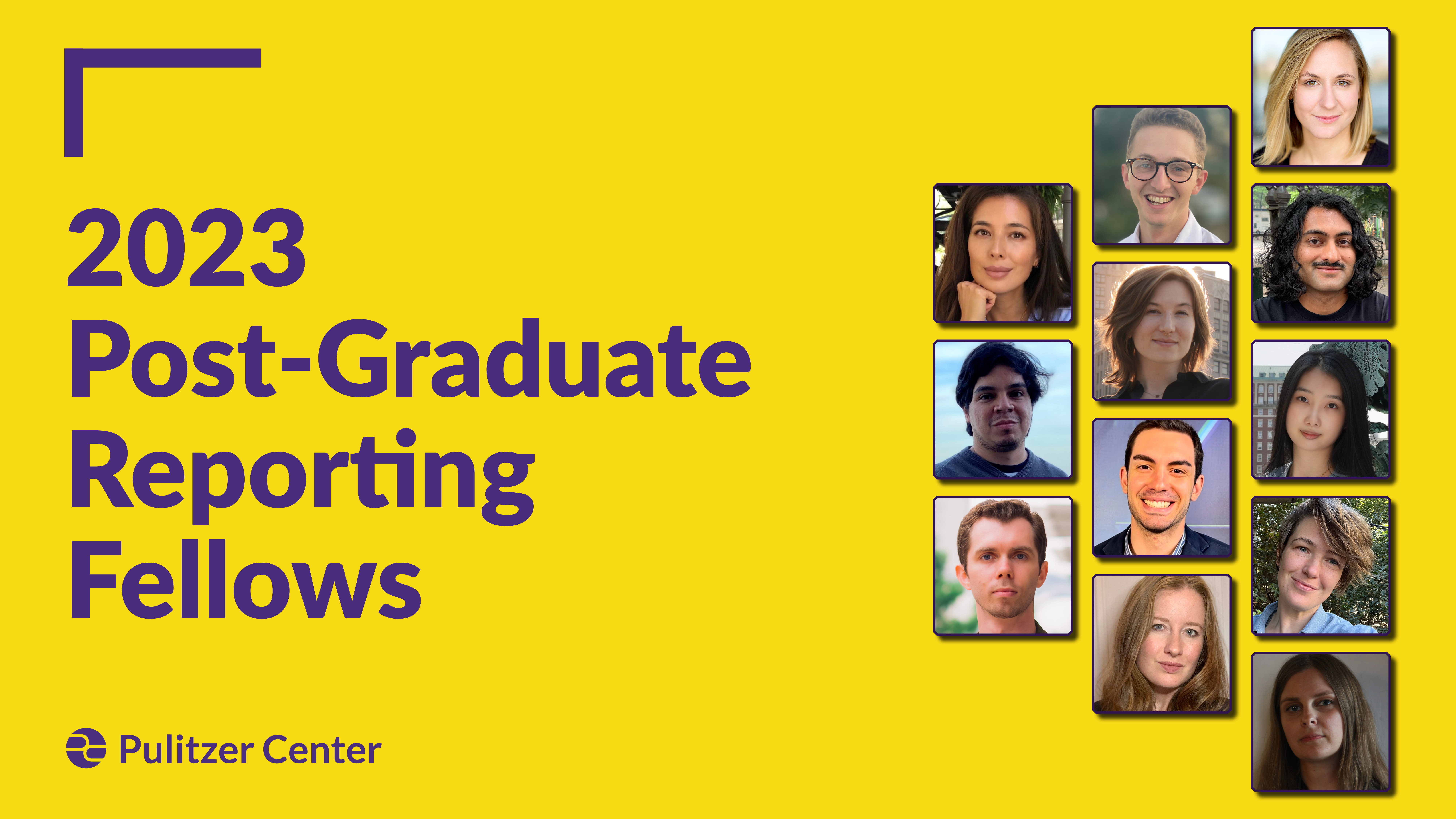 The Pulitzer Center is pleased to announce our 2023 cohort of 12 Post-Graduate Reporting Fellows.
Since 2020, the Pulitzer Center has awarded fellowships to recent graduates of Columbia University's Graduate School of Journalism and Northwestern University's Medill School of Journalism to complete in-depth projects on underreported issues of global importance.
This year, the Post-Grad Fellows will report from all over the world, from Mongolia to northern France, Turkey, and Egypt, on topics as varied as education, climate change, migration, and conflict.
"The 2023 Post-Grad Fellows have chosen such a wide range of subjects—each one is fascinating and each one focuses on an underreported, yet important, issue," said Kem Sawyer, the Reporting Fellows Program director. "I very much look forward to working with them and seeing their projects evolve—I already see I have a lot to learn."
In addition to funding, each Fellow receives mentorship from the Pulitzer Center team and a Pulitzer Center grantee. Fellows and advisers are paired based on their reporting interests and expertise.
We are excited to welcome these new Fellows to our community! Read on to learn more about our 2023 Post-Graduate projects.
Medill Post-Graduate Reporting Fellows
"I'm thrilled that our recent graduates will have the support of Pulitzer to continue working on the crucial, in-depth stories they began while at Medill," said Kari Lydersen, Medill assistant professor and leader of the investigative specialization in the journalism program. "Our two graduate Fellows are focusing on mental health and policing, and the detention of people with mental health issues, affecting specific communities who are extremely vulnerable and lacking resources. So this is the type of journalism we hope can empower and drive real change."
Kelli Duncan is an investigative reporter, with experience reporting on local government, the court system, and general news for outlets such as South Side Weekly, The Chicago Reporter, and the Vail Daily. As a Pulitzer Center Fellow, Duncan will investigate the local police response to mental health-related calls in Eagle County, Colorado, while examining the role of law enforcement in responding to the mental health crisis.
Jennifer Bamberg is a Chicago-based freelance reporter who writes about labor, police misconduct, and housing. Her Pulitzer Center project will focus on Rushville Treatment and Detention Facility, one of the largest civil commitment facilities in the United States for post-sentence institutional detention.
Columbia Post-Graduate Reporting Fellows
Funding for the Columbia Post-Grad Fellowships comes from the university, and the Li Global Fellows are sponsored by the Simon and June Li Center for Global Journalism.
"The Fellows this year reflect a broad and deep interest in subjects of significant global concern," said Elena Cabral, assistant dean of academic affairs and international programs. "I am excited to see these talented and well-equipped reporters shed light on the people and places at the heart of their projects."
Camillo Barone is an intern at NewsGuard, based in New York. Barone has covered politics and human rights for several national and international publications in Rome, Italy, such as TPI, Vatican Radio, Class CNBC, and Il Tempo. As a Fellow, he will examine the condition of Italian LGBTQ couples' children deprived of documents and rights.
Nevin Kallepalli is a religion reporter based in New York City. His Pulitzer Center project will cover the destruction of Palestinian cemeteries by Israeli land developers throughout historic Palestine and the deteriorating conditions of graveyards in the occupied West Bank.
Monica Montero is a multimedia journalist who has covered social issues for Spanish media. Her Pulitzer Center project will take her to Calais in northern France, where she will report on whether the United Kingdom's controversial Rwanda Asylum Plan might deter the increasing number of migrants who attempt to cross the English Channel.
Rebekah White is a journalist and editor from Auckland, New Zealand, who writes about science and the natural world. She was previously the editor of New Zealand Geographic. Her Pulitzer Center project will investigate ocean geo-engineering projects: proposals to remove carbon dioxide from the atmosphere by storing it in the sea.
Nelson Rauda Zablah has been a reporter for the Salvadoran newspaper El Faro since 2015. He covers politics, historical memory, immigration, and cryptocurrencies. His Pulitzer Center project will chronicle how the Salvadoran women's soccer team won its first international trophy with a roster of mainly U.S. citizens, daughters of immigrants who are redefining national identities and challenging inequality in the conservative Central American country.
Li Global Fellows
Alexander Borodikhin is a reporter and editor at Mediazona, the leading independent Russian news outlet, now in exile, that focuses on criminal justice and political repression. With Li Center funding, he will head to Mongolia to investigate how Russian and Buryat diasporas are re-evaluating and questioning their identities in times of war.
Pete McKenzie is a freelance journalist who frequently writes for The New York Times, The Washington Post, and The Guardian, mainly about the Pacific. In 2023, he was named New Zealand's Reporter of the Year, the country's highest journalistic honor. He will focus his Pulitzer Center project on the ongoing struggle against, and the political effects of, Western colonization in the Pacific.
Miho Ouyou is a journalist who has covered a wide range of topics, including education, politics, human rights, and environmental issues. For her Fellowship project, she will be reporting on the impacts of discharging treated radioactive wastewater from the Fukushima nuclear power plant in Japan into the sea.
Christina Roman is a freelance journalist focused on longform narrative and enterprise reporting. She is currently working on an investigative story with The Hatch Institute and will be joining the Reuters Institute as a 2023 journalist fellow in the fall. The Post-Grad Fellowship will allow her to report on the impact of a large-scale development project on local communities in Egypt.
Anne Whiting has spent over a decade researching, reporting, and working on sustainable and ethical business and supply chain developments in the global fashion industry. Her Pulitzer Center project will investigate the impacts of textile waste generated by the international secondhand clothing trade. Her reporting, which coincides with a recent series of groundbreaking governmental policies in the EU and U.S., will highlight feasible solutions to fast fashion's environmental offenses.
Editor's Note: This announcement was updated on August 1, 2023, to include Anne Whiting, a newly selected Post-Grad Fellow from Columbia Journalism School.