Pulitzer Center Update August 24, 2023
Amazon Rainforest Journalism Fund Regional Convening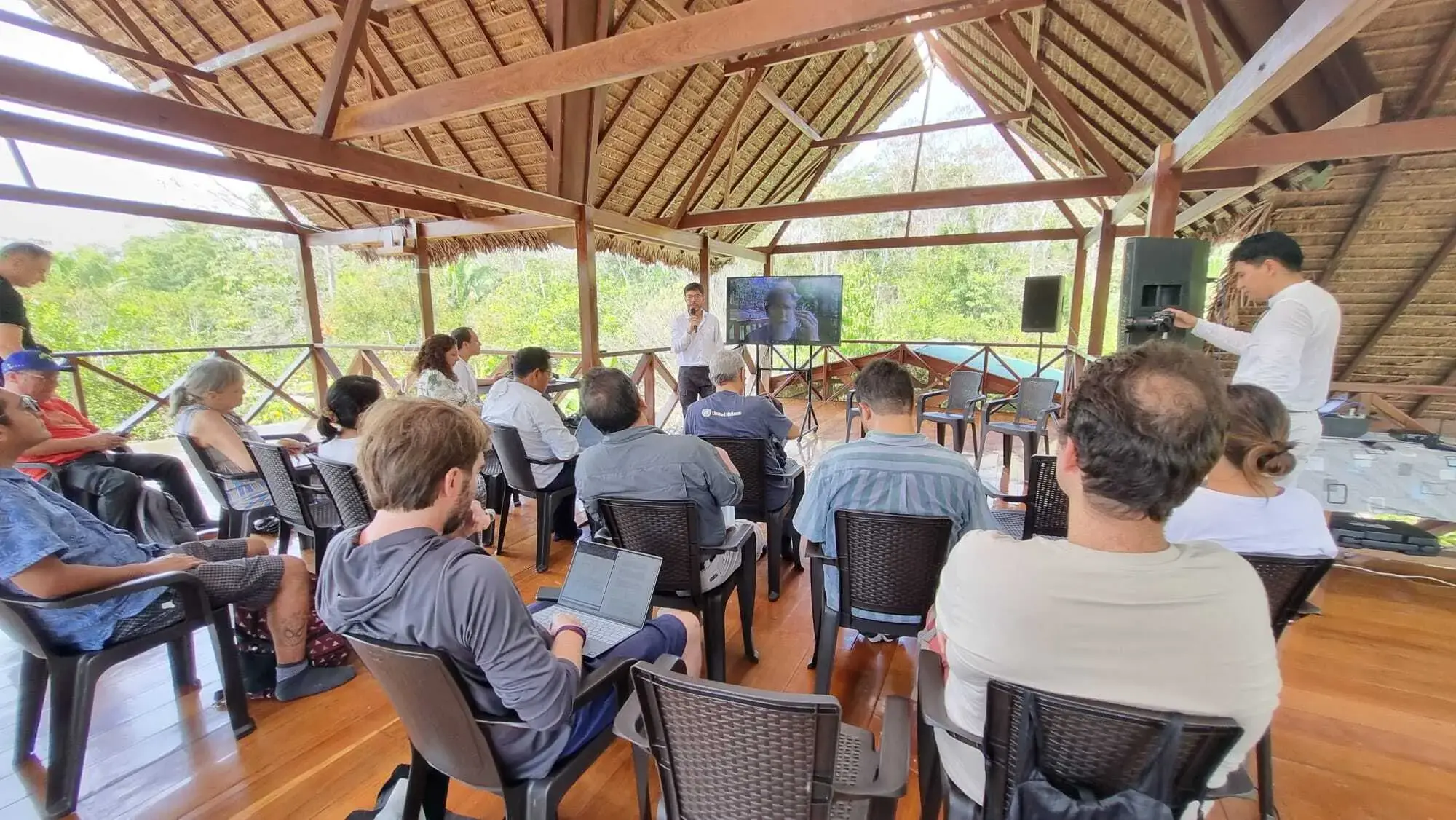 Image provided by the Rainforest Journalism Fund.
The Pulitzer Center Amazon Rainforest Journalism Fund (RJF) hosted a regional convening in Tambopata, in the heart of the Peruvian rainforest, on August 23-24, 2023.
The event brought together journalists and researchers from Amazonian countries to discuss challenges, solutions, and strategies for storytelling and civic engagement in the world's largest rainforest.
Among the guest speakers, there were members of the RJF Amazon Advisory Committee and RJF grantees. Panelists shared insights related to reporting, security challenges, the role of multidisciplinary approaches such as the alignment of journalism and anthropology, the environmental crisis in the Amazon, effective communication strategies, and how to reach a wider audience.
The convening started with Amazon committee members Jonathan Watts, Camilo Jiménez Santofimio, Nelly Luna Amancio, and Thomas Fischermann holding a riveting conversation about the challenges of reporting in the Amazon, specifically focusing on security dynamics and Indigenous perspectives.
Participants shared their diverse experiences in handling security concerns within their respective countries' coverage of the Amazon. The presence of military and security forces in regions marked by violence, crime, and organized criminal activities was a central theme. An intriguing aspect explored was the perception of these forces among Indigenous communities, shedding light on their interactions and consequences.
The second day raised a thought-provoking discussion on the region's staggering losses amid the climate emergency. Attendees explored the severity of the situation in the Amazon and contemplated innovative alternatives to confront the unfolding crisis.
Central to the conversation were pivotal questions: What is the Amazon truly forfeiting as the climate emergency escalates? How dire is the situation within the Amazon's expansive rainforests? In search of answers, participants delved into a detailed analysis of the challenges that the region grapples with.
Emerging topics illuminated potential paths forward, including the notion of moving beyond reliance on petroleum, sparking contemplation about sustainable alternatives. The bioeconomy emerged as a tantalizing prospect, with discussions unraveling its vast possibilities to mitigate the Amazon's ecological predicament.
The moderators, Luna and fellow Amazon committee member Daniela Chiaretti, guided discussions toward solutions. Joining the conversation, panelists included Luciana Gatti (online), Ángel Uaqui Dunu Maya, and France Cabanillas. Their expertise and insights lent depth to the exploration of the challenges and avenues of action in the Amazon.
Later in the day, the conversation navigated to how to increase rainforest stories' reach. The discussion addressed the need for telling stories with different angles and engaging ways in order to reach a wider audience.