By Daniel Yim
12th grade, Bellarmine College Preparatory, CA
Third place contest winner
With lines from "The President, the Soccer Hooligans and an Underworld 'House of Horrors'" by Robert Worth, a Pulitzer Center reporting project
Content warning: This poem contains some violent imagery and disturbing content, drawn from the news story to which it responds.
Because in every stadium
             I wake up holding a severed head.
                          Bodies like rusty spoons scattered across
the field.                           This before every eye empties
             into a red star,
                          left burning by the south stand.
                          Translating the sky:
             a city excavating its own bones. As in:
                          this moment at the edge of the Danube,
where I draw fistfuls of silence 
             from the darkening riverbank —
                          as if I could not hear the screams
             of the dead
echoing through the pipeline.
                          Every torn limb a column
                                       in the unfinished cathedral.
                                                    Arm of the state,
meaning the road 
             to the slaughterhouse
                          ends with the head of an axe.
In Belgrade, the night softens
                          into black cloth,
                                       leaving only this beheaded                           myth.
             The man on the TV wraps it
                                       around his face
                          but I can still see
                                       the circle of ash,
                                       bodies writhing on the grass.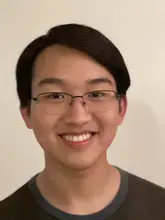 Daniel Yim is a senior at Bellarmine College Preparatory in San Jose, CA. His work has been recognized by the Fitzgerald Museum, YoungArts, and the Alliance for Young Artists & Writers. An alumnus of the Kenyon Review Young Writers' Workshop, the Iowa Young Writers' Studio, and the Adroit Journal Summer Mentorship, he is also an avid cellist.
Read more winning entries from the 2023 Fighting Words Poetry Contest.