Aviary
By Vivien Song
11th grade, Amador Valley High School, CA
2nd place contest winner
With lines from "China Calls It Re-Education, but Uighur Muslims Say It's 'Unbearable Brutality'" by Nick Schifrin and Dan Sagalyn, a Pulitzer Center reporting project
Begin with the dust in the air and the sparrows
              crushed with flight. Begin with the mosques at your feet
and the bones of your family aimed at your throat.
                             Begin with a knife, stilled. Dawn: another day in this
                                            country that won't love you. Say guilty. Say terrorist.
                             At the marketplace, an officer in cold, genocidal blue—
the color of a decaying wound. Little terrorist, my dearest,
               you know you could be so beautiful in this camp. You only have
to work. Years ago, you were born into a province of blades,
                             a wilderness of blood, a nation where you are nothing more
                                            than a tumor to excise. How many years in this cage,
                             next to the bayonet's bite? Listen: there are enough dogs
lying in the streets now. You have long stopped keeping count.
              Sisters buried, histories forgotten, stories burned. In the distance,
a tomb-shaped shadow and a pistol's deadly bloom. They say
                   China is fighting separatists: no. China is cleaving the land into a
                                slaughterhouse. You choke with the slow immolation of the birds.
---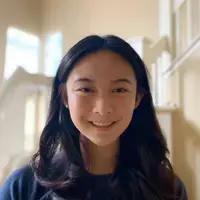 Vivien Song is a rising senior at Amador Valley High School. A 2020 National YoungArts Finalist in Poetry and an Adroit Journal summer mentee, she has been further recognized by the Poetry Society of the UK, the National Poetry Quarterly, and Hollins University. Her work appears in AAWW: The Margins, L'Éphémère Review, and Vagabond City Lit, among others. Vivien believes in the incredible and transformative power that writing holds.
Read more winning entries from the 2020 Fighting Words Poetry Contest