By Claire He
11th grade, Carmel High School, IN
With lines from "'Ticking Ecological Time Bombs': Thousands of Sunken WWII Ships Rusting at Bottom of Pacific" by Thomas Heaton, a Pulitzer Center reporting project
the graveyard juts like her ribcage from the seabed.
                  drowned, it carries ghosts both old and new
                                    from vessels—soldiers buried nameless overseas,
                  artillery shells iron iron iron flashing fire
into bodies, tearing open. oil clots the arteries
                  of war decades-past. in the abyss an iron sarcophagus
                                    is all that is left of the kashi maru. coral blossoms
                  in its metal skeleton, taking breath from the oxidized
engines—shuddering trachea, a haven and pilgrimage
                  at once. how death breeds life again. each
                                     steel hull a casket, a gasket lying in wait to break.
                  black spilling from the war grave as a rigor mortis,
we see the oil leak from where fighters once
                 blew a hole in the minelayer's hull, sinking it
                                      yards off the sands of northern new georgia—
                  death breeds death too, and it kills, it kills, it
kills. did you know oil is itself a cemetery? making
                  echoes of gunfire as it sets the pacific alight
                                      with the memory of mustard gas, white phosphorous
                  in inhale exhale inhale those sparks raining down.
slicking the country's waters unheeded. bleeding
                  into its very veins. we salvage what we can,
                                    kinugawa maru's frame swallowed dead, devoured
                  by coral. hollowed bones silenced as war graves.
each new report met with lethargy, ever a slow killer.
                  shipwrecks with fuel as loaded as a steel rifle.
resting—no, rusting. tell me, can you hear
                  that noise now? that tick, tick, tick—?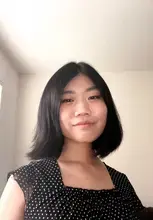 Claire He is a rising senior from Indiana. In her spare time, she enjoys listening to music, reading fantasy and science fiction novels, and decoding cryptograms. Her work has been recognized by the Alliance for Young Artists and Writers, the National Council of Teachers of English, and the National Poetry Quarterly. She is interested in how remnants of history continue to affect the present, and she believes that it is important to take action regarding the ecological ramifications of man-made creations—especially at a time when environmental issues are so widespread and pressing.
Read more winning entries from the 2023 Fighting Words Poetry Contest.