Dear Congresswoman Wasserman Schultz,
Imagine living through a Category 5 hurricane, slowly recovering, and then being hit by a string of earthquakes and more storms that completely decimate your home. While you, your family, and your friends are getting back on your feet again, you can't possibly think things could get worse, until they do. Because COVID-19 spreads not even a year since the last earthquake destroyed any remnants of your life "before." None of us are strangers to the negative effects of the pandemic. But the people of Puerto Rico have had to face that and more of the un-hypothetical scenarios I just presented. As a Puerto Rican myself, I was heartbroken reading 2020 Pulitzer Center Reporting Fellow Énoa Gibson's "A Pandemic, a Hurricane, and Earthquakes: How Much Can Puerto Rico's University Students Take?" This article addressed the issues with the collegiate system's deteriorating status brought on by all these catastrophes in the U.S. territory.
Gibson interviewed several college students affected most recently by the pandemic, and found a commonality: the weak college infrastructure. While in the continental United States, most students were able to adapt to virtual learning, their Puerto Rican counterparts, such as Fatima Garcia, faced severe connectivity issues due to the territory's unstable internet connection caused by the previous series of natural disasters. Furthermore, because the pandemic obligated a practically overnight transition for online classes, college professors were not given enough time to prepare their new curricula. Students in Puerto Rico were essentially forced to find a way to make up assignments when their Wi-Fi went down (which was quite often) and take on jobs to survive during the pandemic, all the while getting accustomed to detached, impersonal learning styles. As a result, most of their studies got delayed, or in the worst cases, terminated.
I consider myself extremely lucky for having a good internet connection, and for my school's quick and effective transition to online learning, but after reading this article, I now know other students in places like my birthplace of Mayagüez would not say the same. I could have been one of those affected had I not moved to Miami when I was three; nonetheless, my cultural ties to "La Isla del Encanto," and how it's no longer as enchanting as before, tugged at my heartstrings because the people who contributed to the island's charm are being overlooked by their own country's government.
Congresswoman Wasserman Shultz, as the representative for my diverse community, one filled with Hispanics, African-Americans, and other minorities, I hope you can understand why I am suggesting you look beyond, at the broader community in Puerto Rico—less than a three-hour flight from here. These bright minds make up the American dream. They are our future. But with all these drawbacks, they might not be able to guide this country toward growth and development if we don't do something about it. I would like to propose that schools from Florida since they are closest, both geographically and demographically, provide Puerto Rican educational institutions with the resources they need to ease the transition from brick-and-mortar teaching onto computers and tablets. Universities in Puerto Rico could use this help to achieve the best methods for online learning without postponing their students' studies. This way would accommodate students' challenges with connectivity issues, missed assignments, and other added responsibilities. To clarify, this remediation would not lead to lowering the standards of these schools but simply encouraging the faculty's flexibility and sympathy toward its students. If this crisis is heard by government officials in the mainland, Puerto Ricans can also have their needs met for better internet access that can be found virtually anywhere else in the rest of the country. According to the Data Reportal,  77% of households in Puerto Rico have some form of internet "penetration," in comparison to Florida's 92.4% and the country's overall 93%. As you can see, we are in an era where the internet has become a necessity to attend work meetings, job interviews, school functions, etc., but my Puerto Rican peers cannot reach their full potential in the academic and professional fields if they are not given the same opportunities as non-islanders. As a high school student, I can only do so much to stress the importance of this underreported story. As a government representative, I hope you can be an even bigger voice to help our American brothers and sisters.
Sincerely,
Ana Cruz
---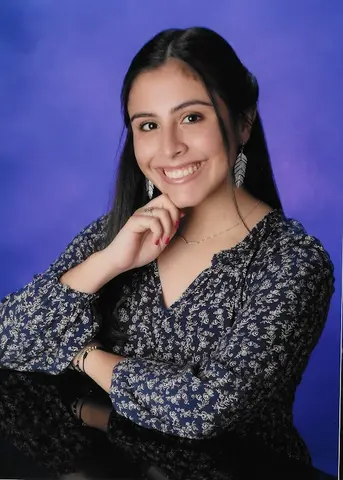 Ana Cruz is a senior at Doral Academy Charter High School. Born in Puerto Rico, but raised in Miami, Ana loves learning about current events within her diverse community and having meaningful discussions to analyze their impact on society. With her grandparents being part of those affected by the devastation of Hurricane Maria in Puerto Rico, Ana felt compelled to write about how this issue and the pandemic are affecting the young people on the island.
During her free time, Ana loves reading romance novels and writing short stories. She is thankful for her family and their support, as well as her teacher's influence in her writing. Most importantly, she hopes readers are able to take away the importance of education and being informed in a time where ignorance isn't bliss.
Read more winning entries from the 2021 Local Letters for Global Change contest!