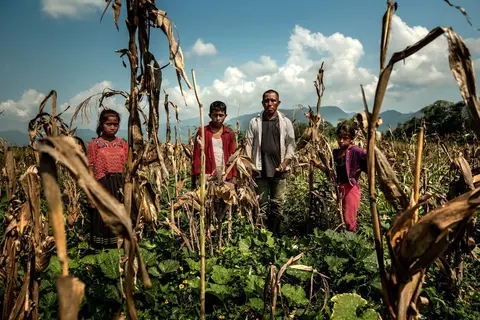 Dear Representative Jones,
Congratulations on winning the election! My name is Alexa Troob, and I am a freshman at Horace Greeley High School in Chappaqua, New York. While I am too young to vote, I followed the election very closely, as I hoped that someone who takes the threats of our rapidly changing climate seriously would be elected as my local representative. And this representative is you. However, since I was unable to use my voice to advocate for the environment in the voting booths this year, I am using it to write to you in the hopes for change in our community. 
"The Great Climate Migration" is a Pulitzer Center story that explains the hardships in Guatemala that stem from global warming and are causing a "climate migration." The story focuses on Jorge, who watched the climate kill his crops with his own two eyes for years, until finally he knew his only two options were flight or death. For five straight years in Guatemala, there was drought. Then, there was one massive flood immediately followed by more dryness. Jorge watched as his crops died in these conditions, as he went bankrupt, and as his family grew hungry. He and his seven- year- old son risked their lives to flee to North America, as they were left with no other option. Jorge does not stand alone. As a result of our rapidly warming climate, countries around the globe are facing endless natural disasters that make the land unsustainable for life. Now, hundreds of thousands of Guatemalans, like Jorge, are fleeing to North America in the hopes for something better. 
This refugee crisis is rooted in climate change. The fact that people are forced to leave their home country as a result of practices that our community blindly participates in is highly unsettling. To make a substantial difference, we must look within ourselves and within our communities. I do not think the solution is a single answer. I have many suggestions of ways our community can improve our environmental impact, and I hope you consider all of them and choose which are most reasonable and effective to put into place. My suggestions are simple and cost-effective things that you, as a congressman, can do to make a real difference. First, an issue that is often overlooked, is how much our eating habits affect the environment. That is why I suggest that all schools in Westchester institute Meatless Monday. According to studies done by the Meatless Monday Campaign, decreasing meat consumption just one day a week results in a significant reduction of our carbon footprint. Almost 15 percent of global greenhouse gases emissions come from the production of meat, dairy and eggs. Just one plant-based burger has a carbon footprint twelve times smaller than a beef burger, and one kilogram of beef requires nearly 40 times more water compared to the same amount of vegetables. Raising agriculture also destroys forests that are home to hundreds of species causing a major decrease in biodiversity. If Westchester school districts significantly decrease the amount of meat they buy and spread the message to other schools in New York to do the same, it can make a real impact on the environment.
Another bill that I think is long overdue is limiting the sale of plastic water bottles in Westchester stores. According to an article on One Green Planet, plastic bottles require large amounts of fossil fuels for production and transportation. Additionally, most plastic bottles do not end up getting recycled but end up in landfills or as litter in the ocean and the streets. There is nothing sustainable about these bottles: "The plastic-making process requires over two gallons of water for the purification process of every gallon of water," claims the article. The U.S. is the largest consumer market for plastic bottles, and we can be the start to changing that right here in Westchester, New York. My next suggestion is simple and ultra-effective: becoming part of the Tree City USA program with The Arbor Day Foundation. Becoming part of this program simply expands our towns' public trees by planting, protecting, and raising awareness of what trees do for the community. Trees are one of nature's most vital resources, as they emit oxygen into the air and store carbon dioxide. Many towns in Westchester are already part of this program, such as Bedford and Pleasantville. Chappaqua, New York, should join them to green-up our local community. 
All three of these previous solutions are budget-friendly, simple, and effective. My final proposal listed below is more expensive and difficult to implement but would make a substantial impact. I suggest that we start the transition into electric school busses in the Chappaqua Central School District. According to an article published by the NYLCV, "School buses nationwide emit up to 8.4 million metric tons of carbon dioxide each year, making up a quarter of transportation greenhouse gas emissions." The diesel fuel used in school busses also poses a severe threat to children's developing lungs. It is time we switch to a cleaner mode of transportation. 
We are in a generational fight that will determine our future, and I am making these suggestions to you in order to move one step closer to winning that fight so that people all over the world, like Jorge, can live with a feeling of safety rather than the fear of losing their lives because of something they can't control. It is in our control right now, and right here in our community—but it won't be for much longer—so it is today that we must act. As a community, I believe we can help green-up our planet. That is why I ask you to consider making some of these changes in our community. I appreciate your time and consideration.
Thank you,
Alexa Troob
---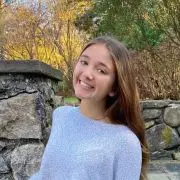 Alexa Troob was born and raised in Chappaqua, New York and she is currently a freshman at Horace Greeley High School. She lives with her parents, two older sisters, and two dogs that she adores. Alexa's hobbies include soccer, tennis, traveling, and cooking. Alexa loves to write and she uses her writing as her main form of activism. She believes that words hold the power to change the world whether through poetry, short stories, editorials, or letters. Alexa would like to thank her parents for supporting her love for writing and her global teacher, Ms. Revel-Davis, for giving her the opportunity to participate in this contest.
Read more winning entries from the 2020 Local Letters for Global Change contest!