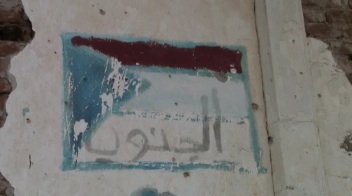 Sheikh Abdu Alrib al-Naqib, a gray-haired separatist leader from Yemen's rural south, sat on his couch in this ramshackle port city, waving two American flags and humming an approximate version of "The Star-Spangled Banner."

"We love America," he said, grinning beneath his cream-colored turban. "We are not terrorists. We only want our human rights and our freedom from the authoritarian regime in the north."

As Yemen's southern separatist movement has gained steam in recent months, so has the government's response. On Thursday an activist was killed while taking down the Yemeni national flag from a state building in the southern town of al-Habilayn, Reuters reported. Mass demonstrations across Yemen's southern provinces beginning in mid-February have led to more than 90 arrests and the shooting deaths of at least four other separatists, including a prominent activist and an arms dealer and their family members. Two policemen were also killed when their car overturned after a shootout.

The Yemeni government accuses the separatists of being terrorists associated with al-Qaida. Separatist leaders deny the association and are working to dispel that image -- hence the American flags and all that humming of "The Star-Spangled Banner."

Supporters of the separatist movement accuse the Yemeni government, based in the north, of robbing the south of its resources -- including its lucrative oil fields and ports -- while systematically discriminating against southern provinces when it distributes public resources like schools and hospitals. Dissatisfaction with the government is nearly universal among the southern population. While not everyone supports separation, nostalgia for the independent South Yemen, a Marxist republic, and even the days of British colonialism runs high.

South and North Yemen unified peacefully in 1990, but the relationship had deteriorated by 1994, when a southern insurgency was quelled in a brief yet bloody civil war. Calls for separation were renewed in 2007, when former Yemeni military officers claimed they had been denied pensions after the 1994 insurrection.

"The movement needs the support of the United States, Britain and the West. It must show them that they are not terrorists," said Ali Haitham, a lawyer and journalist who has been active in the movement. "They are freedom-loving people."

Nevertheless, they're likely to be bitterly disappointed in their bid for Western sympathy. Western and Gulf nations have pledged billions of dollars to Yemen's central government in the past two months, insisting that the stability of President Ali Abdullah Saleh's regime is a key element to fighting al-Qaida in Yemen. In order to use international military aid to quash anyone who threatens his regime, Saleh has a history of conflating his internal enemies with al-Qaida. That puts the separatists at a decided disadvantage in their attempt to court the same foreign powers.

The recent increase in both separatist activity and government crackdowns comes just weeks after the central government reached a truce, on Feb. 11, with Houthi rebels, a political faction of the Zaydi Shiites in northern Yemen. The government had been fighting the Houthis off and on since 2004 in a conflict that displaced more than 200,000 people.

Separatist leaders worry that Saleh, free of the Houthi problem for the time being, will set his sights on them.

"We expect to be attacked by Ali Abdullah Saleh. He has a history of brutally attacking his own people," said Sheikh al-Naqib. "Look what he did to [the Houthis]. Why should we not expect to be next?"

In a well-publicized press conference last month, Yemen's Interior Ministry pledged to fight "around the clock" against "the terrorists." Western audiences interpreted that statement as a commitment to fight al-Qaida, while separatist leaders perceived a direct threat to their homes and villages.

"The truth is, American weapons will be used against us," said Mohamed Tamah, a separatist leader wanted by Yemeni authorities. "We ask Americans, the British, the free world to step in and keep this dictator from killing us."

In a Dec. 17 attack against alleged al-Qaida militants in the Abyan province, a separatist stronghold in southern Yemen, government forces killed more than 40 people. That incident has since become a rallying call for separatists. U.S. officials applauded the attacks as a blow to al-Qaida in the region, but locals claim that mostly civilians -- including children -- were killed.

The Yemeni government has since apologized for the attacks and offered to compensate victims' families, but it continues to conflate the separatist movement and al-Qaida. In a complex political and tribal environment that operates in shades of gray, the truth of those claims are difficult to resolve.

A case in point is Tariq al-Fadhli, who was a jihadist in the Soviet-Afghan war in the 1980s, a one-time confidant to Osama bin Laden and later a close ally of Saleh. He defected from the Yemeni government last year and became one of the most prominent separatist leaders. Last month, he hoisted an American flag in his backyard to demonstrate that his loyalties are not with al-Qaida.

But matters may not be that clear-cut. A Human Rights Watch report released in December suggested that a shared hatred for the government may forge an unlikely friendship between separatists and al-Qaida.

In the end, with the U.S. focused on fighting al-Qaida in Yemen, any movement that threatens the stability of the country's central government is likely to be seen as a boon to al-Qaida, and is therefore unlikely to engender American support. That is a calculation that no amount of flag waving is likely to change.
RELATED ISSUES

Governance

Issue
Conflict and Peace Building
Conflict and Peace Building