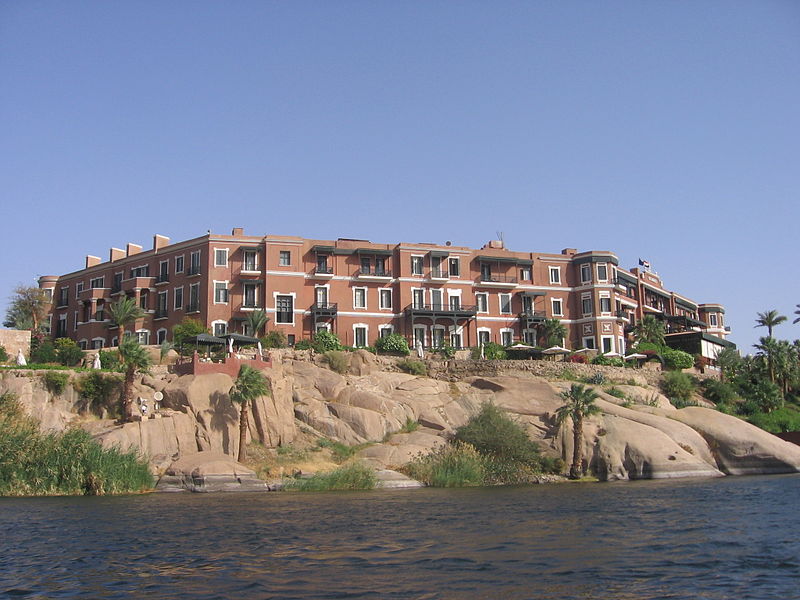 Khaled Ali Abdullah says he has the keys to the most beautiful room in all of Egypt.
The 40-year-old flows through the meticulously majestic halls of the Old Cataract Hotel with a self-possessed brand of pride and swagger that's hard to come by in a country drooping with expired dreams.
"This is my hotel, my Egypt," he beams in his perfectly tailored gray suit as he walks into the "Winston Churchill" suite, named after the statesman who used to stay there. The room goes for several thousand dollars a night.
The Old Cataract Hotel, built in 1899, is owned by the Egyptian government but managed by Sofitel, a French luxury hotel group. It's a beacon of luxury and charm perched on the Nile in Egypt's southern city of Aswan, not far from breathtaking antiquities. It's where the famed mystery writer Agatha Christie was inspired to write Death on the Nile (she, too, has her own namesake room). French president François Mitterrand rested his head here multiple times, as did Princess Diana of Wales and the Agha Khan. Angelina Jolie and Brad Pitt reportedly travelled there on a private jet.
Khaled, the tall, robust "VIP extraordinaire," who hails from a tiny village outside Aswan, is in charge of making sure the needs of high-profile guests are met. He giggles like a schoolboy when he recalls how Mitterrand routinely requested for Khaled to assist him to the hotel's sprawling terrace for afternoon tea.
"His own team of people used to brush me away, but the President always wanted me to stay and help," Khaled recounts, his deep onyx eyes smiling. "This hotel is about making people feel special." Khaled included.
But not many tourists have stayed at the swank hotel since its Fall 2011 re-opening following a three-year $100-million renovation, orchestrated by French designer Sybille de Margerie. Announcing "The Rebirth of a Myth," the hotel reopened just before the popular uprising that ousted President Hosni Mubarak. Since then, it has rarely broken an occupancy rate of 10 percent amidst protracted political chaos. Right now, occupancy hovers around two percent.
"The uprising has been a big challenge for us…really, the situation is awful," said Lamia Assem, director of marketing. "All of Upper Egypt is struggling. We're trying to promote local tourism, but that's even difficult. Before all of this, it was a marvelous, successful hotel."
It's been even more of a challenge for its workers, like Khaled, and most locals in Aswan—all of whom are still feeling the tremors of the uprising. The father of three young children, Khaled says times have been difficult for his family. During the hotel's elaborate renovation, he relocated a few hours north to the equally grand, and equally vacant, Winter Palace Hotel in Luxor, once a beaming tourist hub (19 foreign tourists died in a hot-air balloon explosion there last February). For decades, the sleepy towns on the Nile have subsisted mainly off the tourism industry. But with the country now in a white-grip of economic crisis and persistent instability, the industry has taken a huge hit. To cement the precipitous decline, Egypt ranked last in terms of security and safety on the World Economic Forum's 2013 Travel and Tourism Competitiveness Index. Chad, Pakistan and Yemen all had better rankings.
The Old Cataract Hotel has relied on dwindling high-profile visits and large flashy weddings among Egypt's elite for quick hits of oxygen. Most speculate that if the Egyptian government didn't own the hotel, showcasing it as a totem of prosperity, it would have shuttered long ago.
Outside the hotel's manicured courtyard, Sofitel's slogan, "Life is magnifique," quickly shatters against a hard mustard-hazed reality. Aswan sits as a postcard of Egypt's institutionalized neglect, far from the photogenic clashes that consistently dominate news coverage and the frequent squabbles of Cairo's political elite, stuck in nicotine-seeped cul de sacs of blame and political opportunism. What had seemed like a revolutionary tectonic shift was only a tremor in most of Upper Egypt, where a deeply centralized and corrupt state has consistently thwarted its people.
"We're all tired," says Ahmed Shoukrey, a 34-year-old who spends his days trying to sell plastic pyramids made in China. "I don't care who's in power anymore, I just want a better life for my children."
In the backstreets of Aswan, everyone has a story about a stalled or derailed revolution, perished blueprints for a life that didn't happen. There's 26-year-old Kareema, an elementary school teacher who makes around $200 a month teaching a hundred or so children. She says she was one of the first of her friends to protest against Mubarak almost three years ago, but now wants nothing to do with politics. There's 22-year-old Ali, a Muslim Brotherhood youth, who says the revolution has been "hijacked by the old regime." But politics aside, like most Egyptians his age, he's unemployed and just wants to find a decent job.
Still, the Victorian hotel is perched on top of it all— a relic and fortress of the past, struggling to stay relevant in the unpredictable present.
On one smoldering summer morning, a smattering of British tourists donned elaborate sun hats in the lobby bar where Mohammed Awad, who has worked at the hotel for more than a decade like most of the men in his family, offered them fresh hibiscus juice.
"It's a different world here…that's probably why I like it so much," Awad laughs. "Sometimes when my shift is over, it's hard to leave."
An Egyptian newspaper lay sprawled across a nearby table, tracking yet another lethargic day in the new Egypt. Khaled flipped it over. While his supervisor keeps a close eye on him, asking him to bite his tongue about politics, Khaled's frustration over the country's ongoing political instability can hardly be squelched.
"When I go to Cairo, I see people sleeping in Tahrir Square, they protest…they talk to the media, they post stuff on their phone. Blah blah," he says, flailing his hands in the air. "People think the revolution means they can forever complain about anything, everything. Can we move on?"
He walked onto the hotel's Instagramable terrace, where a handful of guests, dainty and sun-kissed, enjoyed a charming breakfast of marmalade, crumpets, and selfies.
"Me? I don't have time to sit and think about Egypt…to compare before and now," he snaps. "If I did I would go crazy. It's time to move on."
Before his shift ended, Khaled returned to the Churchill Suite to tidy things that didn't need tidied. After each tiny detail was dusted and perfected without the promise of guests, he lingered in the room a few moments longer. He adjusted the blinds on the patio's French doors once more, losing himself in the opportunity to slip inside a mythical world far from the one of curdled opportunities just outside the dusted bay windows.
RELATED ISSUES