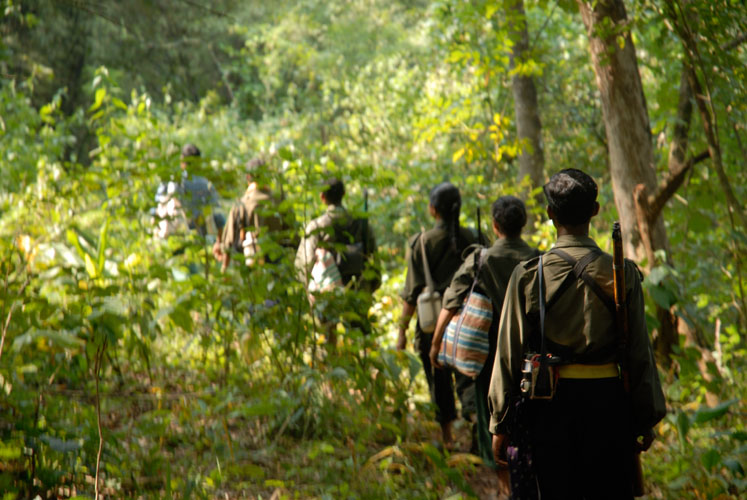 "Ram, Ram, oh Ram," Chandan whispered to himself, moments after asking me to pray to my own God. He and Arvind, the other local journalist who accompanied me into the bush, held their heads down and closed their eyes, not wanting to accept the random turn of events, the prospect of a grim and pointless death.
We were somewhere in the wilds of Chhattisgarh state's Bastar region, the remotest heart of tribal India where Maoist insurgents prowl the mountain jungle. Prime Minister Manmohan Singh has called them the country's biggest long-term threat. I decided to try and photograph them when repeated attempts to learn more about the movement on the Internet, from Indian friends and the Delhi-based foreign press corps yielded next to nothing. After a maddening week chasing leads in the nearest garrison town, a contact directed us to a safe house on the edge of rebel territory and told us to wait.

Three bow-and-arrow-wielding members of the Maoists' village militia known as Sangam showed up a day later to escort us in. From dawn to dusk we followed an old hunting trail past waterfalls, wild bears and scared villagers, some of whom fled or froze. At our rendezvous point that evening a boyish local leader fumbled with our ID cards and equipment. It was clear he could not read, had never had any contact beyond the hardscrabble village. Worse, he enjoyed influence over dozens of other dim but able-bodied men, which made him dangerous. A final "decision" would be made in the morning, he said.
Two hours after our scheduled meeting in the village square, nothing stirred but the mist. Concern lapsed into panic when alarm gongs suddenly sounded on all sides, the village men marching single-file and expressionless down the facing ravine. Weapons in hand. Rather than wait for the worst, I scanned, without luck, for exit points. The question flashed across my mind: What had gone wrong?
Past experience with obscure rebel movements on a few continents told me the opportunity to meet with foreign media was usually just that, an opportunity. This seemed especially true for India's Maoists. What began in 1967 as a violent peasants' uprising faded from view for decades until several years ago when the two largest factions merged. Known as Naxalites inside India after the West Bengal village of Naxalbari where the movement originated, the insurgency now affects one-third of the country's districts in 16 of 28 states. An estimated 10,000 to 20,000 cadres backed by tens of thousands of supporters have grown bolder and more lethal in recent years. Favorite targets include government officials, railroad lines, prisons and most often backcountry police who are undermanned and poorly armed. Last March cadres launched a midnight attack on a remote Bastar police outpost, killing 55 personnel. Their cause has benefited from a foolish government plan to use civilian militia, often teenagers with old rifles, to fight them. Gun battles and bombings have since terrorized indigenous tribals caught in the middle; some 50,000 and counting have fled their homes for dismal roadside camps.
Overall, Bastar accounted for about half of the 837 Naxalite-related deaths nationwide last year, a total that surpassed Kashmir for the first time ever. Despite this, the domestic media has done a pitiful job reporting the gathering conflict and its oxygen – widening inequalities caused by a record economic boom. With few exceptions the "red menace" is covered long-distance as a caricature of the past, not worth taking seriously in the New India.
To my relief our standoff with the village militiamen was disrupted by the arrival of six Naxalite cadres headed by Comrade Sunil, who ordered the local militia leader to apologize for the "misunderstanding." A slight understatement, but we accepted.
"They think they are doing the right thing defending us, but they don't know," Sunil explained over a cup of black tea, adding that the last teacher had left the village more than two years ago. "They thought you might be government spies."
Four hours further up the trail brought us to a rebel camp. Respected women cadres with long ebony braids tasked newer male recruits as they prepared a meal of rice and curried vegetables. Leaning against a haystack, Sunil told me that he'd joined the rebels two years ago after his older brother was shot dead by a member of the state militia. He admitted he'd never seen combat but swore with the earnestness of a schoolboy that he was ready to fight to the death. "I am prepared to stay out here and fight like this for the rest of my life," he said to the nod of a dozen other fighters. "And so are all the comrades of the People's Liberation Guerrilla Army."
Later that night Rajman, a veteran Naxalite officer, materialized from the darkness. He embraced me warmly and handed me a pack of sugar cookies. "The people's army is happy to have you as our honored guests," he beamed. (I was told later that he'd traveled four hours on foot from his home base to personally welcome us only to return in the middle of the night.) We then sat down near the cooking fire to go over the terms of our visit. His Indian-made rifle never left his shoulder. Rajman said no faces could be caught on film or tape and that shooting time would be limited to just an hour. The upshot was that a sub-divisional commander would return with him in the early morning for a rare interview.
At first light the cadres started their daily routine. The men and women broke into two groups and headed over to a nearby stream where they washed their hair and feet, brushed their teeth vigorously and combed their hair. A transistor radio was tuned to the BBC World Service. Sunil, foaming toothpaste at the mouth, said that living in the bush was no excuse for bad hygiene. If anything his superiors had told him, it demanded an extra effort.
When the commander Pandu arrived, the cadres stood at attention. He greeted them one by one, raising his right fist before distributing some Communist tracts. Our interview lasted about an hour. "Liberated" areas such as those in Bastar would serve as bases for expansion, he explained, until the zones were interconnected and reached all the way to urban centers like New Delhi and Mumbai. This would depend on the growing support of disadvantaged groups such as tribals and lower-castes, bypassed or steamrolled by economic growth. "The people's revolution is still in the early stages," he continued. "Time is on our side."
My time to take pictures was limited, however, and I scrambled to get as many frames as I could inside an hour. When time was up, I had to show Rajman what I had shot on my LCD screen to prove no one was recognizable. He asked for a copy of his picture, a partial portrait.
RELATED ISSUES