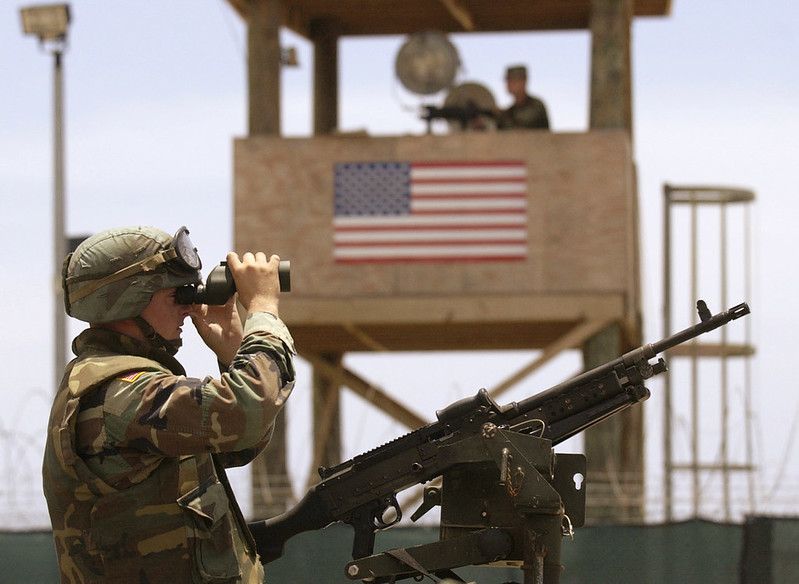 WASHINGTON—A leading defense lawyer who specializes in death penalty cases has been chosen to represent one of the five men accused of plotting the Sept. 11, 2001, attacks before a military tribunal at Guantánamo Bay, Cuba, overcoming a key obstacle to the war crimes trial.
But the national crisis over the coronavirus pandemic and the sudden, recent resignation of the military judge overseeing the trial still remain as hurdles to moving ahead in the complex conspiracy case.
The lawyer, David I. Bruck, will represent Ramzi bin al-Shibh, a Yemeni accused of organizing a cell of men based in Hamburg, Germany, who were among the 19 hijackers who seized four passenger planes and slammed them into the World Trade Center, the Pentagon and a Pennsylvania field. Nearly 3,000 people were killed in the attacks.
Mr. Bruck has handled several high-profile death penalty cases, including representing Dylann S. Roof, who killed nine black churchgoers in South Carolina in June 2015; Dzhokhar Tsarnaev, one of the brothers who carried out the Boston Marathon bombing in 2013; and Susan Smith, a woman in South Carolina who drowned her two young sons in 1994. Mr. Roof and Mr. Tsarnaev are on federal death row.
Mr. Bruck, who has never been to the Navy base at Guantánamo Bay or practiced law in a military court, has not yet met or spoken with Mr. bin al-Shibh, the most volatile of the defendants in the capital case whose lead defendant is Khalid Shaikh Mohammed. Mr. bin al-Shibh is held at a maximum-security prison called Camp 7, which does not permit lawyers to speak with the prisoners they represent by videolink or telephone.
The chief defense counsel for military commissions, Brig. Gen. John G. Baker, said he chose Mr. Bruck on Monday to succeed James P. Harrington, who had represented Mr. bin al-Shibh since arraignment in May 2012 and is leaving the case for health reasons.
By law, each defendant charged in a death penalty case at the Guantánamo military commissions is entitled to a qualified capital defense lawyer, known as a learned counsel. The next step is for the overseer of the Office of Military Commissions, Christian L. Reismeier, a retired rear admiral, to formally hire Mr. Bruck as a contractor at the federal rate of $195 an hour.
Colleagues describe Mr. Bruck, 70, as courtly and soft-spoken as well as a good listener.
Robert Dunham, the executive director of the nonprofit Death Penalty Information Center, called him "one of the pioneering capital defense lawyers of the modern era."
Mr. Bruck has been defending capital cases at trial since 1980. He helped expand the body of information a sentencing jury can consider at death penalty trials through Supreme Court cases. And he has trained new generations of capital defenders, and helped legal teams that have insufficient resources through his legal clinic at the Washington and Lee law school in Virginia and as a founding member of the Federal Death Penalty Resource Counsel.
In February, Mr. Harrington, 75, citing health problems, obtained permission to leave the case from the judge, Col. W. Shane Cohen.
Then last month, Colonel Cohen said he would retire from the Air Force for "the best interests of my family." He leaves the case on April 24. No successor has been chosen.
The departure of Colonel Cohen leaves unresolved the question of whether Mr. bin al-Shibh should be tried separately at a later date because of the considerable time it will take his new lawyer to prepare.
General Baker noted that although Mr. Bruck had agreed to represent Mr. bin al-Shibh, Mr. Bruck will need "significant time to catch up with seven years' worth of litigation." He cited hundreds of legal motions, tens of thousands of pages of hearing transcripts and hundreds of thousands of pages of potential trial evidence.
Among capital defense lawyers, Mr. Bruck is widely known for arguing Skipper v. South Carolina before the Supreme Court in 1986. The landmark ruling said that evidence of a convict's behavior in jail after capture and potential for future dangerousness, based on testimony from mental health experts and prison guards, are relevant to a judge or jury deciding whether to sentence a convict to death.
Lawyers for some of the defendants in the Sept. 11 trial have said the prisoners were so damaged by torture in C.I.A. detention in the years before their transfer to Guantánamo in 2006 that they would not be a threat to anybody should they be imprisoned for life.
The judge initially set a trial date of January 2021 but postponed the start because the coronavirus has forced the Defense Department to prohibit most travel and office work. The next pretrial hearings are scheduled for late July, after Ramadan.
RELATED ISSUES

Issue
Conflict and Peace Building
Conflict and Peace Building

Criminal Justice