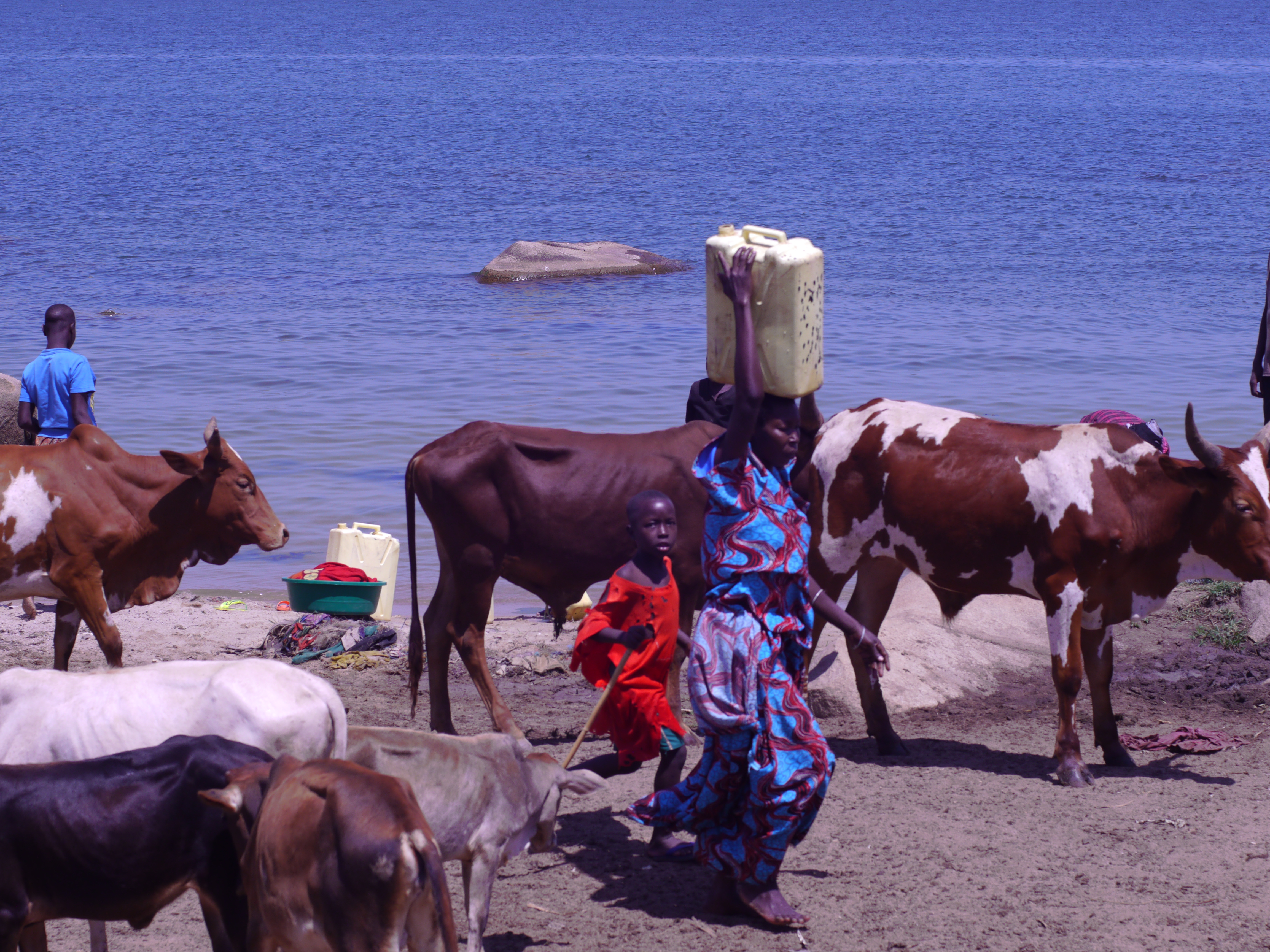 Efforts are underway to rid Uganda of the scourge of schistosomiasis but provision of clean water and good sanitation lags behind treatment efforts. Samuel Loewenberg reports from Uganda.

With its brick and mud huts, long wooden fishing boats, and children playing along the shores of Lake Victoria, from a distance the village of Bwondha seems idyllic. When one gets a little closer to the shore, though, it is important to step carefully: piles of human feces are scattered amid the grass and rocks just metres from the water. The lake is the centre of life here: women do laundry, men lay out their catch of the day, and children, many with bloated bellies probably caused by infection, wash and play. Cows meander along the same stretch of lakeside where people fetch drinking water.

All of that mess is bad for human beings, but it is good for the embryonic blood flukes that nestle into their human hosts, causing the parasitic disease schistosomiasis, one of several neglected tropical diseases (NTDs) that infects so many in Uganda. In Bwondha, the prevalence of schistosomiasis is 80%, with trachoma, elephantiasis, and malaria also present.

An effort is underway throughout Uganda to address the problem of NTDs, and particularly schistosomiasis, with community health workers going door-to-door to administer drugs. Since the program started there is a noticeable improvement in the health of the village, said a Bwondha elder, Salongo Rashid. Still, he expressed his frustration: government officials come and promise they will provide safe water, but nothing happens.

Keeping children away from the water does not seem realistic. Nabirya Haddija, a mother of nine, lives on the shore of the lake. Four of her children are on medication, and they dislike the side-effects, which include vomiting. Still, Haddija is happy they are on the medication, and she says she tells her children to stay away from the water. But with Lake Victoria just a few metres away, she admits they probably go in when she is not looking.

"There is no doubt in my mind that schistosomiasis will only disappear from this planet when everyone has access to clean water and sanitation," said Alan Fenwick, a professor of tropical parasitology at Imperial College, London. Fenwick leads the Schistosomiasis Control Initiative (SCI), an international charity that has been treating people in Uganda since 2003. The group's work is presently funded by both the British Government and from donations from the British and American public. SCI has operations in 16 countries and has helped governments deliver more than 100 million treatments throughout Africa.

No mean feat

Uganda presents some unique challenges. Lake Victoria is home to a large number of fishing communities, many of them on islands, and so people are constantly exposed to the parasites. "The problem is that we get treatment once a year but we go in the water every day", said Irumba Hakim, the Bwondha village chairman and a health team leader. He added that his 4-year-old daughter, Kaahwa, has schistosomiasis. SCI currently does not treat children younger than 5-years-old, but work is being done on a pediatric formulation.

Presently, SCI is trying to implement a strategy of elimination in communities with prevalence below 20%. The entire community is treated for 2 years, as the test for schistosomiasis is prohibitively expensive on such a large scale. The drug, praziquantel, is donated to WHO by Merck Serono, and additional drugs are purchased with funding from the UK and US Governments.

Previously, the goal of treatment was to lower the infections to 20% of the local population and then stop; the problem was that the infections reemerge. So now the focus is on eliminating the disease. WHO notes that this has been an effective strategy in Egypt and China, but Fenwick warns that those gains could be lost without continued control efforts.

More than 4 million people are estimated to be infected with schistosomiasis in Uganda, and about 55% of the population of 36 million are thought to be at risk. The infection rates vary widely, from 92% in some areas to as little as 2% in others. It is not just a rural problem, either. One study found 65% prevalence in a district of Kampala, Uganda's capital city.

Wider effort

The efforts to combat schistosomiasis are part of an integrated approach supported by RTI International, a non-profit research and development organisation funded by the US Agency for International Development (USAID) to tackle five NTDs, the others being trachoma, onchocerciasis, soil-transmitted helminths, and elephantiasis. Previously, these were vertical programs, but were integrated in 2007 by the Ministry of Health.

Of Uganda's 112 districts, 41 have trachoma, 54 have elephantiasis, 37 have onchocerciasis, and 73 have schistosomiasis. SCI is currently working in 30 infected districts countrywide. So far, the program has successfully lowered the prevalence to below 10% in four formerly endemic districts.

The existing government-administered health system does not extend all the way to the village level, so the mass treatments are given by volunteer community health workers. The government says it cannot afford to pay them, however. Hakim, the village leader, said volunteers in Bwondha complain about this situation. Distributing the medicines takes 7 days, which takes them away from paid employment, so many drop out, he says.

Poor sanitation

Even with all of the efforts to treat the diseases, Uganda's lack of toilets and sewage disposal remains a major roadblock, says Edridah Tukahebwa, the national coordinator for NTDs. "It's all about poor sanitation."

Schistosomiasis is a parasitic disease transmitted via human waste. After feces or urine containing the eggs enters a body of fresh water, the eggs hatch, enter snails, reproduce asexually, and then reemerge to enter through unbroken human skin, where they then develop to adult worms in the liver.

An estimated 250 million people worldwide are infected with schistosomiasis, labelled by WHO as a disease of poverty, and some 700 million are at risk. The disease is spreading with its human hosts because of increased migration and urbanisation, warns WHO. The chronic infection can result in anaemia, stunted growth, and inhibited cognitive development. Treatment can reverse these impacts.

The urogenital form of the disease (Schistosoma haematobium) is linked to increased infection rates of HIV among girls. Fenwick estimates that urogenital schistosomiasis affects up to 50 million girls in Africa.

Three-quarters of Uganda's disease burden is related to sanitation and hygiene, and therefore preventable, says Julian Kyomuhangi, the Assistant Commissioner for Environmental Health at the Ministry of Health. Cholera and dysentery are also on the rise in the country.

A 2010 study in the International Journal of Epidemiology found estimated risk reductions for diarrhea were 48% for hand washing with soap and 36% for excreta disposal. Presently, only 29% of Uganda's population wash their hands with soap after visiting the toilet. In schools, there is one toilet for every 70 students, although that is an improvement from 1997, when it was one for every 328.

Yet "sanitation has been marginalized" in the Ugandan Government, says Betty Bigombe, State Minister for Water Resources. The Ugandan Government devotes some US$2 million per year to sanitation, which is about $13 000 per district, "which is negligible," she says.

Latrine coverage is 35% according to WHO, although the Uganda Government says it is double that. Some foreign aid officials suggested the government was trying to pump up its numbers to show progress. Uganda ranks 140 out of 177 in Transparency International's Corruption Perception Index.

Sanitation has been a low priority for donors too. USAID, for instance, has spent about $300 million globally on water, sanitation, and hygiene per year, with only about 15% of that for sanitation.

Diseases without borders

Sanitation is not just a rural problem. In Kampala, only 5% of the city has sewage coverage—mostly wealthy residential and business districts. Much of the rest of the population has to rely on pit latrines. In the crowded housing and unpaved roads of the slums, trucks cannot get access, so the latrines fill up within a few years and are then not emptied. Not only do they then become unusable, they often overflow when it rains. So residents are forced to illegally empty their latrines into open gutters.

In the Kiswa Health Center, a public clinic in Kampala that serves more than 3300 patients, the effect of NTDs is overwhelming. The clinic receives about 120 cases of diarrhoeal disease a month, when it should be about ten, says a nurse who asked that her name not be used. Worm infestation is at 100 per month, about 20 times too high, since they have a deworming program, she says. They receive about two severe cases of malnutrition a day, she says. They also had three new cases of tuberculosis in one day, and have seen two cases of multidrug resistant tuberculosis. HIV is also making a resurgence.

The wealthy sectors of Ugandan society, including corporations, need to take part in funding sanitation initiatives because local governments do not have enough funding, says Godfrey Kisekka, one of Kampala's town clerks. "We need to sensitise the rich that the health of the poor matters to them. Disease has no borders."
RELATED ISSUES