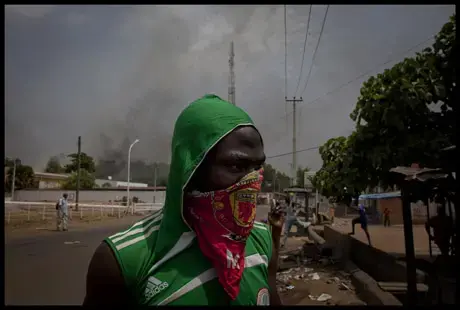 At a rudimentary television studio in the religiously segregated Nigerian city of Kaduna, peace activists James Wuye, a Christian pastor, and Muhammed Ashafa, a Muslim imam, are on the air for their weekly live broadcast designed to build bridges. Today's show is all about tough love.

"How can a neighbour go to a neighbour's house and set fire because one man was elected and another wasn't. Shame on you, Nigeria! Shame on you, youth! Shame on you, certain religious leaders! Shame on you, politicians! God is angry with Nigeria!" said Mr Wuye, the pastor.

Nearly a month of polls in Nigeria come to an end on Thursday with two delayed governors' elections. International and domestic observers have for the most part given the elections their stamp of approval, lauding them as the most free and transparent in the chequered history of the country's young democracy.

But despite technical progress, Africa's most populous nation has failed to shake off a long legacy of political and sectarian violence. Amid a freshly exposed rift between its Muslim-dominated north and Christian south, the nation must once again learn to live together.

A few hours south of Kaduna in the heart of the country's religiously mixed Middle Belt region, the streets of Zonkwa look like a war zone. House after house has been gutted by fire. Rubble and glass litter the streets. Toppled power lines lie on a row of burnt-out cars. Smoke still rises from smouldering grain stocks in a looted shop a full week after they were set alight.

As the town's Christian residents wander through to survey the damage,
43-year-old Idriss Musa and a neighbour, both Muslims, have returned with a van to salvage what remains of their belongings.

"I lost seven brothers. You see this blood over here," he says, pointing towards a blackened stain now covered in flies. "That's where they killed one of them."

In an inauspicious start to polls that cost a record 100bn naira ($647m), legislative elections initially scheduled for April 2 were delayed a week because of logistics failures, then tainted in the north by bombings and attacks by gunmen.

But the real trouble began shortly after April 16's presidential vote, which pitted President Goodluck Jonathan, a southern Christian, against a Muslim challenger from the north.

Mr Jonathan won the polls. But before the result had even been announced, opposition militants rioted, attacking suspected ruling party supporters and then Christians in general. More than 100 died in Kaduna alone and Christians were targeted in several other cities in the north.

The killings in Zonkwa were part of a wave of reprisal attacks against Muslims that erupted soon afterwards in towns across the Christian-dominated southern half of Kaduna state. Muslims buried more than 300 victims in mass graves last week in the town, the hardest hit by the violence. The authorities have decided not to retrieve dozens more dumped in municipal wells. Similar scenes played out in other nearby towns and villages.

For many in the north and the south who worry the polls will do little to solve the problems of poor education, unemployment and high-level corruption underlying the violence, Nigeria's grand election success has left a bitter taste.

"Elections? I don't have that interest. If they kill us, if they kill our religious leaders, it's not worth it," says Mr Musa.

Back in the studio in Kaduna, the station manager has decided to cancel the call-in portion of the programme. Tempers are still too high and he does not want to risk sparking more killings. But Mr Ashafa strikes a more positive note.

"For the future of this country I am still optimistic that we will have a strong nation. We are just going through the learning process. I see today a vulnerable nation, but I don't see a divided nation," said the imam.
RELATED ISSUES