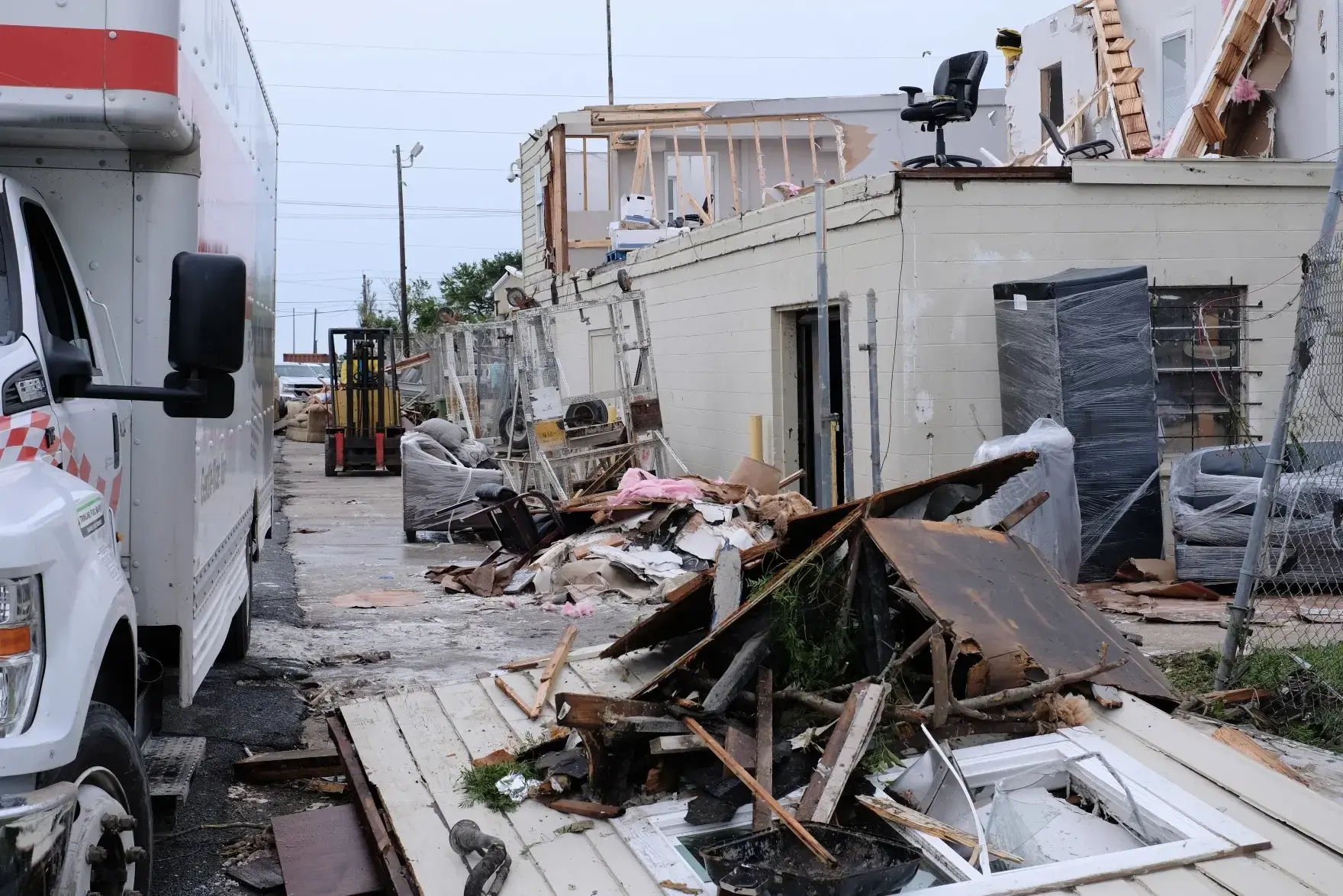 Audio courtesy of Texas Matters/Texas Public Radio.
Colonias: Past, Present and Future
A colonia is a community along the U.S.-Mexico border that typically was created with the illegal subdividing of property without basic infrastructure.
The homes in a colonia may lack running water and sewer systems. Often, colonias don't have paved streets and there's no drainage. When there is rain, flooding is a problem. There are no basic services like garbage pick-up. Accessing emergency services is a challenge because there are no official street addresses.
An estimated 500,000 people live in thousands of colonias along the Texas-Mexico border. Largely established between the 1950s and 1980s, state laws have been passed to try to prevent new colonias from sprouting up. But because of today's affordable housing crisis, colonias are seeing a comeback.
---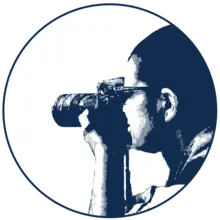 As a nonprofit journalism organization, we depend on your support to fund more than 170 reporting projects every year on critical global and local issues. Donate any amount today to become a Pulitzer Center Champion and receive exclusive benefits!
---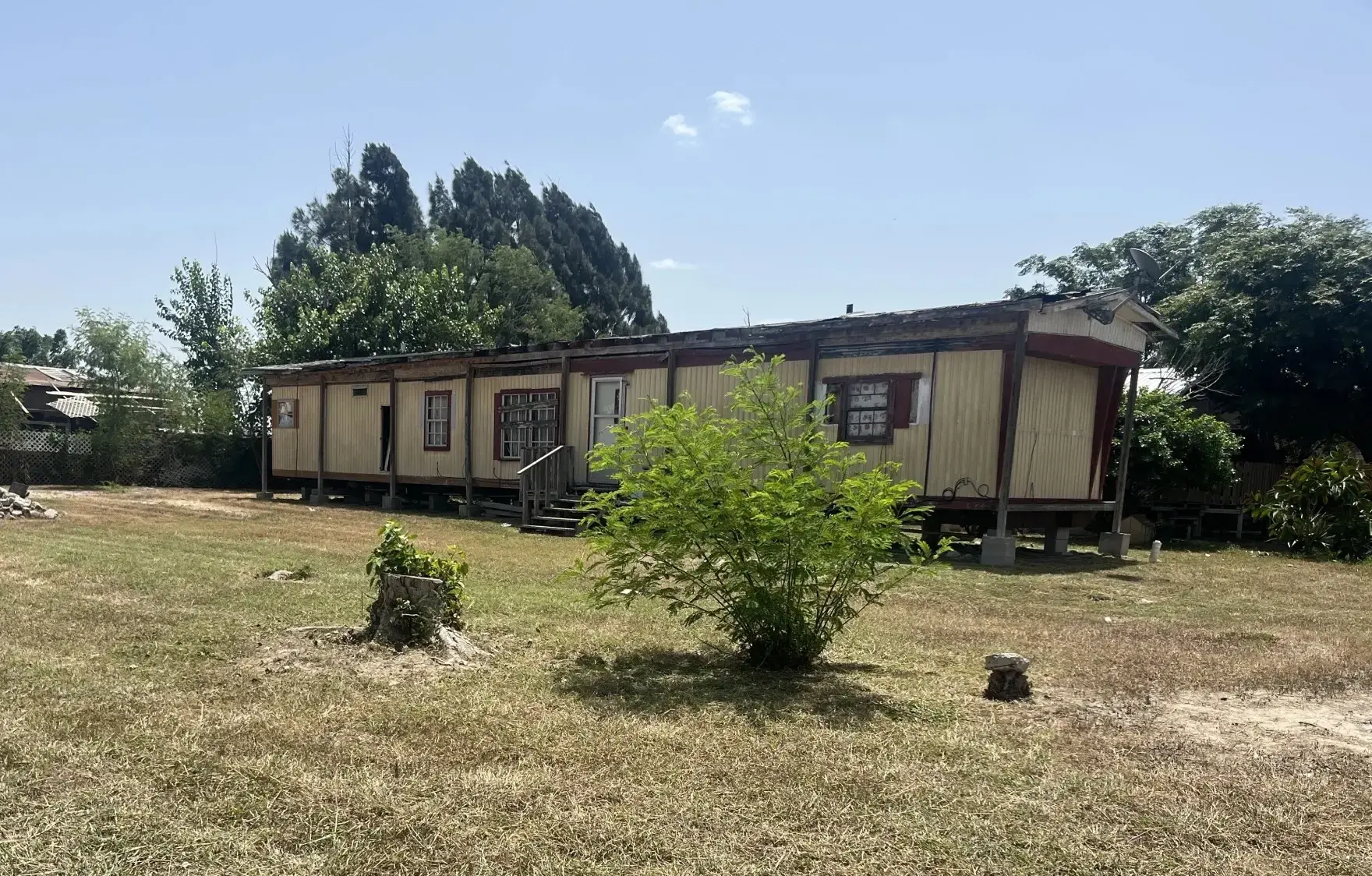 While the public's attention on colonias has largely centered on squalor and societal neglect, residents say their self-sufficiency and resilience also merit recognition. But, despite significant progress, colonias are still defined by their worst moments.
"I think that it's also an American success story, the development of colonias," said Francisco Guajardo, CEO of the Museum of South Texas History. He spent much of his childhood in a colonia and finds the prominent narrative tired and reductive.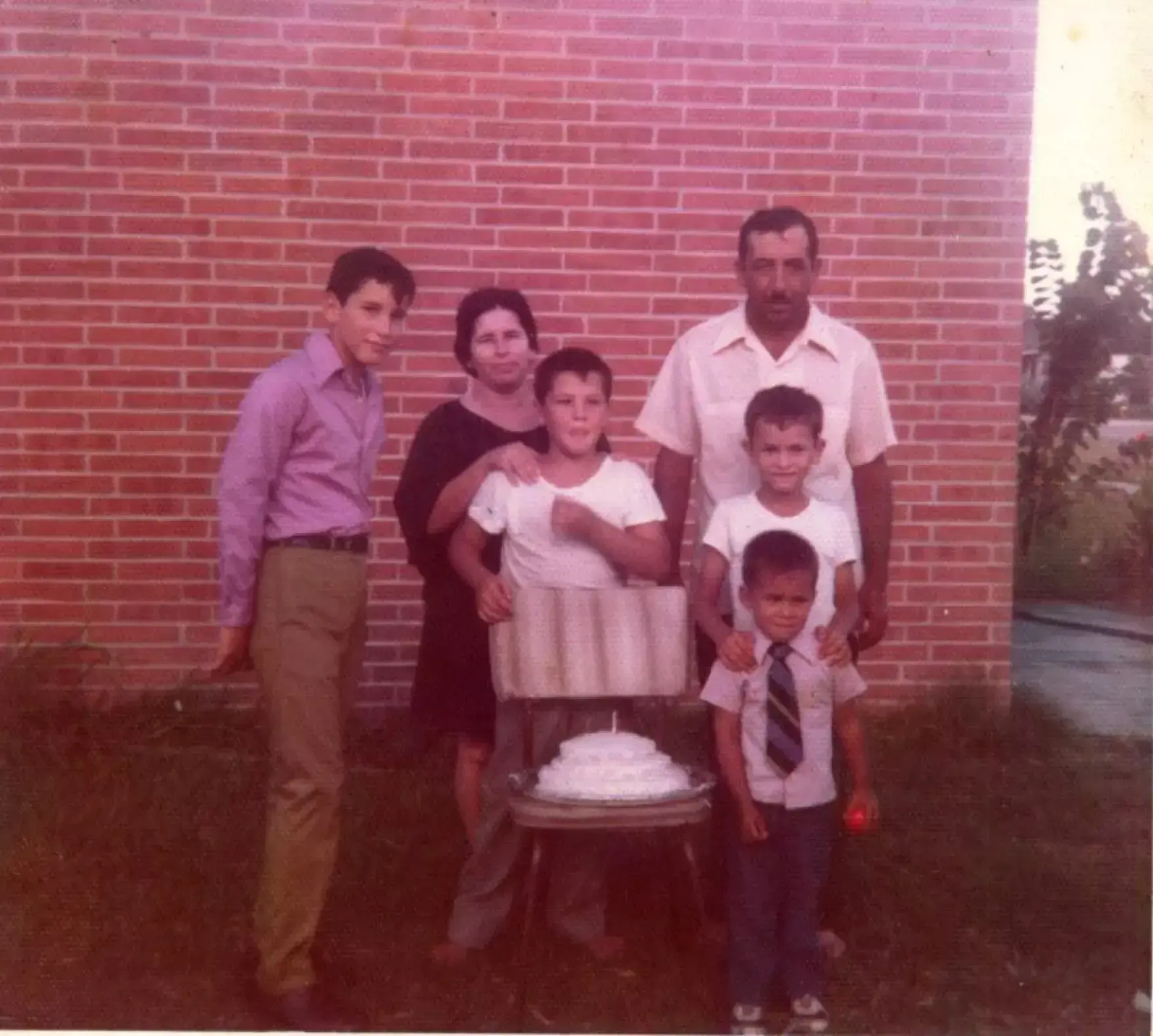 The development of colonias made homeownership a possibility and through time, these pockets of close-knit communities became beacons for change and for some, a cradle for the American Dream.
"I am not going to poverty-pimp the colonia idea, because enough people have. And I think that that's been to the psychological detriment, I think, of a lot of us," he said.
Origin of Colonias
Colonias resulted from unwanted farmland.
"The story of colonias in South Texas is really something that predates the war, meaning World War II, but it does not become pronounced until after the war," said Guajardo.
In the early 20th century, developers promoted the agricultural potential of the Rio Grande Valley to midwestern growers. They touted the mild climate, abundant water sources and fertile soil. As a result, farmers flocked to the Valley.
"People were lulled into believing that this was this huge garden of prosperity," said Guajardo.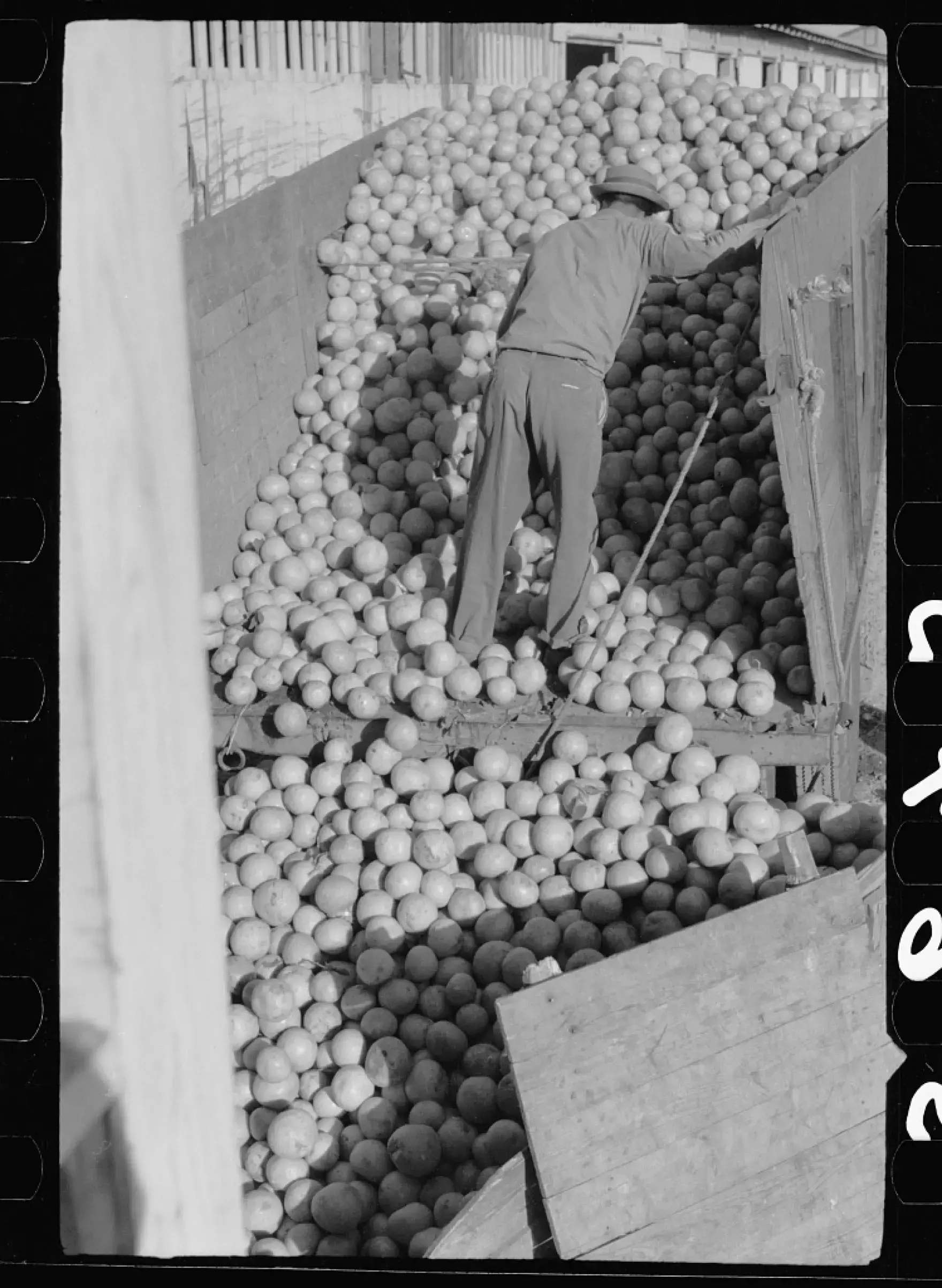 And this looked true for the first half of the century.
For decades, the Valley had a booming citrus industry with acres of oranges and grapefruits covering the flat, flood-prone land.
Along with this boom came a labor force composed of mostly Mexican immigrants or Mexican Americans.
"It began to not be this garden of prosperity into the 1960s and into the 1970s," said Guajardo.
The climate, which first enticed growers, also bred insects and diseases. Additionally, extreme weather events could ruin a harvest.
Many of these problems, which smaller farmers did not have the resources to combat, plagued crops. And a series of freezes right after the war ended their desire to keep growing.
That's when many landowners who wanted out of agriculture in the Valley started selling their properties. And laborers were an eager customer base.
"You also have a lot of working people who don't have a lot of income and they're attempting to reach their American dream … they want their piece of land," said Guajardo.
Landowners capitalized on this demand. But before selling the land, they stripped and sold the fertile topsoil, which made the area even more flood prone.
Then they subdivided the land into residential plots and sold them without infrastructure for cheap to those low-income workers attempting to reach their American dream.
"Maybe you can come up with $1,000 to buy a quarter-acre in this startup neighborhood that doesn't have running water, doesn't have electricity and doesn't have paved roads. And so, those are the colonias," said Guajardo.
Some sellers, to quell weariness over the lack of infrastructure, falsely promised that these services were on their way.
When many buyers didn't have enough cash and their credit was often too poor to finance their purchase, they'd sign contracts that made it so one missed payment could result in foreclosure. These contracts also withheld the deed from residents until they paid off the property.
Other times, sales happened under the table, so purchasers didn't have any legal claim to their property.
Residents move in
From the 1960s to the 1980s, colonia development peaked along the U.S.-Mexico border, and not just the Valley.
Guajardo's family was priced out of public housing in the mid-1970s and decided to move into a new colonia outside of the city of Elsa.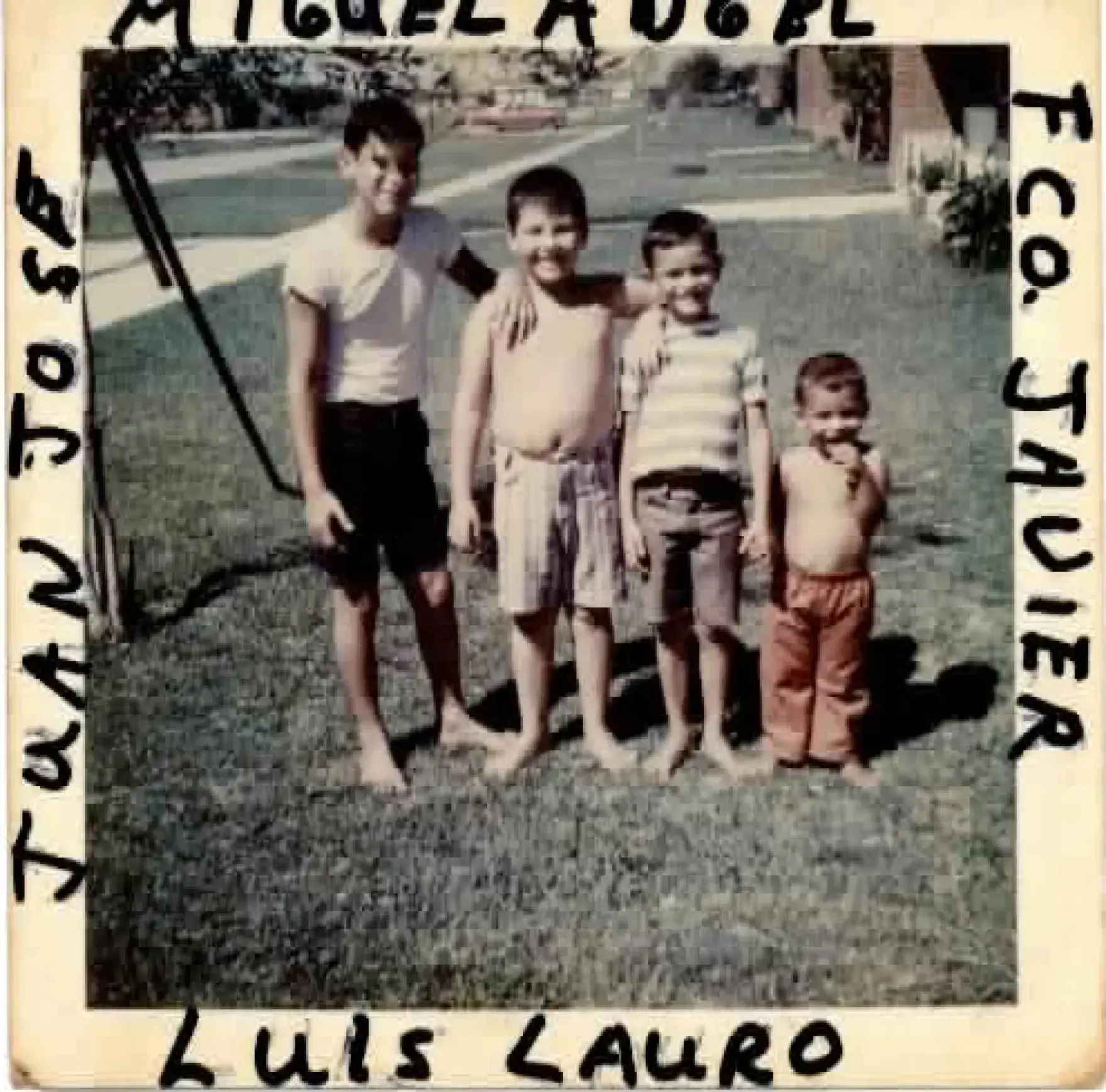 Like many others, Guajardo's family was building their home the only way they could afford—piecemeal and slowly.
His family settled in a trailer home while they built their house. Like thousands of other colonia residents, they also had to build their own utilities.
They created ditches to install their water pipes and dug holes for their septic tank.
But improving the neighborhood was also a collaborative endeavor.
"Other people are moving in as well. And so we're all like sharing in the same sort of electricity, like completely rigged," said Guajardo. "It was like the most beautiful thing, because it's like resilience, ingenuity, and all of this."
Resources were scarce.
Like countless others, Guajardo and his brothers were migrant laborers and traveled to other states, like California, during harvests. A lot of the money they earned through this hard labor went towards raw materials they needed for construction.
They also needed expertise. Guajardo's father sent his older brother to carpentry school to help with the house. And after completing the program, his brother became the whole colonia's carpentry expert.
"It took a while, but we built a house," he said.
But building houses was far from the only hurdle. These developments were located in rural county areas, not in city limits.
There were no water or drainage systems or street requirements that are usually mandated by the city and paid for through city taxes.
Colonias' lack of basic infrastructure and poverty rates rarely seen in the United States resulted in neighborhoods where living conditions were dismal.
"Middle school for me and then high school was in a colonia. Elementary school was in the federal housing projects. No comparison. Federal housing was like the Taj Mahal," said Guajardo.
Cities eventually annexed many colonias. In some cases, clusters of colonias became their own municipalities.
Colonias started banding together to ask their public officials for basic needs.
"That's what your taxes are supposed to be for, for basic infrastructure. So really, all you're doing is you are asking for what is right, which is I contribute to this community, you public officials, would you please contribute to my neighborhood so that my truck won't always be needing new tires?" said Guajardo.
They had small wins. Individual colonias and organizations were often able to get infrastructure improvements through incessant pleading and public outcry.
When existing water systems wouldn't serve them, they created their own—and some of those still exist today.
But it wasn't until the '80s that the federal government took action.
Congressman Kike de la Garza of South Texas led the initial charge for changes to colonias at the federal level and faced some resistance when presenting his proposal to provide federal aid to colonia communities.
At the hearing, Congressman Joseph Kennedy II said other lawmakers worried that helping colonias would promote illegal immigration.
But the bill passed and is still helping improve conditions in colonias.
Because of De La Garza's advocacy in the '80s, the federal government released a first-of-its-kind report that assessed conditions in these areas.
The feds reported that around 200,000 Texas residents lived in 824 colonias in 1990. Only 60 percent had water and only one percent had sewage systems.
Unsurprisingly, rates of diseases like hepatitis A and tuberculosis were double that of the rest of the state.
Today, colonias are still found all along the U.S.-Mexico border, with the highest concentration in Texas.
It's estimated that about half a million people live in more than 2,000 colonias along the state's border.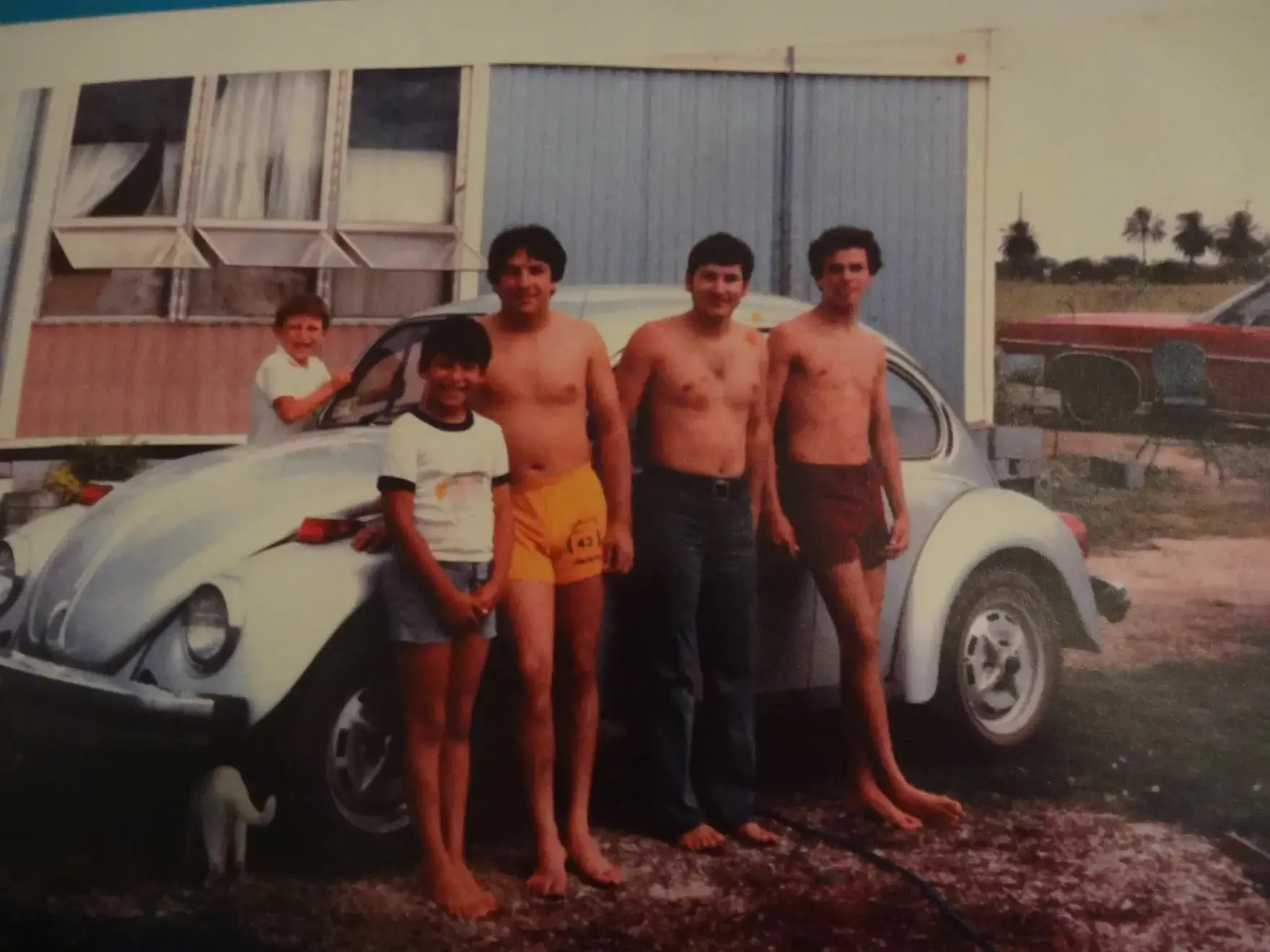 While conditions have vastly improved, many still struggle with the same problems. But Guajardo said fixating on the negative allows it to overshadow colonia residents' strides and successes.
"Hay mucha gente neciesitada en las colonias todavia, no question about that. But the colonias are also places of hope. And I think that's the point," said Guajardo.
When Guajardo looks back on his life in the colonia, he doesn't dwell on suffering or helplessness because, for him, this isn't the legacy of living in a colonia.
Rather, he thinks of progress, tenacity and the tireless resolve that turned that bare plot of land into a home.
"You can't build a house if you don't have the land. And the effort, the idea, the vision, the hope, the dream of the land, is really the magic," said Guajardo.
Limitations Beyond Infrastructure
The Guajardo family is one of many that found a way to overcome some of the obstacles unique to the colonias. Many of which go beyond the lack of infrastructure.
Colonias started and continue developing in the most rural parts of the region. While some older colonias have been incorporated into the urban sprawl overtaking the area, others—old and new— still live far away from basic services and businesses found in more populated regions.
But over the decades, colonias like Bent Tree have overcome inaccessibility by starting home-run businesses and creating a space for sellers outside the community.
An unexpected boomtown
Bent Tree is a growing colonia that started in 2007 as a single row of houses. It's on the rural side of the expressway, where the only chain stores are Dollar Generals, which have only recently appeared. But in the colonia, business is booming.
The colonia's single entrance is flanked by a small row of cars for sale and a home that offers car washes and welding services. Nearby, vendors set up tents and sell a variety of food. On the weekends, they amass in front of the colonia, similar to a flea market.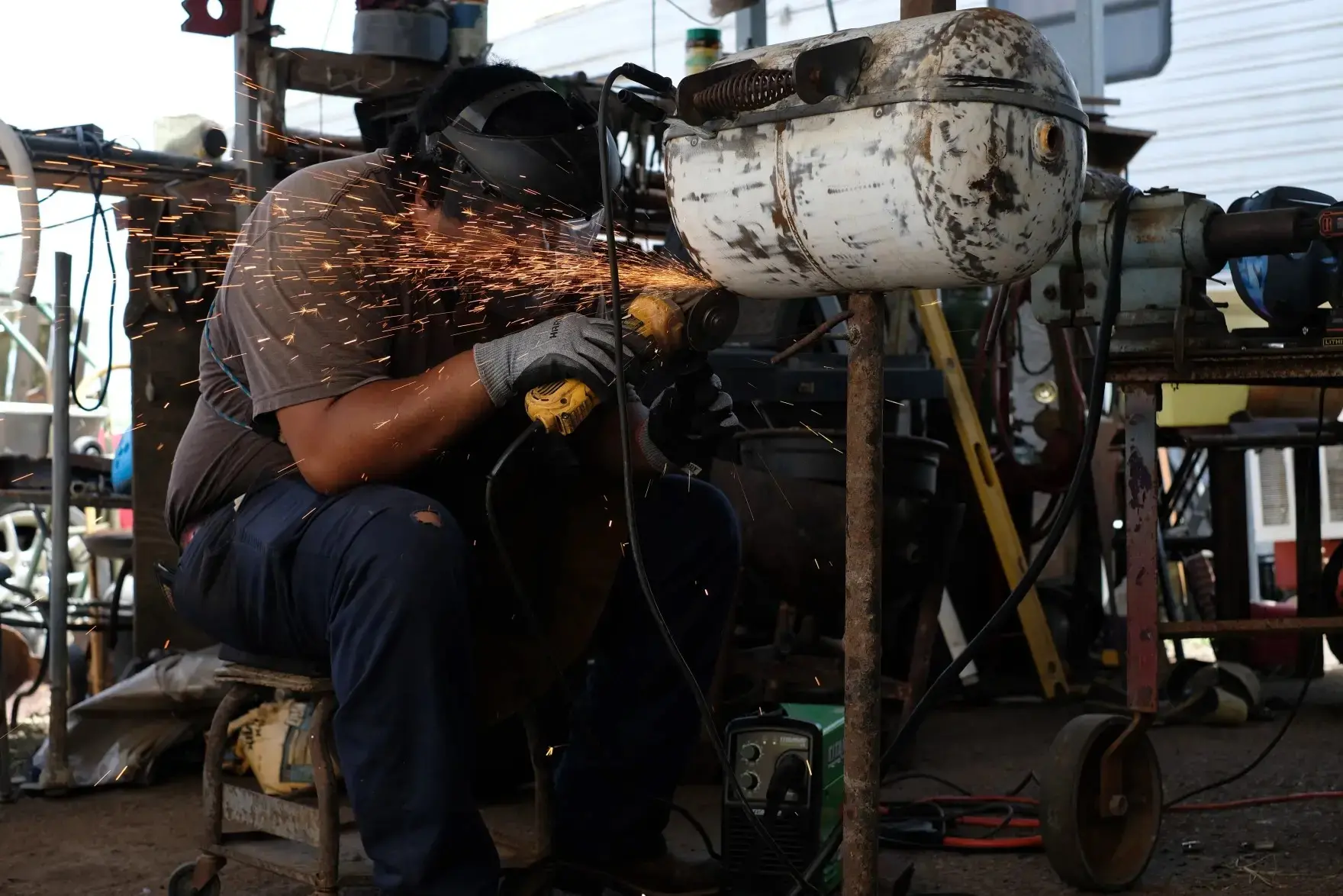 "We have dinner, food, lunch. On the weekends there's menudo, barbacoa, menudo, tamales, pozole … there's a little bit of everything," Bent Tree resident and community organizer Orelia Iracheta said in Spanish.
Iracheta founded the Bent Tree Sales and Services Facebook page in 2015, and it now has more than 13,000 members. She said it began as a way to unify residents to advocate for streetlights in the colonia, but it quickly evolved.
"What started as a necessity to pass on information from an organization lent itself to many other situations … illnesses, needs, employment, offering services," Maria Cordero, one of the page's moderators, said in Spanish. "That's why the page has so many people now."
The page is now a major hub for sales and information about commercial activity in the colonia. According to Cordero, the page encourages people to start their own businesses.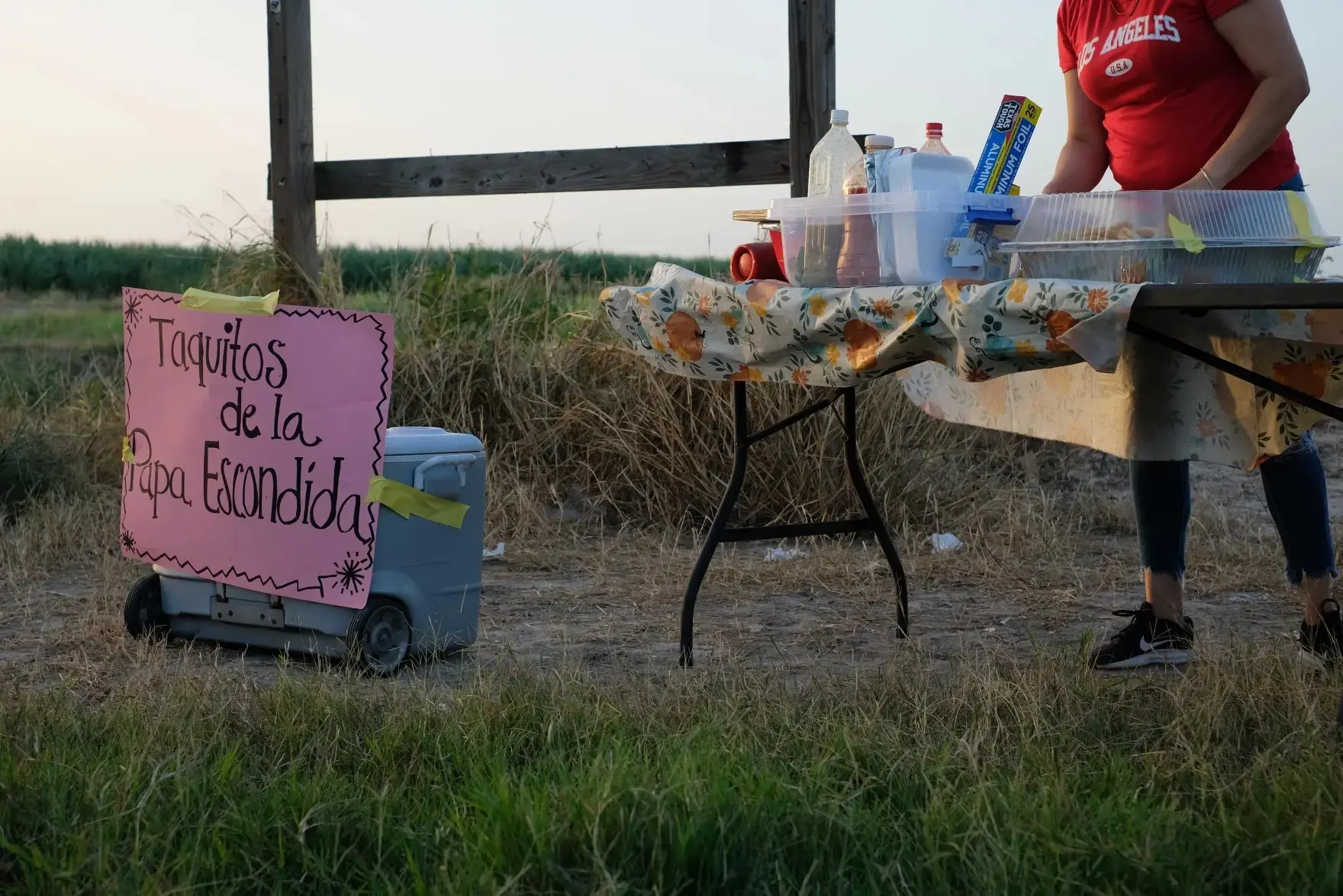 According to Iracheta and Cordero, Bent Tree inspired other colonias—like El Ranchito near San Benito—to establish their own Facebook pages. And Iracheta said that people from other colonias, like Cameron Park in Brownsville, regularly come to Bent Tree to sell their goods. They've even seen vendors all the way from Houston and Matamoros on the page.
"And that's what sellers always say: There's space for everyone on the page," Cordero said.
According to Cordero, another major business—raffles—dominates the local market. In these raffles, people chip in small amounts of money for a chance to win something. The Facebook page's moderators randomly select a winner.
"That within itself is a business. It's its own microbusiness," she said.
She said they're popular because they allow the seller to profit while individual bidders pay very little. Smaller colonias, such as nearby La Paloma, depend on Bent Tree to conduct their raffles.
"Neighbors [in Bent Tree] let them borrow their houses to conduct their raffles here because people here support each other," Iracheta said.
Managing external barriers
Like colonias of the past and present, Bent Tree is composed of mostly low-income Mexican American families of varying documentation status. Border Patrol is ever present in and around the neighborhood, and that weighs on many of its undocumented residents.
But Cordero said the community works hard to keep it a safe space, even online. Documented residents protect those who aren't. Cordero, Iracheta and the other page administrators screen people who want to join or sell on the page.
"We have a lot of fear because there are a lot of vulnerable people in the colonia," Cordero said. "That's why we try to be cautious in every respect."
Iracheta said anyone in the colonia, regardless of their documentation status, can thrive if they want to. She's noticed Mexican residents are especially driven.
"Here, those who want will overcome," she said. "Over in the projects, there's lots of people who go looking for help with their rent, their electricity, saying, we're U.S. citizens, we deserve it. But here, Mexican citizens come and say, I need help with rent, will you please buy some popcorn."
That drive is evident in people like Gabriel Jimenez, a Mexican immigrant with a successful brick-and-mortar business.
The Bent Tree resident opened Taqueria El Mante 12 years ago in a Harlingen mall. He recently opened a second location, in San Benito.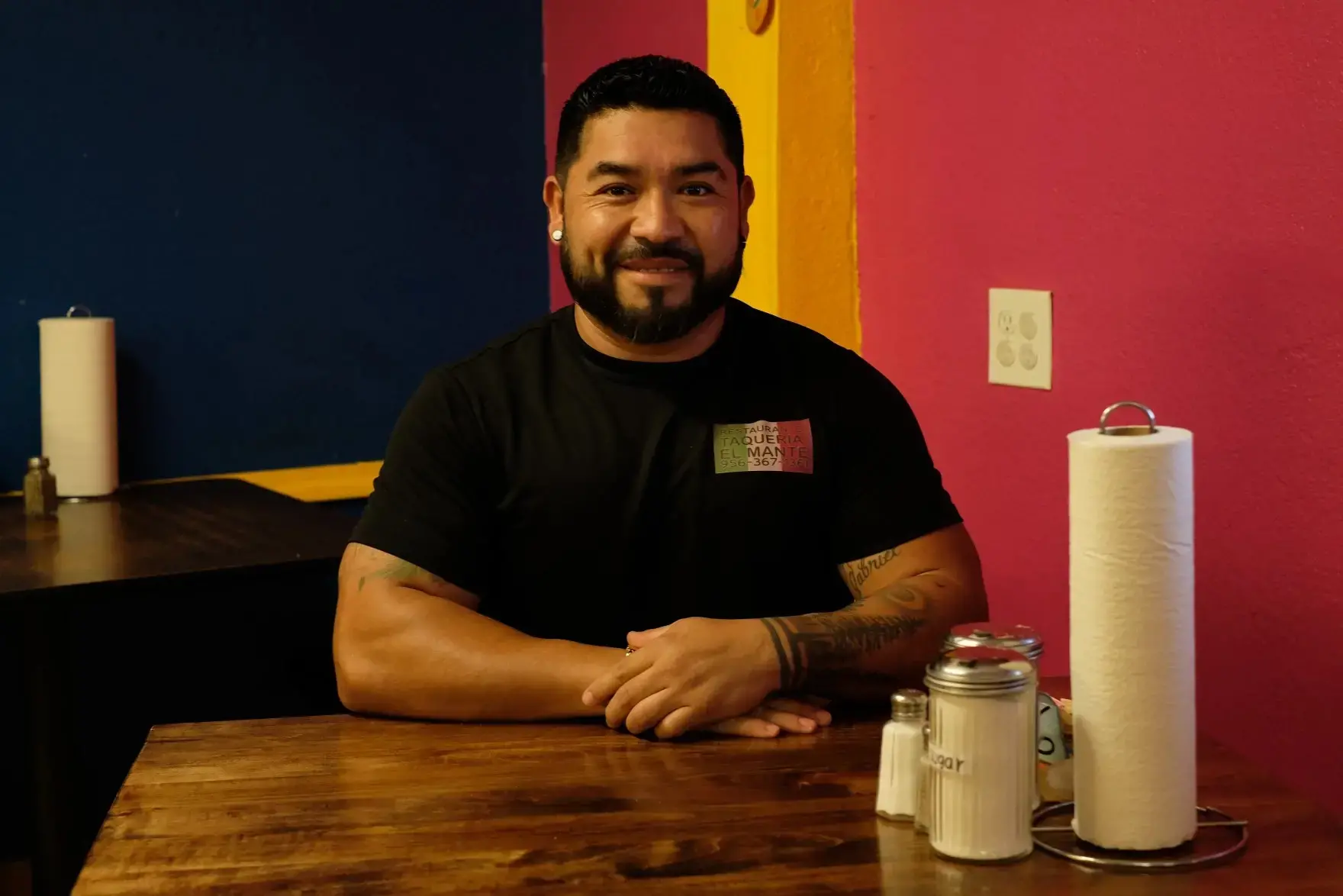 He said Bent Tree residents are loyal customers and employees. Jimenez is also a patron.
"Many neighbors come here to eat, and when we're there [Bent Tree], we'll also buy some elote or some tostaditas," Jimenez said.
According to LiftFund, a small-business lender in the area, it has granted almost 8,000 small-business loans to colonia residents along the Texas border, totaling around $115,000,000.
But Marlene Rodriguez, the organization's business development officer, said the company faces unique obstacles.
"A lot of the times, [residents] don't want to share a lot of their information, personal information, or they don't know whether they're asking the right question or they're approaching the right person," Rodriguez said.
But barriers residents face—including a lack of financial literacy and language skills— make them especially vulnerable to predatory lenders that deal in high-interest loans, enticing applicants with a fast approval process and minimal information requirements.
Rodriguez has seen these types of loans destroy otherwise successful businesses. She said the solution is gaining people's trust so they're comfortable sharing information that is necessary to finance their business in a sustainable way.
"It's all about community engagement through our partners," she said.
LiftFund relies on nonprofit organizations that work with colonias or community workers to help them engage with small-business owners.
Cash and community
Bent Tree, which started as just Bent Tree Avenue, now has 11 streets lined with homes and home businesses. As the community has grown, so have residents' needs. Residents like Iracheta have stepped up to the challenge.
She uses the Facebook page to gather donations and has found a way to gather free supplies for those in need. Vendors will ask the page administrators to promote their goods in exchange for items. It's how Iracheta got free masks for the community during the height of the pandemic. They advertise events, like school-supply drives, on the page, too.
She sees initiatives like these and the page's commercial achievement as a testament to the community's unity.
Iracheta has seen Bent Tree residents find success despite poverty and language and documentation barriers. She said these types of stories are a point of pride for her – and should be for the entire state.
"Why isn't that what's focused on instead of people criticizing the bad," she said. "That's something that in all of Texas we need to change. We're so good at getting the worst of people but not at recognizing all the good."
Old Infrastructure, New Problems
A desire for more positive coverage of their communities is pervasive in colonias. But even some of the most optimistic residents, like Iracheta, recognize their problems are serious beyond their control.
Iracheta and thousands of others get their water from Military Highway Water Supply Corporation, which is a non-profit created in 1973 to bring water to colonias.
But today, the water corporation's infrastructure is falling apart. As a result, many of their customers have had to deal with foul and even toxic drinking water for decades. And despite widespread poverty, they're still forced to pay some of the highest prices for this basic need.
Now, several hundred colonia residents are suing the company that they allege has routinely ignored their pleas for help – and even ushered in a predatory market that profits off the problem.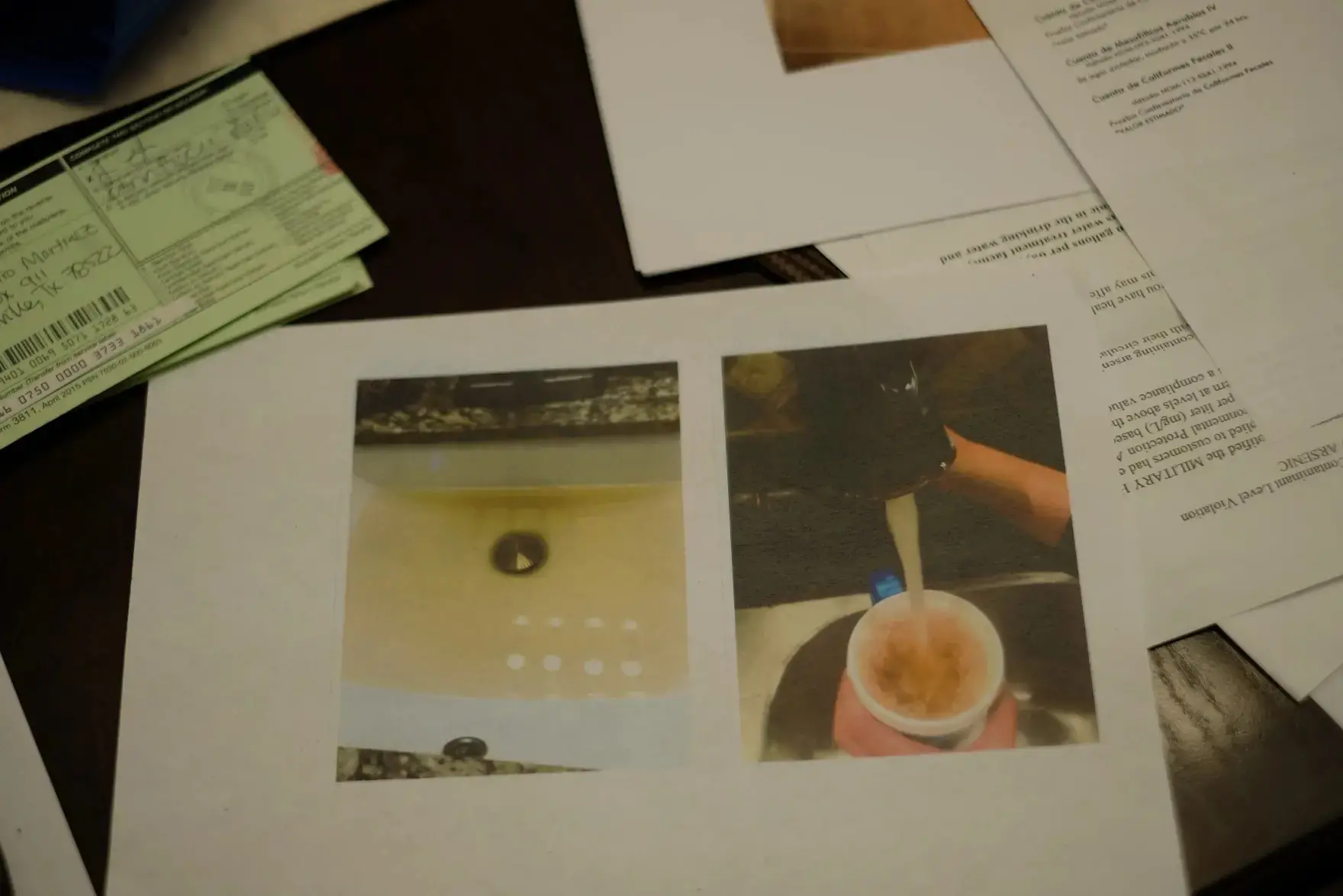 The cost of clean water in colonias
Araceli Palomino and other colonia residents waited to enter a public board meeting for their water supplier, Military Highway Water Supply Corporation. They were tired of having to deal with the corporation's foul and even toxic drinking water.
When Palomino finally entered the conference room, the mood was tense. And while speaking during the public comment section, she directed her ire at the board members.
"I don't think you want to pay $200 a month for dirty water," she said. "For dirty water that is damaging your family."
Customers say the company routinely ignores their pleas for help while they pay up to three times more than that of neighboring public water systems, including rural ones.
Its poor water quality has even ushered in a predatory market that profits off the problem.
"It's getting to this point that it's not only affecting economically wise but it's also affecting our health, our families," she said. "We want clean water. We want what we're paying for."
In 1973, Military Highway Water Supply Corporation became the first big rural water supply corporation dedicated to expanding water delivery to the colonias.
Palomino and her family live in a colonia called San Pedro, where the water comes from the company's largest water system, Las Rusias. The system serves approximately 20,000 people. More than a third of them still live in colonias.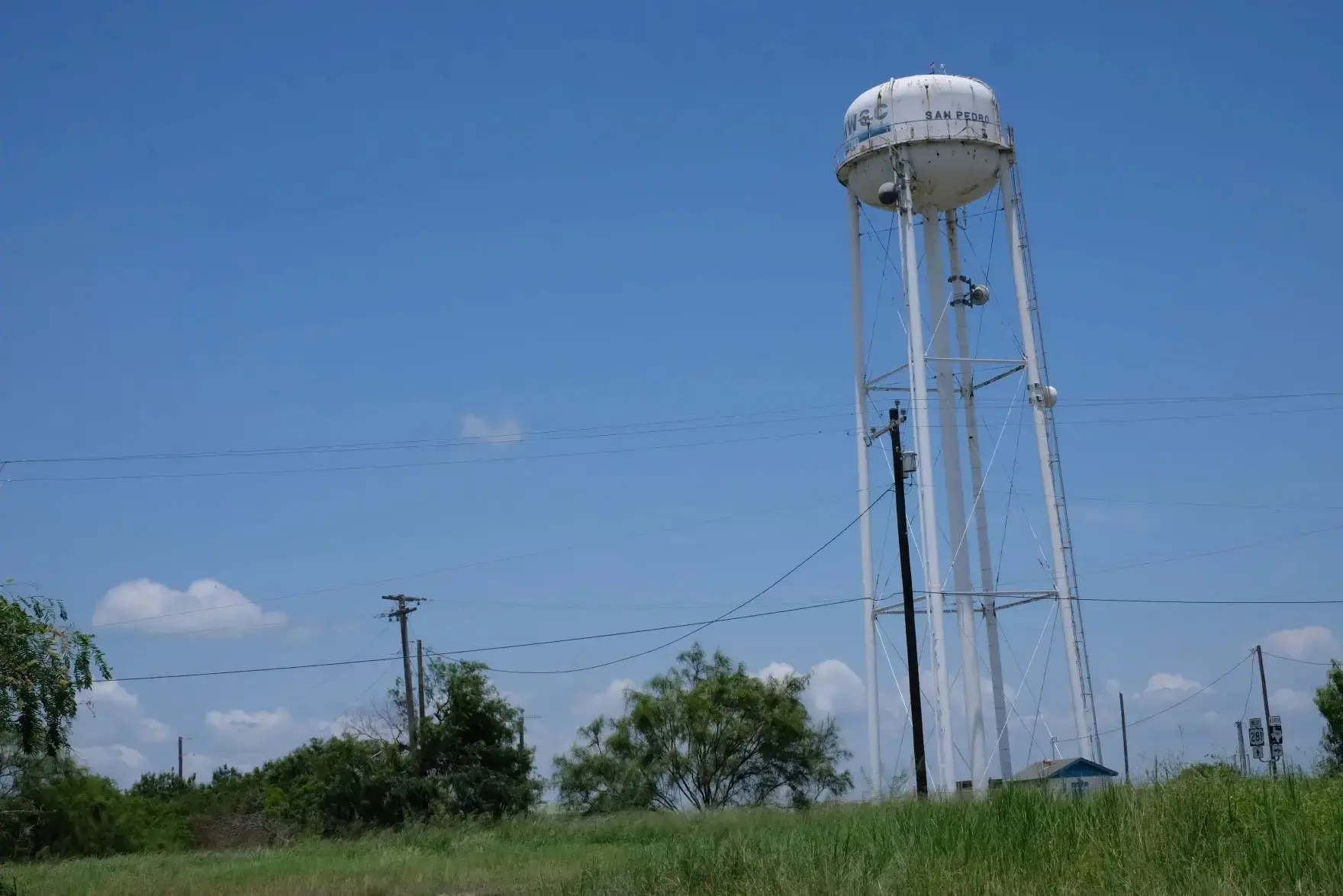 During the almost 15 years the Palominos have lived in San Pedro, the Texas Commission on Environmental Quality has issued 82 violations –including multiple instances of illegal levels of carcinogens in the tap water.
Palomino has spent years trying to get attention on the issue.
"We talked to the mayors. You know, you make copies of it. You know, we went all the way to the senators, the governor," said Palomino. "But nobody seems to care."
Now Palomino and more than 450 other plaintiffs have turned to the courts.
In a lawsuit, they allege personal injuries and even deaths due to exposure to many toxic products and substances in the Las Rusias system.
The most prevalent of these toxins is arsenic, which naturally occurs in the area's soil and leaches into groundwater.
The water system regularly exceeds the federal maximum allowable arsenic level, which is 10 parts per billion.
"Arsenic increases the risk of many diverse types of diseases, including cancers and non-cancerous diseases, such as cardiovascular disease or diabetes and even cognitive impairment," said Dr. Taehyun Roh, an assistant professor in the Biostatistics and Epidemiology department at Texas A&M.
He studies the health impacts of low-level arsenic exposure in drinking water. Roh said that even legal arsenic levels may be unsafe.
"At this moment, some, even many scholars think the current 10 parts per billion is not enough to protect the public health," Roh said.
He said that research shows ingestion of arsenic at levels even below the legal limit is associated with disease, especially over long periods of time because it accumulates in the system.
That's why other states, like New Hampshire—which naturally have high levels of arsenic in their soil—lowered the maximum contaminant level to five parts per billion.
If Military Highway Water Supply was held to that standard, they'd be in violation of the law since 2001.
Dr. Roh said arsenic is hard to remove, especially when the system's infrastructure is dated like Military Highway's.
"If the system is not upgraded or has an aged infrastructure," explained Roh. "Then it cannot actually efficiently remove the water contaminants."
In 2017, the company began operating a $3.9 million reverse osmosis microfiltration plant with the express purpose of removing arsenic from the water.
But it hasn't worked. In 2021, the system had the highest arsenic levels on record, resulting in a fine of around $5,000.
Customers, like Palomino, are skeptical of the water supplier's usage of funds.
"I don't think they're using the money wisely at all, because we wouldn't have this problem if they were," she said.
Arsenic isn't their only problem. In 2017, the TCEQ issued an investigation after the Las Rusias plant's water exceeded maximum contaminant levels for another type of carcinogen, Trihalomethanes.
Unlike arsenic, these compounds result from human error and the solution is reevaluating the company's operational procedures.
Despite the 2017 investigation and fine, they committed the same violation two years later. Now, Palomino has no faith in those running the system.
She and her family no longer consume the water. Instead, they buy water to drink, brush their teeth and cook with.
"I have to go for three to four packages of water. A week," she said.
And that's not the end of her expenses.
Her water frequently comes out brown, which stains her laundry. And she has had to replace multiple sinks because of hard water damage.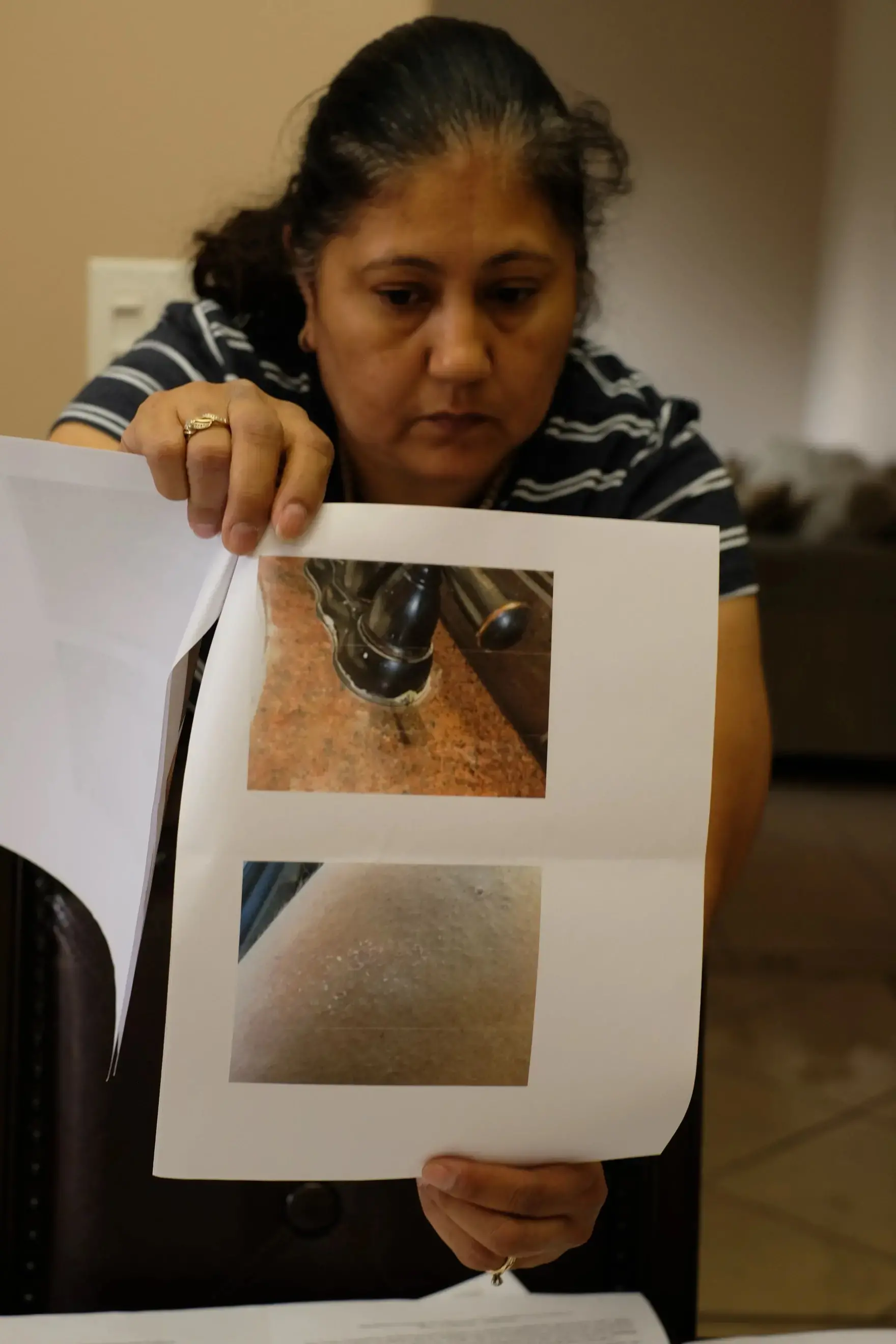 Some customers say that when they've gone to the company's office to show how the water has ruined their belongings, they're handed single-use portions of detergent.
TCEQ records show official complaints about water color and odor go as far back as 2003. United States.
Now, customers across the Military Highway systems say they've seen brown water come out of their faucets more frequently in recent years. The company blames the aging infrastructure.
Despite the increasing regularity, the company doesn't flush lines to clear the water until customers complain.
Meanwhile, water filtration and softener companies have profited from the poor water quality.
Residents across the system say these businesses frequently visit their colonias to sell products.
WaterBros is one such business.
Earlier this year, one of their Facebook ads started with, "Military Highway Water Supply Corporation water is one of the most polluted waters in southern Texas."
Many customers don't have the disposable income to pay for such a system upfront, which leaves them with difficult financing options.
County records show that the companies that finance water filtration purchases often put liens on customers' homes.
This happened to Edgar Flores's mother, who lives in Ranchito, a colonia near San Benito. The financing company put a $7,000 lien on the house for a softener and filtration system.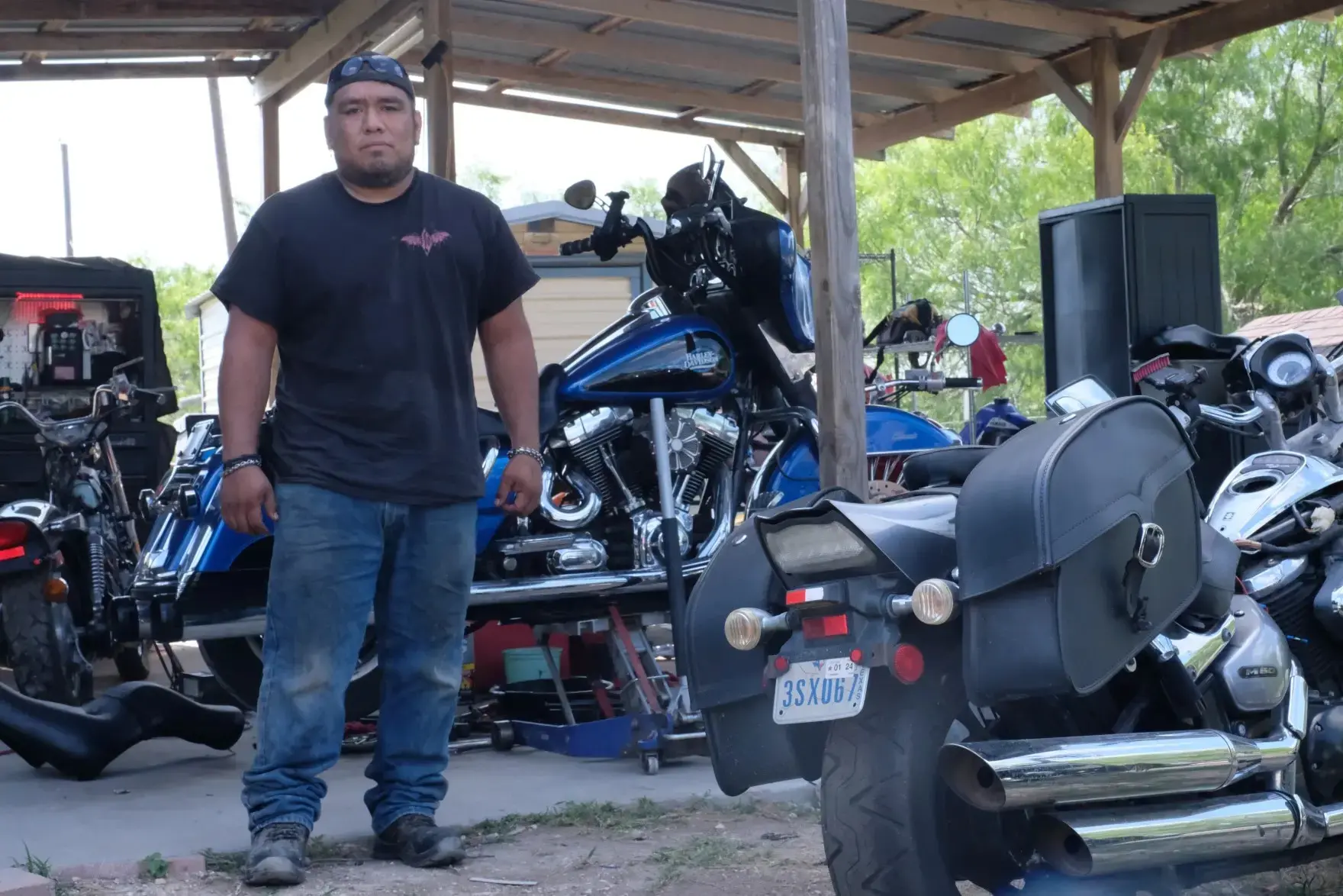 "It didn't work. The water would still come out yellow," said Flores.
When Flores tried returning the equipment, the seller said it was up to the financing company, which wouldn't give the money back.
Flores ended up having to pay the lien on his mother's home when he went to buy it.
The water continues coming out bad twice a month.
"It smells like sewage, kind of. And the water's like yellow. Like if someone just left pee there, like in the tubs or whenever you open the faucet," he said.
The company recently hiked up its prices. Nonetheless, Flores said he has accepted the situation because he has no other options.
"There's nothing we can do, and they know there's nothing we can do. And they're pretty much gonna say we don't want it, just don't pay for it and then not have water, you know? So, you're kind of stuck with it," said Flores.
In recent years, the company has received about $3 million in financial assistance from the government to update Las Rusias' water lines and treatment plants as well as replace storage tanks.
This includes $2.2 million in financial assistance from the Economically Distressed Areas Program, or EDAP, that the Texas Water Development Board approved just this month.
Palomino said the money is late.
"Five years ago, they told us that they were going to ask for a grant to fix this problem. And apparently, they haven't fixed anything," said Palomino.
The EDAP program exists to help water suppliers like Military Highway Water Supply Corporation, yet, despite decades of complaints, a Texas Water Development Board said the company hadn't applied in a long time.
Even now, construction won't be done until 2025. Palomino said something has to change because she fears for her family's health.
"Yes. You want to help the colonias and stuff like that, but not like that. Not killing them little by little," said Palomino. "That's what they're doing. They're killing us little by little."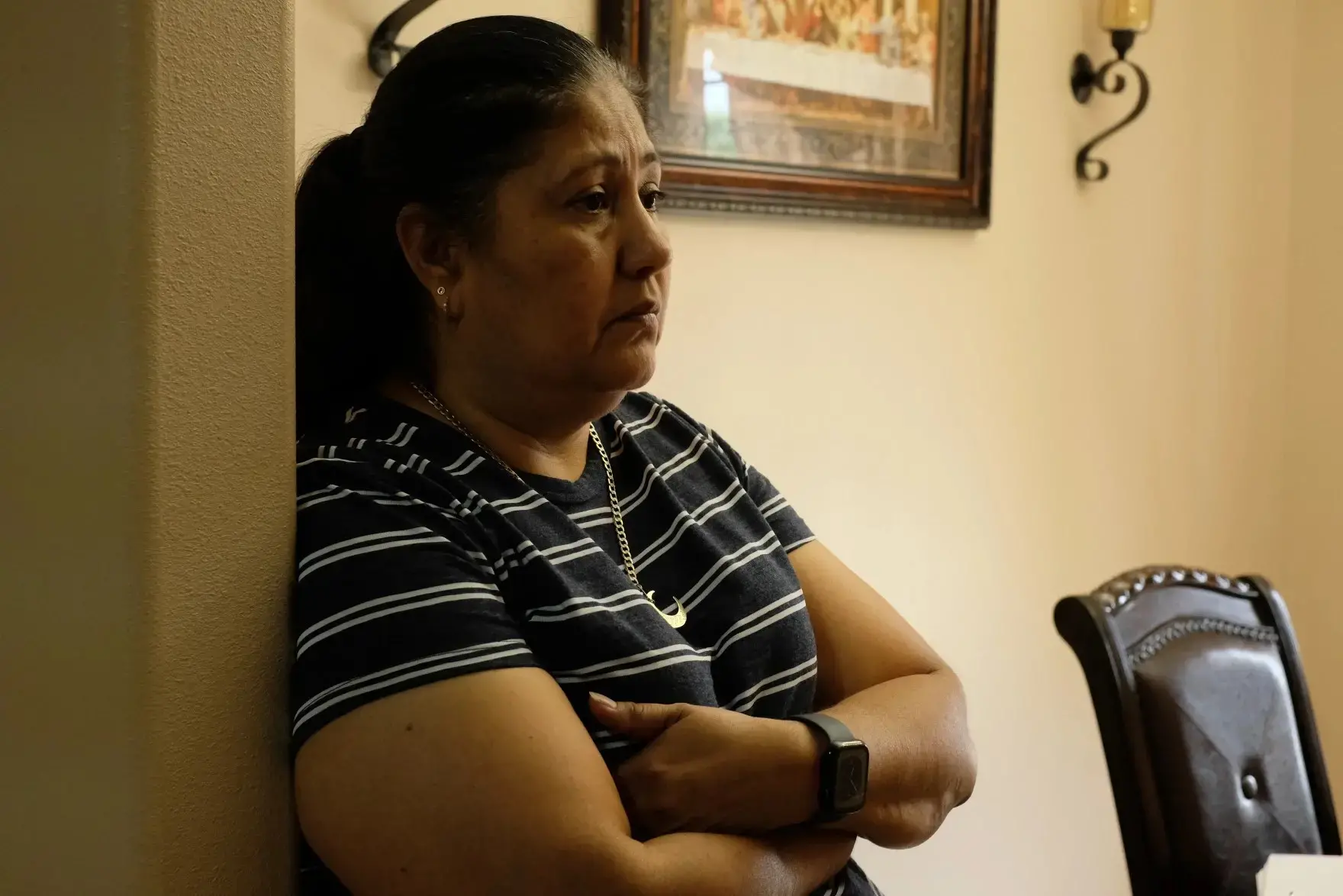 Military Highway Water Supply Corporation did not respond to multiple interview requests for this story.
They denied all allegations in their response to the lawsuit.
Climate change looms over colonias
In 1988, the first federal law passed to address living conditions in colonias brought resources to municipalities to create and improve infrastructure in these communities. It also resulted in county offices entirely dedicated to the issue.
Anthony Covacevich headed the first of these programs in Hidalgo County. While they made great strides in bringing water and water infrastructure to colonias, today the issue of dilapidated infrastructure is even more critical because of climate change.
As it exacerbates extreme weather events it'll further burden dilapidated infrastructure, like that of Military Highway Water Supply Corporation.
"You get water in the line, that causes contamination. So you get a hurricane here. Everybody is going to have to boil water," Covacevich said.
Another crucial infrastructural crisis is housing quality. Most homes in colonias are not up to code or built to withstand extreme weather events.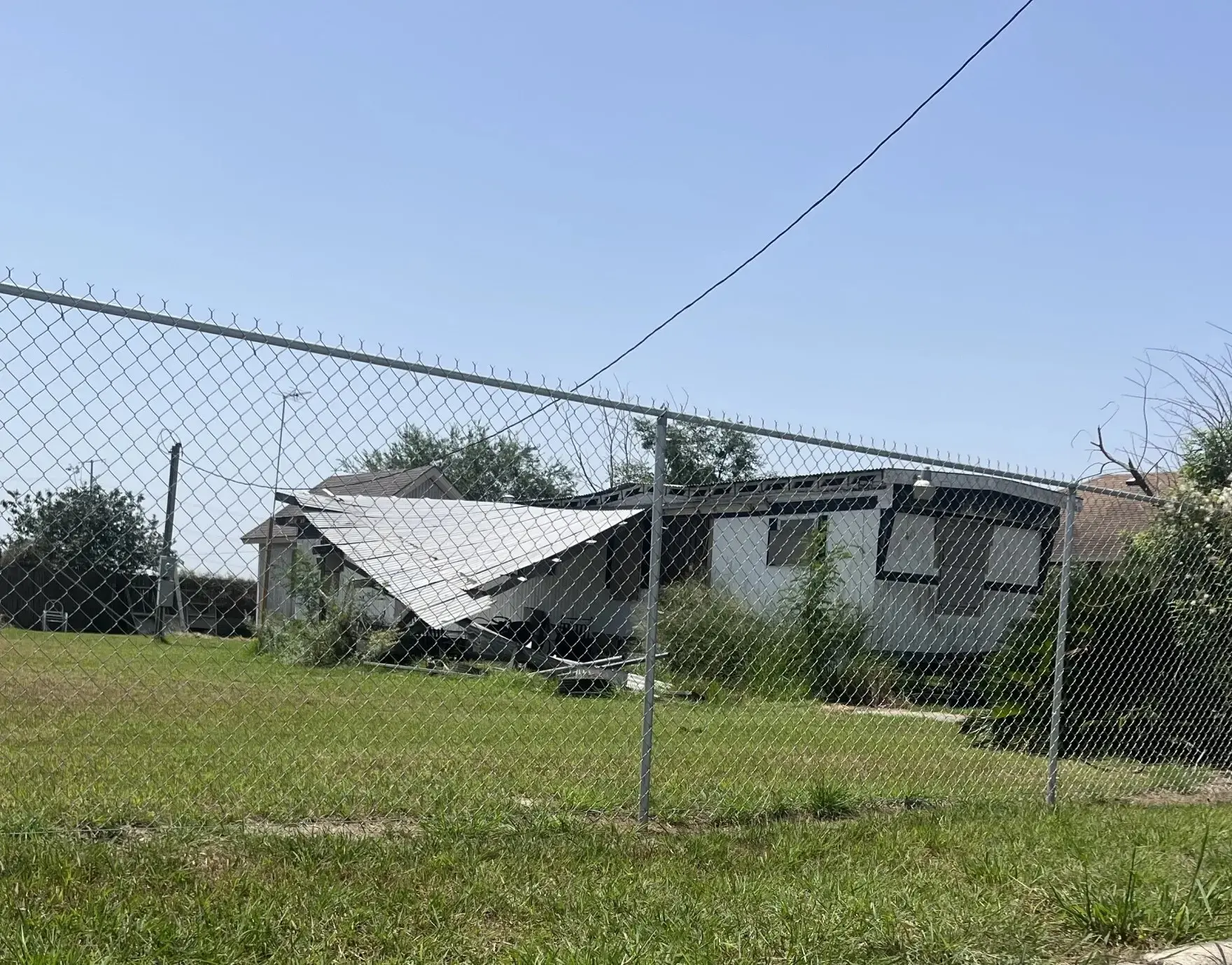 This has already affected some colonias. Earlier this year, a tornado hit a colonia in Cameron County called Laguna Heights. One person died after getting crushed by a trailer and many more lost their homes.
"I mean, they lost everything, but nothing was anchored to the ground or anything, so I thought about that. I think, what's going to happen when the hurricane runs through the valley and blows everything away?" he said.
Covacevich said he fears this level of devastation was not just because of the tornado's strength. He suspects the poor housing structure contributed to the destruction.
"Had it been in a regular subdivision, I don't think you would have had that much debris here or the level of damage," he said.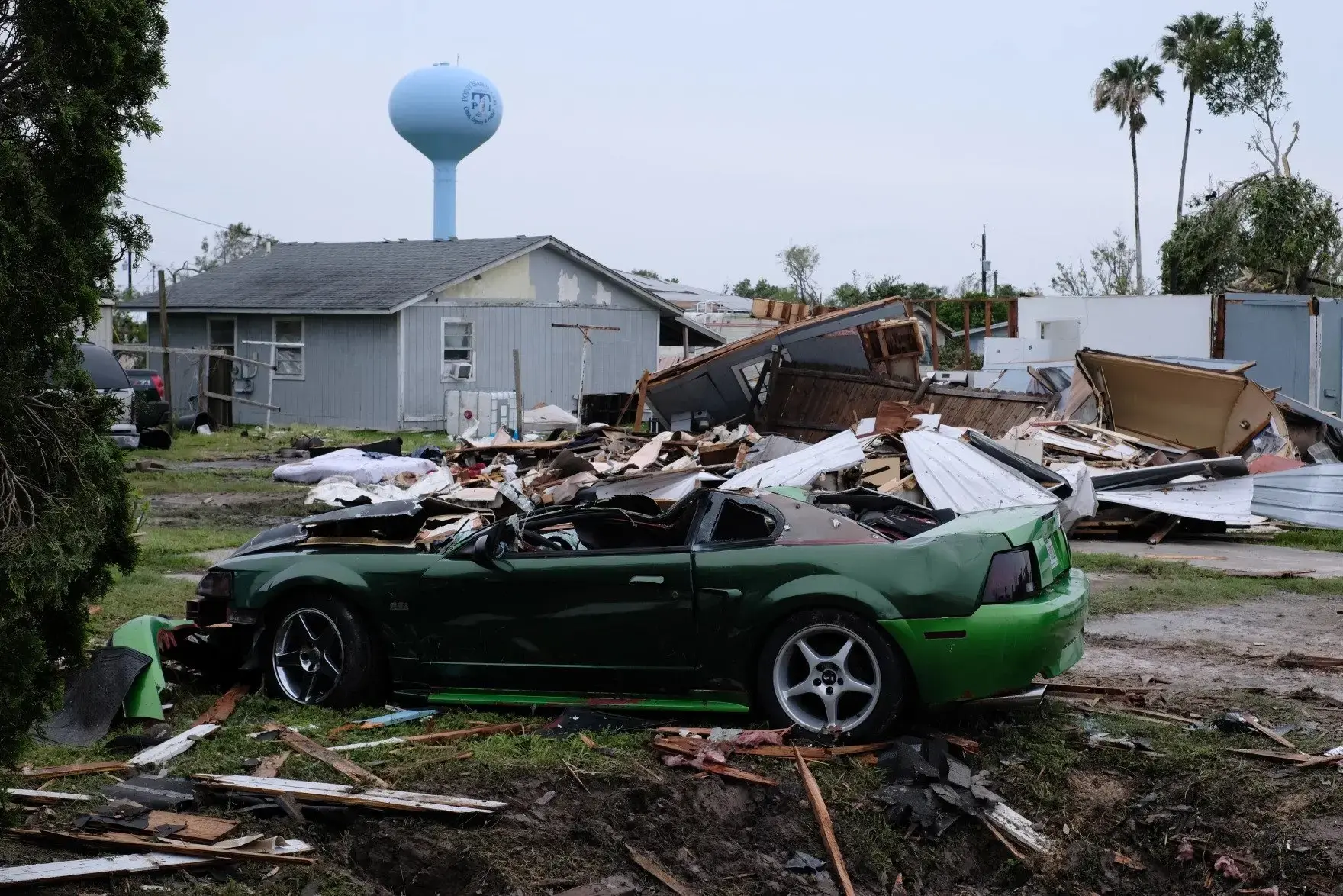 Mitigating catastrophe
Even before Laguna Heights, community organizers like Dina Nunez have been preparing for the worst.
She works for Border Workers United. Just this year, the organization started a new program about climate change and its effect on colonias.
"We're gonna learn about whether our homes are prepared with, or have the adequate infrastructure to withstand a tsunami, storm or a tornado. Or something else that's caused by climate change?" Nunez explained in Spanish during one of the sessions for Laguna Heights residents.
As urbanization increases housing prices and wages remain stagnant, poor people are pushed into new colonias.
New laws require they have the bare minimum infrastructure, like access to water lines, but people are responsible for connecting their property to these water lines.
This has increased housing prices in colonias, limiting the investment people can put into building their homes. As a result, housing quality in many new colonias is the same or worse than in older colonias.
"I'm worried now. I've been through a lot of areas in the county colonias, and some of them are in halfway good shape, but some of them are not. And that's due to the housing, the lack of housing standards in the colonias," Covacevich said.
He said he understands that improving housing standards requires funds residents simply don't have.
"There's got to be something done to provide additional funding for people like that," he said.
But he sees government officials going in the opposite direction. During the last legislative session, Representative Ryan Guillen proposed a bill that would lessen the responsibility of developers along the border by creating more lax regulations around what level of infrastructure they're required to provide.
"These recent actions to try to minimize the obligation of the developers to develop land in the rural areas was totally contrary to what we worked so hard to do," he said.
Without support for housing improvements, said Covacevich, disaster is inevitable, and the government will be held accountable.
"I mean, it's going to put a black eye on the Valley. And we'll have thousands of people without housing because of these colonias not meeting housing codes," he said.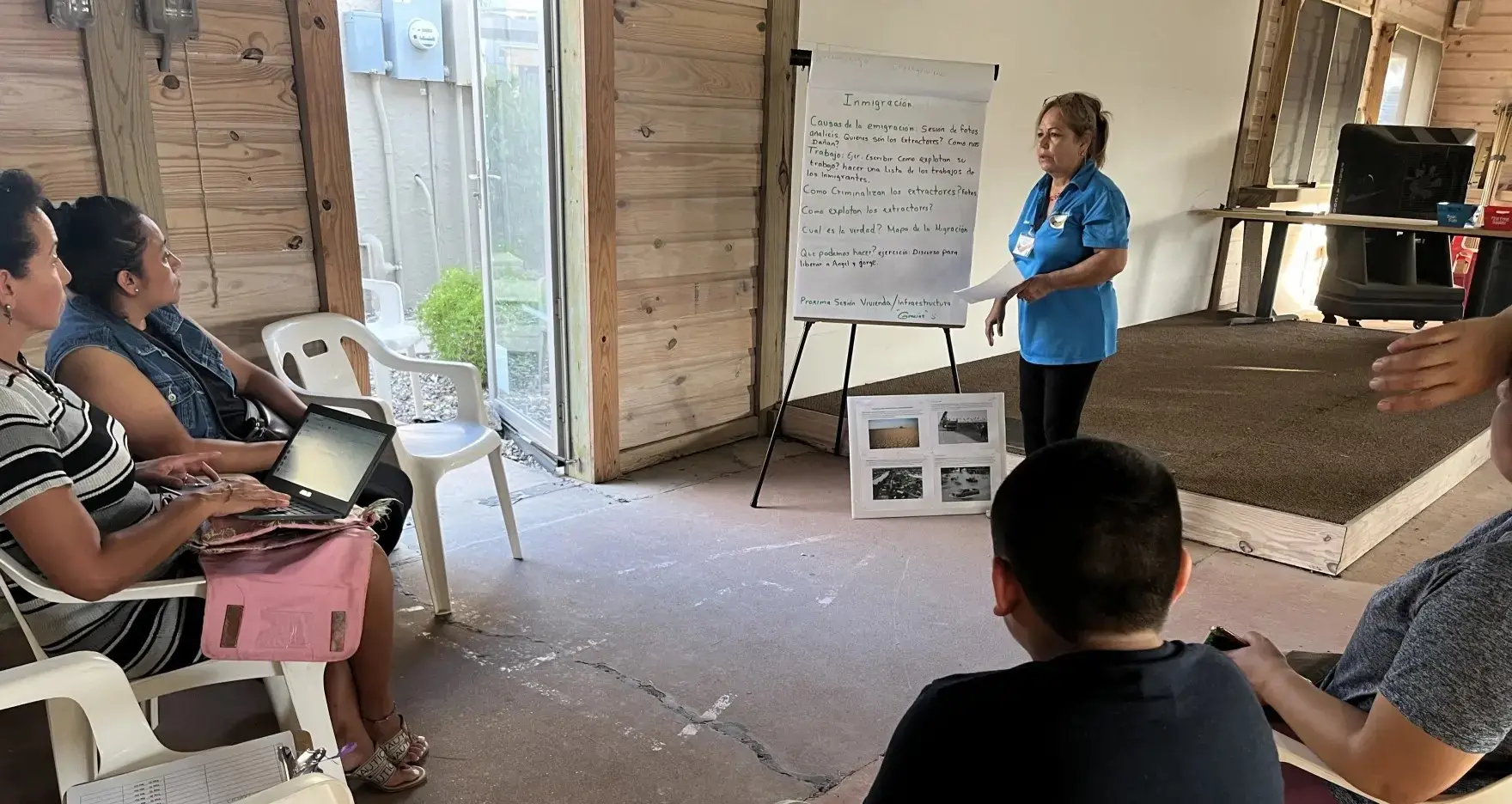 For years, colonia residents have faced conditions that have put their health and livelihoods on the line. Yet, they have found ways to manage and overcome.
However, for the first time, their communities' existence is at risk as they face the possibility of losing everything to climate change.
Despite decades of investment in infrastructure and organizational efforts to improve colonias, the government has allowed these improvements to fall apart. And problems that have never been fully addressed, like poor housing quality, have only gotten worse.
Additionally, colonias continue proliferating and the root cause—a lack of affordable housing—remains unchanged.
For Covacevich, this means one day his worst fear will come true and the Valley will see thousands of people displaced and decades of supposed progress in colonias will disappear.
"A hurricane comes, people run to their homes and think they're going to be safe, then the hurricane just completely blows everything," Covacevich said.
RELATED INITIATIVES