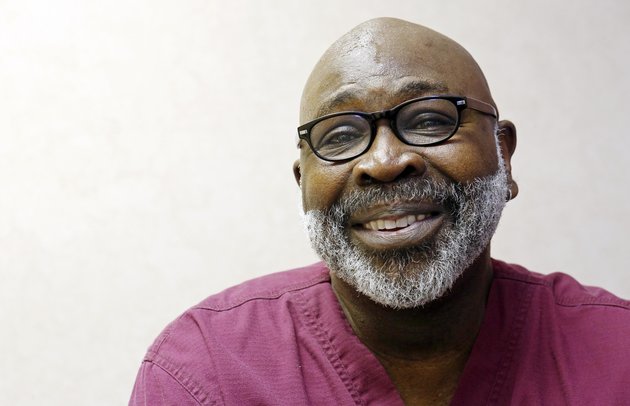 COPENHAGEN — In 2014, black abortion provider Dr. Willie Parker was talking to a white reporter from New York City at the "Pink House" — the last remaining abortion clinic in Mississippi — when the reporter asked Parker if he ever feared for his safety. As Parker and the reporter, John Richardson for Esquire, prepared to exit the Jackson clinic through the throng of protesters screaming outside, the doctor half-seriously warned Richardson that he was the one who should be afraid: People looking at the two of them would assume the white man is the doctor, he said.

"I told him, because he had never been to the South before, 'When we walk out this door, just so you know, if they're gonna shoot somebody, it's probably going to be you and not me,'" Parker, 54, told The Huffington Post in an interview at a global women's health conference in Copenhagen.

"He found a chuckle in that, but he really began to think about what it meant that people who are extreme on this issue also have issues around race and class," he said.

Parker is a gregarious bald man who wears a gold hoop earring and grew up in Birmingham, Alabama. He is currently providing abortions in Alabama and Mississippi — two of the country's most hostile states when it comes to abortion rights.

The toxic political climate around abortion, intertwined with simmering racial tensions in the South and what he calls the "weird, pernicious chemistry around race and abortion," comes with a few obvious challenges, he said.

The regular protesters at the clinics where he works hurl racial epithets at him, like "filthy Negro abortionist," or accuse him of being a "race traitor" for performing abortions on black women. Anti-abortion activists often usurp the rallying cry "Black Lives Matter" — a backlash against police violence on black men and women — and apply it to abortion, because women of color have disproportionately high abortion rates due to their poverty levels and poor access to sex education and contraception.

And when rogue abortion provider Kermit Gosnell was convicted in 2011 on eight counts of murder in Pennsylvania for providing illegal, dangerous late-term abortions, Parker's friends began to worry about his safety.

"Like many of my African-American friends, when there's something horrific on the news, you say, 'Oh, I hope that person's not black.' So when Dr. Gosnell was discovered, and it was made public that he was African-American, some of my friends called and said, 'Why did he have to be black?'" Parker said. "And my response was, 'Because crazy don't know color.' What Gosnell did wasn't related to his race; it was related to his greed and mental instability."

In the wake of the Gosnell conviction and, more recently, anti-abortion activists producing and releasing doctored videos that purport to show Planned Parenthood selling fetal tissue, Parker would have good reason to be afraid for his life. There was a dramatic increase in threats of violence against abortion providers after the videos were released — 94 in 2015, compared to just one in 2014 — as well as four arsons at abortion clinics and a shooting at a Colorado Planned Parenthood.

Parker also knew Kansas abortion provider Dr. George Tiller, and decided to start performing abortions full-time on the day anti-abortion activists shot Tiller to death in a church in 2009.

But Parker says he doesn't really fear for his safety or take any major precautions to protect himself, partly because he believes he is providing a vital health service and is trying to combat the stigma and shame around abortion by openly providing care. He also said he's not an obvious target for many people in the Deep South, where a black man walking into an abortion clinic is typically presumed be accompanying a pregnant woman.

"I've been able to come and go freely," Parker said. "That's a conscious decision not to hide, but it's been facilitated by the very low expectations people have of African-American men. For people who aren't familiar with who I am, patriarchy and racism means I'm less likely to be thought the doctor, so that allows me to hide in the open."

Parker is now one of the most outspoken and high-profile abortion providers in the United States. He is featured prominently in "Trapped," a new documentary about the abortion restrictions sweeping through the country and shutting down clinics.

He was also one of the few health workers to talk about abortion at Women Deliver in Copenhagen, the largest international women's health conference in 10 years. Parker is scheduled to speak on a panel at the conference called "Men of Power," which initially included former United Nations Secretary-General Kofi Annan.

Parker joked that Annan had to cancel his appearance because the panel could only handle one powerful black man at a time.

"Sorry, Kofi," he said, laughing. "You got bumped."