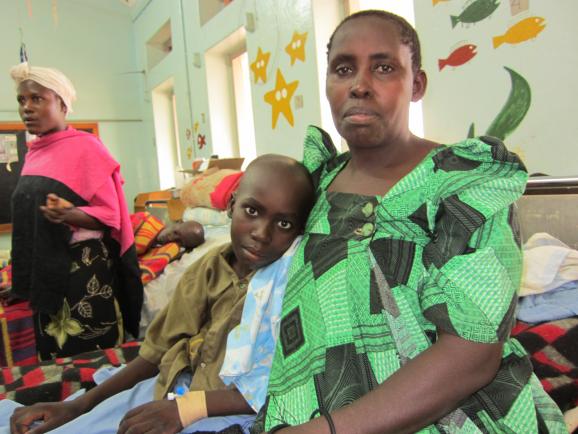 Forty-two-year-old Corey Casper is tall, thin, and a bit hollow-eyed from all his responsibilities. He's a cancer doctor at the Fred Hutchinson Cancer Research Center. He performs research and trains young doctors in Seattle and Uganda. And in his own quiet way, he wants to make a difference in the world.

Not Enough Patients to Study

Twelve years ago Casper had an idea about how to do that – he thought he might be able to find a cure or treatment for a specific type of HIV-related cancer called Kaposi's sarcoma. So straight off his medical training, he came to the Fred Hutchinson Cancer Research Center. As soon as he arrived, he realized that the incidence of Kaposi's sarcoma in Seattle was dropping fast, thanks to new AIDS treatments available. He realized that he was in the wrong place.

"I kind of had a crisis on my hands," Casper says. The crisis: not enough patients to study. So Casper looked for a place with a lot of AIDS-related cancers and bought a ticket to Uganda.

It was a long, hot ride. As soon as he got to Kampala, he attended the dedication of the new HIV center at the Infectious Disease Institute. "The president of Uganda is speaking and there's this beautiful gleaming building behind me," remembers Casper. "I'm thinking to myself, well you know, this won't be so difficult to set up a collaboration and to deal with cancer."

But the HIV center wasn't where he'd be working. He'd be working at the Uganda Cancer Institute, the only medical facility in the country dedicated to cancer care. He went there the next day. "And the Uganda Cancer Institute was a very, very different environment than what I saw at the Infectious Disease Institute," he says.

Today, the UCI looks much as it did a decade ago when Casper first saw it. Half a dozen dilapidated one-story buildings with blue metal roofs sit on a hillside looking over Kampala. In the courtyards and grassy areas between buildings, families of patients make food and do laundry. Women sweep the walkways with brooms made of scavenged twigs.

And there's a smell -- the smell of patients who've come in with infected wounds where tumors have grown so large that they've come through the skin. Occasionally you can hear patients crying because of painful procedures like biopsies sometimes performed without pain medication.

On the wards are patients with all sorts of cancers: breast cancer, Kaposi's sarcoma and others. The children's ward is filled with kids with a cancer that's common in Uganda, Burkitt's lymphoma. The cancer makes their jaws and bellies swell grotesquely.

"The cancer institute was incredibly difficult to see," says Casper. But he felt he had to stay and help out.

Creating a Collaboration

He had come to do research, so he looked for collaborators. "There was one cancer specialist for a country of thirty-four million people," he says. "From a research perspective that's limiting, because there's only so much research you can do with one collaborator."

That one oncologist is still there -- Jackson Orem, a quiet, calm, and whip-smart Ugandan who got his oncology training in Cleveland, Ohio.

Orem remembers first meeting Casper. "We started to say there's need for us to work together and have some research agenda," he says.

He and Orem got to work. They spearheaded a formal agreement between the Uganda Cancer Institute and the Hutch in 2004. They pulled other people in to help out. Together, they studied how various cancers take hold – how some are related to viral infections – and how to improve chemotherapy. Casper is set on insuring the research has potential benefits for both Ugandans and Americans – every study is run by a local Ugandan investigator pairing up with someone from the Hutch.

UCI head Jackson Orem says the Uganda Cancer Institute is getting a good deal. "Any benefit that will come as a result of discoveries, I think we are going to be the beneficiaries of that, because the disease is here. The biggest burden is here," he says.

Families Face Challenges Beyond Cancer

Orem is no longer the only cancer doctor in Uganda. Casper and others back in Seattle have trained nine Ugandan physicians, a dentist and a pharmacist.

While caring for patients and doing research, Casper noticed that it's not just finding the right cancer treatment that's an issue. One of the biggest challenges families face is getting to the center.

Steven Isoke recently brought his eight-year-old son for treatment. It's a crowded, uncomfortable seven hour bus ride from home and the small farm that Isoke works. The round trip cost for father and son is $19. Treatment is free, but the transportation bill is a huge sum given the average farmer's income of $1 a day.

And there's another challenge for patients and families that concerns Casper – time away from home.
"If it's the person who does the farming, then what happens to the farming? If it's the person who cares for the children, what happens to the children?" he says.

Casper says some parents opt to give up on the one child so as not to abandon the rest of their family. "As a parent, I can't even imagine having to make that choice, but people are making it every day," he says.

Addressing Barriers to Care

So Casper, who started out wanting to do laboratory research on a single cancer, has expanded his work into social services. He and others at the Hutch have just started a project, funded by the Seattle-based Burkitt's Lymphoma Fund for Africa. The idea is to address all the barriers to care, including necessities like transportation.

Parents of children with Burkitt's lymphoma are getting travel money and advice about getting back and forth. Casper and others have also beefed up the diagnostic lab and they've made sure pain and chemotherapy drugs are on hand.

Casper incurs a personal cost for all this – he's on that long plane trip three or four times a year and stays in Uganda for three weeks. That's just enough for everyone to hate you, he says.

"Your family hates you because you're away so long, and your colleagues there hate you because you're not there long enough,and your colleagues in Seattle are upset again because you are not here," he says.

But Casper has his mission and he keeps going back. He says each place – Kampala and Seattle – teaches him about the other.

Since his first trip to Kampala a decade ago, the cancer treatment movement has gained momentum. The Fred Hutchinson Cancer Research Center has broken ground on a clinical research center at the Uganda Cancer Institute and the Ugandan government is constructing a new 200-bed cancer hospital just up the hill.

New buildings, bus tickets and family services weren't part of Corey Casper's research plan 12 years ago. But for him and his colleagues, they're all proof that progress against cancer in poor countries is in fact possible.