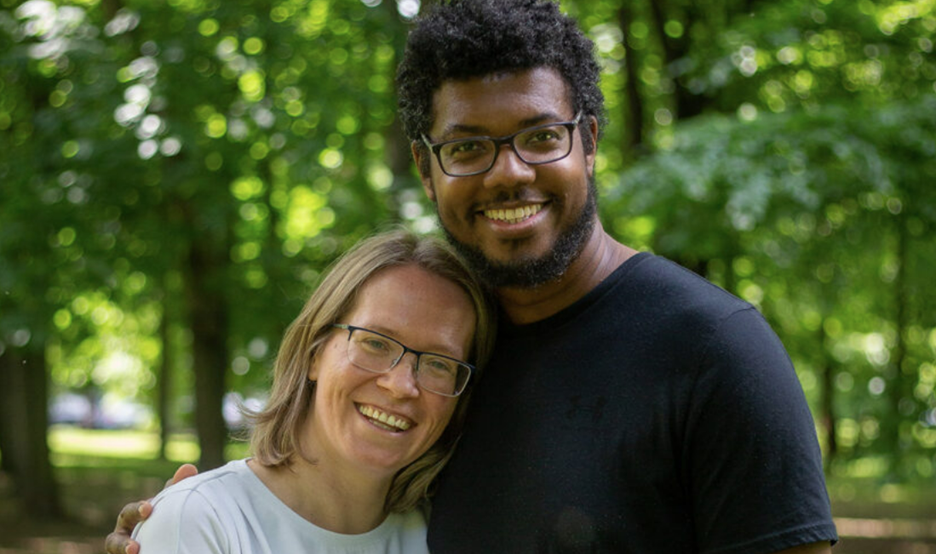 WARSAW, Poland—It's not how most Black History Month workshops begin.
"I'm streaming live from a hotel bathroom," said Atnre Alleyne, co-founder and CEO of TeenSHARP, a college access program.
Alleyne was speaking in February via Zoom to dozens of high school students in Philadelphia, New Jersey, and Delaware. But his hotel bathroom was in western Ukraine, where, after awakening late that month to the sound of Russian bombs exploding, he and his family fled from their home in a Kyiv suburb.
With Alleyne's wife and co-founder, Tatiana Poladko, her 81-year-old father, and their three young children on the other side of the bathroom door, Alleyne loaded a virtual background—a 1968 picture of high school students on their way to a memorial service for Dr. Martin Luther King, Jr.—and kicked off the workshop.
"Injustice anywhere, as Dr. King said, is a threat to justice everywhere," Alleyne told the students as he drew parallels between the fight against racial tyranny in the United States and political tyranny in Ukraine. "It is really important to be globally aware, globally conscious, and also to think of ways that you can stand up for what's right."
The couple's commitment to their work and their students has been tested in recent years, first through the pandemic, when they transitioned to a virtual program, and then in January 2021, when they moved from Delaware to Poladko's native Ukraine. The war and the family's displacement further complicated matters.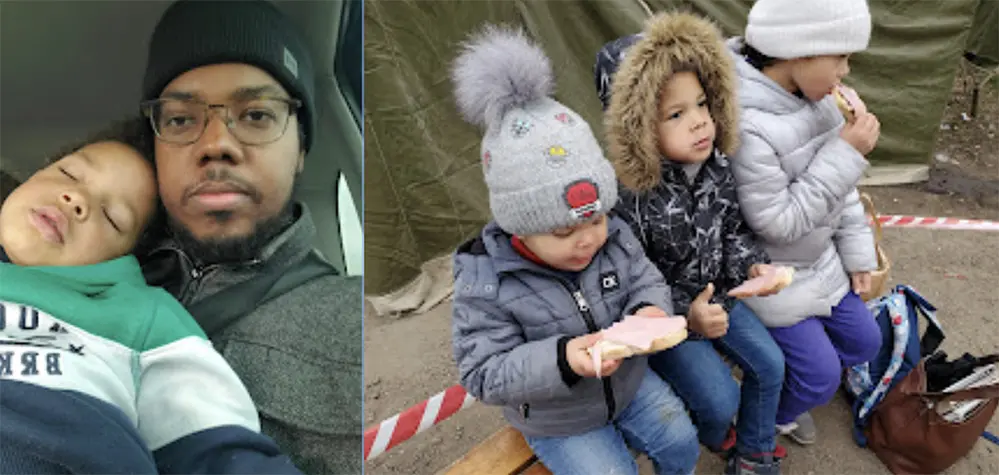 But Alleyne, 37, and Poladko, 38, are steadfast. TeenSHARP, they say, is more than just a college access program serving low-income, Black, and Latino students; it is a leadership program. Their goals are more than just getting students accepted to, enrolled in and graduated from college; they are trying to close the gap that, on average, has left Black households with 14.5 percent of the wealth of white households.
"I was an excellent student, a 4.0 student, but my parents never sugarcoated it. In this country, with the level of corruption that existed, that didn't mean a whole lot," Poladko said of Ukraine. "What I always tell students is that […] someone sold you a lie in America that this is not also the case for you as a student of color. Your chances of success are as fleeting as mine were, and they are as dependent on luck as mine were. So what I always tell them is that at TeenSHARP, we are trying to diminish the percent of luck, and we do so by following the blueprint that affluent families have been following for years."
Replicating that blueprint with fewer resources was already an uphill battle, requiring intensive work from families and the TeenSHARP staff, particularly Poladko, who serves as the college counselor. Living seven time zones and more than 4,000 miles away heightened the degree of difficulty. 
---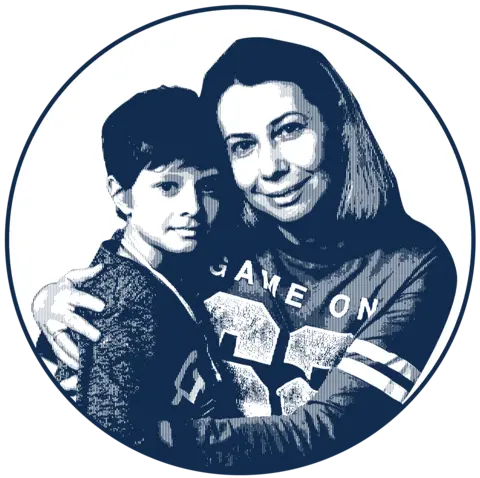 As a nonprofit journalism organization, we depend on your support to fund coverage of global conflicts. Help us continue funding the hard costs of in-depth coverage of the Ukraine invasion—including travel, hostile environment safety training, and the increased security expenses that arise from reporting in war zones.
---
Earlier this year, before Russia invaded Ukraine, Poladko would start one-on-one meetings with early-rising high school seniors at 5:30 a.m. ET, or 12:30 p.m. in Ukraine. After four hours of consulting on waitlists and competing financial aid packages, including calls that Poladko often took while waiting outside her children's ballet class or piano lesson, she would continue from 2:30 p.m. ET (9:30 p.m. in Ukraine) to around 8 p.m. ET (3 a.m. in Ukraine). 
"They realize that we're going to go fricking hard for you, and you're going to go fricking hard for yourself," she said. "We have to show you how privileged America works—and you don't know it."
A flight to safety
The couple's dedication is such that Russian bombs caused only a momentary pause in TeenSHARP's programming. After the explosions woke the family on Feb. 24, Alleyne and Poladko, who don't own a car, began searching for ways out. On Feb. 25, they celebrated their daughter's Zoryana's 7th birthday. The next day, they crammed eight people into an acquaintance's Volkswagen Passat. The family only brought sandwiches and their clothes. After a 2.5-hour drive west, they reached the city of Zhytomyr, where Alleyne hosted the Black History Month workshop.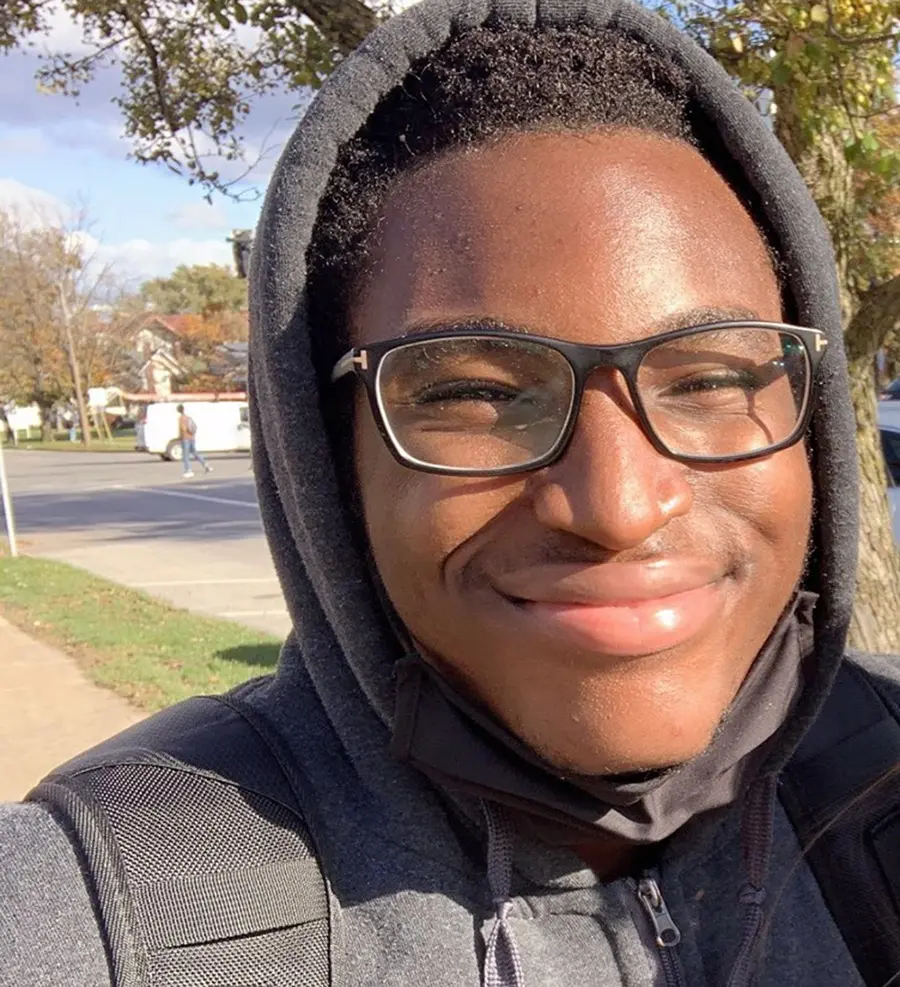 "I couldn't go to sleep [afterward], I was restless," said Asquith Clarke II, a TeenSHARP alum who logged onto the workshop from Oberlin College in Ohio. "At first I thought to myself, 'This is crazy, I'm not sure what I can do to support them, I have college things going on.' But knowing how much Ms. Tatiana and Mr. Atnre have done for me, am I just going to sit here and go to sleep knowing that they're in danger?" 
For the first time, Clarke wrote to his elected representatives, encouraging them to help Ukraine defend itself. The rising junior posted their replies to Instagram and encouraged his followers to act, too. 
Meanwhile, Alleyne, Poladko, their kids—7-year-old Zoryana, 4-year-old Nazar and 2-year-old Taras—and her elderly father took a train, another train and a car driven by volunteers to get closer to the Polish border. They reached it after a 5-mile walk, Poladko ushering the children and Alleyne assisting her dad, already weakened from a long case of COVID. 
A series of temporary accommodations, some requiring the family to sleep side-by-side, heads next to toes, led them to Warsaw. 
By March, Alleyne and Poladko were able to enroll their children in day care and elementary school and rent a two-bedroom apartment in Warsaw that overlooks a tree-filled public park. Poladko's father sleeps in one bedroom, and the couple and their children share three mattresses in the other. The family's furniture is still in their rental house outside Kyiv, so decorations are limited to artwork the kids bring home from school. "You Are My Sunshine," says a handmade painting in the living room.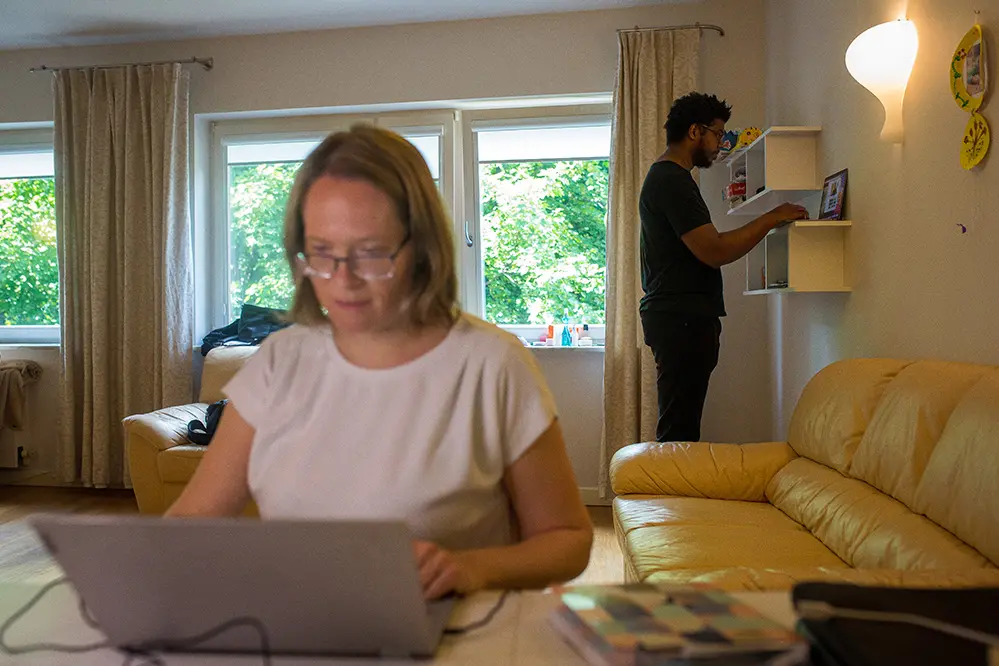 To work, Alleyne perches his laptop on a bookshelf next to a Paw Patrol puzzle and calls it a standing desk. Poladko turned the dining room table into her workspace. When they have calls at the same time, Alleyne often retreats to the bathroom—just as he did in the hotel in western Ukraine. 
And when the couple's Ukrainian nanny joined them in Warsaw, they developed a routine where she fell asleep in their bedroom while Alleyne and Poladko worked. In the early morning hours, after the couple finished up, they would switch spots, with the nanny sleeping on a tan couch in their otherwise barren living room.
Ukraine meets Ghana in New Jersey
Alleyne and Poladko have been finding a way forward since 2005, when they met at the Camden campus of Rutgers University, in New Jersey while they each pursued master's degrees. Poladko had earned a full ride through a fellowship that supports students from overseas. She clicked with Alleyne, who, after completing his K-8 schooling in New Jersey, went to Ghana by himself to attend a boarding school. He could relate to Poladko's experience as a non-native student navigating a thicket of challenges in order to reap educational—and life—opportunities. 
"To understand TeenSHARP, you have to understand Ukraine and Ghana," Alleyne said with a laugh. "We're tough." 
Together, they decided to apply what they'd learned and help historically marginalized students access college and become student-leaders who are successful, high achieving, and reaching their potential (these traits stand for the SHARP in TeenSHARP). These students face hurdles during the entirety of the college process, from being encouraged to apply to colleges beneath their capabilities to graduating with $25,000 more in debt, on average, than white students. 
TeenSHARP launched in 2009 with 10 students in the Philadelphia area, and has since expanded across New Jersey and Delaware, graduating more than 500 students and reaching thousands more in one-off programming. At points, Alleyne has taken on outside jobs, including a stint at the Delaware Department of Education and as the founding executive director of DelawareCAN, part of the 50CAN network that advocates for high-quality educational opportunities for all students, regardless of where they live. His salary from those roles allowed Poladko to donate hers back to TeenSHARP, she said, noting that she has not accepted any compensation from the group she co-founded. 
For TeenSHARPies, as they're called, activities start in 9th grade. A seven-person team communicates with students and their families, offering sessions on the college application process and financial aid applications and promoting the idea of spending 33 hours a week on schoolwork. 
When the pandemic hit, TeenSHARP made its programs virtual and started serving students from across the United States, including Georgia, Ohio, Oregon and Texas. But the staff soon realized that remote instruction was causing their students' math skills to falter. Alleyne, who as CEO oversees operations and development, reallocated $130,000 from their roughly $1 million annual budget—a "crazy amount of money," for them, as Poladko said—to provide small-group tutoring. TeenSHARP is largely funded by a constellation of corporations and foundations that have offices in Wilmington, Delaware, including Capital One Bank and WSFS Bank. 
The heart of the program is the intensive advising that Poladko leads for high school juniors and seniors. While carrying a caseload of more than 70 students, Poladko provides one-on-one and group instruction. She estimates spending five to seven hours working with each student just on their personal statement. 
The goal is to be as well-prepared as a student from a wealthy family. TeenSHARP organizes more than two dozen college visits each year. Students are encouraged to apply early to their first choice, and Poladko is not above getting on the phone with an admissions counselor to lobby for one of her students. Lest they get saddled with debt, she encourages students to enroll in the college that is offering them the best overall package, not the best name recognition.
During the program's College Signing Day event in May—starting at 6 p.m. Eastern, midnight in Warsaw—Poladko passed the Zoom spotlight from one student to another to tick through their acceptances and announce which they'd selected. One student had been accepted by 16 schools. Another by 17. 
"And who is getting your talent this fall?" Poladko asked. 
Back came the responses. 
Carleton College. 
Princeton. 
Yale. 
Macalester College. 
Poladko knows the acceptances—and the decision to attend the school that's the best fit financially—are hard earned. The program has seen student outcomes remain consistent even through the shift away from in-person support. "Trust-building virtually is definitely not easy," she said. "But it is definitely possible if students and parents see the commitment to students' success."
The couple took a brief pause in June before ramping up for a month-long summer program in July. In the meanwhile, they are still making rental payments on their house in Ukraine, which is 11 miles from Bucha, where the Russian military this spring killed hundreds of civilians. They're paying partly to support the landlord, who recently sent them a video of the two-story property, their stroller still parked outside the front door, and partly because Alleyne and Poladko still hope to return there when it feels safe. They like the quality of life, and Poladko needs to fulfill a residency requirement for the fellowship she received before she can apply for U.S. citizenship.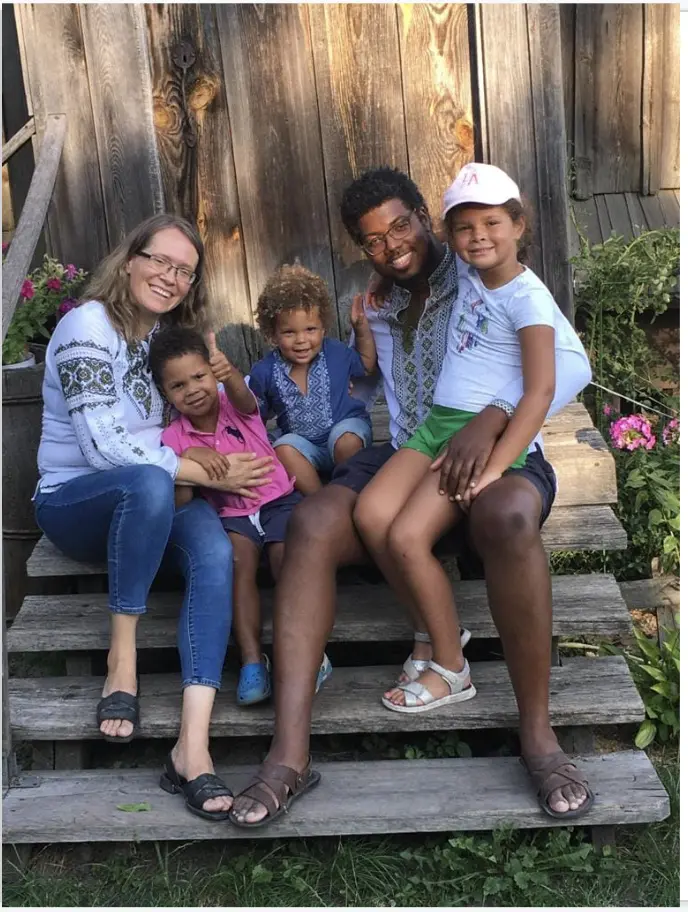 "We could technically be in our house now," Alleyne said. "You're just living with this risk of an air strike."
The couple is also raising money—now more than $35,000—that they donate to grassroots leaders and organizations in Ukraine. (Donations are processed through a nonprofit, Hromada; designate Ukraine Grassroots Leaders Fund.)
Wherever they end up, Alleyne and Poladko are confident that TeenSHARP will continue to work with students and families to achieve racial and economic justice. Clarke, the Oberlin student, agrees. 
"It's really hard to stop them from doing what they do," he said. "A pandemic, war, they just keep going. It's really inspirational. I think to myself, 'If they can do that, then I think anyone can'—or I don't see it as impossible."
RELATED ISSUES

Children and Youth

Issue
Conflict and Peace Building
Conflict and Peace Building
RELATED INITIATIVES