Most major Arizona races remained undecided Thursday morning as county election officials continued to count ballots, but early results show a familiar divided state.
Republican candidates in top races were ahead across much of rural Arizona and outlying counties, while Democrats generally led—although some by narrow margins—in the population centers of Maricopa and Pima counties.
In the closely watched races for governor and U.S. Senate, counties appear to be falling along party lines the same way they did in the 2020 presidential election, according to early unofficial results.
---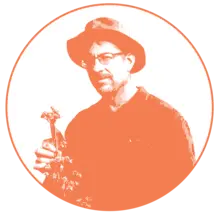 As a nonprofit journalism organization, we depend on your support to fund critical stories in local U.S. newsrooms. Donate any amount today to become a Pulitzer Center Champion and receive exclusive benefits!
---
President Joe Biden won a narrow victory in Arizona in 2020 by carrying five of the state's 15 counties: Maricopa, Pima, Coconino, Apache and Santa Cruz. Former president Donald Trump won the other 10 counties. Biden ended up winning Arizona by about 10,500 votes, or 0.3 of a percentage point.
In the 2012 and 2016 presidential elections, Mitt Romney and Trump, respectively, won those same 10 counties plus Maricopa, though by 2016, Maricopa was shifting blue.
As of Wednesday evening, the pattern from 2020 was holding for several top statewide candidates.
Democratic gubernatorial hopeful Katie Hobbs and Sen. Mark Kelly, D-Ariz., were ahead in the same five counties that Biden won. The other 10 counties were favoring Republican candidate for governor Kari Lake and Senate hopeful Blake Masters, initial results showed.
Sen. Mark Kelly, D-Ariz., speaks during an Election Day rally at the Rialto Theatre in Tucson on November 8, 2022. Video by Joel Angel Juarez/The Arizona Republic. United States.
Counties were still tallying votes, and final results aren't expected right away. Maricopa County has about 340,000 ballots to count, and thousands remain to be tallied across the state.
In the race for governor, Hobbs was leading in five counties and Lake in 10 counties as of Wednesday evening. Hobbs had a narrow lead in Maricopa County and more sizable cushions in Pima, Coconino, Apache and Santa Cruz counties, which are more Democratic-leaning areas. The combination was enough for Hobbs to hold a lead over Lake. 
Lake led in all the other counties in early results, typically by larger margins. But the numbers of votes in those smaller counties might not be enough if Lake doesn't pull ahead in Maricopa County.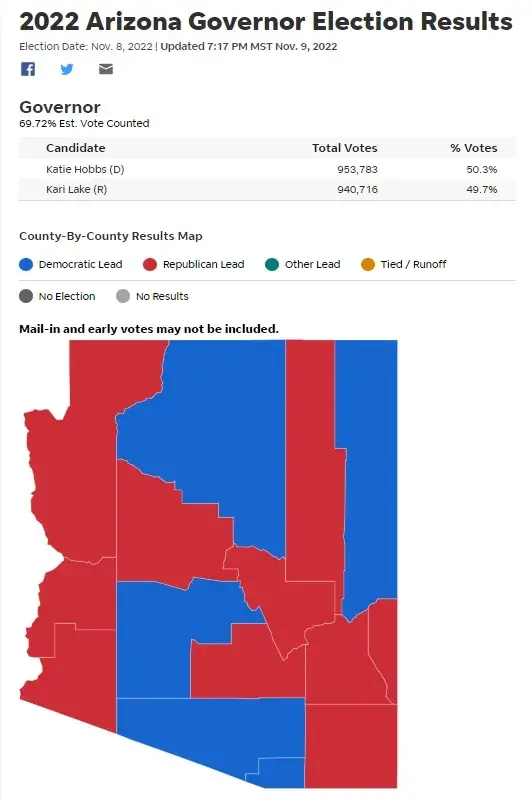 Hobbs saw her strongest lead by percentage in Apache County, and Lake was ahead by the biggest margin in Mohave County, according to early results.
In the contest between Kelly and Masters, a similar pattern was emerging based on early results Wednesday.
Kelly led early in Maricopa, Pima, Coconino, Apache and Santa Cruz counties — the same ones as Biden and Hobbs — and Masters had gotten more votes so far in the other 10 counties. Maricopa and the others put Kelly ahead of Masters.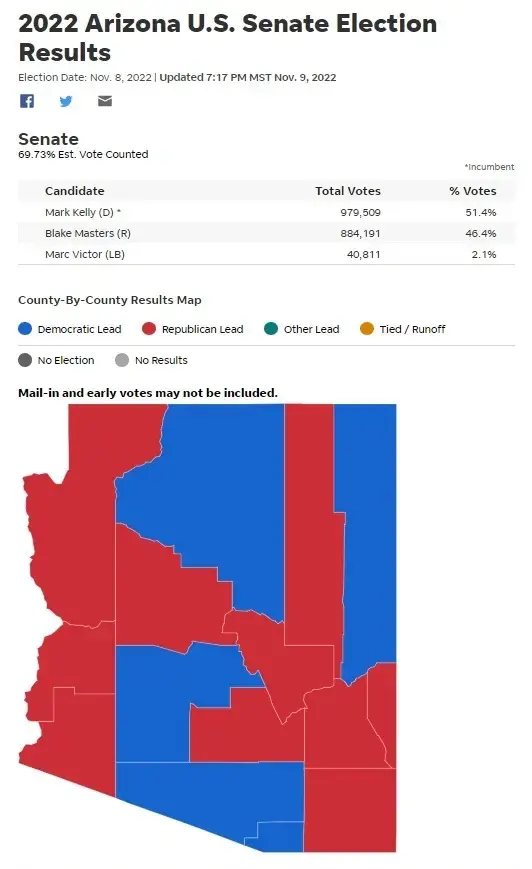 In ruby red Mohave County, Masters was ahead by nearly 45 percentage points, with about 85% of votes counted. In Yavapai County, where more than 90% of the vote was estimated to be counted, Masters led Kelly by more than 20 percentage points.
Maricopa County, home to about 60% of the state, was closer, with Kelly ahead early but many votes still to be counted.
Kelly beat then-incumbent Republican Sen. Martha McSally in 2020, winning by 2.4 percentage points. Kelly won those same five counties; McSally won the other 10. The county breakdown was the same in 2018 when Sen. Kyrsten Sinema, D-Ariz., beat McSally.
Population differences affect overall results
One factor in how Arizona's geographic breakdown affects political outcomes is that some Republican stronghold counties are shrinking in relative population while Democratic-shifting areas are growing rapidly, said Samara Klar, associate political science professor at the University of Arizona School of Government and Public Policy.
"Maricopa County is the fourth-largest county in the entire country; that's bananas. Phoenix is one of the fastest-growing cities in the country. We see Buckeye, Goodyear, all these places are some of the fastest-growing towns," Klar said.
"Although the county divides have been pretty stable — like Graham County, Cochise, La Paz going Republican by huge margins … — these are tiny, tiny counties."
Klar said she's not surprised to see the results out of red counties like Graham and blue counties like Pima. But she said Maricopa County is seeing some shifts, for example with Hobbs so far getting a larger portion of the vote in the county than the Democratic gubernatorial candidate David Garcia did in 2018.
 "When people call Arizona a purple state, I'm like it's not really — Maricopa is a purple county, and that's really what you're talking about," Klar said.
5 counties typically go for Democrats, 10 for Republicans
The same pattern from the governor and Senate races plays out in other statewide contests, too.
The secretary of state race showed the same five counties for Democrat Adrian Fontes, who led in early results over Republican Mark Finchem with 10 counties. Same 5-10 county split with the attorney general's race, where Democrat Kris Mayes had a slight lead over Republican Abe Hamadeh as of Wednesday evening. 
Not all races fit the pattern. Incumbent Republican Treasurer Kimberly Yee held a sizable lead over Democratic challenger Martin Quezada. Yee was winning in Maricopa County, which was not the case for many of her fellow Republican candidates in initial results.
And in the statewide race for school superintendent, incumbent Democrat Kathy Hoffman was trailing Republican Tom Horne, even though Hoffman had a slight lead in Maricopa County.
Kathy Hoffman, candidate for Arizona Superintendent of Public Instruction, speaks to attendees during an Election Day watch party on November 8, 2022, in Phoenix. Image by Antranik Tavitian. United States.
But no county is monolithic. In blue-trending Maricopa County, the split among voters was clear on Election Day. 
Voters who cast their ballots at sites across the county expressed a range of support for parties and candidates.
At the ASU Polytechnic Campus in Mesa, for example, Michelle Francis, a 44-year-old Gilbert resident, said she voted Hobbs and Kelly, saying, "They're more sensible."
Mesa resident Rob Rucker disagreed. He said he has faith in Lake and Masters. "They have key information needed to focus on the state of Arizona," the 54-year-old said.
And David Schrimpf, a 38-year-old customer service manager, said he used to vote Republican but was voting "100%" for Democrats on Election Day.
Schrimpf was most focused on abortion rights, inflation, climate change and election deniers, he said.
Native American tribes in Arizona also tend to influence county outcomes to some degree, and Native voters often opt for Democratic candidates. The expansive Navajo Nation that includes parts of northeastern Arizona in Apache and Navajo counties, for example, may help tilt that part of the state more blue than the red of much of its surroundings.
Die'dre Goodluck, a Navajo, voted at a Salt River Pima-Maricopa Indian Community polling place near where she lives on Election Day. Goodluck said she voted a straight Democratic ticket and that she always votes.
"It's important for us to do our civic duty because our grandparents weren't able to," she said. "It's important to make sure we have judicial and representatives who have the best interests of tribes in mind," she said of her choice for Democrats.
In Sells, employees of the Tohono O'odham Nation's Sells District Administration Office distributed T-shirts, water bottles, clipboards, storage containers and first aid kits to tribal members who voted Tuesday.
The employees set up a large white tent in the office parking lot.
Sells District Chairman Juan Buendia, 36, said the giveaways are a way to encourage voter participation among tribal members. Voter turnout was steady.
The text on the gray T-shirts said, "Our Voice — Our Vote, Since 1948."
Many voters don't support every candidate in their party
Klar at UA noted that people tend to attribute Democratic candidates' success to shifting demographics in the state.
But, she said, voter registration patterns haven't changed all that much in recent years. The state has more registered Republicans then independents and Democrats, although Republicans' lead has shrunk slightly over time.
"The shift in electoral outcomes isn't necessarily due to the demographics of the state. It's probably due to the types of candidates that are being run and the extent to which voters like them," she said.
"Republicans are clearly less supportive of their own party's candidates today in Arizona than they used to be, and I think that's a much bigger factor than the ever-so-slightly declining proportion of Republicans that live here."
For example, Republicans who are uncomfortable with their party's candidates have voted against them. In Maricopa County, that happened in 2020, when some traditional GOP voters either selected Biden or no presidential candidate instead of Trump. In this election cycle, longtime Republicans like Mesa mayor John Giles are publicly supporting Kelly over Masters, Hobbs over Lake and Fontes over Finchem.
Find the maps online at https://www.azcentral.com/elections/results/2022-11-08/state/arizona/.
Kari Lake tells her supporters: 'We are going to win this' at a campaign rally as voting numbers roll in. Image by Joe Rondone/The Republic. United States, 2022.
---
Republic reporters Juliette Rihl and Debra Krol and freelance reporter Noel Lyn Smith contributed to this article.
RELATED ISSUES
RELATED INITIATIVES