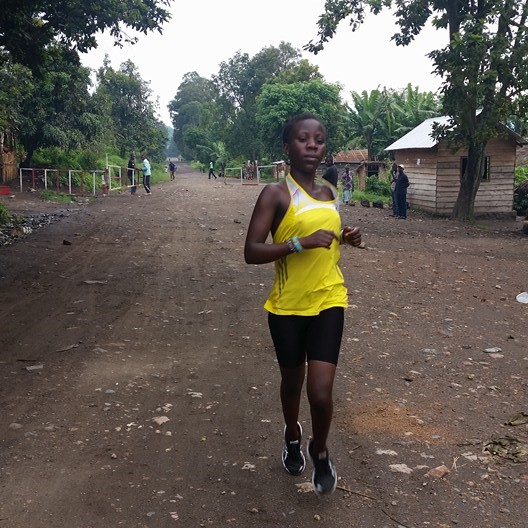 KIROTSHE, Democratic Republic of the Congo—This year Beatrice Kamuchanga, 19, will begin her final year of secondary school in a rural village, Kirotshe, in eastern Congo, a region devastated by war and conflict. She is studying to become a teacher of French, Swahili, and mathematics.

Although at first Kamuchanga seems like many of her classmates, she has achieved an unprecedented accomplishment—this summer she will run the 5000 meter race at the 2016 Olympic games in Rio de Janeiro.

While sitting on a couch in her dimly-lit home, Kamuchanga thanks God for the opportunity to run and to attend school. She explains that many young people in the village, especially girls, are forced to drop out of school because they cannot afford the fees or must begin work to support their families.

"We have 800 kids enrolled in school, and in reality, only between 300 and 400 show up," said Justin Kandundao Shabapfuku, director of the primary school in Kirotshe. "Most parents struggle to provide food for their families and cannot afford school fees."

Since 2012, Kamuchanga has participated in Project Kirotshe, an organization that has paid for her school fees. Project Kirotshe, funded by a network of donors in the United States, works to help young students between the ages of 10 and 23 become leaders and role models in their communities as they participate in a running team—much like an extracurricular cross-country team in the United States. Every day at sunrise they meet to train, stretch, and pray together.

"The vision is to help the kids in Kirotshe and create the next generation of great runners in Congo," said Makorobondo "Dee" Salukombo, founder and coach of Project Kirotshe. "The future of tomorrow is in our kids, and I think with the future of Congo, everything has to start with the kids."

One morning as Kamuchanga gathers with her teammates in the center of Kirotshe to prepare for the day's run in the surrounding forested mountains, she reflects on the excitement she feels about the Olympics. "First, I thank God, and then I must thank Dee," she said. "When I go [to the Olympics] I am going to work very, very hard to present myself and represent Congo."

Kamuchanga was born and raised in Kirotshe by her father, Mwanuka Kamuchanga, a pastor, and her mother, Kayindo Ngandu, a farmer. Since the beginning of armed conflict in the region in 1996, her parents lost everything and fell into poverty as competing rebel and army soldiers destabilized the region by destroying trade routes, killing, raping, and confiscating land and property.

Unlike many Olympians, who are able to wholeheartedly concentrate on their training as they prepare for the Olympics, Kamuchanga must spend a great deal of her time working to help her family. She helps cook, clean, and retrieve water from a community well in the village. Poverty and the ever-present risk of debilitating illnesses, such as malaria and typhoid fever, threaten to compromise Kamuchanga's ability to train.

While away in Kinshasa, the capital of Congo, for a meeting with the Congolese Olympic Committee, Salukombo reflects back on when Kamuchanga began running in 2012. "Her life has not been easy, but her spirit, no matter what she goes through, is the spirit of a champion in a way that is very rare. And I am just hoping and praying that during the Olympics it shows."

Kamuchanga motivates the entire team by showing them that anything is possible. "Yesterday another girl on the team told me that they want to beat Beatrice," said Salukombo, "and I think this sense of competition is a good thing for the kids and inspires them."

Kamuchanga is not about to give up. "In our home [Kirotshe], there is a lot of suffering but running has given us the courage to continue," she said. Running may also make it possible for Kamuchanga to obtain a scholarship to study medicine at a university—another one of her dreams.
RELATED ISSUES

Issue
Conflict and Peace Building
Conflict and Peace Building

Issue
Migration and Refugees
Migration and Refugees