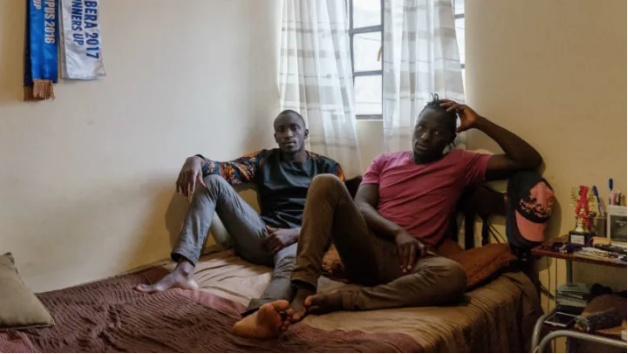 View the original version of this story at Devex
KIBERA, Kenya — One morning in May 2009, Jane Migare-Miluka, a 52-year old mother of six and resident of Soweto East in Nairobi's Kibera slum, packed her belongings onto a green government truck.
Together with 600 other households, she was moved to a new location on a hill across the river as her house and those of her neighbors were demolished to build high rises. Migare-Miluka was elated at the prospect of living with her family in a new concrete house with electricity, running water, and security — services rarely available before.
Migare-Miluka's joy did not last long. Once in Migingo, the new location which was to serve as a temporary residence, she realized that her family would be sharing a two-bedroom apartment with another family. Migare-Miluka was given the sitting room and one bedroom while the other family took the other bedroom.
Rent for the two rooms was expensive. Migare-Miluka paid the government 700 Kenyan shillings ($7) per room — up from the 500 Kenyan shillings ($5) she paid previously. In moving to Migingo, Migare-Miluka also lost her customer base for her small grocery business, she said.
As she waited for the new houses in Kibera to be completed, she continued contributing to a savings fund, which had been set up by the government as a form of mortgage for the houses. She had been told that a two-bedroom apartment would be available for her family once the construction finished.
Seven years later, the houses were finally ready, but when the list of people to be moved was released, Migare-Miluka's name was not on it. The majority of people at the temporary site were relocated to the new buildings, which now stood in place of the old, mud-walled settlements. Migare-Miluka said she wasn't given an explanation as to why she and many others — Migare-Miluka estimates 300 families — were not given houses, but she has drawn her own conclusion.
"The process was corrupted by officials and houses [were] sold out to people who weren't from Kibera," she said.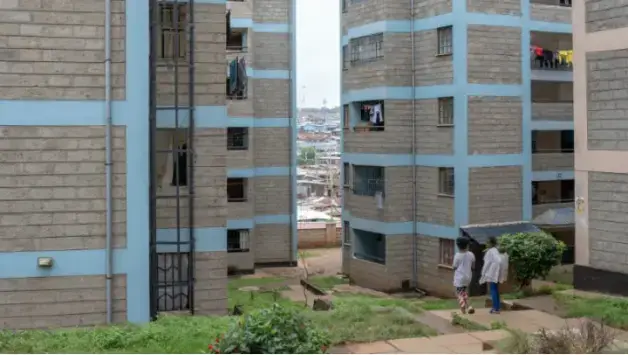 Fifteen years into the Kenya Slum Upgrading Programme, a multimillion-dollar initiative implemented by the Kenyan government with support from UN-Habitat, Migare-Miluka is not alone in feeling disillusioned and abandoned. The project launched in 2004 with big ambitions: to provide 5.3 million urban slum dwellers across the country — 1.6 million households — with access to good and affordable housing by 2020.
A memorandum of understanding, signed in 2003, established that UN-Habitat would oversee the project, which was supposed to cover three of Kenya's biggest cities, starting with the country's largest slum, Kibera. Financing and implementation would run for 15 years — from 2005-2020 — and in 2008, Kenya developed its own 2030 development vision. One of its goals was to achieve a well-housed population living in an environmentally-secure urban environment.
Despite the memorandum, things did not move at the pace and efficiency that had been envisioned. Congestion at the temporary site in Migingo, where Migare-Miluka and 600 other households were transferred, is one of the things that worries residents about the second relocation phase, they said.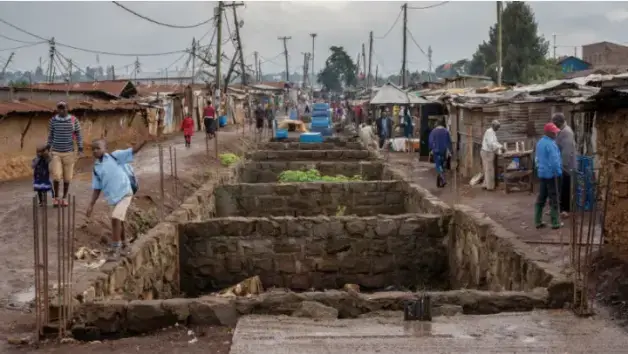 Collins Baraza, a resident of Soweto East who is supposed to be relocated, does not like the idea of leaving his home for a congested temporary residence.
"Some already went to Migingo wanting to move in, but found that some were left there. They had to come back because they are better off here than in Migingo where the rent is expensive," Baraza said.
Residents also worry about the amount of money they are required to contribute each month toward the purchase of their new homes. During the initial stages of the project, the government assisted the people of Soweto to form housing cooperatives, through which they could save for their mortgages. The amount to save depended on the size of the house one wanted to purchase. Baraza thinks the amount is too high given the economic status of most people living in Kibera.
"Some do not have steady jobs and therefore do not have a means to pay the mortgages and rent. Others are orphans who were left the houses when their kin passed away," he said.
During registration for both phase one and two, residents of Soweto East claim that many people were left out. This included people who were children at the time of registration, but 15 years later may have families of their own. Baraza said that a new registration drive should be undertaken in order to ensure full participation.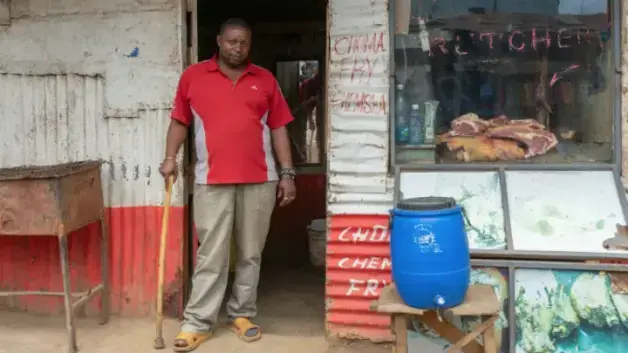 A resident of Laini Saba targeted in the second phase is David Masai, a butcher. He worries about his business.
"They should first show us where we are going to stay and also where we are going to set up our businesses," he said.
Masai also said he was told that some participants in the second phase of the project will be moved to a temporary site further away, on the eastern side of Nairobi, a possibility that many residents aren't happy about.
Watching people's experiences with the first phase of the project has given him pause, Masai said. He and other residents do not want to move to an expensive house, pay rent, and contribute toward a mortgage, and still run the risk of seeing their paths to a new residence blocked by corrupt practices. Some in the temporary housing site produced documents that appeared to show they should have had access to permanent housing.
UN-Habitat did not respond to requests for comment.
Collince Onyango, 27, and his younger brother Raphael Oduor, 24, have rented a single room in the new houses. Onyango, a university student, sits on his bed sifting through a raft of letters, correspondence he has had with the Ministry of Housing and Urban Development. His has been a cry for youth to have access to the youth center at Canaan — the name of the new housing units — without charge.
"The youth are charged 3,000 Kenyan shillings ($30) per day [for the group] to use the center," he said. The center is a hall in the middle of the compound, the only amenity constructed.
Onyango and his brother, who is also a university student, live in the new houses as tenants. Onyango runs a small cafeteria, which allows him to pay the 7,000 Kenyan shillings ($70) monthly rent to a resident allocated a two-bedroom house.
Though their parents were registered for the second phase, Onyango and Oduor were school-aged when the registration took place and were not registered. In his correspondence with the ministry, Onyango raised the issue of youth registration.
"They said that there were delays due to elections. They plan to repeat the registration to avoid the irregularities that happened in zone A," Onyango said, referring to the first phase of the project.
Confusion and incomplete housing
The UN-Habitat project is not the only one to have stalled in Kibera. A project started by Kenya Railways in 2015 — with 7 billion Kenyan shillings ($70 million) from the World Bank — was marred by corruption in allocation of finished houses, according to residents who spoke to Devex. The project sought to construct houses and commercial buildings for people living along the railway line that cuts across Kibera, but has been impaired by delays, residents said.
The plan was to build 3,129 single-room houses, of which 1,490 would be residential units, in order to secure a 60-meter buffer from the rail line. That meant displacing thousands of families who reside or have businesses in that area. The new buildings would have space for businesses on the ground floor, and residences above.
Joseph Mulwa, a businessman in Kibera's Laini Saba area, ran a toilet facility on the rail reserve that was scheduled for demolition.
"I bought the house in 2012 at 210,000 Kenyan shillings ($2,100) and then used 1.3 million Kenyan shillings ($13,000) to renovate it," Mulwa said.
In 2015, after running the toilet business for three years, he heard about the plan by Kenya Railways to demolish the houses and build new ones.
"I thought it was a nice thing for us, because it was their property and they were not chasing us out, they were giving us an alternative," he said.
Mulwa registered and waited for the new houses to be completed.
Unbeknownst to him, the person who had sold him the building in 2012 had also registered himself as the owner. Kenya Railways considered that person the rightful beneficiary of the new property, according to Mulwa.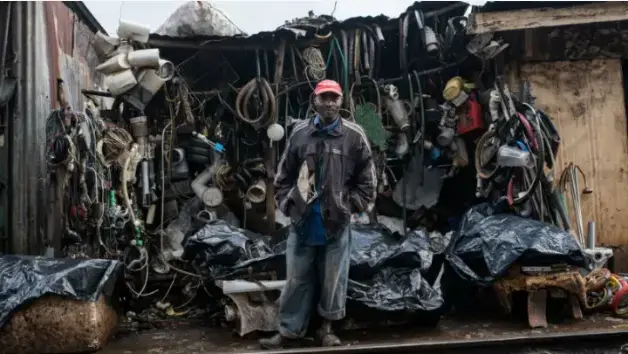 "So when they allocated the new houses, business premises, and made compensations; I did not get any," he said.
James Maina, a scrap dealer, is a father of six. His house was located along the rail line in Laini Saba, next to Mulwa's toilet. Maina's eldest son recently finished high school, while two of his girls have just enrolled.
"They are big girls now, and my son will be going to college soon," Maina said with a smile.
Maina considers himself lucky to have received housing, but was surprised to be allocated a single room for his entire family.
"The problem is that they lied to us, that they would give us a three-bedroom house, but they ended up giving me a single room," Maina said.
He also said the houses were allocated before water and electricity was connected. His family has to buy water and takes electricity from an illegal connection.
Vera Rosauer, communications officer at the World Bank, said that the housing units were to be constructed with water and electricity connections: "We are aware of significant delays to the remaining connections, as they were due to be supported by different projects which, due to project delays, are now closed. Units will, however, not be considered complete until connections have been made. The bank has been in discussions with relevant parties to help address this issue."
In Kibera, however, construction of the houses along the railway line stalled in 2017, residents said. Left unattended, the incomplete constructions have since been vandalized. Vandals remove the steel rods, used in construction, and sell them to scrap metal dealers.
Requests for comment from other parties involved in the implementation of the project were unsuccessful. The Ministry of Housing and Urban Development and Kenya Railways Corporation did not reply to emails and letters enquiring about the housing projects in Kibera.
Meanwhile, residents remain frustrated.
"They should just have left us to continue living in Soweto East," Migare-Miluka said.
Continue reading the series, Part 6: Nutrition supplements, but no one to distribute them and learn more about What Went Wrong? here.
"What Went Wrong?" is a citizen journalism project that focuses a critical lens on failed foreign...
RELATED ISSUES