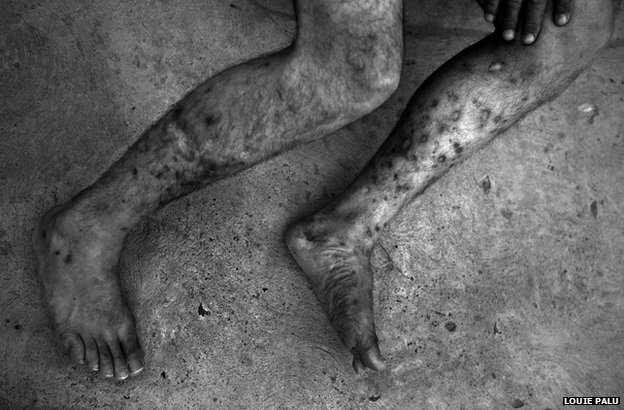 BBC picture editor Phil Coomes has invited five photographers, including Pulitzer Center grantee Louie Palu, to talk about the backstory to one of their pictures taken this year. Palu discusses his work along the U.S.-Mexico border.
Over the past year I have worked on a project examining the violence and drugs that have plagued the border between the United States and Mexico. At one point over a period of a month I covered more than 110 murders in two separate Mexican cities.
When most people in the world hear about Mexico and drugs, many seem not to make the connection that organised crime and drugs has with their own communities. There is no single country in the world that is not affected by illegal drug use. Mexican drug cartels have grown into the world's most powerful and violent organised crime groups based on the proceeds of illegal drugs.
When I was in Ciudad Juarez in December 2011, the Mexican border community experienced multiple murders on an almost daily basis. But, as I drove through Juarez in July 2012, it was hard to imagine the slaughter. There are signs that the security situation may be improving after thousands of murders, even as clandestine graves are discovered in the Juarez Valley in the past few days. The Juarez/El Paso border area is one of the most valuable drug trafficking points of the entire US-Mexico border and has suffered a tidal wave of tragedy for its control.
However, for those not killed in the bloodbath between warring cartels and Mexican security forces, the legacy of the ongoing flood of drugs and violence continues to consume many lives. When I started covering the conflict over a year ago I wanted to look beyond the body count, which exceeds 50,000 in the past few years.
I immediately began to look at related social issues such as mental health and drug addiction. After touring several Mexican border communities it didn't take long to realize that Mexico lacks the sufficient social infrastructure to handle the surviving casualties of the drug war, who are in the thousands. Many journalists have reported on Juarez solely on the basis of the once world-leading murder rate. I felt that there were many deeper layers to the story that were being overlooked, especially since they carried long-term consequences for Mexicans.
The manner in which I work as a photographer is to spend as much time in the field as possible, months and even years of repeated visits. In this case I continually worked in the poorer areas of the city that were affected by the drug trade.
Through a colleague I found a small shelter operated by a reformed ex-con and former gang member who has spent the majority of his life in prison. He set up the shelter for almost anyone looking to reform their ways or needing help from violence and drugs.
In many cases I usually don't take many photographs on my first visits to places like this; it's not about getting a news photograph. I prefer to get to know my subjects over long periods of time. I have learned over 21 years as a photographer that there is rarely a quick fix in building trust and a relationship to see into people's personal lives.
I continually returned to see the Pastor, as he is known, to let him know that my intentions are a long-term commitment to the story. In time he introduces me to several ex-gang members who are the cannon fodder of the drug war. Some have mental illnesses, some have lost family members to violence.
I have conversations with many people there and walk around the neighbourhood with my camera on my shoulder, but rarely use it. I do this continually so locals see me around frequently, letting them know I am not a threat. Juarez is the kind of place where if you are not thoughtful about your activities someone could cause you serious harm.
Between covering murders or researching drug-related stories, I stop by Pastor's shelter. One late afternoon as the sun turned golden yellow and the Pastor fixed the roof of the shelter, a man walked up to us and stood beside me.
I had been talking to Pastor for a couple of hours; the man greeted Pastor and turned to me and introduced himself. He spoke perfect English and looked to be in his 50s. He was 37. He pleaded with Pastor to help him get clean from an addiction to heroin, something Pastor says he has tried many times before. He had first used heroin at the age of 17 when he lived in Los Angeles and has been using it ever since. He tells me that several years ago his drug use got him deported back to Mexico from the United States.
He says his name is Frank and proceeds to show me the track marks on his legs. His legs looked as though they had been consumed by a form of the plague. He says that so many of his veins have collapsed in his arms and legs from a lifetime of heroin addiction that he is now reduced to injecting into the veins in his groin. For me his legs looked like the human landscape of total desperation.
His wife Pat had come along with him. She is a former rock (crack) cocaine addict and threatens to leave him if he does not get clean this time around. He goes on to tell me his life story in a capsule. He crossed the United States border illegally when he was seven years old and got addicted to drugs in the US. He has been in and out of jail for years because of his addiction. Without sufficient rehab programmes, prison only made his addiction worse. Several years ago he got deported back to Mexico and continues his struggle with addiction here in Mexico where he says drugs are much cheaper than in the US.
He goes back to his car and fetches a bag of personal belongings and returns. I follow him into the shelter as he asks me about my work and what I am doing. He seems genuinely interested. As Pastor prepares his bed for him, he sits down outside his room and we continue our conversation before he begins his rehab. I ask for permission to photograph his legs and he agrees.
In all the months I had been working and travelling around looking for compelling pictures, this one literally walked right up to me.
For me the image of this man's scarred legs shattered by years of drug abuse symbolised the war on drugs. Every injection he made seemed to lead him to only one possible solution, which was treatment for his affliction, because no jail, police or scarcity of drugs could ever stop his addiction.
RELATED ISSUES