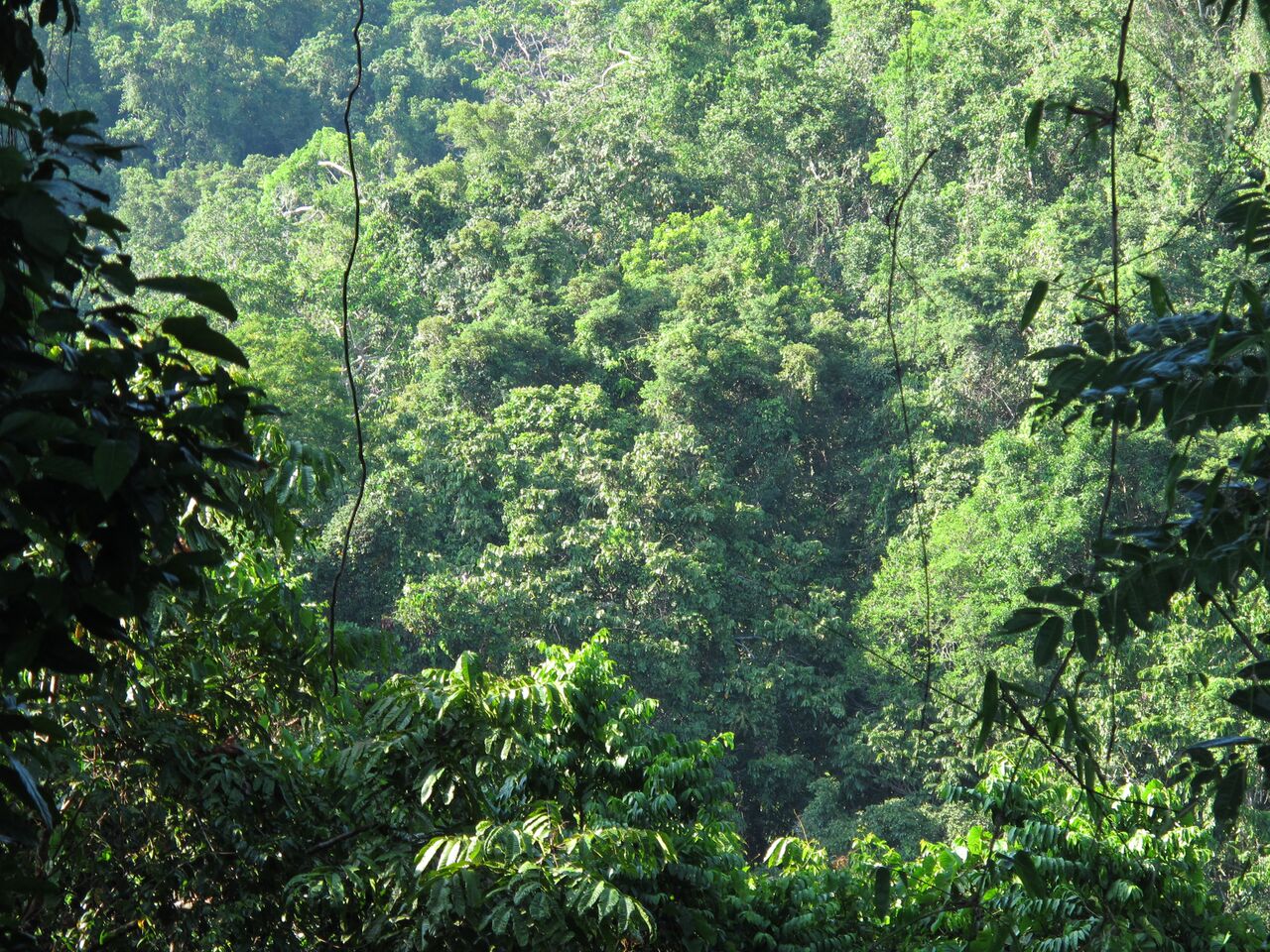 On a recent Saturday afternoon, George Weiblen, a forty-six-year-old professor at the University of Minnesota, got behind the wheel of a beige Toyota Land Cruiser in Madang, a town on the northern coast of Papua New Guinea. P.N.G., as it is known, occupies the eastern half of the huge Pacific island of New Guinea. It covers one per cent of the planet's surface and is home to five per cent of its living species. Botanists are drawn to the country, with its magical fruits and seeds, like helpless ants, in spite of the high crime rate, the fantastic cost of doing research, and the general lack of comforts. Weiblen, who studies trees, first came as a graduate student, in 1992. "I had a totally terrifying experience," he said. He has been visiting the island for two or three months of the year ever since. "I love Papua New Guinea," he said. "You know you've spent too much time here when you feel that way about it."

Weiblen was on his way to a research station in the rain forest, about sixty miles to the west. First he had to take on supplies. He headed to the middle of town and parked outside a grocery store. The Land Cruiser's windows were covered with heavy metal grilles. "There is very light policing here," he said. Inside the store, Weiblen, who was wearing a yellow T-shirt that said, "GREETINGS FROM FOX COUNTRY, MADANG," in honor of the swarms of flying foxes that sweep through the town at dusk, stalked the aisles of canned food. Bully beef and ship's biscuits, derived from the rations of U.S. soldiers stationed in New Guinea during the Second World War, still feature prominently in the local diet, and Weiblen was looking for treats to break the monotony. He settled on cans of smoked herring and mango, and stewed sweet-and-sour pork.

Forests are in the news. Deforestation accounts for somewhere between eleven and twenty per cent of worldwide carbon-dioxide emissions, and any deal that is reached at this year's United Nations Climate Change Conference, which begins on November 30th, in Paris, is expected to formally recognize its contribution to global warming for the first time. The draft text for the summit also proposes ways to encourage developing countries not to cut down their trees. One such instrument is Reducing Emissions from Deforestation and Degradation, or REDD, a program that seeks to assign a financial value to standing forests and to pay local communities, via the sale of carbon credits, for their contribution to the world's ecological well-being.

It was Papua New Guinea, along with Costa Rica, that first pitched REDD to the U.N., in 2005. Although the concept has progressed relatively smoothly through the international negotiating process over the past decade, it has had a more turbulent history in its home country, which contains the world's third-largest rain forest. Weiblen was in P.N.G. in 2008 and 2009, when it was flooded with so-called carbon cowboys—interlopers trying to snap up the carbon rights to prime stretches of forest. The former director of the government's Office of Climate Change is now in prison, and the country has just one working pilot project, in the isolated northeast. "We have stayed away from REDD politics for strategic reasons," Weiblen said.

Weiblen does not study climate change directly. For his Ph.D., he worked on strangling figs—Papua New Guinea has around a hundred and sixty fig species—and their pollination by highly specialized wasps. In 1997, he co-founded the Binatang Research Center, in Madang, with a Czech entomologist named Vojtech Novotny. It has enabled the two scientists to carry out a series of large-scale investigations of forests and their food webs across the country. On this visit, Weiblen was checking the data from about five acres of cloud forest in the highlands, where researchers were cutting down trees and counting, catching, and breeding in the laboratory all the insects that they found tucked in the bark and foliage. "It's a cool project," he said.

Climate change has a habit of interposing itself, though, whether you want to study it or not. Meteorologically speaking, Papua New Guinea is aseasonal. Most months, average rainfall exceeds four inches. But, this fall, the South Pacific has been experiencing its worst drought since 1997, a product of the global weather pattern known as El Niño. There had been only a few showers in Madang since July. When Weiblen stopped at a market to buy lemons, he noticed the heavy, cloying smell of mangoes. They have been especially sweet this year, because it has been so dry. Standing among the stallholders, a woman expounded the wrath of God. "I would say we are about four weeks from famine," Weiblen said. "These are not drought-adapted people."

On the edge of Madang, Weiblen filled up on gas and bought a Coke and some fried fish. "Every year, the fish gets thinner and the batter gets thicker," he said. He drove faster as the town fell away, skirting some potholes, hitting others. Soon he left the tarmac altogether, taking a gravel road through a series of logging concessions toward the Ramu river and the research station. Through the window grilles, Weiblen inspected the passing palms, vines, and tall canopy trees for signs of damage and renewal. Tree scientists are somewhat divided on the proper definition of deforestation. They also range from cautiously optimistic to very anxious indeed about the ability of forests to bounce back from the effects of commercial logging. Weiblen is on the optimistic side of the spectrum. "This is a place where, if you clear an area, within a year there will be trees four or five metres high," he said. "There is a lot that we don't understand about the dynamism of forests."

There is also a lot that we don't understand about how rain-forest trees respond to water shortages and high temperatures. In twenty-two years of research visits, Weiblen had never seen the forest looking so dry. Instead of the usual palette of tangled greens, the roadside was a procession of failing plants: gray stands of dead bamboo, collapsed ginger, banana plants folding in on themselves like broken umbrellas. The dense humidity was gone; the air was laced with smoke. "The rain forest is on fire," Weiblen said. He pulled over to buy some Malay apples (bright red fruits, shaped like hearts, from a relative of the clove tree) and savored the unusual afternoon breeze. "We are getting very high evaporation," he said. "Cooling air, which I am not used to." Then he explained how plants die from lack of water. "They retain their greenery until they just can't maintain the osmotic potential. It is like a heart attack for a plant. The water can't move. Circulation stops."

The drought made the drive unusually straightforward. Weiblen pointed out lifeless streams and dried-out creeks that burst their banks on a regular basis. "This bridge washes out every year," he said, trundling the Land Cruiser over a set of hardwood planks. He reminisced about downpours and impassable reaches of mud. "This is a swamp down here," he said. "We can spend hours fighting this particular section. And it looks fine right now—you wouldn't even know." On one visit, the rain had been so bad that Weiblen had abandoned his car, put up his umbrella, and walked. "I had a camera in a Ziploc bag, and the Ziploc bag had half a litre of water in it when I got to the camp," he said. "My camera was just totally destroyed."

As Weiblen drew near to Wanang, a village where he and Novotny have retained a permanent research presence since 2007, he called out greetings in pidgin to people walking along the road. "Whooah," he said. "Happy noon." He pulled over to pick up a thin middle-aged man carrying a shoulder bag and a machete. The man was chewing on betel nut, the mild stimulant that is everywhere in Papua New Guinea. "This is Albert, a member of our conservation board," Weiblen said. He parked the car next to the village's school, which was built with the help of corporate donations and conservation prizes that he and Novotny have wrangled over the years. He got out and stretched his legs. The trees looked slightly healthier here, and Weiblen was nearly at his destination; he would walk the final eight miles into the rain forest the following day. He took some betel nut and began to chew.