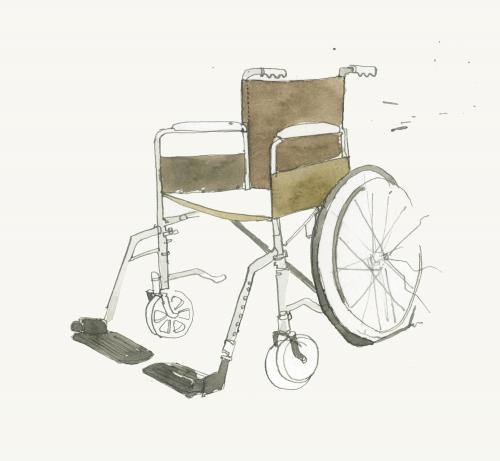 On a chilly April morning in 2016, at a newly converted shelter in southern Berlin, Om Belal struggled as she maneuvered her ten-year-old son, Jad, in his wheelchair out the building's front door. They were on their way to see a pediatrician, to begin the process of assessing whether Jad would ever walk again. Once outside, she carefully eased Jad backward down the front steps, then hurried awkwardly across the street, the wheelchair rattling along: One of its back wheels was leaking air. Om Belal had meant to have it fixed that morning, but she didn't speak German or English, and she couldn't find any of the shelter's Arabic-speaking staffers to ask for help. Communicating with them was pointless otherwise.
A year and a half before, Jad had been playing with friends near his home in Maarrat Misrin, Syria, when a stray bullet from nearby fighting sliced through his spinal cord. Om Belal and her husband, Najy Sawan, took their son to a hospital in Antakya, Turkey, where he spent a month in intensive care. (Hospitals in northern Syria are so poorly equipped, if even functioning, that it is common for Syrians to seek treatment just across the border in Turkey.) Doctors told Najy and Om Belal that Jad would need extensive physical therapy if he were ever to walk again— treatment the hospital couldn't provide. The Sawans returned to Syria. Najy and Om Belal were at a loss for what to do. With the news of so many of their fellow Syrians fleeing the country, seeking to restart their lives in Germany and Belgium and Sweden, they decided their best chances for Jad's recovery were somewhere in Europe.
At the bus stop on Groß-Berliner Damm, Jad was quiet and still, a blank expression on his face. His parents had been watching his body grow more fragile by the month, his limbs thinning.
Om Belal adjusted the blankets on Jad's lap to keep him warm. After a few minutes, the bus arrived, and Om Belal hoisted the wheelchair onboard, eyeing the other passengers, who'd kept their seats. (One thing that had stood out to her was how Berliners were reluctant to lend strangers a hand; Syrians tended to be much more obliging.) Once settled, Jad began to perk up, concentrating on the faces around him. Soon we disembarked at the Schöneweide station. The bus driver waited an extra moment as Om Belal backed the chair off the bus, lifting it slightly, then lowering it down onto the sidewalk. She paused to get her bearings, then headed east. The wheelchair's tire was flat by now, and the chair wobbled and lurched along the sidewalks and cobblestone streets. But Om Belal pushed on with constancy, a mother determined.
We arrived, finally, at the address the shelter had provided, an anonymous, concrete medical center. The waiting room was busy with mothers and children. Heat blasted from the vents. Om Belal guided Jad to a corner and sat beside him, then began scanning the other women: One wore a black tank top that revealed tattoo-covered skin; another had purple hair and a pierced septum. Om Belal made sure not to stare for too long, and instead focused on Jad, who was quiet, his gaze averted, as if folding into himself.
Read the full text at VQR Online.
RELATED ISSUES