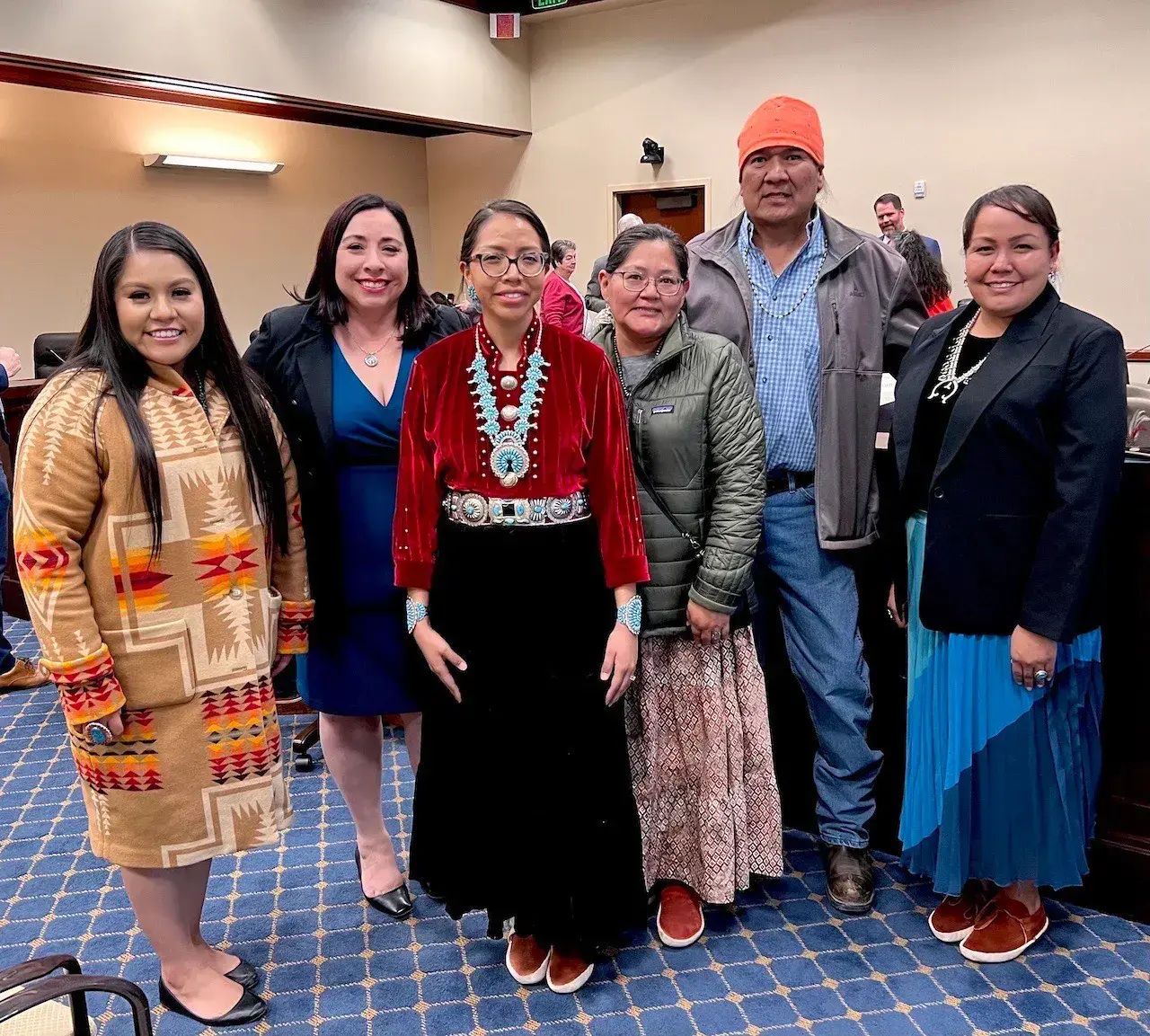 Navajo Nation Speaker Crystalyne Curley sat inside the Navajo Nation Council Chamber and listened as her council delegate colleagues explained why paring down the five standing committees to one was something that should be considered. 
During her first week as speaker, Curley took on the important and often stressful task of appointing the other 23 delegates to four committees: law and order; health, education, and human Ssrvices; budget and finance; and resource and development. The fifth committee, known as Naa'bik'iyati, includes all delegates, and that's why some of them say it should be the only committee
"There are some good discussions on the floor here today," said Curley as she switched from speaking Navajo to English to her colleagues. "Regarding reforming our council committee, I agree that this has to be looked back at and see what works best for us."
---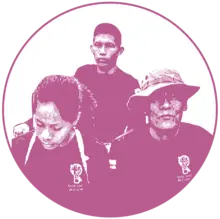 As a nonprofit journalism organization, we depend on your support to fund coverage of Indigenous issues and communities. Donate any amount today to become a Pulitzer Center Champion and receive exclusive benefits!
---
Her attempt to appoint the right people to committees was a difficult task. Appointments have always been a tough task for the speaker, no matter who it is, because one or more delegates will usually not agree with their selections.
Committee appointments were the first major undertaking for Curley, who made history last month when, at the start of her first term, she was elected as the first female speaker of the influential tribal council. She is also the first woman to represent her communities of Tachee/Blue Gap, Many Farms, Nazlini, Tselani/Cottonwood, Low Mountain. 
It was no easy feat. The election capped off a journey that started eight years ago when she campaigned for a spot on the council but didn't succeed. She had served as Miss Navajo and was known around the nation, but it wasn't enough to get her elected. This time around, she was again up against a well-established incumbent, and the vitriol she received from her opponent's supporters was evident. 
She won by a small margin, and Curley said she did not want to post anything on social media about her win because she knew the incumbent would demand a recount. He did anyway, but Curley came out on top again, though by an even smaller margin.
Navajo Women Gained New Power After 2022 Elections
Now she is speaker, paving a way for more Navajo women to take on the highest offices.
"It was exciting," said Curley as she talked about her election during an interview with The Arizona Republic. "I didn't know where my colleagues stood at having that systemic change of having a woman in the speaker's role, and not only that, but having a younger person."
Although part of a matrilineal tribe, the Navajo Nation Council has always been male-dominated, as has the executive branch. But it changed drastically after the 2022 elections with the election of nine women to the council and a woman as vice president. Curley said the support and encouragement she's received from the other women on the council has been motivating during her first few days in her new role. 
"I'm really humbled to be here at this point in time because I get to serve with the other council delegate women, too," said Curley. "They really do encourage me and motivate me. That's really unique about us Navajo women, we have to be there to support one another, especially in a male-dominated policy realm.
"We are making history at the same time but having that level of understanding with each other, and having that love for one another," she said. "At the end of the day we are still mothers and sisters and we have that common shared value of protecting and serving our people."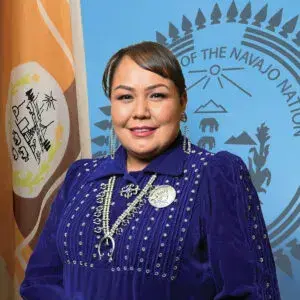 You can't really talk about the first Navajo woman to serve as speaker without mentioning another trailblazer. Throughout the history of notable Navajo women, one is always mentioned: Dr. Annie Wauneka, the daughter of the Navajo tribe's first tribal chairman and last chief, Henry Chee Dodge.
But she was more than just the daughter of a prominent leader. That part of Wauneka's life was only a small part of her notoriety. She was also the first woman to be elected onto the Navajo council in 1951 and served for more than 20 years as the only woman there. 
During a time when tuberculosis was running rampant and untreated on the Navajo Nation, Wauneka was appointed to look into the matter. With the lack of knowledge on the illness among her people, Wauneka worked alongside Bureau of Indian Affairs doctors to learn more about the cause of tuberculosis. She wanted to travel out to parts of rural Navajo to educate her people and advise those who were sick to seek western medicine for help, something many hesitated to do.
For her years of this work, she was considered the "First Lady of Indian Health" by the Indian National Health Board. 
Wauneka did more than champion public health for her people. She was also awarded the Presidential Medal of Freedom in 1963, as well as the Indian Council Fire Achievement Award. In 1984, the Navajo Council designated her "The Legendary Mother of the Navajo Nation."
"Indian women cannot escape involvement in political and decision making roles. […] We cannot afford to sit with our arms folded and wait for responsibility to come to us. Indian women must strive to share decision making," Wauneka said in 1975, words that still ring true to this day as more Indigenous women, not only on the Navajo Nation, but across the country, take office.
"At the end of the day we are still mothers and sisters and we have that common shared value of protecting and serving our people."

Crystalyne Curley, Navajo Nation Speaker
'Listen To Your Grandparents'
It's easy to see the correlation between Wauneka and Curley. Wauneka would say her father influenced her when it came to Navajo politics. His teachings and encouragement are what ultimately helped lead Wauneka into public service. Curley said she has always noted how the men in her life, such as her grandfathers, have played an important role in leading her down the path of public service.
"My grandfathers who helped raise me, I would always see them in leadership roles," said Curley. "Not only at the chapter, but at ceremonies as well. I could hear their prayers, and what they would pray about. They would pray that their grandkids, and me, would have the ability to speak, and the ability to share our livelihoods. And through that, we had that confidence to move forward. One message I put out there is, 'Listen to your grandparents, they have that type of knowledge and confidence that you can't get anywhere else.'"
When the great Chief Manuelito spoke to Dodge a few days before his passing, Manuelito uttered the prolific words that have been a staple in Navajo education "My grandchild, education is the ladder. Tell our people to take it." The importance of receiving a western education was not lost on Wauneka, who received her bachelor's degree in public health from the University of Arizona. She received an honorary doctorate from the University of New Mexico.
Curley earned two bachelor's degrees from Arizona State University and a Master's in Public Administration from the University of New Mexico. She previously served as a policy analyst with Diné College and the Navajo Government Development Office. She also served as a legislative district assistant and senior public information officer for the Office of the Speaker and Office of the President and Vice President.
In high school and in college, her journey working within the Navajo government started when she worked for the judicial branch within the peacemaking program, giving her knowledge on all three branches of Navajo government and policy.
She served as Miss Navajo from 2011-2012, working out of an office attached to the executive branch.
"It's been a long learning process, many years especially following college," said Curley. "I had the opportunity to work under the Nez-Lizer administration where I saw the other side, not the policy, but the implementation of policy. Coming back to council I feel I have a well-rounded knowledge of how our policy goes, not only through a grassroots level but at a higher institute level. It came full circle for me."
Learning the Lessons of Small Communities
Curley built her platform championing rural communities. Growing up in the small community known as Fish Point, near Chinle, Curley said she now strives to be a voice for Navajo people living in remote areas without basic infrastructure and amenities.
"Being the first woman speaker I have high expectations to meet," said Curley. "Following the former speakers and even the former council delegates, I have that high respect for each and every one of them."
When Wauneka served on council, she was the head of the Health and Welfare Committee, where she worked to improve the health and education of her people. In recent years, the committee, now known as the Health, Education and Human Services Committee, along with the Law and Order Committee, have been seen by some delegates as less desirable committees to serve on. The coveted committees are Budget and Finance and Resource and Development. 
"Stated on the floor today, many delegates voiced their concern of how all the delegates want to be on the Budget and Finance committee or the Resource and Development committee and I've always questioned why that is," said Curley. "To this day, I ask 'Why is that?' But I'm glad they brought that conversation up on how all delegates should be equal and have the equal voice regarding all concerns in all the committees."
Her approach to committee appointments was a little different from her predecessors. After she did her research on how selections had been done in the past, she reached out to her colleagues and said if they felt comfortable to do so, they could submit their résumés or cover letter to help guide her in her decisions.
"I really relied on their résumés," said Curley. "It is a very diverse group of council delegates on the floor, the various types of education, professions, even have extreme knowledge of the land, livestock. I took all of those into consideration into making my decision."
During her first week as Speaker, Curley, along with President Buu Nygren and other delegates, met with Utah Lt. Gov. Deidre Henderson to advocate for House Bill 40 in the Utah Legislature, which seeks to codify provisions of the federal Indian Child Welfare Act.
"I think there is a gap between misunderstanding of our culture knowledge of the meaning of kinship and really sustaining our future generations," said Curley of the visit with Utah lawmakers. "That was knowledge they were lacking, so we had the opportunity to share that as well. It's really important for them to put it back on the floor because it doesn't only speak to the preservation of our families, but our values as a people, our culture, our language and to not make an avenue to repeat the mistakes of the past."
Curley said she and Nygren have known one another since college, and working together so far has been agreeable. Curley is the first speaker since 2014 to be fluent in Navajo, and has emphasized the need to learn and speak the language. She has said what motivates her is the fundamentals of Navajo values, culture, and language, and said Navajo children need to be encouraged to continue to speak their language.
"Having that solid foundation of cultural knowledge and language, so when I went toward being a candidate for council delegate I really held onto the values of my grandparents, particularly my grandfathers," said Curley. "When I became speaker, one thing that came to my mind is 'this is what my grandfathers' prayed for and this is what my great great grandmother prayed for.'"
---
Arlyssa Becenti covers Indigenous affairs for The Arizona Republic and azcentral. Send ideas and tips to [email protected].
RELATED ISSUES

Governance

Issue
Indigenous Communities
Indigenous Communities

Women
RELATED INITIATIVES