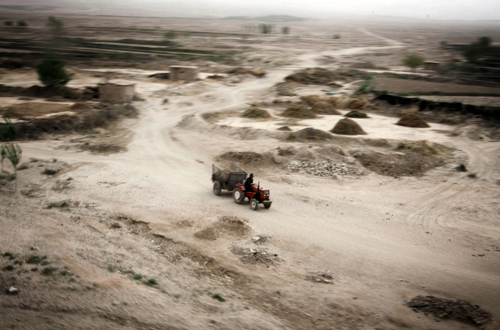 During my 1-year paid internship at Magnum Photos London in 2004-5, the then deputy director Hamish Crooks gave me and fellow interns some simple yet important advice on how to find newsworthy stories. "Pick up a newspaper and read."

Hamish encouraged us to devour headlines to understand why people care enough about an issue to report on it. He also advised us to find topics we were passionate about on a personal level, rather than simply covering issues we were "expected" to cover. From that point on, I started to read news in a different way — always assessing its visual potential and gauging my own interest in the subject matter.

In the summer of 2007 I came across the subject of desertification in a news article. Images of villages and towns being swallowed by slowly moving sand dunes filled my mind. I imagined cracked earth in drought-stricken regions and intense sandstorms blocking out the sun. When you first consider covering an issue, it is inevitable that you conjure images that represent your preconceptions about it. Some turn out to be true, others don't. One of the challenges of reporting on a subject is to confront your preconceptions and free yourself from them.

I began my work on desertification in western China by taking two weeks to gauge the potential for this story. At the beginning of 2008 I received the first David Alan Harvey Fund for Emerging Photographers, which helped me continue this work and also look at other environmental issues in Asia. As I continued the desertification story, I started to look for other sources of funding to help me continue the work and enable me to push even deeper into the subject matter. This is when I discovered the work of the Pulitzer Center on Crisis Reporting and their travel grants to cover under-reported issues, which I felt desertification definitely was.

Application for the Pulitzer Center grant involved writing a detailed project proposal and outlining logistical and financial planning for the entirety of the proposed project. My project also had to fall in line with the Pulitzer Center's focus on, "enterprising reporting projects throughout the world with an emphasis on issues that are under-reported, mis-reported, or not reported on at all." Even though I had first read desertification in an international publication, and had seen work on the same subject by other photographers, I still believed it was a vastly under-reported issue and deserved more attention.

In February of 2009 I received an email from Nathlaie Applewhite, the Associate Director of the Pulitzer Center, informing me that my application for the grant had been successful. At that point I began my preparations and logistical planning for 6-weeks on the road. Needless to say, there was a lot to do!
RELATED ISSUES