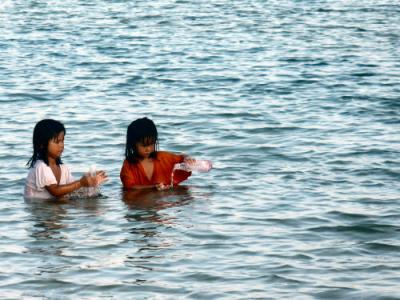 While the world's attention was focused on Phillip Garrido, who is accused of abducting 11-year-old Jaycee Lee Dugard in 1991 and holding her hostage for 18 years as a sex slave, three other alleged sexual predators were quietly brought back to the United States to face prosecution for abusing countless children in Cambodia. The horrifying ordeal of Garrido's victim is now well documented; however, the stories of an estimated 1.8 million other children worldwide who are forced into the multi-billion dollar commercial sex trade every year remain largely unheard.

One of the men arrested in Cambodia, Jack Sporich, 75, spent nine years in a California prison for molesting as many as 500 boys during camping trips. Although Sporich was placed on a public registry and barred from living or working within 1,000 feet of a school or a child-care center anywhere in the U.S., Cambodian authorities were not notified when Sporich relocated to Phnom Penh in 2006. Sporich was arrested after an investigation by a local agency — Action Pour Les Enfants-Cambodia — alleged that he had lured three Cambodian boys aged 9 to 12 to his home with toys and candies. Court documents state that Sporich also enticed them by dropping Cambodian currency in the street as he rode along on a motorbike. The case has reinvigorated support for H.R. 1623, the "International Megan's law," which Rep. Chris Smith, a New Jersey Republican, introduced in March 2009. If passed, the bill would alert officials abroad when U.S. sex offenders intend to travel, and likewise encourage other countries to keep sex offender lists and to notify the U.S. about offenders' travel plans to the United States. U.S. law can grab American predators overseas. Sporich, along with Ronald Boyajian, 49, and Erik Peeters, 41, were charged under the PROTECT Act, which was enacted six years ago to strengthen federal laws related to predatory crimes committed outside the U.S. (A federal magistrate ordered the three held in custody until their arraignment on Sept. 21. Each could face up to 30 years in prison per victim if convicted.)

But human rights organizations say their alleged crimes never should have occurred because all three men were previously convicted of sex offenses in the U.S. and listed in the domestic sex offender registry. "Sex offenders still think they can come to East Asia and commit new crimes with impunity," says Giorgio Berardi, Program Officer for Combating Child-Sex Tourism at ECPAT International, an organization working to eliminate child pornography, prostitution and trafficking. "We need far better collaboration between countries to prevent sexual exploitation of children."

Human rights organizations say an International Megan's Law would be a step in the right direction. "If we know someone is committing serious crimes at home or overseas, we want to accurately identify them," says Karen Stauss of the Polaris Project, an organization dedicated to combating human trafficking. Amanda Bissex, UNICEF Thailand's Chief of Child Protection, agrees H.R. 1623 would benefit vulnerable children. "We need to improve law enforcement and the economic welfare of children," says Bissex, "but we also need to address people's attitudes and create an environment where there is zero tolerance for abuse of children whether in their home country or oversees."

Commercial sexual exploitation of children is booming, and governments are not doing enough to protect young people, according to a global report released by ECPAT-International in August 2009. "The recent economic downturn is set to drive more vulnerable children and young people to be exploited by the global sex trade," says Carmen Madrinan, Executive Director of ECPAT International. "The indifference that sustains the criminality, greed and perverse demands of adults for sex with children and young people needs to end."

UNICEF surveys indicate that 30% to 35% of all sex workers in the Mekong sub-region of Southeast Asia are between 12 and 17 years of age. Women and girls from poor rural families make up the majority of sex workers in Southeast Asian countries, says Bissex. "Even in situations where a child knowingly goes into this, it's not a choice a child can make, or ever would make if they had other [economic] options."

Rep. Smith is one of the few prominent U.S. politicians who has proposed legislation to curb America's role in the international sex industry, an industry that he notes is intimately linked to child prostitution and human trafficking. "The buyers of commercial sex must be sensitized to the harm they cause women and girls and to the fact their money fuels modern day slavery," Smith said at a joint briefing of the Congressional Caucus on Human Trafficking and the Congressional Victims' Rights Caucus in July 2009. "A cultural shift that recognizes the link between commercial sex and the trafficking of women and girls would starve the modern-day slaveholders. If potential buyers knew of the unspeakable lives of servitude and degradation these victims suffer, I think they would think twice before laying down their money."

Earlier this year, the United Nations Office of Drugs and Crimes (UNODC) stated in "Global Report on Trafficking in Persons, 2009" that 79% of all global trafficking is for sexual exploitation, which is one of the world's fastest growing criminal activities. The report said the proportion of minors involved in all forms of human trafficking has increased between 2003 and 2007 from about 15% to nearly 22%. In June 2009, the Obama administration expanded the U.S. watch-list of countries suspected of not doing enough to combat human trafficking, putting more than four dozen nations — including Cambodia and the Philippines — on notice that they might face sanctions unless their records improve.

Sex tourism, whether targeting children or adults, creates huge monetary incentives for human traffickers, according to Siddharth Kara, a board member of the Washington D.C.-based NGO Free the Slaves and author of the 2008 book Sex Trafficking. Even within the exploding human trafficking industry, which according to Kara generated $152.3 billion in revenues in 2007, trafficked sex workers are by far the most profitable of slaves — although they constitute only 4.2% of the world's slave population, trafficked sex workers contribute 39.1% of slaveholders' profits. Destination countries often turn a blind eye to sex tourism because of these enormous revenues. The International Labor Organization estimates that sex tourism contributes 2% to 14% of the gross domestic product of Indonesia, Malaysia, the Philippines, and Thailand.