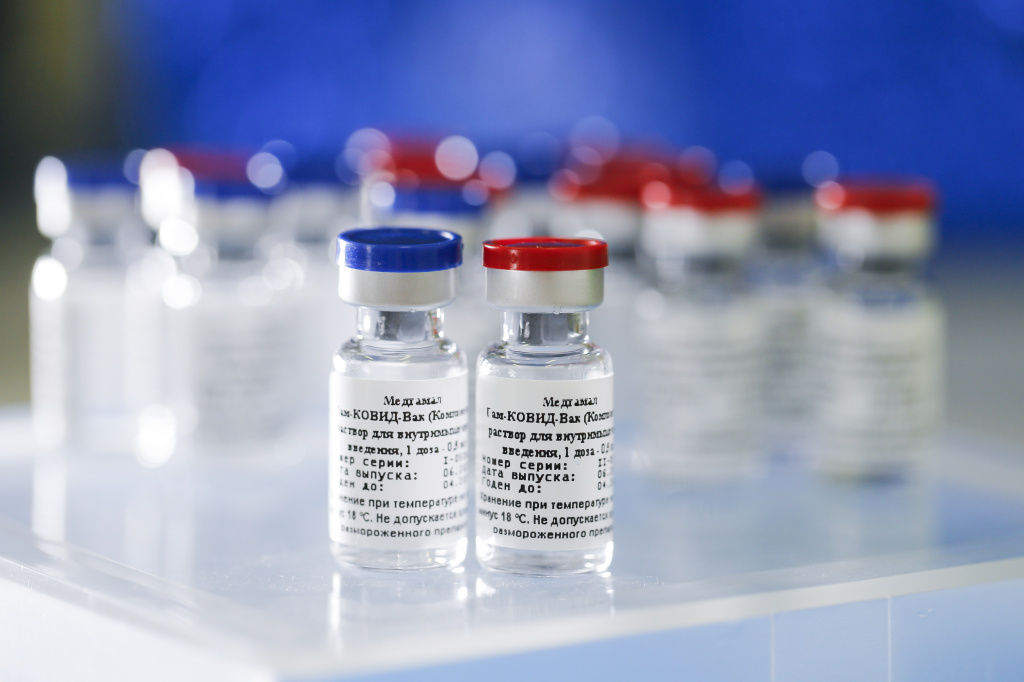 Joining the flood of press releases announcing positive results from COVID-19 vaccine trials, developers of Russia's Sputnik V vaccine today reported 91.4% efficacy from a second interim analysis of more than 18,000 people, bolstering a claim the team made on 11 November with scant evidence.
Whereas the initial report rested on a mere 20 cases of COVID-19, with no details on how they were split between vaccinated and placebo groups, the new analysis is based on 39 cases total, eight among the vaccinated group versus 31 in the much smaller placebo arm. "This is great news not just for Russia, but the world," Kirill Dmitriev, CEO of the Russian Direct Investment Fund that is bankrolling the development of the candidate, announced at a virtual press conference this morning.
The Sputnik V vaccine, made by the Gamaleya Center for Epidemiology and Microbiology in Moscow, uses adenovirus (Ad) "vectors" to deliver a gene that codes for the surface protein, spike, of SARS-CoV-2, the virus that causes COVID-19. The two-dose scheme begins with an Ad26-spike vaccine and is followed by a booster shot 21 days later that contains Ad5 spike. Gamaleya chose two different adenoviruses because of concerns that immune responses to the same vector could lower the impact of the booster shot.
Another adenovirus vaccine, developed by the University of Oxford and AstraZeneca, reported efficacy data yesterday of 70%. It uses the same adenovirus vector for both the prime and the booster shot. "At the moment, the data released today on the Sputnik vaccine looks to be the best in the field of the adeno-vectored vaccines," says Ian Jones, a virologist at the University of Reading. The Chinese company CanSino Biologics and pharma giant Johnson & Johnson both also have adenovirus vaccines against COVID-19 in efficacy trials.
The Russian results presented today are an interim analysis from 18,794 participants 7 days after they received their booster dose. (Only one out of every four received the placebo.) "Whilst the [COVID-19] case numbers remain small, this is highly effective," Azra Ghani, an infectious disease epidemiologist at Imperial College London, told the Science Media Centre. The ongoing trial will conduct its next interim analysis after 78 confirmed COVID-19 cases. Overall, trial organizers expect to enroll 40,000 participants.
The new report allays the concerns raised by many vaccine researchers and public health experts when the Sputnik V team made the earlier efficacy claims, according to Jones. "I think the numbers are now significant and I think they do give credence to what they say," he says.
Dmitriev said the researchers plan to publish results from the trial in an international peer-reviewed journal. Denis Logunov, deputy director at the Gamaleya Center, notes that although side effects including pain at the injection site, headache, and fever had been observed, no serious adverse events had surfaced. "There is nothing unexpected," he said at the press conference.
One benefit of adenovirus vaccines is they can be stored in standard refrigerators, rather than needing freezers. Charlotte Houldcroft, a virologist at the University of Cambridge, cautions that the latest Russian announcement is yet another instance of "science by press release," but, she adds, "If the figures are as good as they appear, that's really promising because this needs a standard cold chain to be rolled out rather than an ultracold chain like the RNA vaccines, and that's a big plus."
"One thing seems to be clear, that this platform works," Alexey Chumakov, a researcher at the Russian Academy of Medical Science's Chumakov Institute of Poliomyelitis and Viral Encephalitides in Moscow, wrote in an email. "Of course, with any vaccine, and especially with the ones that have such potential for future revenue flow, as well as political impact, one must be careful in any type of pronouncement, only time and testing will tell."
Dmitriev said partners in India, South Korea, China, and Brazil are producing the vaccine, which could cost less than $10 a shot. Current agreements would allow for the production of 1 billion doses in 2021, with first doses delivered internationally in January.
---
COVID-19 Update: The connection between local and global issues–the Pulitzer Center's long standing mantra–has, sadly, never been more evident. We are uniquely positioned to serve the journalists, news media organizations, schools, and universities we partner with by continuing to advance our core mission: enabling great journalism and education about underreported and systemic issues that resonate now–and continue to have relevance in times ahead. We believe that this is a moment for decisive action. Learn more about the steps we are taking.