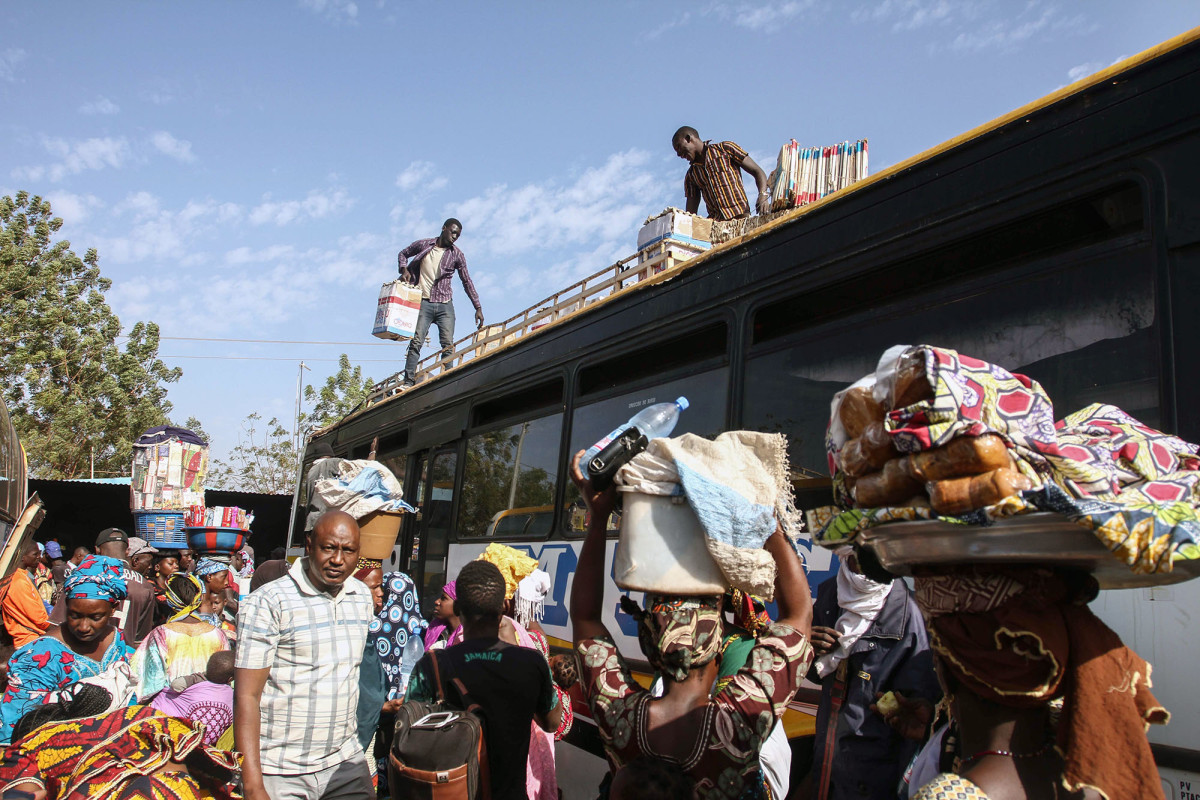 GAO, Mali — The migrants arrive by coach. Diadie picks them out from the other travelers by their swollen backpacks and their apprehensive looks. Up until this point, most of their journeys' have been legal. They come from Gambia and Senegal, Guinea and parts of southern Mali, and, as such, they hold passports that permit them visa-free travel within the 15-country regional bloc of the Economic Community of West African States (ECOWAS). The moment they make a deal with Diadie, however, they become illicit human cargo on one of the most dangerous smuggling routes on Earth.
Diadie, who asked to be identified by only his first name, organizes transport for dozens of Europe-bound migrants each week. Wearing a black leather jacket and a maroon scarf wrapped around his head so that only his eyes and the bridge of his nose are visible, the 30-year-old coxeur — a middleman, or agent, who links migrants and smugglers — says Arab and Tuareg drivers crossing the Sahara to Algeria tell him how many empty seats they have in their Toyota pickup trucks. "If they say, 'I have 15 places in my truck,' then I go find 15 migrants to fill the seats."
Diadie used to work as a tour guide before jihadis overran northern Mali in 2012 and briefly made Gao their capital. He would take visitors to see the Tomb of Askia, a massive pyramidal structure made of mud and timber where Askia Mohamed, the emperor of medieval Songhai, was interred. Askia built the tomb in 1495 upon his return from a religious pilgrimage to Mecca that took him through Egypt and past the pyramids of Giza. "A migrant of his era," was how Gaoussou Diawara, a professor of literature and civilization at the University of Bamako, described the emperor.
A French military intervention dislodged the jihadis from Gao in early 2013, but they continue to carry out regular bombings and assassinations. Neither law and order nor the tourists who once frequented the tomb and other remnants of the Songhai Empire have returned. The only Westerners now in Gao travel in armored vehicles, flitting between blast-proof compounds topped with razor wire.
The Malian state has essentially vacated an area the size of Texas, leaving French counterterrorism forces and U.N. peacekeepers, who deployed to Mali in 2013, as the only authorities in the northern part of the country. On the nearly 3,000-mile frontier with Niger, Algeria, and Mauritania, all but a handful of official border posts are abandoned. "It is known that the borders are porous," said Moussoudou Arby, the director of Mali's border police, adding that in the north especially, "Everybody knows there is no security."
Where the legal economy has collapsed, the smuggling business has flourished. Weapons, narcotics, and migrants — tens of thousands of them each year from impoverished West African nations — pass through Gao on their way across the Sahara. The end of the ECOWAS zone is the Algerian frontier, which marks the beginning of illicit human-smuggling routes that run through the desert oasis of Tamanrasset to Algiers and to the Libyan city of Sebha.
The International Organization for Migration, which monitors migrant flows, only began gathering data on those transiting through Mali in June 2016, but it estimated that between 30,000 and 40,000 migrants stopped in Gao on their way to Algeria that year. Thousands more passed through Bamako, the Malian capital, en route to Burkina Faso and Niger, which counted more than 400,000 Algeria- and Libya-bound migrants in 2016. A record 181,000 people crossed the Mediterranean Sea to Italy that year. More than 4,500 died trying.
Europe's response to the migration crisis has centered on fighting migration at its source, particularly in impoverished and war-torn countries like Mali. In addition to development initiatives aimed at creating jobs, the European Union and member states have rolled out a range of state-building, governance, and security policies designed to keep would-be migrants at home. In neighboring Niger, the EU gave the government hundreds of millions of dollars in direct budget support, as well as vehicles, training, and equipment, as part of a deal to shut down human-smuggling routes. The country passed an anti-trafficking law in 2015 that criminalized the transport of migrants across the Sahara — a law that critics say violates ECOWAS's freedom of movement protocol — and the army started arresting smugglers and impounding their trucks.
Mali is too unstable and its security services too weak for such an arrangement to work right now. European military trainers, who began work in 2013, are "retraining a Malian army that just lost a war," said Brig. Gen. Peter Devogelaere, then the commander of the EU training mission in Mali, said in February. "So they were starting from a very low level."
But in private European officials acknowledge that something like the Niger deal is the ultimate goal in Mali, where ambitious EU-funded police and military training efforts are seen as essential to fight terrorism and, increasingly, migration. Once the northern half of the country is stabilized, the hope is that Malian authorities will begin clamping down on smugglers. In the meantime, France is pushing for the creation of a 5,000-strong West African armed force — launched in July but not yet fully funded — that will fight terrorists as well as traffickers.
Albrecht Conze, a veteran of the U.N. mission in Kosovo who until recently headed the EU police-training mission in Mali, said Europe's heightened interest in Mali and the broader Sahel region reminded him of the massive international buildup in the Balkans during the wars of the 1990s. "For decades, this part of Africa was left to the French. No one else cared," he said. But a migration-inspired "pivot to Africa" has turned it into "one of the most extensively covered post-crisis, post-conflict theaters in Africa with an enormous international presence."
Malian smugglers know that a crackdown is coming. "We are watching what is happening in Niger with a lot of attention," Diadie said. Already, his business has changed in important ways because of what's happening over the border. Fewer migrants are taking the route through Burkina Faso to Niger because they have heard the route is "closed," he said. Instead, more and more of them choose to travel through Gao directly to Algeria, a shift confirmed by researchers and NGO workers focused on migration.
For now, Gao's authorities are leaving smugglers alone. The police make occasional patrols, often alongside U.N. peacekeepers, but their goal is to project normalcy in a town threatened by jihadis, not to deter crime. Lamissa Berthé, the director of prisons in Gao, said no smugglers were behind bars. "Most are common criminals, small fish," he said of the incarcerated population. Diadie would qualify as a small fish in the smuggling world, but he doesn't worry about the law. "You can always bribe the police," he said. "Five hundred CFA [about $0.85] and there is no problem."
RELATED ISSUES