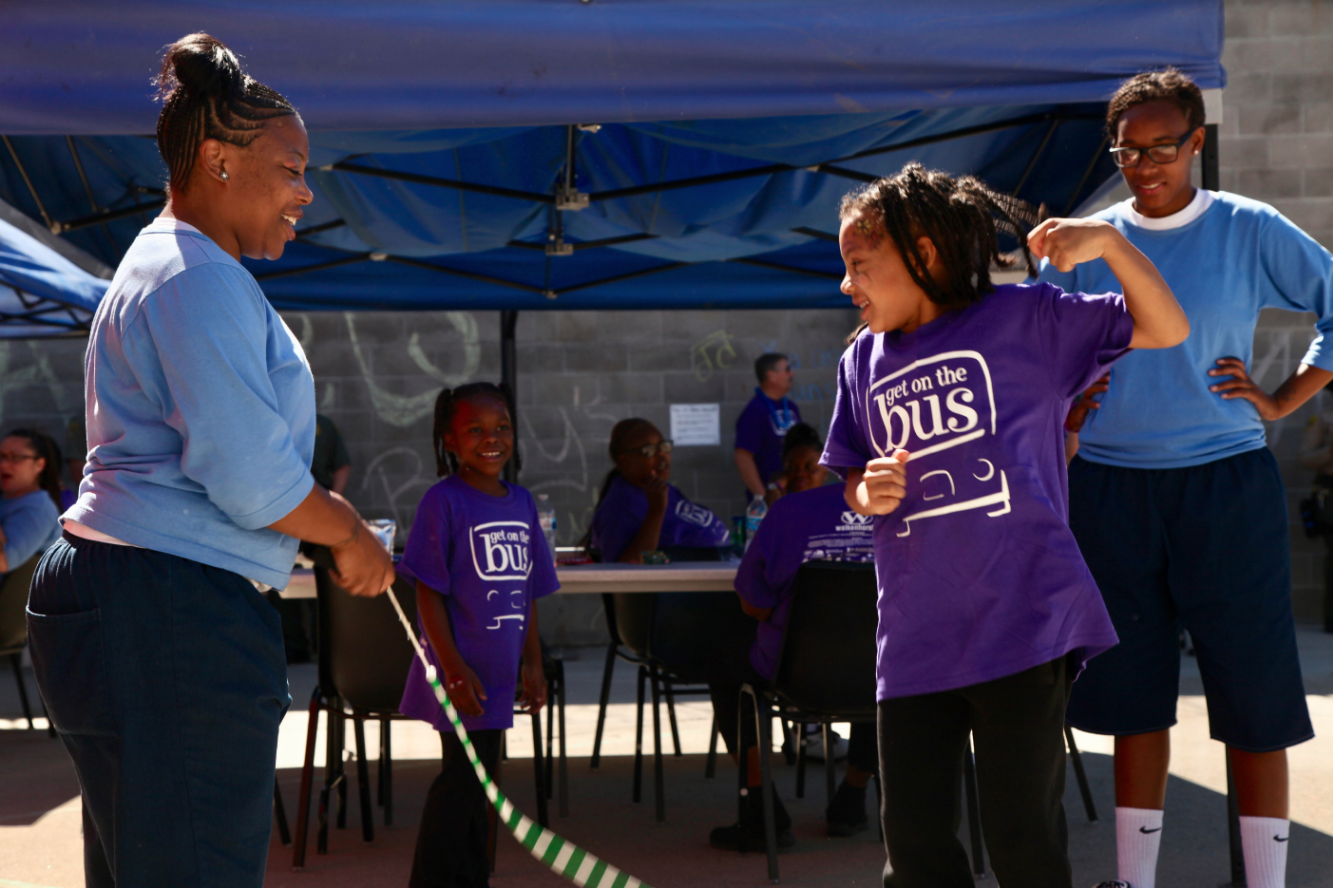 When I taught elementary school in New York City's East Village, a student's grandmother pulled me aside to tell me that the boy's mom was in prison. She wanted me to know so that if he misbehaved, or seemed upset, I would understand what might be troubling him, she said.
In the United States, 2.7 million children have a parent in jail or in prison, according to Pew Charitable Trusts. That's 1 in 28 kids. Over the years, had there been other children in my care like the boy in my third-grade class? I may never know. The stigma of incarceration leads many families to stay silent.
We can speak up for children separated from their parents by incarceration—advocating for programs and policies that make it easier for kids to visit their parents in prison. Inmates, institutions and children benefit. Research shows visits help reduce prison misconduct and recidivism. Evidence also suggests that visits can positively affect a child's well-being and improve the chances that families will remain intact when a former inmate reenters the community.
Yet the time and money needed for travel to prisons can make visits difficult, if not impossible, for families already struggling economically.
Last June, I went to California to learn about Get on the Bus, a program of the Los Angeles-area nonprofit Center for Restorative Justice Works that for nearly 20 years has been bringing kids free of charge to visit parents in California state prisons. There are many ways families stay connected when a person is in prison—video chats, email, letters and brief phone calls—but there is no substitute for one-on-one time together.
A 2015 report by Prison Policy Initiative, using data from the U.S. Bureau of Justice Statistics, notes that 63 percent of people in state prisons serve their sentences in facilities more than 100 miles from home. The distance is even greater—500 miles or more—for those in federal prisons; it is not uncommon for prisoners to be sent out of state. Since prisons are often located in remote areas inaccessible by public transportation, private transportation services have sprung up to bridge the gap. But they can be expensive.
In 2015, the Ella Baker Center for Human Rights released a report on the cost of incarceration on families. It found that 65 percent of families struggled to meet basic needs as a result of a loved one's incarceration. The cost of phone calls and visits alone caused one in three families to go into debt.
The bus I was on set out from Oakland at 2:45 a.m. on a Saturday. We were headed a little over 100 miles northeast, to Folsom State Prison. (Three more buses were en route from points south; one had already been on the road for five hours). I sat beside Mayal, 8, and Mi'Angel, 6, who were going with their great-grandmother, Ruby, to visit their mom, Donisha, in Folsom's women's prison. The girls had seen her just once in four years.
Our bus picked up more passengers and stopped in Orangevale so families could eat breakfast and freshen up. It was near 9 a.m. when we finally walked into the visiting area at Folsom. Donisha scooped up her daughters. "It's a blessing," she said when I asked how it felt to see them. "It helps me by giving me the strength to know that I have something to come home to."
In the yard I met Jessica and her daughters Jasmine, 21, Daisy, 12, and Mary Jane, 10. "Without Get on the Bus there would be no way for them to get here," Jessica said. "So it's really nice. We get to catch up and hold each other and do everything that we wish we could do every day."
"It feels good," Daisy added.
On the men's side of the prison I met Isaac. We sat in the sun with his mother, Angelina, and 12-year-old daughter, Alana. He and Alana often speak by phone. "But it's just small talk," Isaac said. "Here we can go into deeper stuff because I'm able to explain more to her."
In this way, visits can be an opportunity for healing. Experts say children are better able to cope with a parent's incarceration when adults speak to them about it honestly. And seeing other kids in the same situation can also help kids feel less alone.
A few months after my Folsom trip I spoke at a symposium on mass incarceration that high school students in New York organized. There, a formerly incarcerated man told me that he didn't think it was good for kids to visit a parent in prison. He never wanted his own children to see him in that environment. Every family is different. Whether or not to bring a child to visit an incarcerated parent is a personal choice. Security screening could be made less intimidating for children and visiting areas more friendly. And some incarcerated individuals are ineligible for visits; they are a privilege that must be earned. But from what I saw at Folsom, the only thing kids cared about was spending time with their parents. The joy of togetherness eclipsed the bleak setting.
Despite what we know about the benefits of maintaining family connections during a period of incarceration, nonprofit organizations in just a handful of states provide transportation programs to encourage family visits. Examples include Service Network for Children of Inmates, in Florida; Assisting Families of Inmates, in Virginia; and Pennsylvania Prison Society. All three programs are state-subsidized. The first one is free and seasonal; the latter are low-cost and operate year-round.
In New York, two bills now before the state Legislature—S731A and A5942—aim to reinstate a free visiting bus program operated by the New York State Department of Corrections and Community Supervision between 1973 and 2011. Passage of the bills, which could come to a vote this month during the current legislative session, would once again put New York in the vanguard of prison reform.
A separate set of bills before the New York State Legislature could lessen the distance that families have to travel in order to visit. They call for proximity to minor children to be considered when determining prison assignments. The Senate version of the bill, S724, is poised for a vote as soon as next week. Similar policies exist in California, Florida, Hawaii and New Jersey.
When a parent is incarcerated, children suffer. By expanding access to free or low-cost transportation to prisons and giving incarcerated parents the chance to serve their sentences closer to their kids, we ensure that more children are able to spend time with their moms and dads. The children have done nothing wrong. For their sake, we should do what's right.
RELATED ISSUES

Children and Youth

Criminal Justice