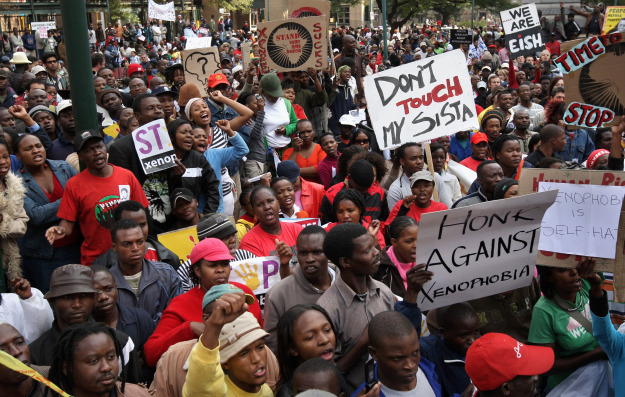 DIEPSLOOT, SOUTH AFRICA—Late one brisk night in mid-June, Bongani Mdiki was having a beer at Willie's Tavern in Diepsloot, a township north of Johannesburg, South Africa, when men burst in to break his head. After forcing their way in, the group of at least 15 men stripped the tiny one-room bar and its 20-odd patrons of all they had. It was the second such robbery at Willie's Tavern in a month, and this time the burglars made off with a generator, about $264 worth of Black Label beer and snacks, and $330 in cash. Then they approached Mdiki for his phone -- and that's when one of them pulled out a machete.

Mdiki, a baker who is employed off and on, is convinced the robbers were Zimbabweans -- hundreds of thousands, if not millions, of whom have come to South Africa in recent years, fleeing desperate conditions at home. "These guys aren't coming for job; they're coming for fight," Mdiki muttered, shaking his head softly. He says he could tell they were foreign by the language they spoke. And he made a dire promise: "After World Cup, [the Zimbabweans] must pack and go."

Anti-foreigner violence -- temporarily suppressed by the World Cup -- is about to boil over again. Diepsloot was an epicenter for the 2008 rash of attacks against Zimbabwean refugees that left at least 62 people dead -- a third of them technically South African -- and displaced more than 100,000 across the country. During the last few months, extra cash from World Cup jobs, as well as scrutiny from the international media and the government, kept things mostly quiet. Fans have been unanimously impressed with how few incidents of theft and assault -- both commonplace in South Africa -- there have been. But after that temporary work dries up, the foreign media leave, and the government relaxes its watch, observers fear that the brewing animosity toward foreign nationals will re-erupt. If rumors are to be believed, plans to attack the foreigners are in the works.

In fact, the first signs of violence are already apparent: Foreigners' shops were looted in the Western Cape province townships of Mbekweni, Paarl East, Wellington, and Nyanga yesterday, and police there urged the mostly Somali immigrants to stay out. The New York Times on July 9 also reported on the threats of violence. In some townships the rumor has become more like a pledge, and organized groups say they're simply waiting for a trigger -- potentially an initial outbreak, like what happened yesterday near Cape Town -- to begin beating, robbing, and burning their neighbors.

Attacks on immigrants are nothing new in South Africa, and it's very easy to see where the tension is coming from. Mdiki lives in a densely populated squatter camp known as Extension One, where South Africans and non-nationals live packed together in metal shacks, with garbage piled along the dirt paths that pass for roads and hungry dogs brooding over open sewers. Crime and lack of housing are the two biggest grievances here -- South Africans are still waiting for the four walls and electricity that were promised them after the end of apartheid. Blame for at least some of the trouble is placed on foreign-born residents. From one end of the country to the other, the complaints are the same: They steal our jobs, they steal our houses, they rob us, and so they must go. It doesn't help that local politicians, in pursuit of the popular vote, sometimes fan the flames in the lead-up to elections, using foreigners as scapegoats for social ills. And as it happens, municipal elections are set to take place in a few months.

South Africa's fraught history with migration goes back long before apartheid, when the country imported migrant labor from surrounding countries to work in mines or on farms. After the white regime fell in 1994, that steady trickle of workers became a flood. The number of asylum-seekers in South Africa reached a then record high in 2008, when more than 200,000 applications were received by the Home Affairs Department -- more than any country in the world. The numbers in 2009 were 10 percent higher. Zimbabweans accounted for roughly 150,000 of the more than 222,000; Malawians made up roughly 15,000, Ethiopians roughly 10,000, followed by several thousand each from the Bangladesh, China, the Democratic Republic of the Congo, India, Mozambique, Nigeria, Pakistan, and Somalia. They come because, despite threats of xenophobia and a 25 percent unemployment rate, opportunities are still more bountiful than at home. And people continue to pour across the border by the hundreds every day.

These new arrivals are governed by the 1998 Refugees Act, which affords people who apply for asylum a number of rights and freedoms, including those to work, mobility, education, and public services. "It's been described as really good policy," said Duncan Breen, an advocacy leader with the Consortium for Refugees and Migrants in South Africa -- on paper, at least. The reality, however, is more difficult. Asylum-seekers are regularly denied access to services, harassed, and chased from their homes.

In Diepsloot, the sprawling black township north of the country's business capital, signs of this tension are everywhere. Down the street from the police station, two public toilets stand side by side; a message on the door on the right reads "SOUTH AFRICANS ONLY," and the door on the left reads "FOREIGNERS." Crammed close together, these two communities are still very much apart. Residents feel abandoned by their national government and don't have much confidence in the justice system; the queue to report crimes at the local satellite police station stretches on and on during most weekends. Instead of waiting, people take policing into their own hands. If suspects in a crime are identified -- by items reported stolen or by telltale blood stains on their clothes -- the perpetrators are dragged out into the open and stoned to death by a crowd.

Baldwin Meyi, 38, who lives in Diepsloot's crowded Extension One, has started to talk about getting rid of the migrants himself. "We don't like them here," he said. "I'll kick them out; I'll do anything I can to kick them out." Christopher, a 39-year-old who asked not to be identified by his last name, told me that he is part of a local group with similar ideas. "We, as a community, we must take it much further because we can't depend on government," he said. "Government, they are sitting in their offices drinking tea nicely; they can't see what's happening here. That's what gets us angry, so we must put our power back to the people."

Breen, the advocacy leader, is taking the talk of potential violence seriously. "We have heard rumors that people have held meetings, discussing how to deal with the 'problem' of foreign nationals," he said. "There have been suggestions that people have been meeting in very specific locations, talking about orchestrating violence against foreign nationals. And that's something we've heard from a variety of places, so we are very concerned."

Keenly aware of this very real possibility, South Africa's government and civil society organizations have been quick to assert that violence will not be tolerated. The country's minister of police, Nathi Mthethwa, who established an interministerial committee to deal with xenophobia, released a statement on July 1 condemning the threats. "We will not tolerate any threat or act of violence against any individual or sector of society, no matter what reasons are given to justify such threats or actions," he said. "We want to assure society that our police are on the ground to thwart these evil acts."

Mthethwa announced on July 8 that the expanded police force adopted for the World Cup would be continued and that the police response to any violence would be swift. And after seeing how effectively authorities responded to the initial violence in the Western Cape Sunday, there is hope that they can do the same elsewhere. Police in Cape Town and Johannesburg have established 24-hour mobile hotlines for reporting potential anti-foreigner attacks, and police are dispatched to the scene at the first indication of a possible attack. This is a sharp departure from how the police reacted two years ago, when, for the dozens of murders and countless assaults reported, not a single conviction was secured against those perpetrating the violence.

Still, many in the townships -- both local and foreign -- doubt that South Africa's police can stop another attack. Christopher says he isn't worried about the police. "They won't stay long," he said. And once they've left, that's when he and his colleagues in Diepsloot will make their move. Meanwhile, Abilio Jorge Quiva, a 22-year-old Mozambican Diepsloot resident who lost several members of his family in the last wave of violence, remembers: "They picked up my cousin here with my family, and they killed him." Quiva, who had been living in Cape Town at the time, fled north to escape being killed himself. "We're scared because we know it's going to happen," he said. "We're sure."

His neighbors, he said, are the ones threatening him, telling him regularly that he must leave after the World Cup or face the consequences. When the fighting starts again, he wants to find a way back to Mozambique. "Life is hard, but we want to live. We want to live."