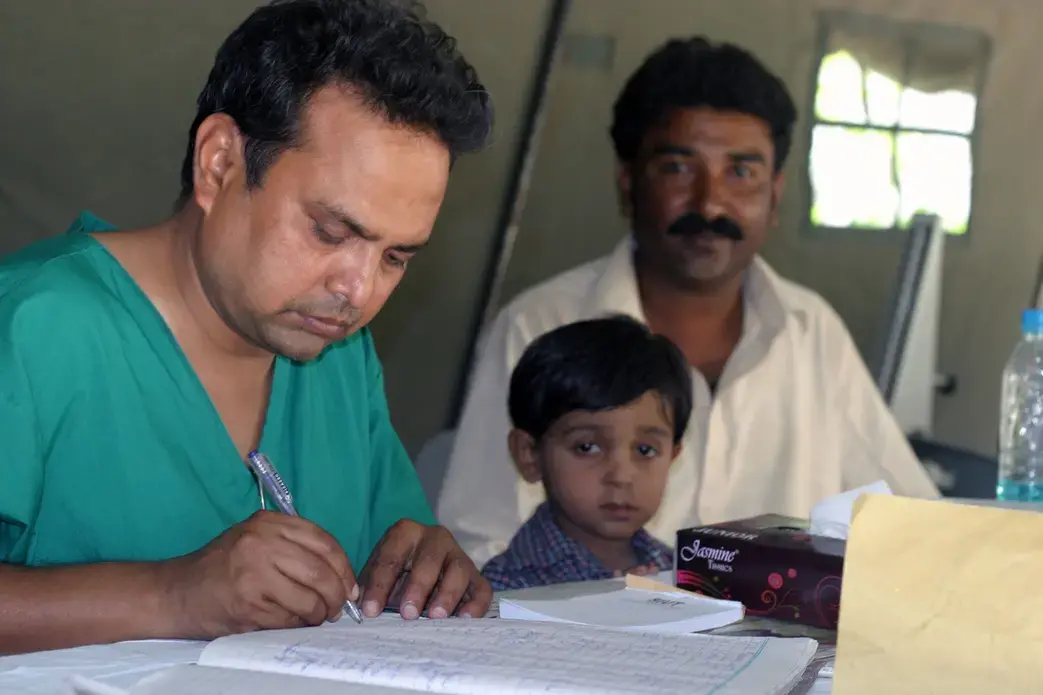 Pakistan's commercial center, Karachi, holds the dubious distinction of experiencing the country's highest levels of sectarian killings. The atmosphere today is especially tense due to the recent assassination of a Muttahida Qaumi Movement (MQM) leader in England; his supporters have declared a citywide day of mourning. Anyone who ventures onto the streets of Karachi risks a run-in with MQM loyalists who routinely smash storefront windows and slash car tires. The once-bustling metropolis of 18 million has become a virtual ghost town; shops are shuttered, businesses are closed, and streets are empty. At the Sindh Institute of Urology and Transplantation (S.I.U.T.), members of a medical relief team debate whether or not they should make their scheduled visit to the refugee camps in Thatta and Makli where thousands of flood survivors are housed in makeshift shelters. Given Karachi's fragile state, the 2-hour-long trip might prove untenable.

S.I.U.T started as an 8-bed clinic in 1970 and, over the last four decades, has grown into the largest health organization in Pakistan to provide free and comprehensive medical care. A beacon in South Asia, S.I.U.T is based on the philosophy of community-government partnership where public donations strengthen government sector facilities. Last year, S.I.U.T. treated over 350,000 patients from all over Pakistan for free; they anticipate that number will be significantly higher this year due to the floods. S.I.U.T has published more than 130 articles in internationally indexed medical journals, including The Lancet (UK), and partnered with various international health institutions, including King's Hospital.

Today, I hope to accompany a S.I.U.T. medical team to the heart of the Sindh province where thousands of beige camps brim with internally displaced people who fled the downpour with whatever little they managed to salvage: a wedding necklace, cooking pot, or family goat. While awaiting S.I.U.T's decision, I meet with Dr. Anwar Naqvi, a soft-spoken surgeon who helps run S.I.U.T. and its nearby relief camps. When the floods first inundated the region, Naqvi's medical teams set up free clinics but soon realized they were far more effectively able to assist people by traveling to remote areas rather than waiting for marooned victims to stumble upon their clinics. He estimates that each doctor in his mobile medical team treats 400-500 people daily in the Sindh province; the worst-off patients are transported to S.I.U.T's nearby field hospitals.

Naqvi estimates that two-thirds of the camp's residents are children and notes that his medical team would benefit from more pediatricians. He explains that many of the children in the camps already suffered from malnourishment and anemia long before the floods arrived, meaning their immune systems were previously compromised. Naqvi notes that the medical teams deployed by S.I.U.T spend much of their time modulating fluids and rehydrating patients suffering from dysentery. Other common post-diluvia ailments include scabies (a contagious parasitic skin disease that flourishes in cramped, moist quarters), gastroenteritis (inflammation of the stomach and intestines that causes vomiting and dysentery), and conjunctivitis (more commonly known as pink-eye).

Shehla Baqi, a pediatrician and infectious diseases specialist, is among the many health experts who fear the camps may see an alarming rise in malaria, tuberculosis, cholera, and Dengue fever in the coming weeks if the situation does not improve, especially in terms of providing potable water and functioning latrines. "We may expect to see cholera, we may see more malaria," said Baqi. "Because of the water, we'll definitely see cases of Dengue fever." The middle-aged doctor with wavy black hair and soft features said the biggest short-term challenge is keeping the camps hygienic. "When I first started visiting the [relief] camps, we were not distributing soap and I felt that [decision] was really defeating the purpose [because] all the diseases that I've mentioned except the mosquito-born ones are spread by a lack of hygiene," said Baqi. "I insisted we start distributing soap, but there was a worry that people would come to the camps just to get free soap. My answer to that was 'just give them the soap, [regardless]'."

Baqi says she did not appreciate the true extent of suffering experienced by Pakistan's rural poor until she started working in the refugee camps. "It took me a while to fully realize that many of the conditions these people were facing were not purely just after the floods but from before the flood and maybe exacerbated by the floods," explained the doctor who left her lucrative practice in New York City to help her struggling homeland four years ago. "The children were chronically malnourished, extremely malnourished. You could see the blond streaks in their hair, which is a sign of protein malnutrition. The women were all and without exception anemic. Men were anemic as well . . . the people I saw did not seem to have education . . . they were all walking barefoot. Many women were pregnant . . . none had [pre-] natal care." As a female doctor, Baqi is especially valuable to her medical team since many women in the camps hesitate to confide to male doctors. "I feel like I'm very respected as a woman doctor both by my male colleagues and by my patients here," said Baqi.

When asked about the biggest challenges of working in the refugee camps, Baqi responded, "Although we were giving the right treatment for the skin conditions and we were giving multi-vitamins, and we were giving iron [supplements] and so on . . . it seemed as something of very transient benefit . . . I really felt that a tube of anti-fungal cream, although indicated, wasn't really going to make a difference in really improving the conditions of these people." She added, "It's very, very sad to see this . . . such lovely [people] but just so dispirited . . . does it need to take a calamity of this proportion to bring to our public eye how devastated and ravished our population really is?"

Baqi notes that fortifying the health of rural Pakistanis and assisting displaced flood victims is a long-term goal that must not be overshadowed by the more pressing and immediate challenges posed by the unprecedented floods. "This is a particularly extensive catastrophe and it may take many years to recover . . . I'm just hoping we use this opportunity to plant trees along the rivers, to make sure housing is safe, to promote hygiene, to promote education . . . I hope all this will happen because it's quite easy to go back to the corrupt and feudal ways."

Another doctor enters the conference room to announce that his team has cautiously decided to allow us to visit the refugee camps in Thatta and Makli despite the limited travel in Karachi today. This afternoon, we head to the tent-cities.

The reason why I want to accompany S.I.U.T medical staff in particular is because Pakistanis across class strata hold its staff's commitment in high regard, especially since doctors such as Baqi have swum against the current of brain-drain, forgone lucrative careers abroad, and volunteered their expertise on behalf of their poorest countrymen. Although international organizations such as UNICEF and Red Cross are frequently seen as a third-world country's first-line of relief after a disaster, regional medical outfits such as S.I.U.T. are often better positioned to respond to local disasters since its medical staff is already versed in the problems afflicting its own population.

Unfortunately, many people outside of South Asia have never heard of S.I.U.T. and some even belittle homegrown Pakistani emergency relief efforts. Shortly before leaving New York City, I ran into a former professor from Columbia who balked when I mentioned the pioneering work of S.I.U.T's medical staff during the flood. "That sounds like a front for a terrorist organization," he scoffed. "I'd like to help but if I give them my money, I'll get on a terrorist watch-list." His remarks belie a pervasive prejudice in the U.S. that explains why the Pakistani floods have generated far less media attention and generous donations than other recent natural disasters such as the Haiti earthquake or New Orleans hurricane. At present, S.I.U.T is facing an acute shortage of funds even to support the cost of running the institute. Now with the number of patients increasing in wake of the flood and costs mounting, S.I.U.T. is struggling to sustain its philanthropic activities on a shoestring budget.

RELATED ISSUES