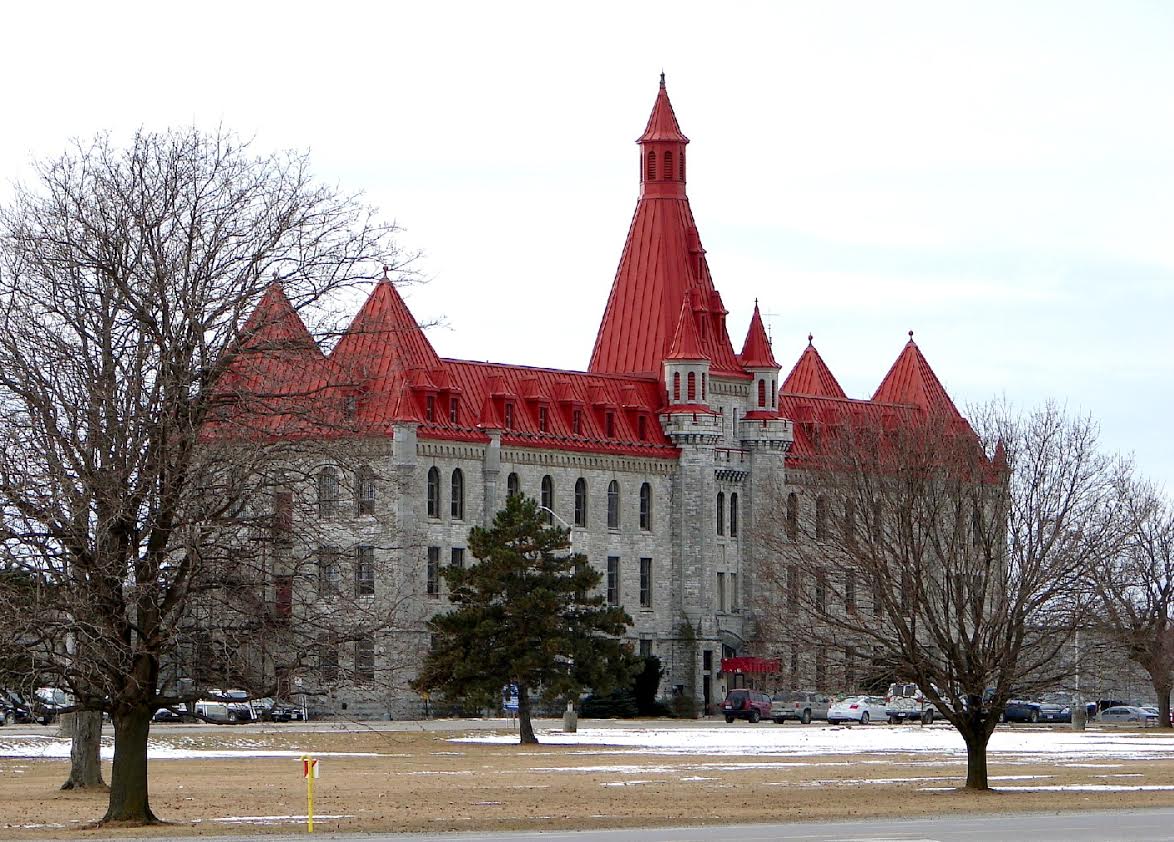 In Ontario, Canada, there is a herd of cows that many people hope will soon head to prison — not for bad behavior, but because for this group of cows, prison is their rightful home.
For years, the herd lived at a local Kingston prison farm, one of six such facilities across Canada. But as part of a government phase-out of the prison farm program between 2009 and 2011, the cattle were moved out of the prisons. Still a group of caretakers never lost faith that they would be able to help the prodigal cows return to the prison. For years these advocates have staged protests, held letter writing campaigns, and turned out to town hall meetings, as part of a movement that has united prisoner rights activists, local food enthusiasts, land conservationists, and most recently the Canadian government.
On these institutional farms, inmates had the opportunity to work on farm maintenance, feed cattle, and participate in a dairy program, with 716 inmates working on the farms during the fiscal year from 2009 to 2010. However, after a strategic review in 2008, the Correctional Service of Canada determined that the prison farms would be closed. But from the beginning there was pushback.
Kingston, which some have nicknamed the "prison capital of Canada" due to the high number of correctional institutions in the area, became the epicenter of the grassroots Save Our Prison Farms movement. Two prison farms at the Frontenac and Pittsburgh institutions in Kingston were affected by the CSC's announcement, drawing the attention of citizens from the surrounding area that felt the farms benefited their community.
Jessica Reeve studied the Kingston prison farms as part of her major research paper for her Master's degree in environmental studies from York University in Toronto and she authored a case study on the Kingston prison farms for Project SOIL. She remarked on the especially strong response to the prison farm closures that came out of Kingston, which she viewed as a result of the community's strong ties to the local correctional facilities.
"Often we think of corrections as being very isolated. Correctional institutions are a place where people go to be housed and they are locked away and separated from society. And that's a predominant view in our society, which in practice really isn't the case. Because correctional institutions, when they are run well, have to be connected to the community," Reeve said. "And, I think the response from the Save Our Prison Farms campaign, really showed that those were effective programs because of the response from the community."
Individuals from Kingston banded to together to convince the Canadian government, then run by Prime Minister Stephen Harper, to reconsider the decision.
Jeff Peters, a 65-year-old farmer from north of Kingston, has been involved with the Save Our Prison Farms movement since it began in 2009. One aspect of his involvement is tied to his membership in the National Farmers Union, which advocates for small and midsize family farms in Canada. Dianne Dowling, the president of NFU Local 316 and a member of the Save Our Prison Farms organizing committee, explained that the organization took an interest in the prison farm closures over concerns about food security. The two prisons farms in Kingston offered highly productive farmland, which the NFU wanted to protect from urbanization.
"You can't preserve the food and farm system if you are constantly giving away the farmland," Dowling said. "As the National Farmers Union, we were concerned about preserving the farmland."
On a more personal level, Peters shared his frustration over arguments that the prison farms should be closed since they don't teach inmates valuable skills.
"The other thing was they said in the first article they released way back in February, that the inmates working on the farms weren't learning any meaningful skills in today's society. That was a hard one to take. No meaningful skills learned, holy smokes," Peters said. "To have somebody tell your profession that it has basically no values as far as learning anything. Boy, that was an insult. That was a huge insult."
Peters explained that working on a farm offers various opportunities to gain useful skills, like teamwork and punctuality, which can be transferred into a range of fields.
"That's my motivation, I guess, was that when they insulted the profession that I take great pride in being part of," Peter said. "I think farmers, I'm a bit biased, but are the most valuable profession we have going."
Peters participated in various protests to prevent the closure of the prison farms. He was even arrested along with 23 others, ages 14 to 87, when the Save Our Prison Farms movement protested the day the trucks came to take away the cattle from the prison farm at the Frontenac institution.
Despite demonstrations by the Save Our Prison Farms movement, the cows were moved away and the prison farms were closed across Canada between 2009 and 2011. Dowling, who got involved with the movement when she was vice president of the NFU Local 316, explained that there was a lot of hurt amongst the Save Our Prison Farms supporters.
"There was a lot of, I'd say anger, frustration, sadness, amongst all the people that had supported this cause. There was this feeling of 'well, what can we do? They've taken the cows away and that's like a really drastic and critical part of the farm program there'," Dowling said.
But even though the cows were gone, the prison farm supporters did not give up. Some got together and formed a new co-operative to purchase cows from the prison farm's award-winning dairy herd. Any individual or family could purchase a share of the Pen Farm Herd co-op for $300 CSD; within a week of the farm's closing, the co-op managed to raise around $30,000 CSD, which allowed them to purchase 23 cows. Dowling called the formation of the co-op and purchase of the cows an "act of defiance."
Today, the co-op's herd is up to around 34 cows. (Some of the original cows have died, but new calves have been born.) The cows are looked after on eight to 10 farms in the Kingston area, and Peters, who is the chairman of the Pen Farm Herd Co-op, takes care of 12 to 13 of the co-op cows on his own farm.
Dowling, who is on the board of directors of the Co-op, admitted that they didn't expect to take care of these animals for so long. At the time they purchased the cows in 2010, a federal election was set for 2011. Their hope was that Prime Minister Harper would not return to power and that the new leadership would reopen the prison farms, she said. But Harper was re-elected. And the Save Our Prison Farms advocates realized they were in for the long haul.
"So when that election happened in 2011, man, we were disappointed, because we thought this was going to be a short-term project. And then we knew there would be four more years at least of the same answers to our questions, which basically weren't answers at all," Peters said. "We either had to hunker down and get through it, the next four years, or quit. And the people decided to stick with it."
Stick with it, they have. Their campaign has even outlived its own mascot–a donkey named Stormy, who passed away in early February.
"He was an old donkey, but he was our sort of symbol of persistence and also adding a bit of humor to what we do," Peters said.
The donkey had what Peters described as a "distinguished career in civil disobedience." Stormy would often be seen at Save Our Prison Farms' protests with various signs, and Peters even told the story of how one time Stormy was chased away by the Royal Canadian Mounted Police in Ottawa.
"[Stormy] had many, many signs. He was Harper's 'ass-istant' and the government consultant on prison farms. He wore so many signs walking up and down the streets of Ottawa. And he was interviewed by the CBC. He travelled a lot of miles, that donkey," Peters reflected. "He was arrested of course in August of 2010–only because he was chained to me and they couldn't separate us. … He had a lot of stories to tell."
Even seven years into the fight and now down one mascot, Peters explained how the Save Our Prison Farms movement and the Co-op are working to keep their issue and story alive. He talked about the vigils that are still held every Monday night in front of the Collins Bay Institution in Kingston. Although he acknowledged that the vigil groups are only around five to 10 people, he said that they never miss a day.
Peters also cited a documentary titled, "Til the Cows Come Home," that premiered in 2014 as another effort that has helped keep the prison farm issue in the public eye. The documentary follows the protests leading up the closure of the prison farm at Frontenac, which culminated in a two-day standoff between the police and protestors when trucks came to take away the prison farm's cows.
Clarke Mackey, a professor of Film and Media at Queen's University in Kingston, served as a producer of "Til the Cows Come Home." Mackey said he became interested in the Save Our Prison Farms movement and protests because of its grassroots beginning, and got involved with the production when the film's director, his former student Lenny Epstein, approached him.
"My interest in this is primarily about grassroots organizing. I'm very interested in what is it that creates a groundswell of support from the ground up–not something that's organized by politicians or by professional activists or anything, but just spontaneous reactions to things. And this seemed to me, just an incredible example of a very spontaneous, from the ground-up response to something that was so obviously unfair and unjust," Mackey explained. "It doesn't happen that often and when it does happen many times it isn't really recorded. So that's why I did it."
The documentary was made on an entirely volunteer basis; the producers worked on the movie during their summers and winters, and financed the documentary entirely through small donations that raised $12,000. And just like the movement that it documented, the film was a community-based project, with the music and animation coming from Kingston-based artists. At most screenings of the 60-minute documentary, a Save Our Prison Farms representative was there to answer audience questions. Ultimately, Mackey said, he hopes the film will keep the prison farms going and document a movement in civil disobedience.
"On the very, very practical level I hoped that it would keep the issue alive. That by having it seen in the community and outside the community, that a lot of people would realize that it is an important issue and that it would stay in the public eye, which to some extent it did. I think our movie did have a kind of actual direct effect on the awareness of the issue," Mackey said. "But secondly, for myself, I see it as a kind of civil disobedience 101. That it actually can provide some more general kind of food for thought for community organizers who are trying to do these sorts of things."
Peters shared his appreciation for Mackey and the other filmmakers.
"These are people that have lives of their own — wow. It was totally awesome to put it bluntly. It was a huge, kind of like a stimulus to keep going, for them to put in that much work," Peters said.
After working to keep the prison farms issue alive for years, the Save Our Prison Farms movement recently experienced a major breakthrough when Canada's Liberal government, headed by Prime Minister Justin Trudeau, announced that it would have the Correctional Service of Canada conduct a feasibility study of the decision to close Canada's prison farms.
From June to August of 2016, the CSC offered an online forum for Canadian citizens to weigh on the possibility of revitalizing the prison farm programs at the Joyceville and Collins Bay Institutions in Kingston. Nearly 6,000 people responded to the online consultation, with a strong showing from Kingston residents, who constituted 27 percent of the survey's respondents. Most of the respondents were positive towards institutional agribusiness, according to the CSC report.
The second portion of the consultation was a Town Hall meeting in Kingston on August 16, 2016, to allow individuals the opportunity to share their views with the Minister of Public Safety and Emergency Preparedness Ralph Goodale. The CSC's report notes that around 300 people turned out for the event, almost all of who were strong supporters of reopening the prison farms.
Now with the consultation completed, the CSC is processing its findings, according to Correctional Service of Canada spokesperson Sara Parkes. She emphasized that the CSC is looking at all of its options to ensure it is putting safety first.
"It won't necessarily be exactly what it was like before," Parkes said. "We are looking into all different ideas to see what would work best for modern day correctional system. The number one priority is safety of our communities and successful reintegration of offenders. We just want to make sure that any program we go forward with will be teaching the skills that offenders need to become law-abiding citizens once they are released into the community."
Parkes said at this point there is no timeline as to when a decision will be made on if the prison farms in Kingston will be reopened or not.
"As it stands right now, we're just studying it all. There has been no set decision as to what we are doing moving forward at this point. Just reviewing these results and seeing what options are to renew the involvement in farming and once a decision is made as to what we are doing next, we are going to be publicly announcing it," Parkes said.
Peters said he hopes a decision on the future of the prison farms will be made soon. He explained that the Co-op is being strained due to a drought in Ontario this past summer, which has made feed for the cows very expensive.
"So we're hoping we don't have to go through another winter, because our money is starting to run out," Peters said. "That's why we are eagerly awaiting this decision and hopefully they remodel. If it goes in our favor they can remodel the barn and get everything ready for return of the cows in the fall of this year. That's the goal."
He added that if the farms in Kingston are restored, there is the potential that the other prison farms closed might reopen as well. And for now, the Save Our Prison Farms movement has no plans to back down.
"You know, we're not going to quit," Peters said. "We know what we're doing is right. We have a huge support or following across the whole country. And other people, other communities where prison farms used to be, they're watching us very closely. They're hoping that their farms can be restored, if this one in Kingston is done properly. So that's why we are being very careful to do it right. But we're not gonna quit, we've been in this too long to quit now."
Thanks to the persistence of the community in Kingston, there's hope that the 34 Co-op cows may be headed home to prison sooner rather than later.
RELATED ISSUES

Issue
Migration and Refugees
Migration and Refugees

Women