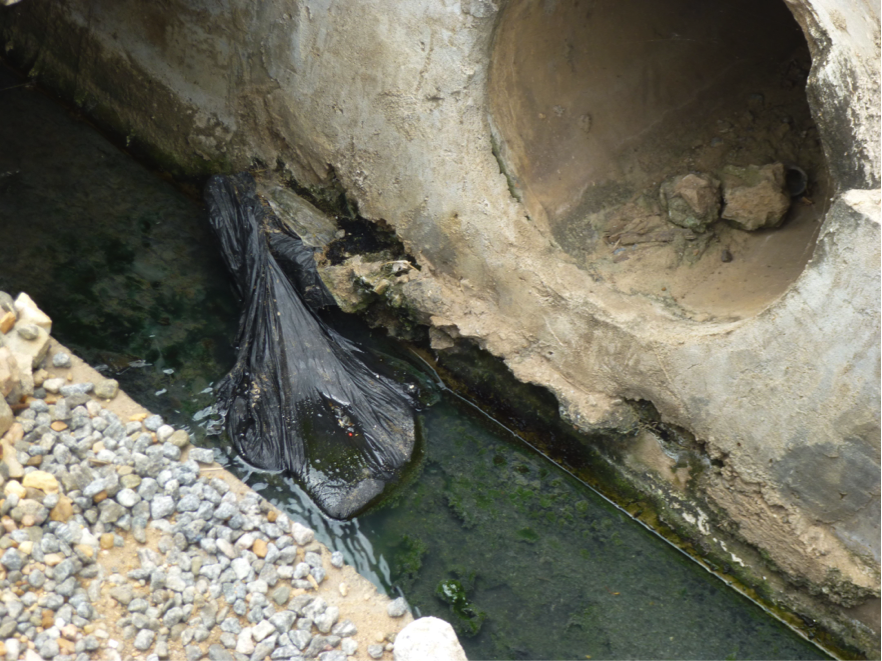 In Kumasi, Ghana, "takeaway" is not just a name for food to go. It is also another name for a popular kind of open defecation.

Many people here urinate and defecate into plastic bags. They then throw these "flying toilets," or "takeaway," into gutters or trash dumps. Other open defecators may be more covert operators, doing their business bare-bottomed in drains or on rubbish piles late at night and early in the morning.

Open defecation occurs because residents may not have toilets in their homes, or may not have easy access to toilets when commuting within Kumasi. The government supports the construction of paid public bathrooms, but these cost between 30 and 50 pesuas to use--roughly the amount it takes to buy a medium-sized breakfast.

Some choose to spend the money buying breakfast instead.

Enoch Nkansah and Amako Solomon of the Kumasi Metropolitan Assembly's (KMA) Environmental Health Department believe the government must tackle the root cause of takeaway to reduce open defecation. People from villages looking for a higher standard of living move to cities that are already over-crowded; they become "squatters" in areas that have no bathrooms. The solution, Nkansah and Amako say, is to develop underdeveloped areas so that villagers will not want to move to the cities. However, political wrangling often gets in the way of progress and the government's plans to develop rural areas.

Nkansah estimated that squatters without permanent homes, let alone toilets, constitute 90 percent of open defecators. These squatters have little money to pay to use public facilities, he indicated. "[Essentially], the only thing [the squatters] can do is ease themselves in a plastic bag and throw it in a drain," Nkansah said.

Solomon, from the department's Complaints Division, said that building permanent houses with toilets for squatter communities would be a potential solution. However, this does not appear to be a realistic option for the KMA, he added, as this would encourage squatting, which the government is currently trying to reduce.

"Within Kumasi, the government doesn't want people to come and squat anywhere. So we [can't build] a permanent place for squatting," Nkansah said. At the same time, building free toilets for squatters would not mitigate the problem of open defecation, as squatters constantly move from place to place, he said.

A more long-term solution is needed, according to Nkansah. People from rural areas crowd into cities and squat because they often do not have access to large marketplaces, stable electricity, high quality education or running water. Equip villages and then squatting won't be a problem, he said.

But Kumasi resident Wireko Brobbey said that when it comes to rural development, political power plays or corruption often stagnate efforts.

When new parties come into power, they often discontinue policies implemented by the previous government and reformulate development plans, Brobbey explained. One political party would not want any success to be attributed to a policy implemented by the previous one and would rather discontinue such a policy.

In addition, one party may actively interfere with another party's efforts. "If we are two [parties] and we are struggling for something…I'll be drawing you back. That is simply the scenario," Nkansah said. "Democracy delays our processes."

Finally, there is the issue of money not reaching its intended project. Transparency in how the government spends finances is limited, which makes corruption a real threat.

Kwabena Amoakohene, a successful business owner in Accra, believes regulations should be put in place to ensure that political parties do not prioritize patronage over progress. Continuity between administrations is one of the keys to moving Ghana forward, he believes, whether it is related to promoting hygiene, education or economic well-being.

"The money belongs to the people and it must be used to benefit the people," Amoakohene said.
RELATED ISSUES