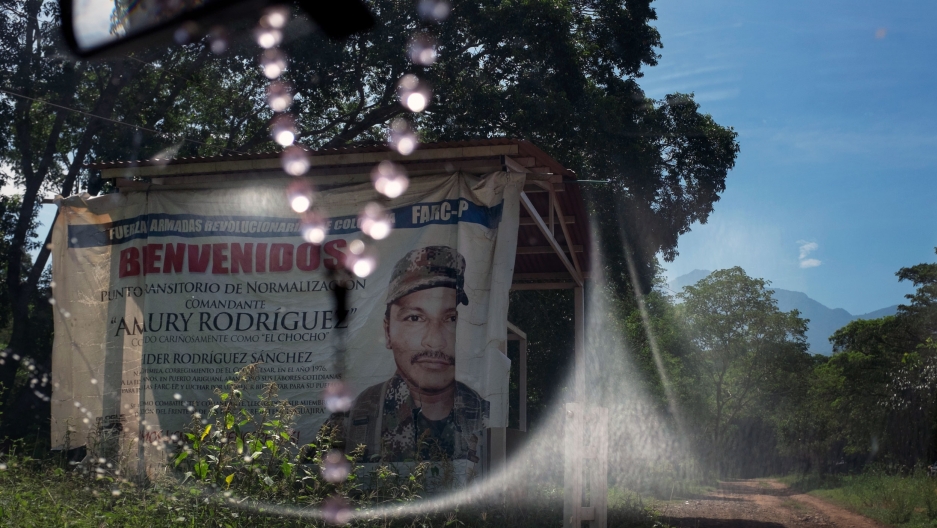 A sign alongside a dirt road blares "Bienvenidos" to passers-by. The banner — emblazoned with Fuerzas Armadas Revolucionarias de Colombia, or FARC — points the way to a reintegration camp in Pondores, in northeast Colombia, near the Venezuelan border.
Former rebel fighters are now finding new ways to earn a living since the 2016 peace deal when the guerrilla group disarmed and became a political party with the same acronym. In Pondores, those fighters are opening their camp to tourists.
To get to the camp, visitors fly into the northern beach city of Riohacha, and then pay a local tour guide to drive three hours inland.
After nearly three hours, a hired guide stops the car to ask for directions. Elmer Amaya says he's never ventured to this area before, which had been FARC-controlled territory until only a few years ago. He's close — minutes later, the sign appears.
Roughly 200 people live in one-room prefabricated houses. Everyone shares portable toilets and showers. Some have fans in their rooms, but there is no air conditioning, despite the region being one of Colombia's hottest.
An ex-fighter named Francisco Villa, who still goes by his FARC name Milo, shows visitors around the camp. All of the FARC fighters took on new names to protect their identity.
The camp replicates guerrilla life before the peace treaty, including a hut where fighters and their commander would meet at night, a roll-up mattress beneath a camouflage canopy and a simple, clay stove top.
"This [stove] was used by the Vietnamese because over there, they also had it really hard during the war there," Milo says.
The FARC borrowed the idea from the North Vietnamese, who used a similar method when hiding in the jungle from the US military.
To cook, a fighter places food on the clay top and tucks firewood below. The smoke exits via small holes on the sides so it can't be detected by surveillance planes.
Milo, 65, spent three decades as a FARC guerrilla. Now, he grows fruits and vegetables and works as a tour guide.
Milo shows off the artifacts of life before the peace deal but gets more excited to showcase the farms and a textile shop.
Sewing machines buzz in the small shop located on the campgrounds.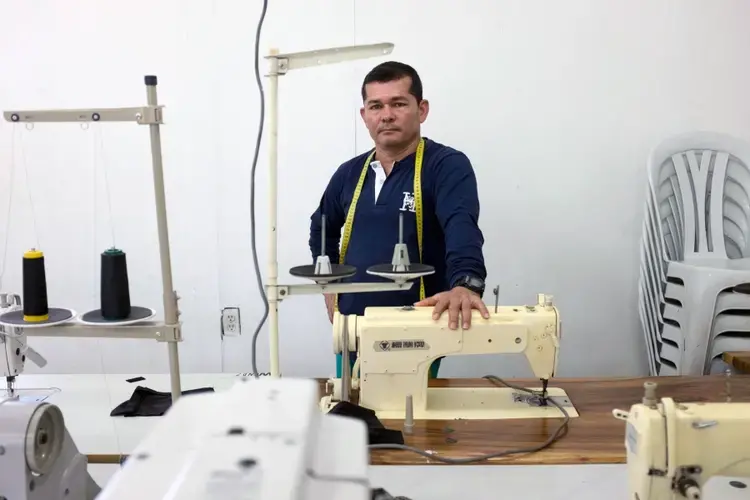 Diosenel Criado, who sewed thousands of olive green FARC uniforms during the war, now helps ex-combatants learn to make clothing for sale using UN-donated machines.
The former fighters get a stipend of about $200 a month as part of the peace deal, but Criado says that won't last much longer.
"We've thought, 'Well what happens when all this ends?'" Criado explains. "We need an income and what to live off of. So, I started pushing the bosses to set up this textile shop so we could sew."
They're sewing collared shirts and tracksuits. But they don't have many customers yet — just some insurgents-turned-farmers.           
Another ex-combatant, Elisa Castro, leads a tour of "La Casa de la Memoria" — the memory museum. This is also one of those prefabricated structures, but its exterior is covered in painted portraits of FARC leaders. Inside are the stories of why people took up arms and what life was like as a FARC fighter.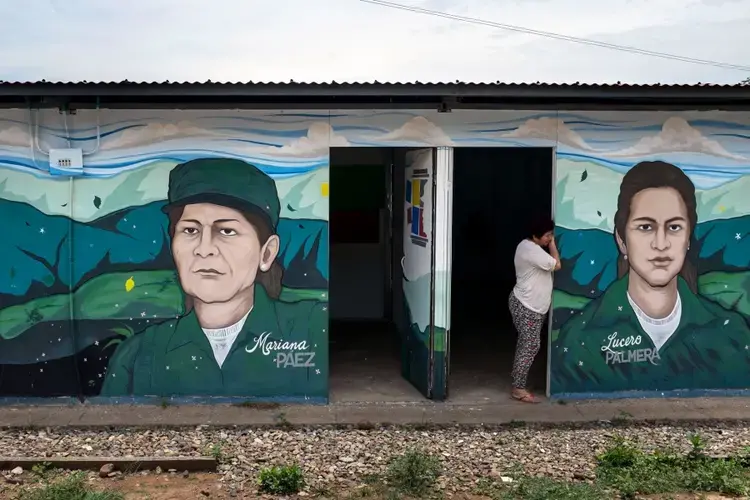 "A blanket, a floor cover, a tarp to shield ourselves from the rain …," Castro says, listing dozens of things now arranged on a table — things she used to carry in her backpack as an insurgent.
Sometimes they'd carry small bombs along with underwear, soap and cologne, she adds.
It wasn't an easy life, she says, but there were some good moments.
One New Year's Eve, when the Colombian Army was close by, FARC couples plugged their headphones into portable radios so they could dance together silently without getting caught. She laughs as she thinks about that night.
"You'd see some dancing to merengue, others to salsa, vallenatos or reggaeton," she remembers.
Castro, 57, is studying to get her high school diploma. A teacher comes to the camp twice a week. Castro also cooks sausages and fries on weekends and sells them to other former fighters.                                                    
Making a living here is tough, though. The camp has hosted some tourists from other countries, including Denmark and Japan, all attracted by word of mouth. The camp doesn't have a website or a social media campaign, and the former fighters don't use their mobile phones much. 
Getting Colombians to visit won't be easy. Feelings about the FARC are still raw. For 52 years, the FARC terrorized the country through bombings, kidnappings and murders. More than 200,000 were killed and millions displaced. 
When the peace treaty was put to a vote in 2016, a slim majority rejected it because they thought the deal went too easy on the FARC. 
Castro said she hopes that in several years she'll earn money in tourism to own her own home. She wants to learn English. But thinking about her life brings her down. She says ex-fighters have gained weight and struggle to stretch the pesos they receive each month.
"Look how we live here. These houses are ovens," she says. "In the mountains, we had fresh air ... We used to have everything. Here, we don't have anything."
Milo remains hopeful.
"We're just starting out," he says. "I think hosting people here will eventually be a way forward. So we have to prepare for this — to host people."
RELATED ISSUES