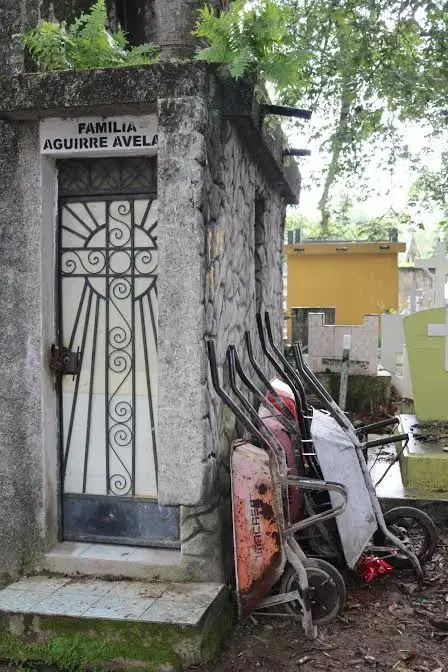 San Salvador has been called the murder capital of the world, and violence in El Salvador is a part of everyday life. In a local cemetery, workers in think rubber boots dig graves with shovels and move dirt with wheelbarrows at the Cementerio Municipal Santa Tecla. Image by Lauryn Claassen. El Salvador, 2017.


I sat in the back seat, blowing my nose into the collar of my t-shirt. In sloppy Spanish, I tried to explain why I couldn't stop crying. "Are you remembering someone?" my friend Aida asked as her eyes meet mine in the rearview mirror. "Someone who died young?"
"No," I blubbered, mortified but unsurprised by the tears that wouldn't stop.
We had gone to the Cementerio Municipal Santa Tecla about 30 minutes from the capital to look at the mausoleums. After wandering endless rows of delicate buildings and crumbling tombs, we had started to head back to our car when we saw the funeral procession approaching.
Aida asked if I wanted to stay and watch. 'What? No! I'm afraid!' I said. I had been to funerals, but never to a burial. I pictured an old body being lowered into an ominous grave and a frail widow in black, dabbing a tasteful tear off her cheek as she said her last goodbyes.
"Oh, it's a young person," Aida said, as we tried to slip respectfully past the crowd.
"How do you know…?" I started to ask—but as I raised my eyes it was obvious. The procession was made up of children. Plenty of adults too, but mostly teenagers, some still in their blue and white school uniforms and carrying backpacks and binders.
A boy who didn't look older than 18 was sobbing, jamming his thumb and pointer finger into his eye sockets as if to plug the tear ducts and push the water back. A girl with thick, winged eyeliner tried to pull him in for a hug, but he collapsed to his knees, seemingly unable to stand. The procession moved slowly, and as the coffin neared the gates of the cemetery, the sobs grew louder.
At this point, silent tears were streaming down my face.
As we drove away I could tell that my friends were affected too, but I got the feeling that this was nothing new. One had fled her hometown because she feared for her life, only to spend nine months in a detention center outside of Seattle before being deported back to El Salvador when her amnesty claim was denied. The other's father had died when she was 15, and when I asked how, she had shrugged and said, 'because of the government.'
"In this country, the youth are the ones who are dying," said Aida, shaking her head and keeping her eyes fixed on the road.
According to the World Bank, the homicide rate in El Salvador hovers around 109 deaths per 100,000 people, making it the most violent country outside of a war zone. San Salvador is neck and neck with its regional neighbors Caracas and San Pedro Sula as the murder capital of the world.
The current spike in violence is rooted in the drug trade. As a lowland country that forms a physical bridge between South and North America, El Salvador bears the brunt of an industry in which they are neither the suppliers nor the buyers.
And even the foot soldiers on the ground are imported. The warring gangs locked in a Capulet and Montague-Esq battle were born in U.S. prisons in the 1980s and 1990s. Rivalries were created and crystallized—and then deported back to a country still reeling from civil war and in the middle of a power vacuum.
As a white foreigner, I felt removed from the violence. There are armed security guards on every corner, and masked police patrol the streets with black face masks and automatic weapons. But the majority of the violence is perpetrated between the rival gangs or by state security forces as they attempt to curb the steady stream of bloodshed with bullets of their own.
I didn't see any violence, but at the same time, it was everywhere I looked. I had traveled to El Salvador to report on the Zika virus and its impact on sex education. Gang warfare, emigration, and the fresh scars of country's civil war weren't supposed to be a part of my trip. And yet it is the cultural context in which everyone must go about their daily lives, and so the topic was never far away.
Pre-teens running laps at a community parks speak frankly about neighbors who have been killed. Adults in their 30's remember clasping their parents' hands as they stepped over bodies when they were forced to leave their homes during the last offensive of the Civil War. NGO's trying to implement Zika education campaigns have deemed large swaths of the country too dangerous to work in. "And it's not just the gang violence." said Stephanie Alfaro, a lead coordinator for MCDI. "There is violence in the household. It is a part of everyday life."
I sat down with writer and historian Claudia Allwood. She has written a litany of books on the history, society, and art of El Salvador and served as the Minister of Culture during the signing of the Peace Accords in 1992. She spoke eloquently about the painful history of the region—the Pipil people and their defiant stand against the Spanish, the gruesome massacres of indigenous workers in the 1940's, the horrific and polarizing brutality of the civil war in the 1980's.
"It is the cycle of violence," she said, distractedly tracing an inward spiral in the air with her fingertip. It started slowly but gained speed as the coil tightened and each loop became smaller and smaller. "It scares me, and I don't see a way to fix it."
Everyone I spoke with in El Salvador was quick to point out the beauty of the mountains and volcanoes, the strength of their national resilience, or their perfect Spanish. But there was always a tint of exhaustion to their tone.
"We are drowning," said Allwood. "We are walking with our hands over our heads to keep our babies above the water."
RELATED ISSUES