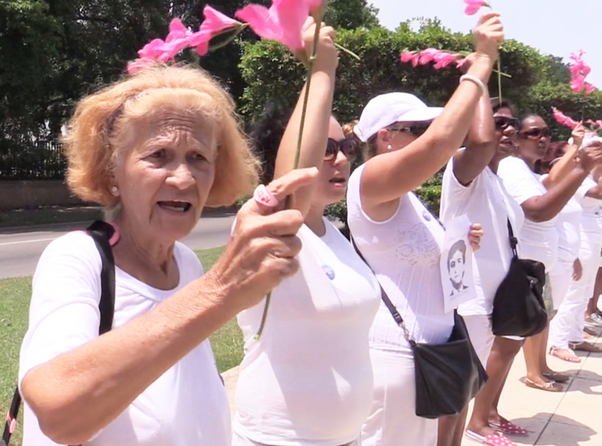 Visit NBC.com to view the video.
Pope Francis is scheduled to arrive in Cuba on Saturday to celebrate Mass in Havana and two other cities.
Democracy activists have been scrambling to get his attention. They want him to know that Cuban authorities have been arresting peaceful protesters and violating basic human rights.
"We are asking for a meeting, a few minutes with Pope Francis, so he can hear it from us, to show him that yes, there are political prisoners in Cuba," said Laura Labrada Pollan, leader of a Havana group called Ladies in White.
Her mother, Laura Pollan, co-founded Ladies in White in 2003 to press for the release of 75 democracy activists, journalists, librarians and others jailed in a 2003 crackdown.
Pollan died in 2011 and the group later split into two. Berta Soler, leader of the second group, said Cuban authorities have stepped up the pressure on the political opposition in the weeks before the pope's visit.
On Sept. 13, Soler and more than 50 other activists marched along Havana's Fifth Avenue and held up photos of political prisoners. Police detained the activists for several hours before releasing them.
These are "flagrant violations of the rights and basic freedoms of the Cuban people," dissident leader Jose Daniel Ferrer said in a statement on Thursday.
He blames Cuban leaders.
"What arguments are they leaving the Holy Father so that he can ask the American president to continue working toward the end of the embargo?" Ferrer asked. "What can they offer Barack Obama so that he can convince Congress that it's worth ending economic sanctions against the only one-party regime in the hemisphere?"
Cuban officials "always want too much in exchange for nothing or very little and they're never to be trusted."
Pope Francis, a native of Argentina, helped mediate the U.S.-Cuba talks that led to the restoration of diplomatic ties between the two nations.
He has never been to Cuba, but has had a keen interest in the island for many years.
In a video message to the people of Cuba, the pope said he is traveling to the island as "a missionary of mercy" to "share faith and hope."
"I would like to convey to you such a simple message. I think it's important and necessary. Jesus loves you very much. He seriously loves you. He carries you in his heart and knows better than anyone what each of us needs and craves, what our deepest wishes are. And he never abandons us. And when we don't behave as he wishes, he is always there, ready to comfort, to give us new hope, a new opportunity, a new life. He never leaves. He is always there."
Before he became the pope, he wrote a book about Juan Pablo II's historic 1998 trip to the island. While in Cuba, analysts say, the pontiff is likely to speak out against the U.S. ban on trade with the socialist government.
Pope Francis arrives in Havana at a critical time in Cuba's history.
Fidel Castro, 89, is retired and rarely appears in public. Raul Castro, 84, is president, but plans to step down in 2018. And as the Castro brothers fade from the scene, the Cuban government is under pressure to change.
Raul Castro has led a series of economic reforms in recent years while keeping tight political control.
In May, the Cuban president spent an hour with the pope at the Vatican. Afterward, he said he was so taken with Pope Francis that he was tempted to attend church.
On Sept. 11, the Cuban government announced that it would pardon 3,522 prisoners as a humanitarian gesture. But no political prisoners were among them.
The Cuban government says no political prisoners are in jail. Elizardo Sanchez, a Havana activist who monitors human rights violations, estimates that about 60 people are in jail or face legal problems because of their political views.
Supporters of the Cuban government say they expect anti-Castro activists to try to somehow sabotage the pope's visit.
Before Pope Benedict's trip to the island in March 2012, 13 dissidents took refuge in a Havana church, demanding an audience with the pontiff.
Church officials were indignant.
"Nobody has the right to turn temples into political trenches," church spokesmen Orlando Marquez said at the time.
The activists later abandoned their effort without seeing the pope.
On July 31, 2012, Cuban officials disclosed that they had broken up a broader effort to disrupt Pope Benedict's visit.
State-run Cuban television showed interviews with Mexican men who said Cuban exiles in Miami had recruited them to travel to Cuba to occupy churches and incite anti-government protests during the pope's visit. They were arrested before the pope arrived and later deported to Mexico.
Earlier this month, former Cuban agent Raul Capote told Russia Today that he expects dissidents may try to force Cuban authorities to arrest them during the pontiff's visit, giving the impression that Cuba is "dangerous" and "unstable." The goal: To show the pope that rapprochement with Cuba was a mistake.
Cuban dissidents say they are simply demanding basic human rights. But they say police routinely disrupt meetings and peaceful demonstrations.
"Especially at a time when the government has recently made amends with its 'historic enemy,' it is inconceivable that its citizens are still persecuted for thinking and speaking honestly," the civic group SOMOS+ said in a statement.
"We welcome Pope Francis. We are honored by his visit and we hope that his blessings pave the way to peace, harmony, and long overdue national dialogue about the present and the future of this country."
The pope's official schedule states that he will arrive Saturday afternoon, then celebrate Mass on Sunday at the Plaza of the Revolution in Havana. Cuban officials say 1,200 journalists have been accredited to cover the event.
On Monday, Pope Francis plans to travel to the city of Holguin, not far from the coastline where Christopher Columbus declared the island "the most beautiful country human eyes had ever seen."
Later that day, he'll go to the village of El Cobre, home to the shrine of Our Lady of Charity, the patron saint of Cuba.
The pope is expected to meet with bishops, priests, nuns, families and young people during his stay, which ends Tuesday. No dissidents are listed on his schedule.
President Castro has said he'll accompany Pope Francis during his trip. Cuban officials say the pope may also see Fidel Castro.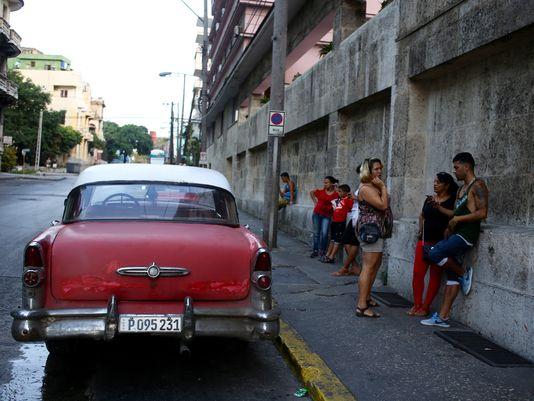 Students, faculty and members of the community join Tracey Eaton , assistant professor of writing...