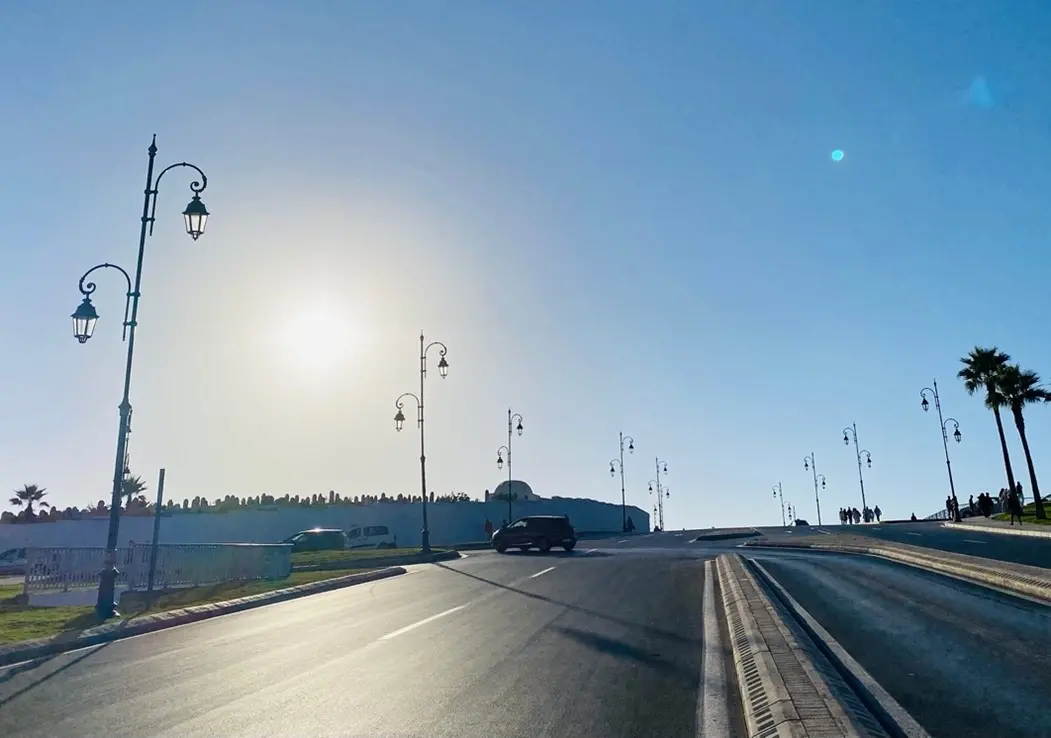 The visit to the grave, may it be of a saint's to receive their blessings or in remembrance of one close to their heart, is of great importance in Moroccan society. An influence from Islamic mysticism, acknowledging the imminence of death and temperance of life is fundamental, and this is referenced in the urban layout of Rabat; between the kasbah and old medina, two heavily trafficked areas within the city, exists the largest cemetery in the region (pictured above). Onlookers, whether they are residents or tourists, all feel the inevitability of this experience, absorbing both the individual and holistic effect can produce profound introspective reflection.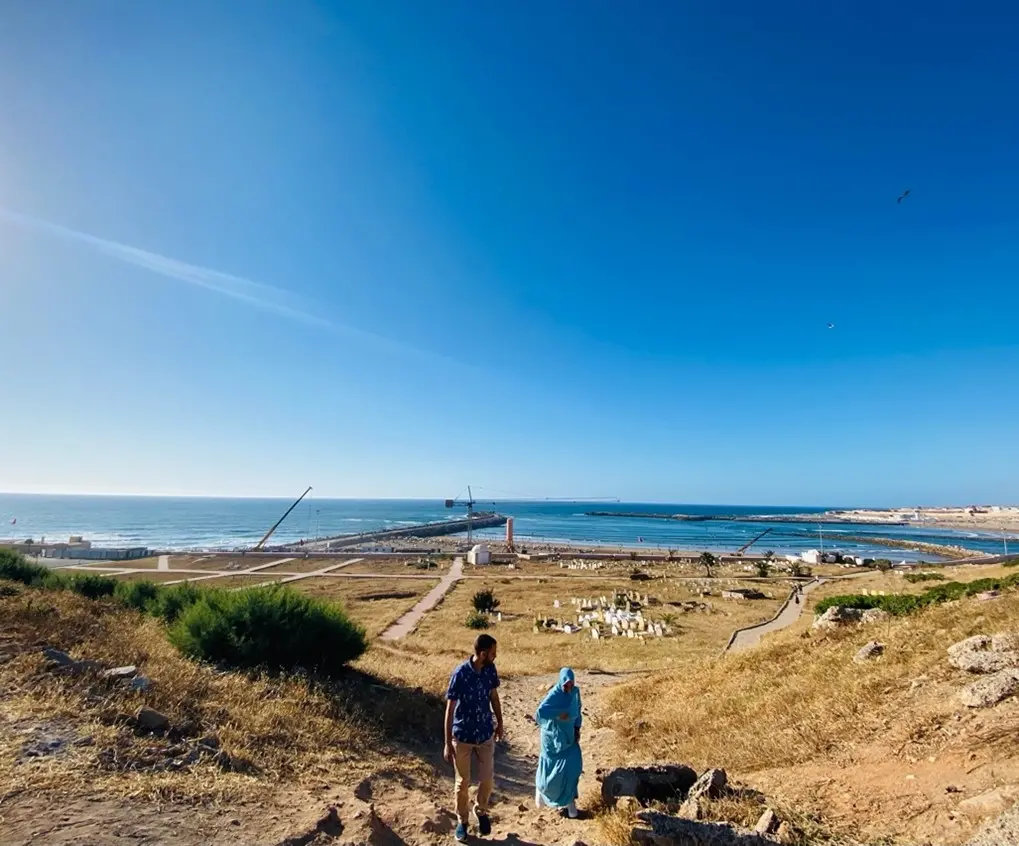 The death of a saint is called urs or "wedding" in Islamic mystic tradition. Although it can be admittedly a sad time for his or her followers, the funeral is known as urs because it refers to a human being's union with God. Their gravesites are near or within a Sufi lodge (zaawaya), as seen above, and in continuance of their saint's lineage, members of that specific spiritual path pay respect and retrieve blessings from the shrine. This historic tradition is contrasted with a symbol of modernity in the photo above; the need for external development is becoming quite pervasive as Morocco enters into a new chapter of globalization, yet the preservation of such cultural practices suggests their internal development and spiritual validation is still alive and well.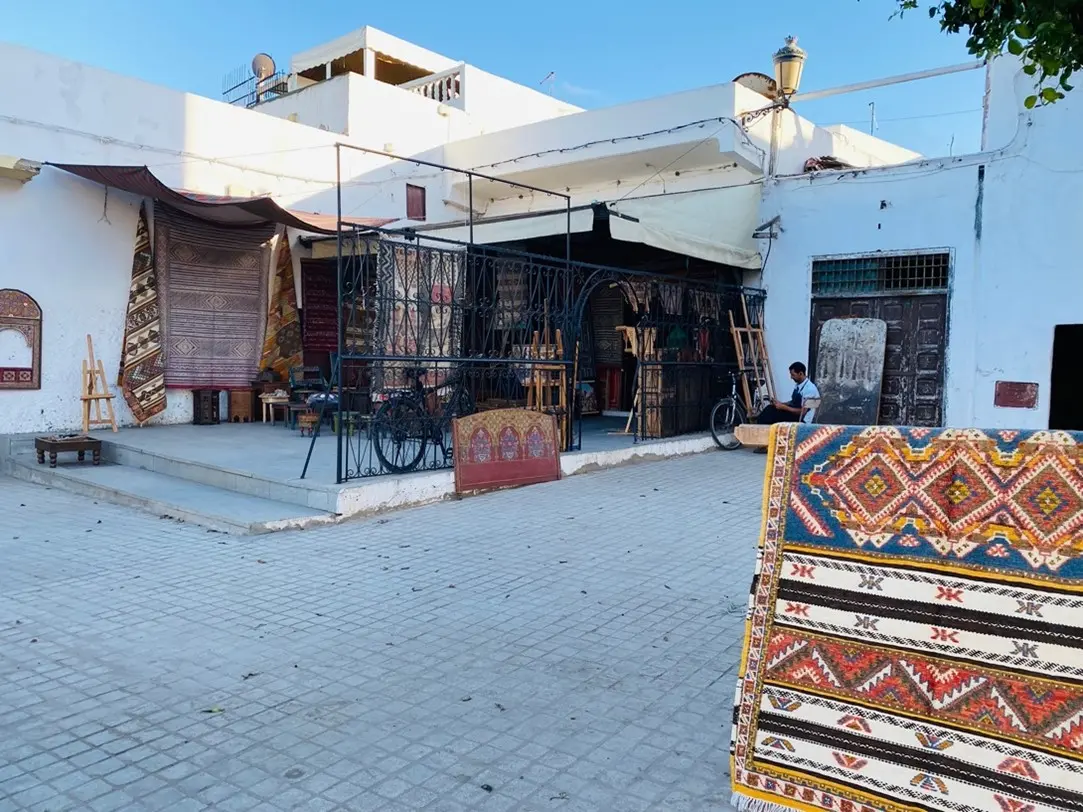 Despite Morocco's new attraction toward modernity, traditional craftsmanship plays a central role within the national identity. Prevalent in other cities but even in the quickly developing capital of Rabat, the road separating the old medina and sea is lined with traditional artisan shops, like the Berber one pictured above. Known for a wide variety of carpets, these shops use age-old methods of dyeing and weaving. However, there could be more to the handicrafts' resilient presence other than the value of tradition; with American encouragement, the Moroccan economy relies on the local artisan industry. Craftsmanship is especially booming post-COVID with resuming air travel, as the nation is reported to have lost 95% of its income during lockdown.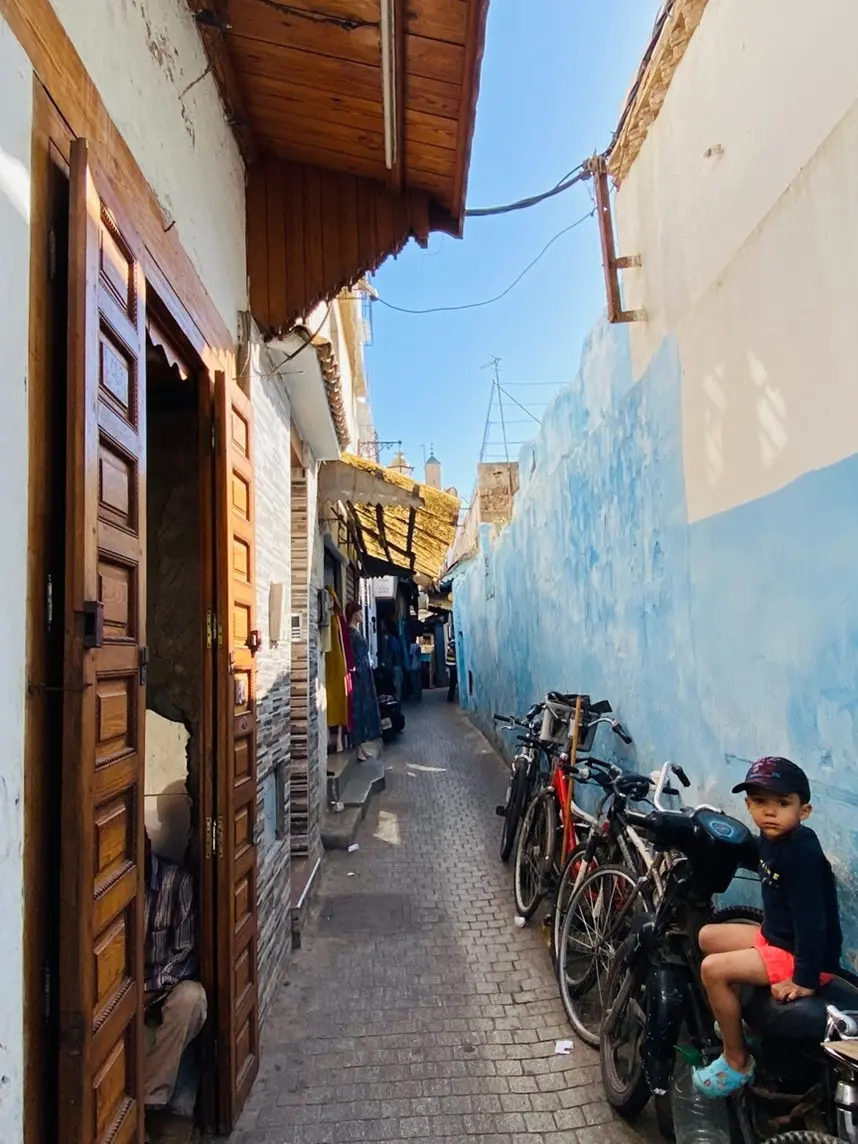 Among those who are educated by the public school system, students are not taught English until the last year of middle school (Year 9 of education). Yet most children living outside the medina are mostly fluent in English even before Year 9 as a result of the internet and social media. The story is different for resident children of the old medinas in Rabat and likely in other Moroccan cities; most do not receive a satisfactory public school experience. Instead, some opt for a classical madrassa education. While others may not participate in a typical Western classroom experience, it is not education that is preventing them from learning English—it's their lack of exposure to the internet that other children their age only a few steps outside the medina have been well-versed in for years.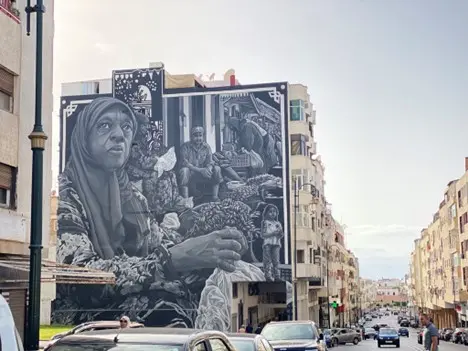 Paola Delfin's Moroccan mural entitled "Na7nou" located on Rue Moulay Ismael was a highlight in Rabat's Jidar street art festival. Delfin, a Mexican native, recalls the story of Mahjuba Striker, a resident of Rabat's old medina, who lost her brother, father, and home. Within the alleyways of the marketplace, Striker was able to forge her own community amongst neighbors, and Delfin emphasizes this message in an Instagram post of her mural: "This story has a deeper message, that we as humans can choose to be companions in life, thus making our difficulties more bearable. Pausing for a moment to listen to each other can make another's reality visible, and then give it a voice and significance."
The Jidar street art festival features both Moroccan and foreign artists to tell the story of life within Rabat. It celebrates Morocco's multiculturalism by creating this international conversation within the confines of the nation's capital.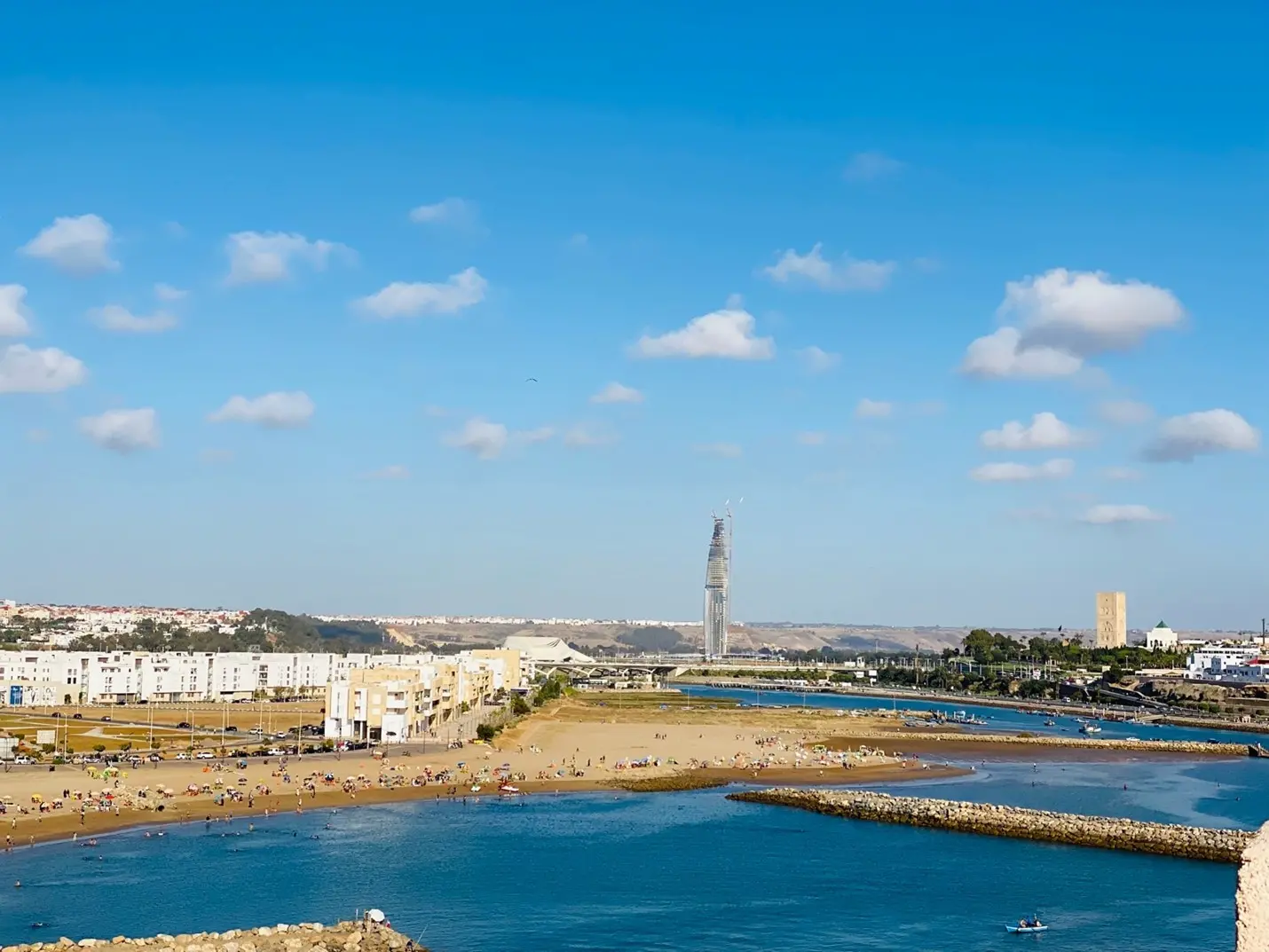 Two kings stand side by side, Hassan Tower (left) and Mohammed VI Tower (right). To Moroccans, King Hassan II symbolized tradition, a key figure in picturing the nation's Green March that staked claim of Western Sahara. Demonstrators of the Green March on November 6, 1975, displayed photos of King Hassan II and the Holy Quran, establishing an indelible link between Moroccan rule (ie. Commander of the Faithful) and Islam in the modern era.
On the flip side of the same coin, Rafael de la Hoz, Spanish architect of Mohammed VI Tower, explains how the tower "is intended to be the symbol of the new Morocco, and at the same time a demonstration of what the country is capable of." An icon of modernity, Mohammed VI Tower calls into attention continental unity, as the tower is already the largest on the African continent (though it's still under construction), and qualifies under the label of "Afrofuturistic" architectural design.
"Although Morocco is becoming a modern country, our spiritual patrimony of Islamic thought has not only been preserved, but … we propose to extend it. In this way, we shall graft the past onto the present to prepare for the future. I must insist here that there is no contradiction, no incompatibility between the fundamental message of Islam and the great scientific currents, the artistic creations, of the human spirit today," King Hassan II said in 1977.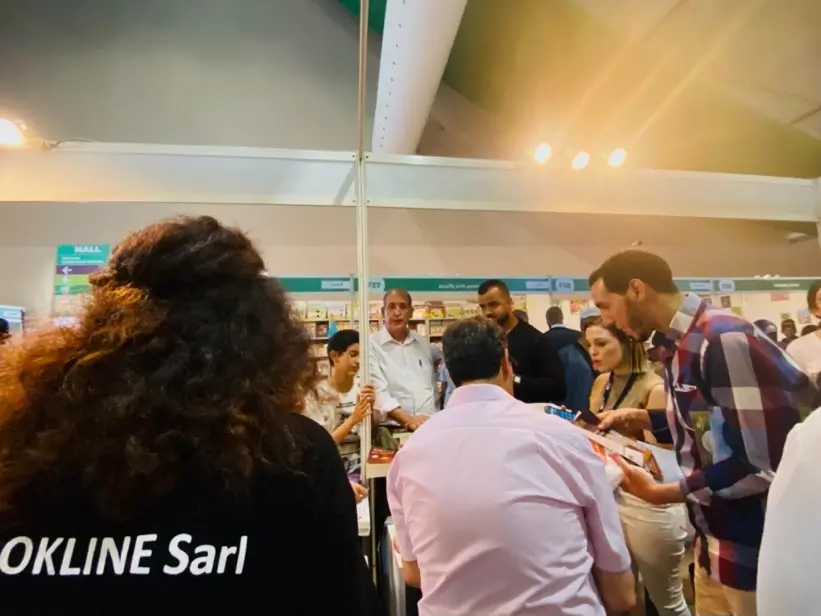 Rachid Chafai El Alaoui, a London-based Moroccan bookkeeper, exhibited his English book collection at the 27th International Book and Print Fair (SIEL) in June 2022. Although usually held in Casablanca, the festival took place in Rabat this year as the city is aiming to be coined "The City of Light" and the "Cultural Capital of the Islamic World of 2022," according to SIEL advertising. Morocco World News claimed the festival attracted over 202,000 visitors, and although the majority of books were in Arabic, English language book collectors like El Alaoui proved popular as well. Mehdi Bensaid, Morocco's Minister of Youth, Culture and Communication, says that the high interest towards the book fair "reflects the interest of Moroccans in books and the culture of reading," and this was especially noticeable through the younger generation's attraction to English sections.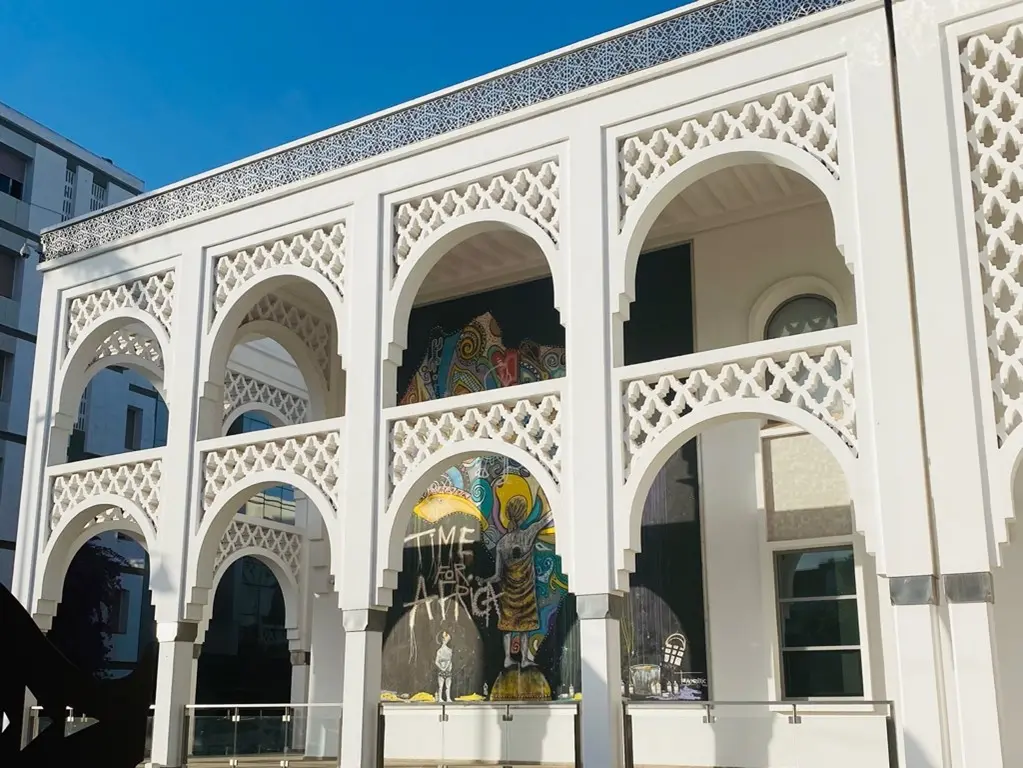 "Time for Africa" is a tangible mantra within the Museum of Modern and Contemporary Art, located in the heart of Rabat. The museum is organizing three exhibitions: "A Look at Africa," an exploration into the trends of African contemporary art; "Common Presence," which features the photographic work of Tunisian Wahib Chehata and Congolo-French artist Kouka Ntadi; and "Tribute" in remembrance of three historic photographers who have recently passed—Malick Sidibe, Leila Alaoui, and Othmane Dilami. The multi-disciplinary arrangement calls attention to Morocco's connection to the African continent, as Dr. Hssein Khtou, English professor at Dar el Hadith el Hassaniya, predicts that in the current and coming years, numerous nationals of sub-Saharan countries are relocating to Morocco with the hopes of more significant prospects. Although culturally and linguistically diverse, such relocation would alter various demographics of Moroccan society, most notably religious (as Morocco is 99% Muslim as of date), and linguistic, and Khtou notes that English, perhaps, could serve as a common medium among various cultural groups as such diversity begins to inform Moroccan reality.
It is also important to note that sub-Saharan residents are not new to Morocco, the musical work of mystical gnaoua mostly ring throughout southern Morocco but are even found in the streets of Rabat. The Gnaoua World Music Festival aims to fuse foreign artists and local gnaoua into a singular and eclectic conversation, taking place annually in Essouira. Originating from the slave trade from sub-Saharan West Africa into Morocco in the 11th century, their music is derived from the echoes of their chains blended with the mystical teachings of Sufism. They focus on internal liberation and are widely known for their healing capabilities and dance of possession (jedba).
RELATED ISSUES

Children and Youth

Religion