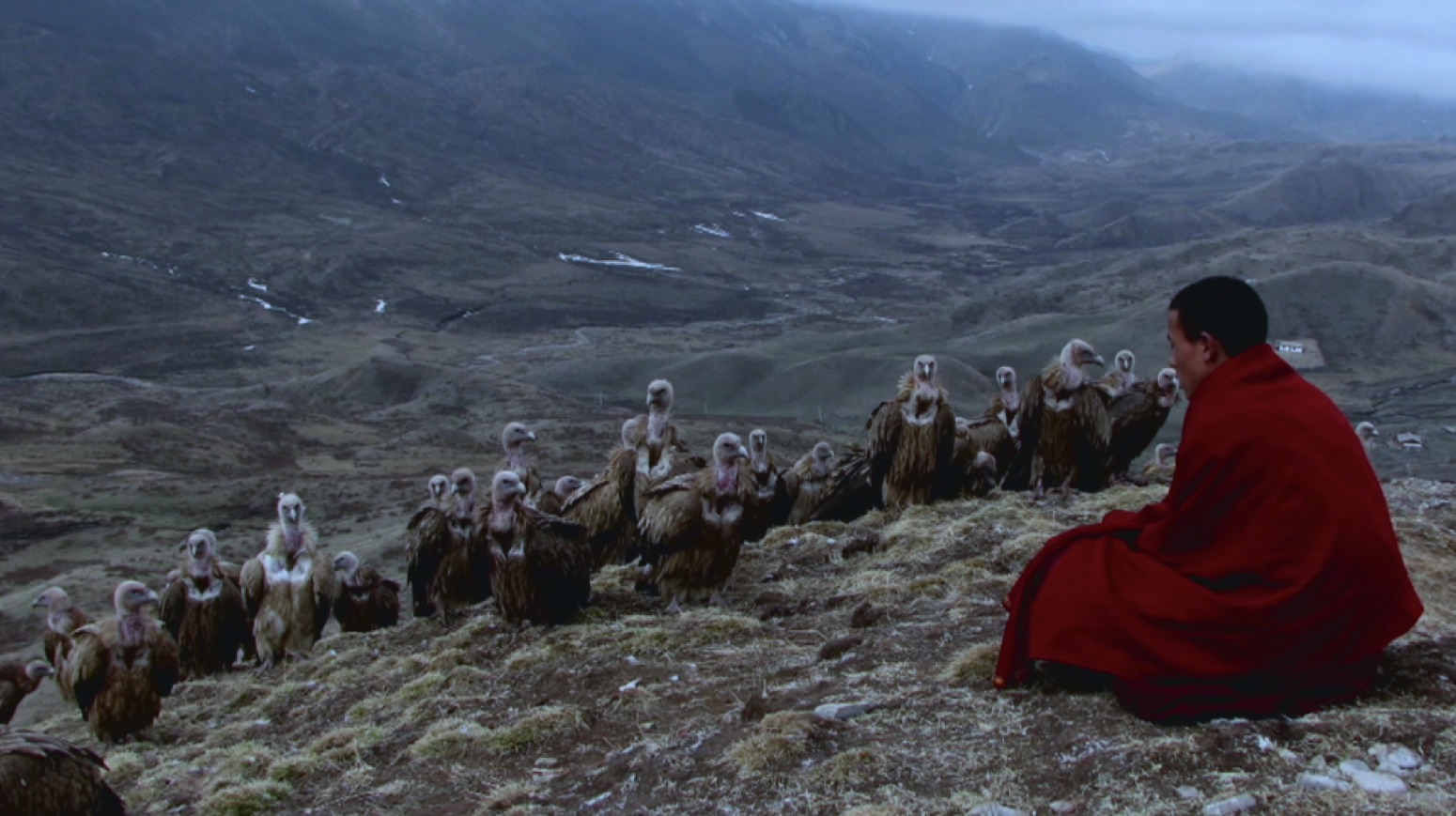 The Tibetan monastery at Baiyu rests in the brilliant Nianbaoyuze mountain range, a sacred and nationally protected park. The Nianbaoyuze mountain range is the epitome of intersections between religion and environment and China—and a key element in Searching for Sacred Mountain, the video documentary by filmmakers Gary Marcuse and Shi Lihong that captures one of the most surprising contemporary trends in China.
The documentary tells the story of Liu Jianqiang, an investigative environmental journalist and Beijing editor of ChinaDialogue who has recently converted to Buddhism. The documentary includes footage of senior Chinese government officials declaring their commitment to an "ecological civilization" that draws on Buddhism, Daoism, Confucianism, and other Chinese cultural traditions as a means of addressing the country's growing environmental challenges. It also shows that leading Chinese academics are making the connection between such traditions and the protection of vulnerable lands and habitats.
An abridged version of Gary's film recently aired on Religion and Ethics Weekly and was featured in a panel discussion at the University of Chicago that was sponsored by the Pulitzer Center. Watch the full version above.
Acknowledgments:
This short film was made possible by the generous contribution of time, footage and labor by the following
VANCOUVER POST PRODUCTION
Director: GARY MARCUSE
Editor: XIA TONG
Music: DENNIS BURKE
Mixer: EWAN DEANE
Online: LARRY DI STEFANO
Administration: BETSY CARSON
Animation: MARK STUCKERT, SEQUENCE POST

BAIYU AND BEIJING
Director: SHI LIHONG
Camera: LI LEI
2nd Camera: ZHAO HANG
Audio: WEI XIAOYU
Driver: YOU FENG

NARRATION
FRED DE SAM LAZARO
Under-Told Stories Project
St. Mary's University

VOICE OVER
Catherine Zhang
Kalsang Dawa

SPECIAL THANKS
LU ZHI
TASHI SANGE
QIAMEI RINPOCHE
BAIYU MONASTERY
RESIDENTS OF BAIYU
YOUNGHE LAMA TEMPLE
SANJIANGYUAN NATURE RESERVE
OMNIFILM POST

STOCKSHOTS
IBE
SHAN SHUI
TASHI SANGE
FACE TO FACE MEDIA
XI ZHINONG, WILD CHINA FILM
ALLIANCE OF RELIGION AND CONSERVATION
GUIZHOU SATELLITE TV
TAKUNGPAO.COM.HK
CCTV

Produced by Face to Face Media
in association with Wild China Film
and the Pulitzer Center on Crisis Reporting
Executive Producer JON SAWYER

© Face to Face Media 2014
RELATED ISSUES