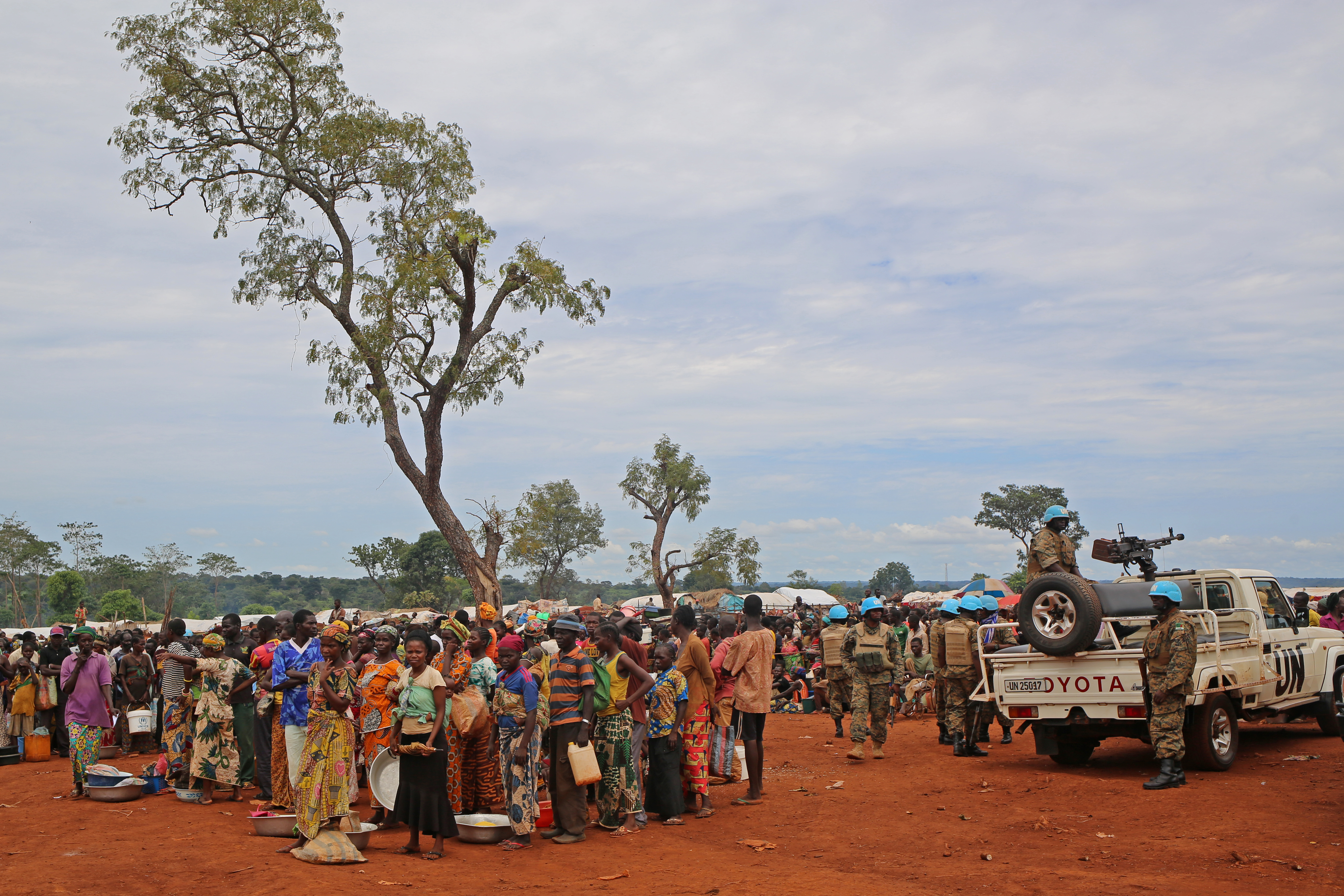 BRIA, Central African Republic — Inside a sprawling tent camp protected by a U.N. tank and a line of barbed wire, Jerry Zoumatchi cradled an ancient rifle.
He said he'd never touched a weapon until four months ago. But then rebels shot dead his father and his 17-year-old brother, sending him fleeing to this displaced-persons site in search of refuge, and revenge.
"I took up my gun to kill the [rebels] who killed my father and brother," the 29-year-old said, fiddling with three bullets in his free hand. "I need to avenge the deaths."
Zoumatchi's thirst for vengeance led him to join a local "self-defense" militia, which gave him a firearm and a role in the newest chapter of a conflict that has left thousands dead in this former French colony. The violence has persisted for four years despite efforts by the United Nations, humanitarian groups and even Pope Francis to end the fighting.
Successful democratic elections early last year spurred hopes that the conflict might finally end. But clashes erupted again in November. Since then, hundreds have died and tens of thousands have been forced from their homes amid escalating violence between the dozen or so armed groups controlling some 80 percent of the Central African Republic. Attacks are taking on increasingly sectarian overtones.
U.N. officials have raised alarms about "early warning signs of genocide." Diplomats and relief workers say this impoverished country of about 4.6 million runs the risk of an all-out civil war, which would compound the humanitarian crisis and create new security problems in a region already grappling with extremist groups such as Boko Haram.
The violence began when a predominantly Muslim coalition of rebels called the Seleka swept to power in 2013, after killing and burning their way through this majority Christian country. Mostly Christian groups known as the anti-balaka formed to fight back. Many of the armed groups subsequently splintered. The Seleka rulers were eventually replaced by an interim government, and a former prime minister, Faustin-Archange Touadera, became president last year in what many saw as a sign of progress.
Analysts say the latest violence is due in part to the new government's failure to satisfy the armed groups' demands for political representation and amnesty.
"To get what they want they need to increase the power of negotiation. And in order to increase the power of negotiations they need to represent a threat," explained Nathalia Dukhan, an analyst at the Enough Project, a Washington-based research group focused on African conflicts. "They increased their capacity to harm."
That hasn't been hard to do in a country where the central government wields little power outside the capital, the army is ineffective and ill-equipped, and infrastructure such as roads is limited.
Ex-Seleka factions are now fighting one another — in some cases teaming up with their former opponents. Anti-balaka, frequently referred to as "self-defense" groups, have expanded.
The capital city of Bangui, guarded by U.N. peacekeepers, remains calm, but taxicab radios blare the growing list of hot spots across the country: Zemio, Batangafo, Obo. In addition to the internally displaced — who now number 600,000 — about 500,000 people have fled to neighboring countries since 2013, according to the United Nations.
Areas previously spared high levels of violence now have become flash points, with the country's southeast of particular concern. Some experts say the withdrawal this past spring of U.S. and Ugandan forces positioned in the area to search for Joseph Kony, the rebel leader of the Lord's Resistance Army, created a power vacuum — one armed groups are looking to fill.
"Armed groups have taken over the whole of the country," said Joseph Inganji, the U.N. humanitarian agency's chief of office for the Central African Republic.
There have been numerous failed attempts to broker peace, including a deal struck in June in Rome by representatives of the armed groups. Less than 24 hours later, new clashes killed dozens.
The mandate for the 12,000-strong U.N. peacekeeping force in the country expires in November, and Touadera is among those calling for a renewal and a troop increase. But peacekeepers are also in the crosshairs — 10 have been killed this year. Civilian animosity toward peacekeepers has grown, exacerbated by a sexual-abuse scandal and allegations of inaction in the face of attacks.
More than half the population is in need of humanitarian assistance. But amid the surge in violence, access to aid has sharply deteriorated. Eleven aid workers have been killed since the start of the year — making it one of the most dangerous places in the world for humanitarian work. Aid compounds have been looted and attacked, prompting many organizations to pull back or limit their activities.
In some parts of the country, villagers are holed up in churches and hospitals, unable to venture out for fear of being killed. Food supplies in some places are running low.
"The main risk is really to come back to a conflict like it was in 2013 . . . very close to a kind of civil war," said Thibaud Lesueur, an analyst for the International Crisis Group, a nonprofit that seeks to resolve violent conflicts. At the time, large numbers of civilians were killed or raped and scores of villages were destroyed.
David Brownstein, who as charge d'affaires is the senior U.S. diplomat here, said it is important to prevent a security vacuum in a region already grappling with the Islamist extremists of Boko Haram and, further afield, the Islamic State.
Because of its geographical position, the Central African Republic "plays a fundamental role in either enhancing and promoting regional stability, or, conversely, if it's weakened or failed, it could have a fundamentally negative impact on regional stability," he said.
Many say religion isn't really driving the violence — that armed groups are looking to gain power and to profit off resources such as diamonds and gold. But that doesn't mean fighters aren't exploiting ethnic and religious differences.
Stephen O'Brien, who until recently served as the U.N. humanitarian chief, said after a visit in July to the Central African Republic that "the early warning signs of genocide are there," with growing ethnically and religiously targeted attacks.
The sectarian tension is evident in Bria.
Just four months ago, fighting forced 40,000 civilians to flee their homes and set up makeshift shelters on the edge of a U.N. base.
"We Christians don't want to have problems," local anti-balaka leader Jethro Soukou said on a recent morning. "It's the Muslims that make the problems."
"They treat us like animals," he said, voice nearing a shout. "When they're out on their patrols and see one of us, they kill him in the street."
Months ago, a rare machete tucked into a waistband was the only sign of weaponry in the camp. Today, men with guns slung over their backs roam the maze of tents.
Francoise Reneheta had only recently arrived from a small village near Bria. Voice scratchy from exhaustion, Reneheta said loud booms had shattered her morning 10 days earlier.
"I started to hear shots, weapons firing," said the 25-year-old. She said she dropped the manioc she'd been preparing for breakfast, grabbed her children and ran.
Reneheta held no hopes of returning to her village; she had heard their house was torched along with others.
She didn't say so outright, but many at the camp credit the anti-balaka within the perimeter for ensuring their safety. Anti-balaka scoffed when asked about the need to bear arms given the presence of peacekeepers, saying the contingents don't protect the population.
That's why members of the ragtag band of fighters said they go on patrol, sometimes leaving the site to combat the "Muslims" in town they consider a direct threat.
Not far down the red-dirt road there's a main drag of shops where armed men — "the enemy" — stroll or laze under trees with AK-47s between their knees.
On a recent afternoon, Abdraman Djiabaladin, who guessed he was in his 80s, stacked broken branches in front of his house near the town's center.
Three weeks earlier, he said, anti-balaka members had surrounded this neighborhood and opened fire.
"There were so many bullets that they broke the branches of the mango tree," he said, adding that he survived by firing back.
He said he would not be driven from his home.
"We don't have any enemies other than the anti-balaka," he said. "I need to stay and fight."
RELATED ISSUES

Governance

Issue
Conflict and Peace Building
Conflict and Peace Building