By Grace C. Zahn
4th grade, Meadowbrook Elementary School, WI
With lines from "Squeezing the Marsh" by Michelle Lotker, a Pulitzer Center reporting project
The sun shines 
The plants all sway
I fly overhead,
water below
Moths and flies galore 
I have a million places to make my nest
The high marshes protect my home
All my friends chirp and play
I land in brush
The sky turns grey
It starts to pour
I'm dry in my little brush
The wind howls in the night
I rest my head for the night
The sun shines through the brush 
It's morning 
I cock my head and get ready to soar
I see something below
It shimmers in the sunlight 
Like it's teasing me
I look down
It's water
I quickly fly out of the brush
It's only under the brush I tell myself
I'm wrong again
Almost everywhere I look I see water
My habitat is being squeezed out of existence
There are at least 10 puddles of water
They are as big as small ponds
I try to look for my friends and my food 
I find No One 
My home is flooded 
There's nowhere to make a nest
The only thing I think is
Can it get worse?
I start flying 
I don't know where
But I must leave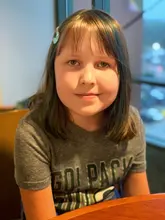 Grace Zahn is a 4th grade student at Meadowbrook Elementary School in Howard, WI. Grace is a soccer player and guitar player, who loves art and song writing. Grace became involved with this poetry contest as part of her Gifted and Talented reading program. This is the first poem Grace for which has won an award, and has inspired her to consider future writing competitions, as well.
Read more winning entries from the 2022 Fighting Words Poetry Contest.